Essential Korean Cooking Ingredients for your everyday Korean recipes. With these, you can make over 100 recipes on my site and in this post, I have 26 essential ingredients including 14 absolute essentials. I also have additional cooking ingredients that are beyond the essentials but a list that will help you enjoy the full depth of Korean cuisine.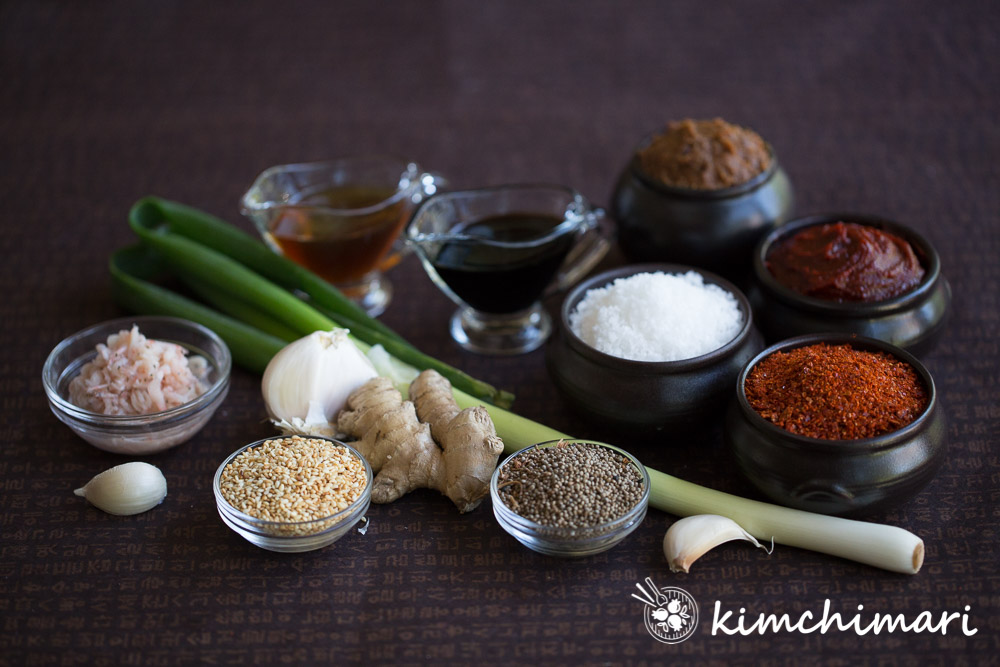 Essential Korean Cooking Ingredients and beyond
I was recently asked by a college-bound student what basic ingredients he needed to buy to start cooking Korean food. And I remembered I wrote a post when I first arrived in Korea in 2012 about what I needed to buy to get my kitchen ready for Korean cooking. And the post about Korean Seasonings was written. But that the post was in order to stock a full Korean pantry.
For a college student, this Basic Korean pantry – list of essentials is probably lot more useful and fitting. It is the minimalist version of my Korean seasonings list plus a few items you will want to have to make stock and other dishes.
Below are 3 separate Korean pantry lists that are written with a broader view of the word 'pantry'. The list in this post can be divided into following lists:
absolute essentials – I picked these as the minimal MUST-HAVE list for college students or for people who just want to cook Korean food on rare occasions and have no interest in really delving into the cuisine.
essentials – this list is the GOOD-to-HAVE list of essential Korean cooking ingredients that basically make up the 26 ingredients below. This list will allow you to cook most recipes on my site.
A short discussion about how Korean flavors are developed and what I feel is special about Korean cooking. In Korea, we talk about – "Gamchilmat/Kamchilmat (감칠맛)". Gamchilmat is a savory taste that really cannot be explained by the usual 4 flavors of sweet, sour, salty and bitter. The word Gamchilmat/Kamchilmat actually means a taste that pulls you in, in other words, it's a captivating flavor. It's a flavor that once you are hooked in, you can never forget and will bring you back for more.
Korean cooking creates this flavor by layering from the stock, through guk ganjang, good sea salt and then through the fermented umami flavors from gochujang, doenjang and fermented seafood sauce.
PLEASE NOTE: the list below does not include common pantry ingredients like sugar, black pepper, vegetable oil, onion, garlic, ginger and honey. I will assume those will already be in your kitchen.
26 Essential Korean Cooking Ingredients List (including 14 Absolute Essentials)
** NOTE — I will link to my fav. items in my Amazon store if available. Note, I will earn a very small commission when you buy. Also, the price on Amazon is mostly higher than one at Korean grocery stores so buy it only if you don't have a store to go to. And prices keep changing on amazon so while I try to find the lowest price, it may be good to search before you buy in case there's something that's lowered priced.**
2 Korean Oil and Vinegar (absolute essentials):
Sesame Oil (Chamgireum 참기름). Koreans use roasted sesame seed oil which has more flavor than the non-roasted version. So try to use Korean or at least Japanese sesame oil rather than others. I use it to flavor sauces, dressings and namul. The fragrance of sesame oil gets weak with cooking so if you want to make the most of it, use it as a last-minute drizzle rather than for sauteeing/pan-frying (sesame oil is also too expensive to use as everyday cooking oil). Buy Online
Rice Vinegar. I use Brown Rice vinegar (Hyeonmi Sikcho 현미식초) but just any rice vinegar is fine. Buy Online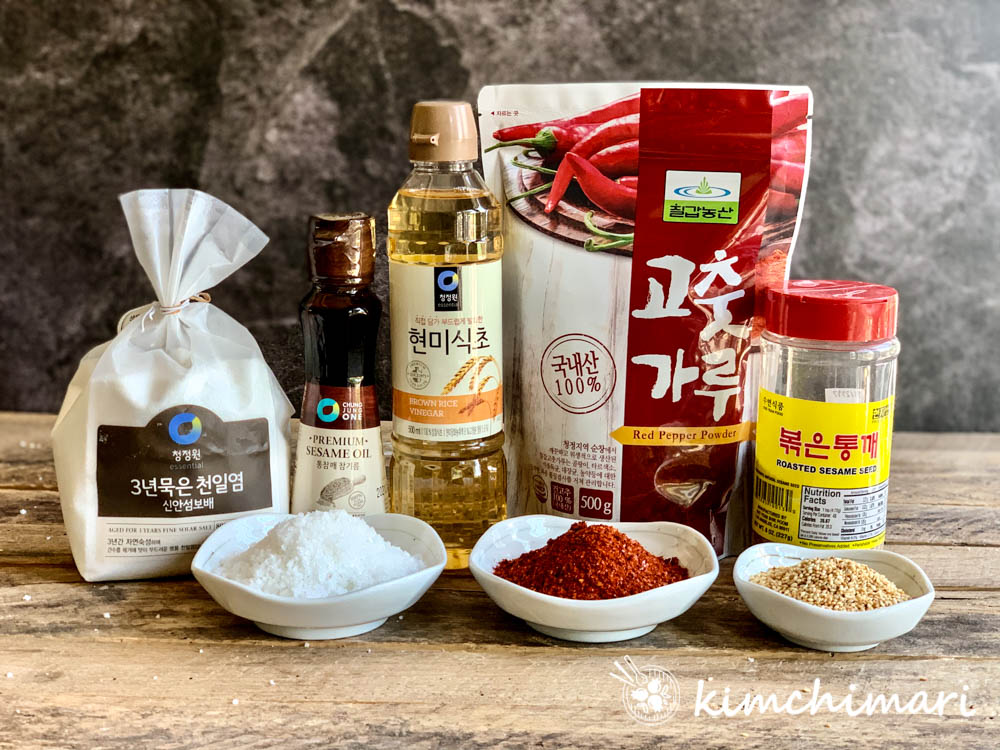 3 Korean Spices (absolute essentials):
Korean solar sea salt (천일염 cheonilyeom) – see my K Ingredients page for more info on this unique Korean salt. This salt is especially important for Kimchi making. If not making Kimchi, you can substitute any other good quality sea salt or even Kosher salt. Buy Online
Gochugaru/gochukaru (고추가루) or red chili powder (coarse) – Korean chilis have a sweet flavor that's different from other chilies and also Korean ones works best for Kimchi so buy a Korean one if you can. Look for Product of Korea. Buy Online
Roasted Sesame seeds (볶은참깨) Bokkeun Cham Kkae – just like sesame oil, Koreans like to roast sesame seeds which brings out the nutty flavor even more. I love adding sesame seeds to everything and sprinkling on top of a dish as a finish. Buy Online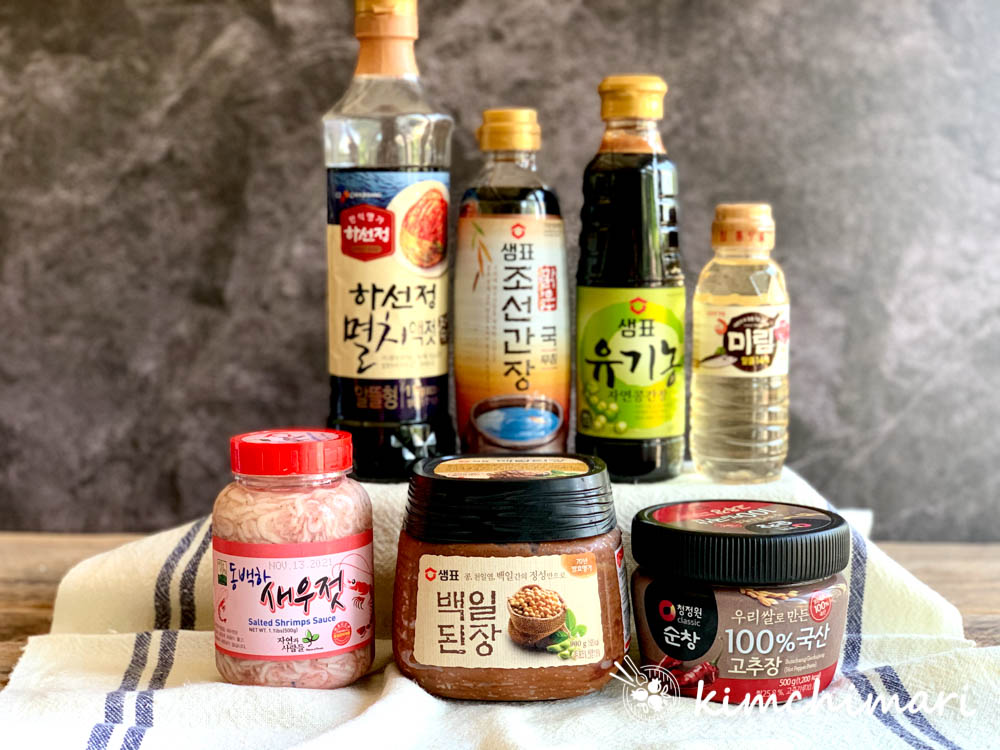 7 Korean Condiments/Sauces and sweeteners (3 absolute essentials)
** The first 1 to 3 are absolute essentials.**
** Mulyeot 물엿 (Korean corn syrup) – I know it is a very commonly used ingredient in Korean cooking (especially in our parent generation) but I personally don't use Mulyeot (corn syrup) but use honey or maple syrup instead and thus it's not in the list because I believe you can totally cook Korean food without mulyeot and in many cases, I like using honey and maple syrup better. I also think mulyeot has a tendency to harden like a rock when cooked improperly while maple syrup never hardens and so that's another reason why I like to use maple syrup and honey in lieu of mulyeot – especially in jorims.
But you are welcome to buy and use corn syrup if you'd like. It does add a great sheen to a dish, thus Korean restaurants use it a lot. FYI, traditionally, Koreans used Jocheong 조청 which is a rice syrup made from rice and this is totally a good alternative to mulyeot or maple syrup.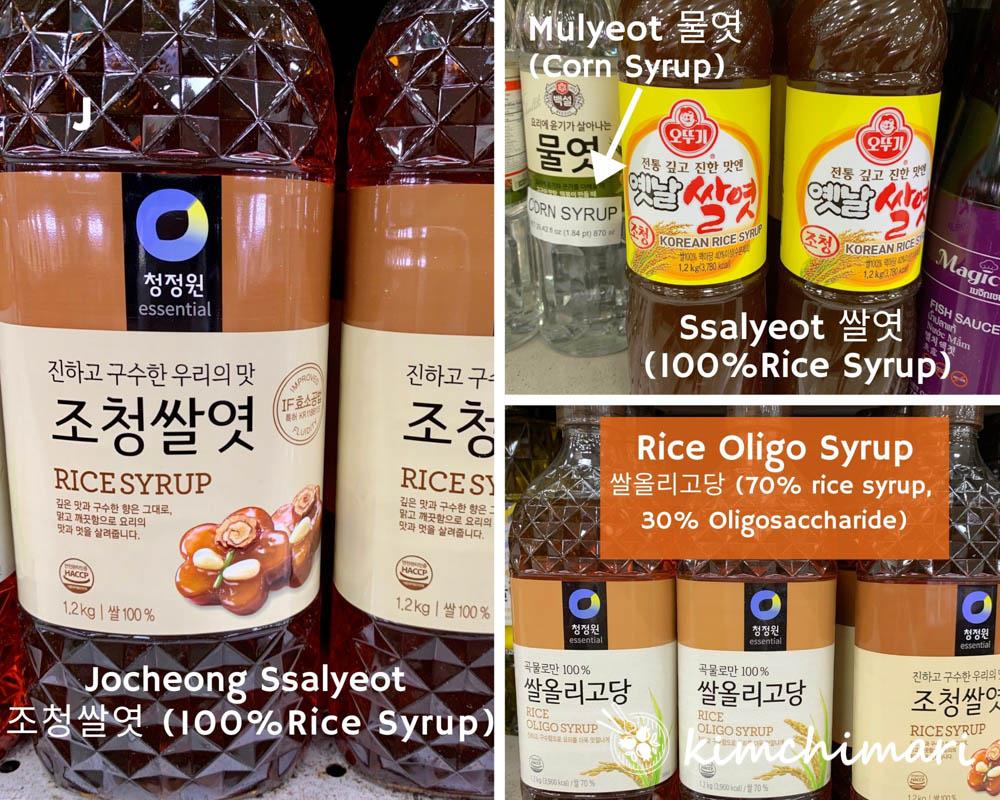 In the picture above, the left Jocheong Ssalyeot and the right top Ssalyeot are both 100% rice syrups and are good ones to buy. Just to show you, I did note the Mulyeot (corn syrup) bottles on the top right picture. BUY RICE SYRUP
Finally, the bottom right one is a new one that I have not seen before, it's a Rice + Oligosaccharide syrup. If you don't mind Oligosaccharide syrups, this one may not be bad but I have not personally used in cooking so not sure how it works but I assume it will be the same.
7 Dry or canned pantry items:
** The first 2 (rice, gim) are absolute essentials.**
Short Grain Rice (쌀 ssal) – sushi rice is also fine. A Korean meal almost always has rice unless noodles are the main dish. I will try to write another post about Korean rice but basically, Japanese Sushi rice and Korean short grain rice are pretty much the same. I couldn't find a good Korean rice online so here's one that you can buy that will be also good.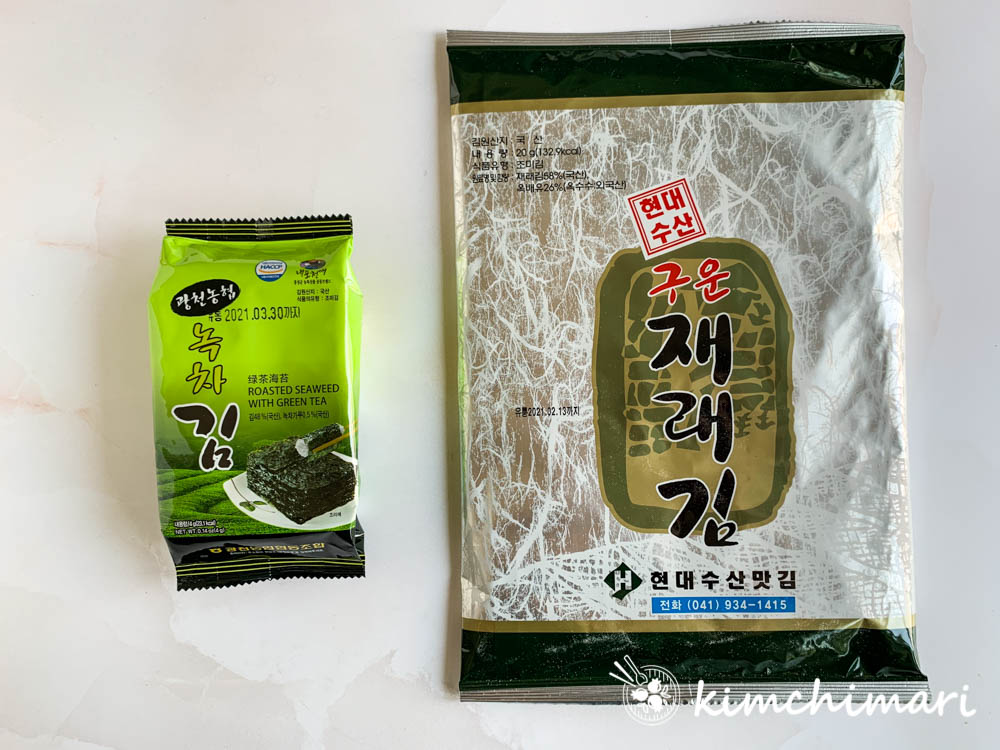 Roasted Seaweed (구운김 Gueun Gim) – these are already roasted Korean seaweed that's coated with oil and seasoned with salt. It's actually not used a lot for cooking other than as garnish but it's a great item to have in your kitchen to eat as a side dish or even as a snack. It's a must for college students or singles so that's why I included it in the list of must-have's.
Dried large and small anchovies (국물용멸치 gukmul yong myeolchi) – large anchovies (on the left) are for anchovy stock and smaller ones (middle and right in the pic) are for making sauteed myeolchi bokkeum. You can substitute beef broth and sometimes chicken broth or vegetable broth for most recipes but there's nothing like a clean anchovy stock for noodle soups and stews 😍. BUY Large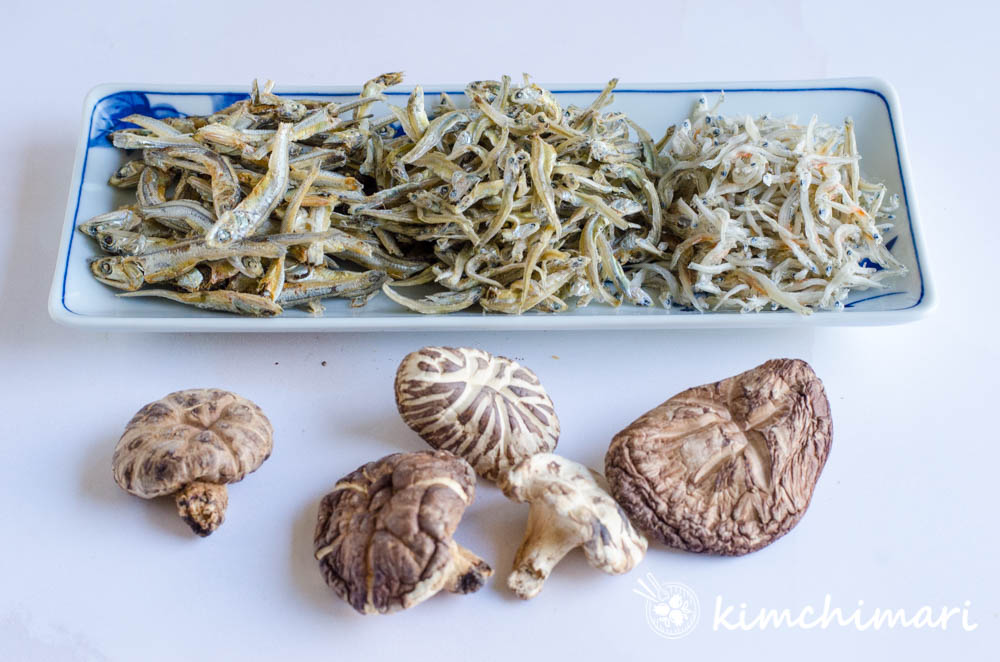 Dried shitake mushrooms (표고버섯 pyogo beoseot) – I love using this not just for making Japchae and Bibimbap but also for making stock/broth for stews. This mushroom is also so full of flavor and texture that it's a great meat substitute for any dish if you want to make something vegan. BUY
Dashima (다시마) Dried kelp/Kombu – not an absolute must-have but dashima adds great umami flavor for stocks and soups so it's almost a must-have ingredient if you want to make yummy broth. BUY KELP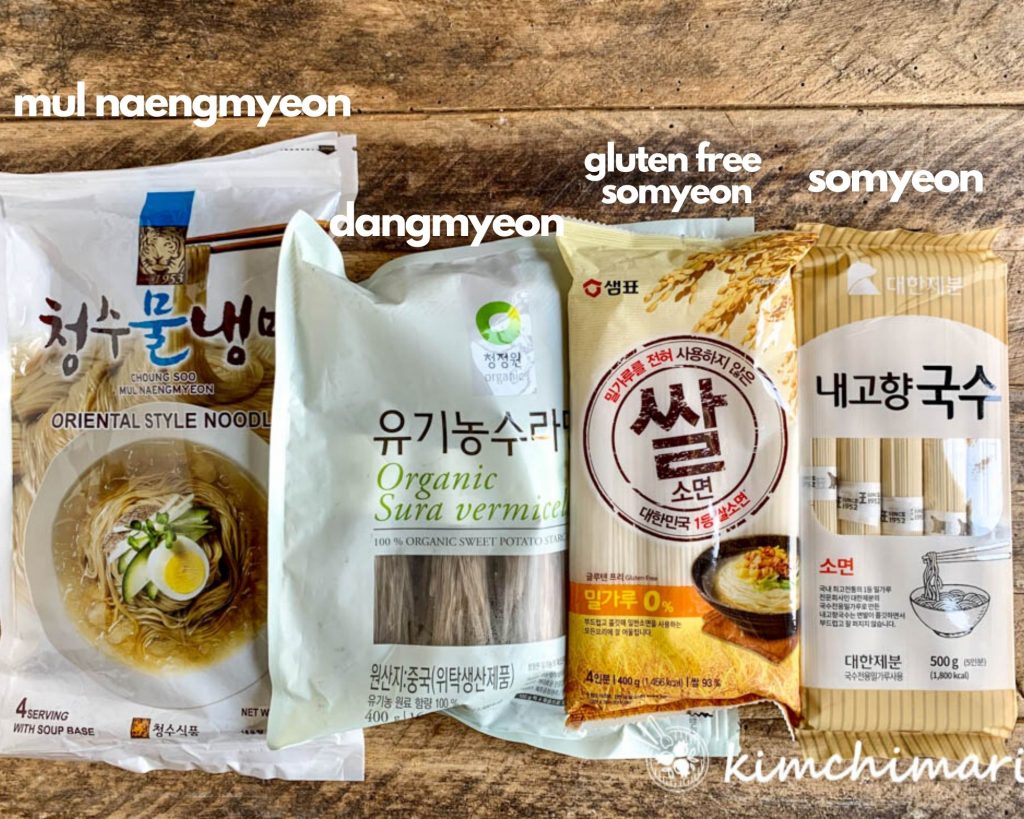 BUY some them in my Amazon Noodles category.
Dangmyeon (당면) Dried Glass Noodles – this gluten-free potato starch noodle is mainly used to make Japchae and can be added to stews or soups. It never goes bad so it's a great pantry item to have.
Dried Noodles – There are quite a few dry noodles that you can have in your Korean pantry. The above picture shows the noodles that I like to stock in my Korean pantry. Somyeon (소면) is a great noodle to have for hot noodle soups, Maemil Guksu (메밀국수) for noodle salads and Naengmyeon (냉면) of course for your ultimate cold summer noodle soup dish. BTW, I love 3rd one from the left, Sempio Rice Noodles – they are nice and chewy and not sticky so it works great in both hot noodle soups or in salads. Sadly, I can't find them online.
7 Fresh Produce and Fridge Staples:
** The first 4 (garlic, ginger, green onions, tofu) are absolute essentials.
Garlic (마늘 Maneul) – Koreans love to use garlic but you can always adjust to your liking. Check out my garlic tip if you don't want to peel and chop garlic every time you cook. BTW, not all Korean dishes have garlic in them – in fact, Korean temple food never has any garlic in the dishes. This Vegan Kimchi has no garlic in it.
Ginger (생강 saengkang) – ginger is not used as much as garlic but is essential in some dishes, especially pork recipes. Again, Korean temple food does not use ginger in their recipes.
Scallions/Green Onions (파 Pa) – definitely an essential part of Korean cooking, green onions are used to flavor broths but also often used as fresh garnish on dishes, adding great freshness to meaty soups and namuls. The traditional Korean Daepa (Big green onions) are used often by Korean cooks but is not absolutely essential but some type of green onions or scallions are a must in Korean cuisine.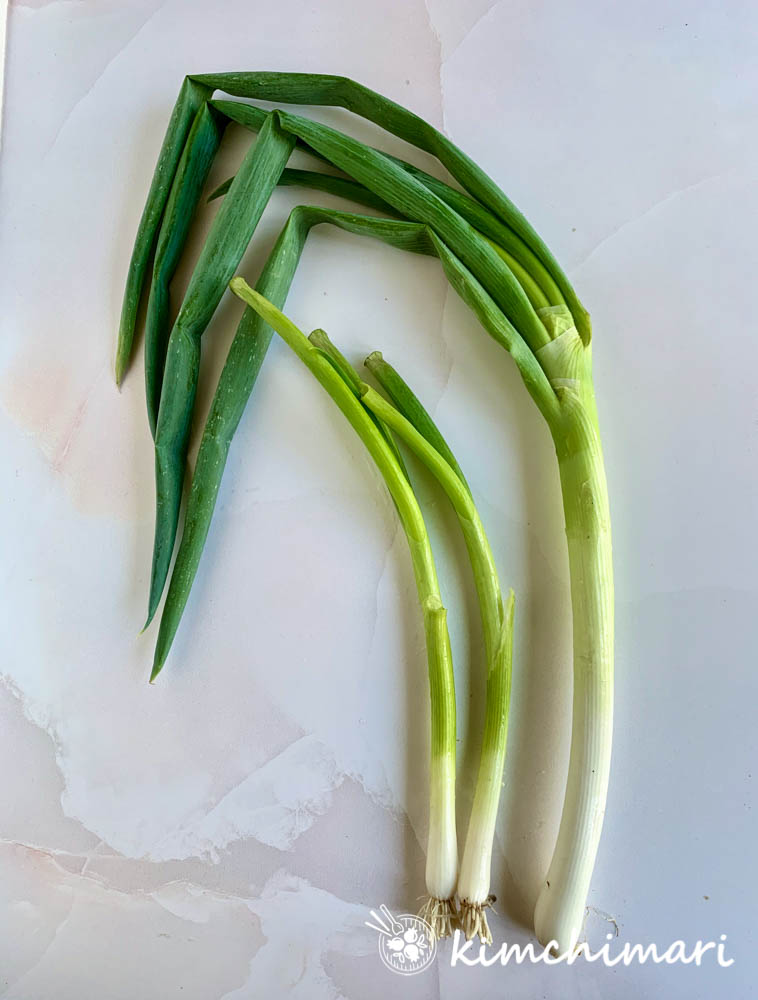 Tofu (firm or soft) – needed for all kinds of jjigae including soft tofu stew and side dishes, tofu is probably the most common cooking ingredient in a Korean kitchen. I like Pulmuone's organic tofu when it comes to tofu.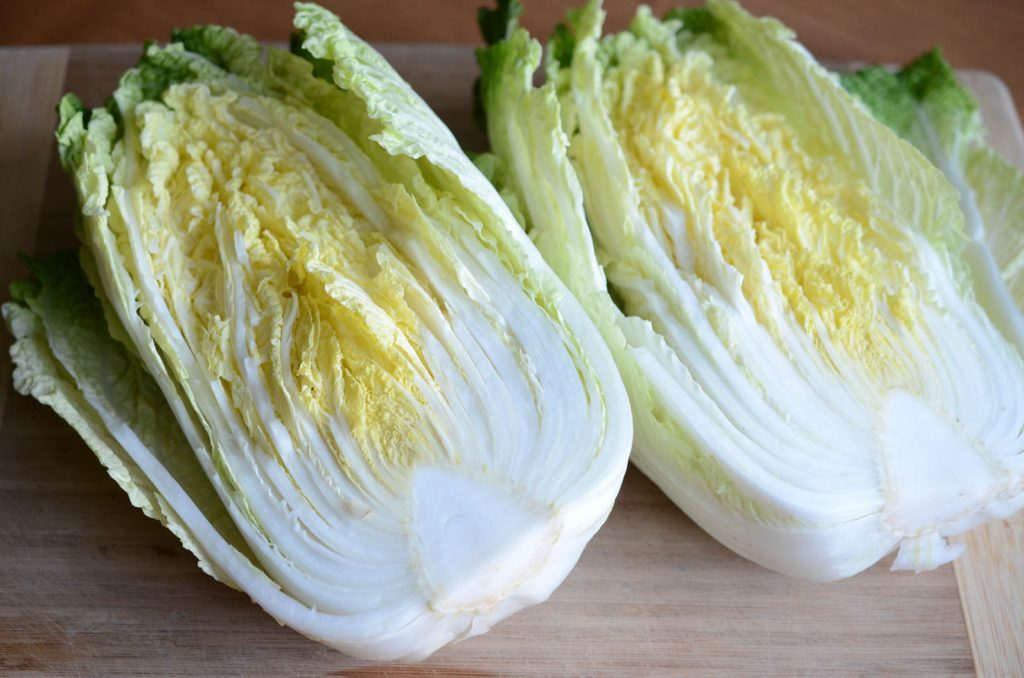 Napa Cabbage/Chinese Cabbage (배추 Baechu) – great to have at least one cabbage in your fridge because they will stay fresh for at least a week or more. Of course, it's THE ingredient to make Kimchi with. Use it for soups, stews like bulgogi jeongol and use the inner baby leaves as ssam with some ssamjang.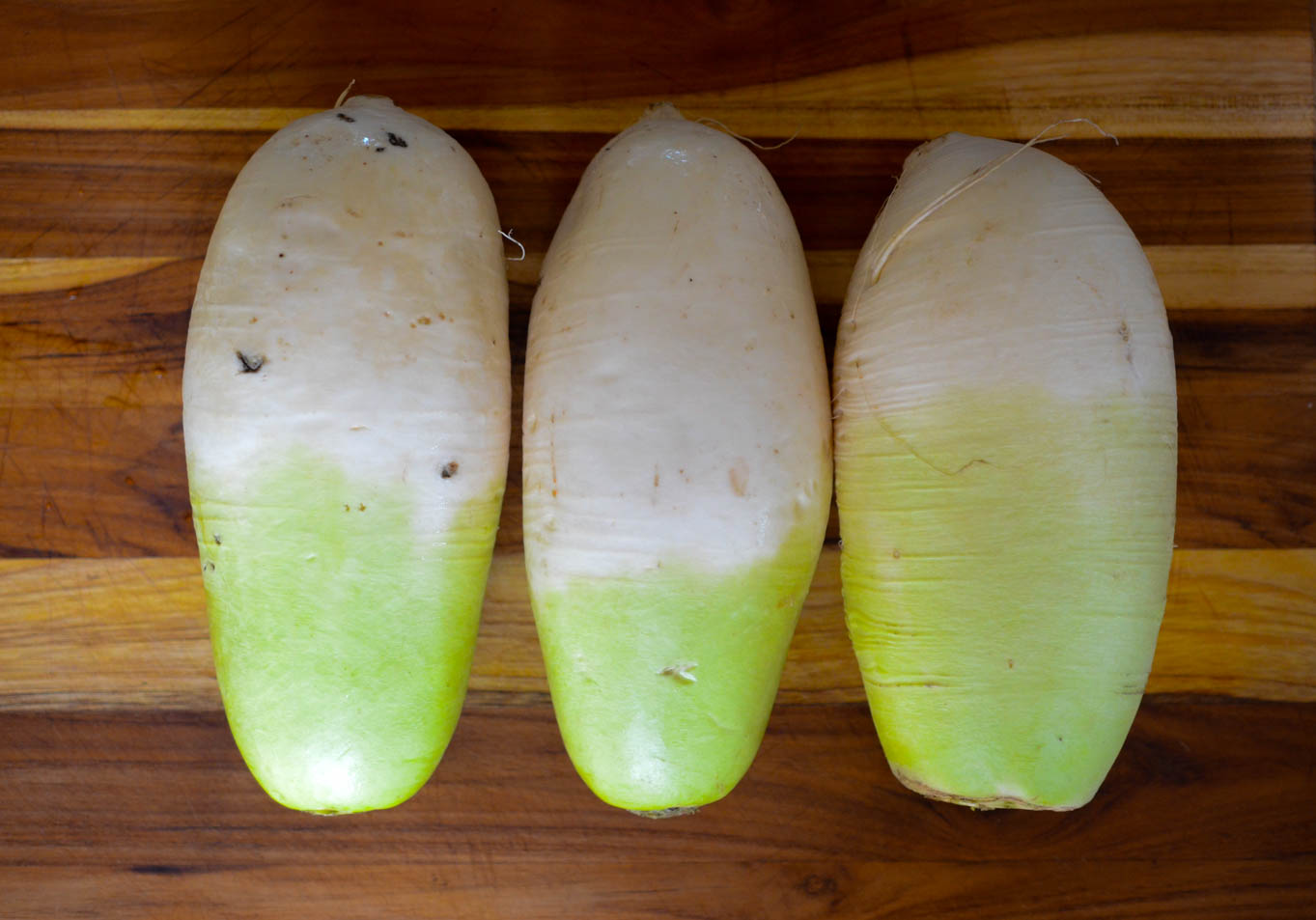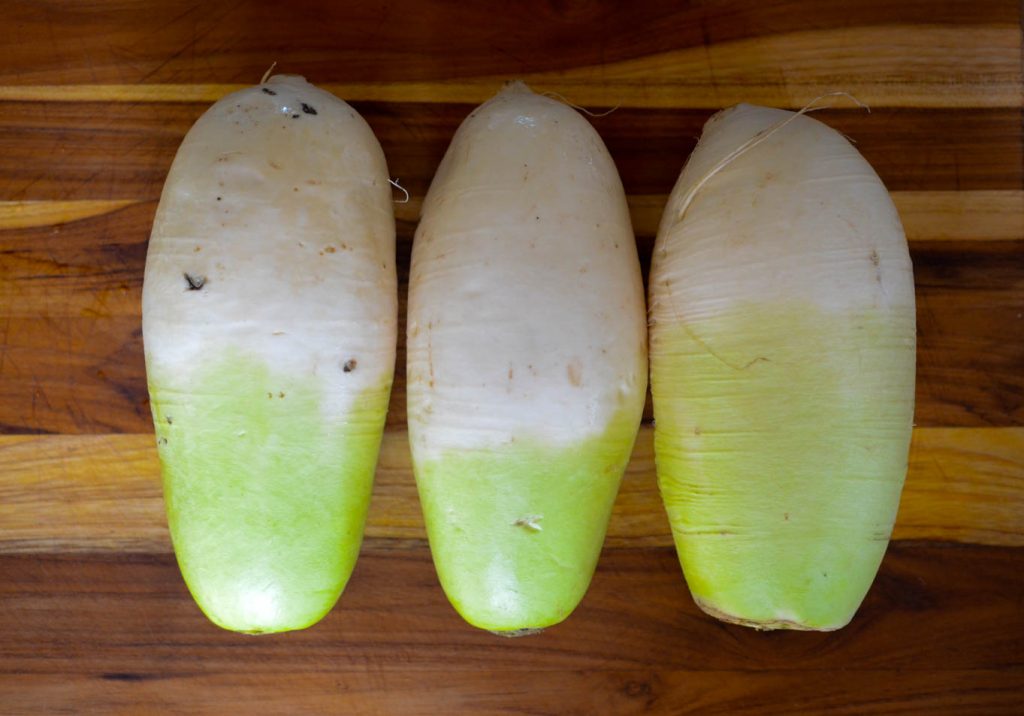 Korean Radish (무 mu) – probably used more often in everyday cooking than baechu, radish is used in many Korean dishes, especially in beef or seafood broths, jorim and jiim because radish adds a wonderfully subtle sweet flavor while brightening the soup. Korean radishes are NOT the same as daikon, it is a little more peppery and not as juicy as daikon. Daikon can be a good substitute for mu in dishes where the mu is cooked like Galbi jjim, Galbitang, Odeng Soup but it's just not good for Kimchi like kkakdugi. Just doesn't have the right flavors.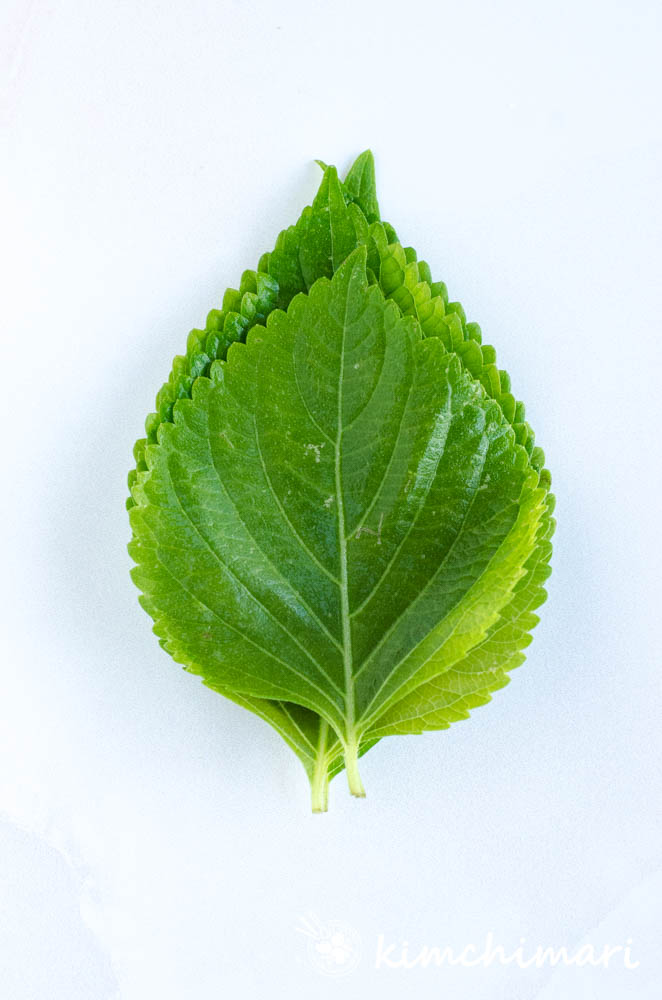 Perilla leaves (깻잎 Kkaennip) – one of my most favorite herb and garnish ingredient, Perilla adds such a wonderful flavor and freshness to Korean foods. Much like how basil just brings a pizza or pasta to life, Kkaennip just wakes up any dish when used correctly. It belongs to the mint family so it has a very light minty taste with a hint of licorice or anise flavor.
Japanese Shiso belongs to the same genus as Perilla, I find the flavor profile to be quite different. I find Japanese shiso is lot stronger in flavor with very strong anise and cilantro flavor which doesn't seem to work well with Korean food. So, I would say Shiso is NOT a good substitute for Kkaennip. If you cannot find Perilla, you can try basil in some cases or perhaps a mix of mint and basil may work better. If you want to know what dishes use Perilla, here's a post that shows 10 ways to use Perilla in Korean cooking.
Well, I hope that was helpful! I still want to share more cooking ingredients that are beyond the essentials. I will try to write another post and link from this soon.
See my Korean Seasonings post for more complete and comprehensive discussion of Korean seasonings.
See K Ingredients post for more in-depth information about each Korean cooking ingredient, including beef and pork cuts.
Thank you and Happy Cooking!
If you just want to browse items online, VISIT MY AMAZON STORE.
JinJoo