Top 10 Korean take out favorites that you can make at home! These are my most popular recipes for BBQs, noodles, rice cakes and side dishes. They are definitely as good as any restaurant or bakery food but you can make it easily at home with healthier seasonings and ingredients.
Top 10 Korean Take Out favorites
This title reminds me of my time in Korea and all the food deliveries we were able to enjoy there. And a funny story.. I went to a restaurant and was trying to explain that I wanted to do a take out – in Korean of course. I've been away too long from Korea so I didn't know what words people used these days.
So I just said – "저기.. 이것 좀 싸주세요..집에 가져 가려구요.. (Can you please wrap it so I can take it home?)."
And the server goes – "아.. 테이크아웃 이요?" (ah.. you want to do take out?) 😂🤣😂   sigh…. hahaha…. well, I should have known. I felt pretty silly having to mumble for a while, trying to explain what I wanted when it was just the simple word, the exact word I wanted to avoid using.
Another time, I wanted to ask for milk to add to my coffee at a Starbucks in Seoul. So I asked for 우유 (Uyu – milk in Korean). And the barista goes – "네?? 아.. 밀크요.." (she answers back and asks if I want 'milk') ?? HUH???
Umm… So I don't know what the difference is…. I guess the milk you add to coffee is different from milk (uyu) you drink?? 😂😂  Koreans are pretty funny sometimes when it comes to using English words instead of Korean words. Anyway… Well, hope that brought a smile to your day!
Ok, back to my list for top 10 Korean Take Out Favorites – here we go!
#1 Korean Fried Chicken
By now you know that Korean fried chicken is one of the yummiest and crispiest fried chicken on the planet. 😝 Follow my recipe and you will have the best-fried chicken and you can have it 'original' with no sauce or make my sweet-spicy soy glaze and make it a more old-fashioned Dak Gangjeong 닭강정 – which is what I grew up with.
#2 Bulgogi
Bulgogi is probably the most well known Korean dish – especially in the BBQ category. My bulgogi recipe has been in my family for now almost 30 years and I have not yet found any better-tasting one since I started the blog. I repeatedly get comments like below –
"This is the BEST bulgogi recipe. I have tried many recipes in the past and this one hits the bullseye for me. I have received many compliments from my dinner guests. I don't need to order this from the restaurant anymore because this recipe is better than the ones in my area!  – Nancy". Thank you Nancy!! 😍
➡️ Go to Recipe
#3 Pajeon (Green Onion Pancake)
Pajeon (green onion pancake) is a very popular dish at restaurants that you can enjoy as a starter to a meal. Now, the pajeon I have here is a very special and uncommon version that has tons of seafood like clams, scallops and shrimp. If you don't' have or like seafood, you can always make my simple Hobak Buchimgae (Zucchini Pancake) which is also amazing yet very simple to make.
#4 Tteokbokki
Tteokbokki is popular street food in Korea and is often sold at food courts and highway rest stops in Korea. The spicy-sweet gochujang sauce makes this dish so addictingly good. Try my most simple recipe that's made with just gochujang and few seasonings OR make a more full version Spicy Rice Cakes with vegetables and fish cake.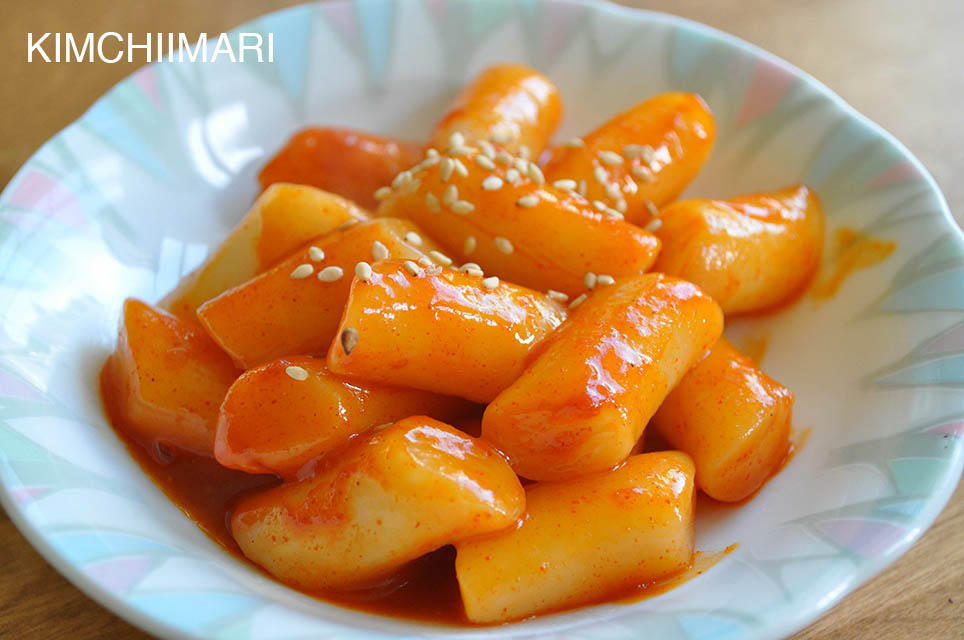 ➡️ Simple Tteokbokki                  ➡️ Tteokbokki with Fish Cake and Vegetables
#5 Japchae
Japchae or Chopchae is almost always in Korean restaurant menus. And it's the best dish to try if you have never had Korean food before. And I think it definitely has to be one of the top Korean take out favorites. These amazing glass noodles are seasoned with lots of sesame oil, soy sauce and sugar and mixed with various vegetables and seasoned beef.
I also have a one-pan vegan Japchae version that's simpler and easier to make but still just as delicious!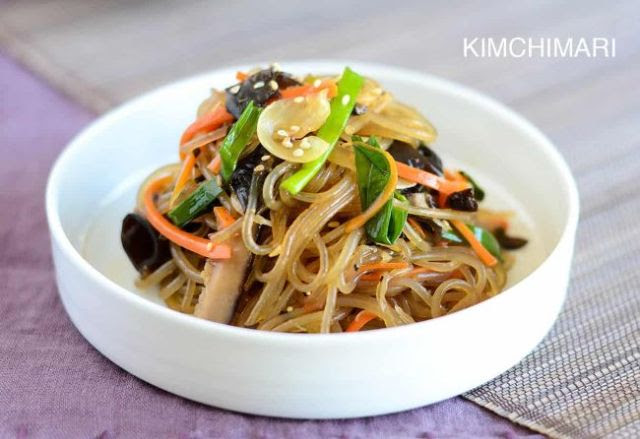 ➡️ Traditional Recipe           ➡️ One-Pan Vegan Recipe
#6 Bibimbap
Bibimbap is another top Korean take out favorite. Each restaurant version is slightly different but largely you can divide it into 2 types – one that comes with rice and various meat and veggie toppings in a bowl (room temp) or another that comes out sizzling hot in a stone bowl – called Dolsot Bibimbap.
My Dolsot Bibimbap recipe is also great because I made the toppings less traditional and a bit modernized, making it easier for you to make with commonly available vegetables outside of Korea like asparagus and zucchini.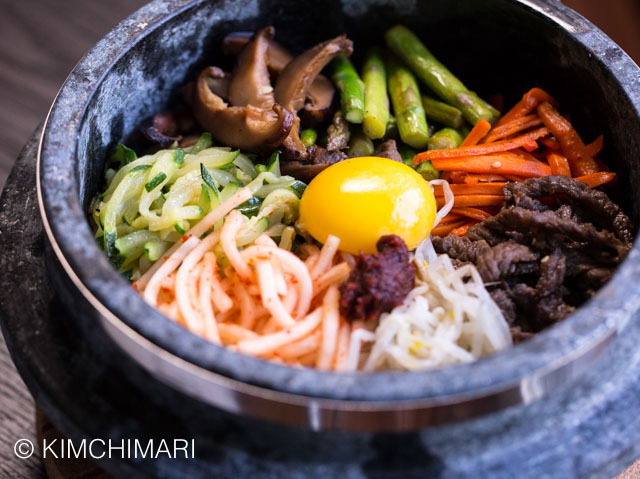 ➡️ Traditional Bibimbap Recipe         ➡️ Dolsot Bibimbap Recipe
#7. Pork Bulgogi
My pork bulgogi is not too spicy but still very tasty with a perfect balance of flavors. If you like spicy, you can always kick it up a notch by adding more red chili powder. This is still my daughter's ultimate favorite to order at a restaurant (when I am not able to make it). Enjoy this with some ssam lettuce wraps or with just rice and some vegetable side dishes.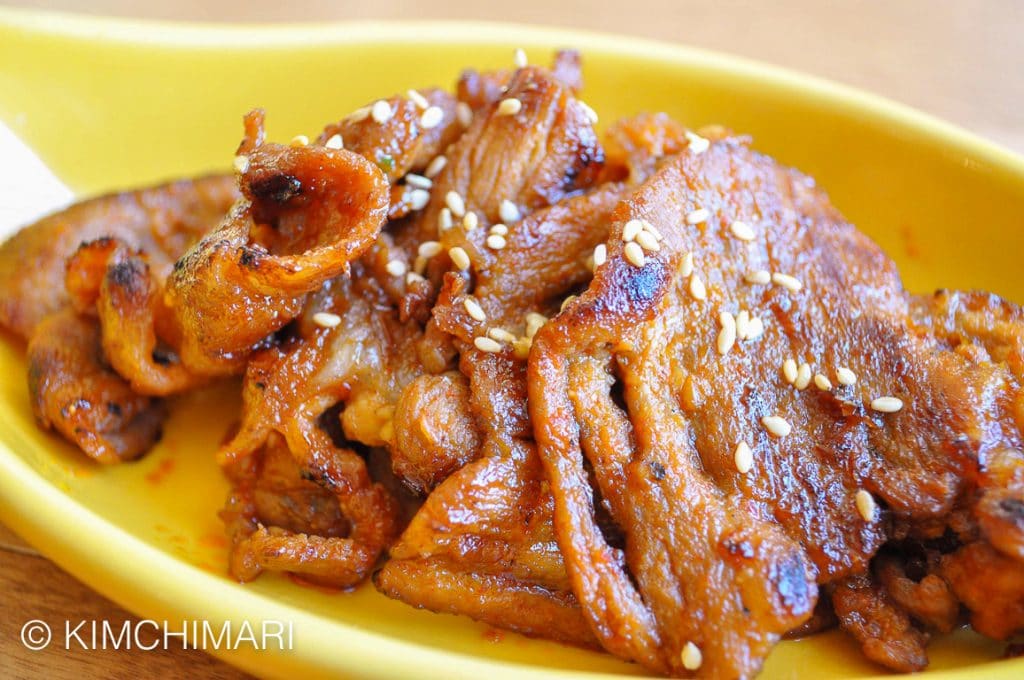 #8 Bomdong Geotjeori Kimchi
A Korean meal is never complete with Kimchi. Although many Kimchis need a bit of work to make and need days for it to ripen properly, there's a fresh Kimchi that doesn't need fermentation and it's called Geotjeori 겉절이. It has all the wonderful flavors of garlic, spicy chili powder and funky fish sauce but it can be eaten right away which is great for busy people.
BTW, Bomdong is a special kind of Korean spring cabbage but you can make it with any regular napa cabbage. If you want to explore and learn more about Kimchi, you can read more in my Kimchi 101 Guide.
#9 Cucumber Salad
Cucumber Salad is my own unique twist on the common spicy cucumber muchim. This wonderfully tangy and sweet cucumber dish is excellent with any Korean meal – with BBQs, with soups and more. And it keeps in the fridge for few days so you can have leftovers later. Ready in 5 minutes or less.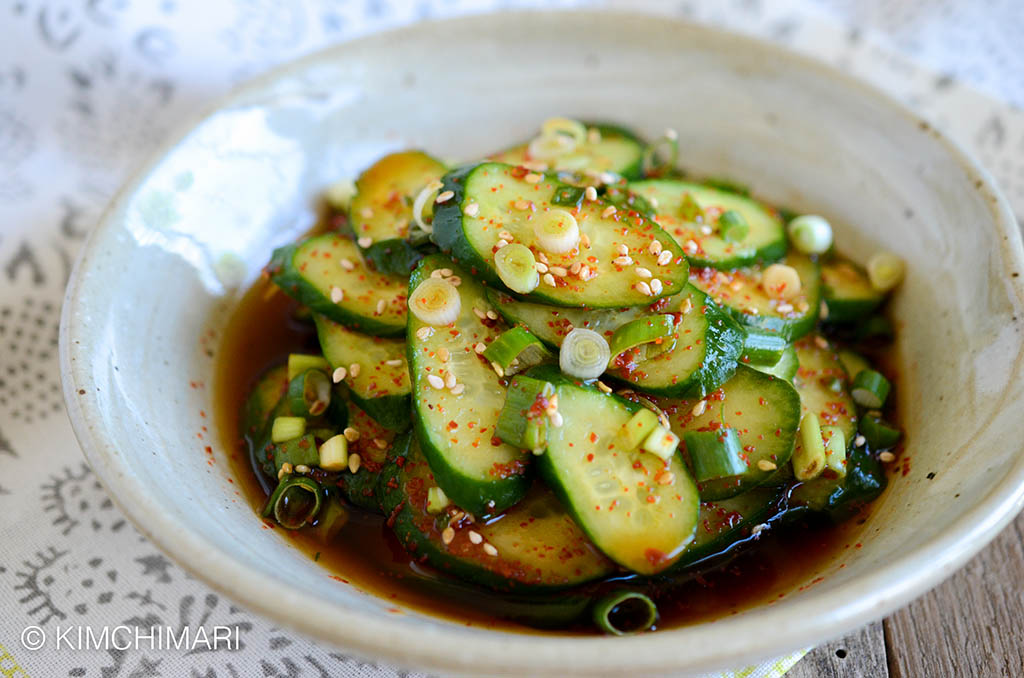 10. Soft Tofu Stew
One of my oldest recipes, Soft Tofu Stew or Sundubu Jjigae is something I had to work on for a bit because it was hard to get the restaurant flavor. The recipe I have here is a great base recipe for any version of soft tofu stew you want, just add different toppings.
And ssh.. this recipe is actually a recipe that I developed for a restaurant so you know it's good. I have 2 versions – the basic soft tofu stew recipe and kimchi soft tofu stew.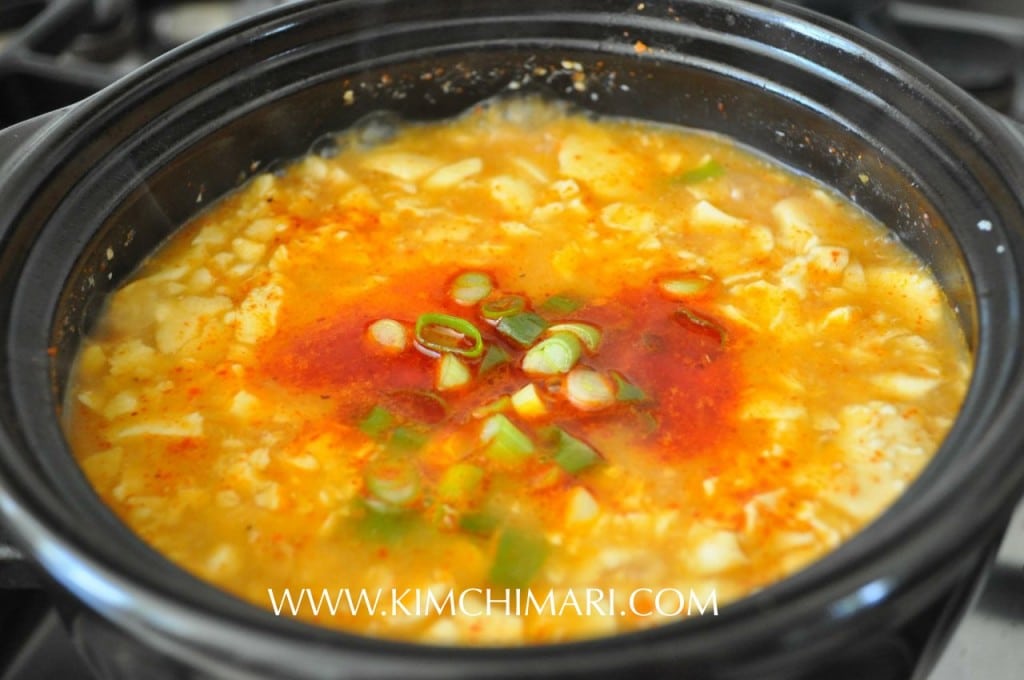 BTW, the best part about this recipe is that you can make a big batch of the seasoning paste and keep in fridge for later. So I have made a big batch for my daughter while she was in grad school and with it, she was able to make
➡️  Basic Soft Tofu Stew                ➡️ Kimchi Soft Tofu Stew
And that's it, folks!! Hope you are able to create some yummy Korean take out favorites at home with these recipes.
Oh and if you want to finish your meal off in true Korean restaurant fashion – make one of these 2 dessert drinks –
Sikhye (Sweet Rice Drink)
This is usually the drink of choice served at the end of a meal in a Korean restaurant. I know you can buy canned ones but they are very sweet and not as flavorful as when you make it at home. So I hope you try making this using my recipe. All you need is the malt barley powder (buy it from my Amazon store), rice, sugar and a rice cooker!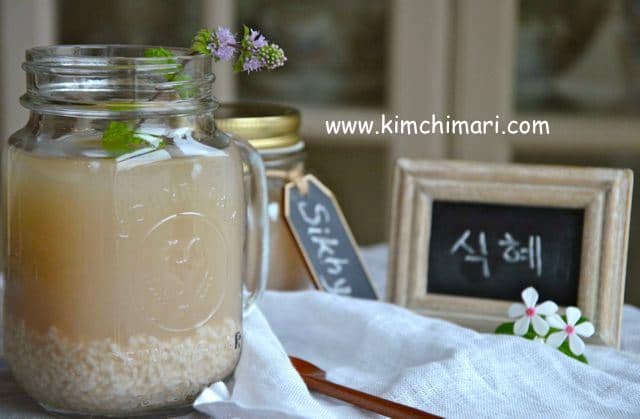 Stay healthy and safe everyone!
XOXO ❤️
JinJoo