Drying radish to make Mumallaengi and drying other vegetables and making delicious dishes with them is what Koreans love to do. It's a great way to store excess vegetables for later, to add fiber and nutrients to your diet.
What is Mumallaengi (Dried Radish Strips)?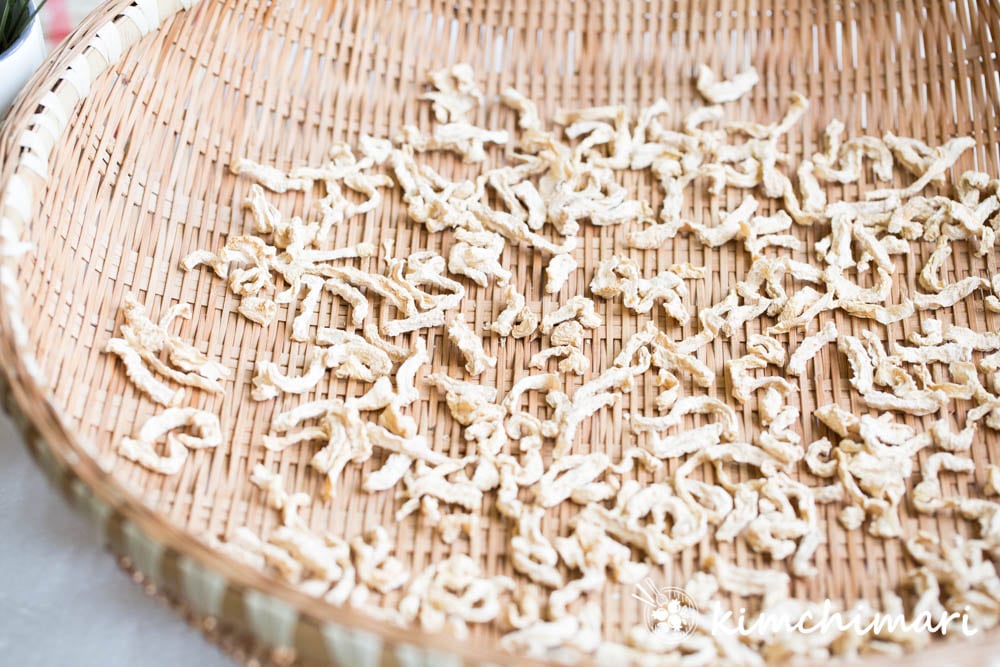 Mumalleangi 무말랭이 means 'dried radish' in Korean. Mu 무 means radish and Mallaengi 말랭이 comes from the verb malida 말리다 which means to dry.
These days, Koreans will mostly just buy Mumalleangi in packages instead of drying them – to make Mumalleangi Muchim (salad) with it. But when I was a kid, my mom will take excess or leftover radishes after making Kimjang and cut into thick sticks then dried them in the sun. To be enjoyed all year long.
Health benefits of Radish and ITS Greens
There's a phrase that many Korean moms used to say when I was growing up – "Gaeul Mu 가을무 (radish in the fall) 는 인삼보다 좋다 (is better than Ginseng)". So you can guess that radish in the fall is especially good for your health.
Digestive enzymes – various digestive enzymes (diastase, amylase, and esterase) that help us digest carbs, fats and proteins are in radish. This is probably why Koreans like to pair grilled meats or meat broth with radish Kimchi like Kkakdugi. Growing up, I remember seeing many Korean adults drink the juice of water kimchi whenever they had indigestion and now I know why.
There's also been a recent research study regarding Effects of White Radish (Raphanus sativus) Enzyme Extract on Hepatotoxicity which concludes that the radish enzyme extract helps to improve liver disorders and can also have "a protective effect on tacrine-induced hepatotoxicity".
My father-in-law and radish
A quick anecdotal story of radish and radish greens being good for your liver… here's the story of my father-in-law. I think I heard this story from my mother-in-law probably about 8 times or more?
Anyway, my father-in-law was in a terrible car accident when my husband was a freshman in college. My mother-in-law believes to this day that he probably would not have been able to have surgery were it not for some radish green juice.
After the accident, doctors told my MIL that they could not operate on his legs because his liver toxicity level was too high. That the numbers needed to come down to normal levels in order for them to operate.
And nothing they were doing was helping.. so my mother-in-law consulted her herbal/oriental doctor (한의사). She was told to make juice from radish greens and give to him and then that his liver would return back to normal. And believe it or not – after just a couple days of ingesting the juice, his liver was well again and they could operate on him!
Who knows, it could have been that it was just time.. but I was just reminded of that story as I read the paper on how radish helps with liver disorders. Note, this is just anecdotal evidence, please always consult your doctor before trying anything.
TIP FROM JINJOO!
Chef's Tips for Drying Mumallaengi
how to buy good fresh Korean radish – fresh radish has a smooth skin and should feel totally firm when pressed. Poor quality radishes can also have little air pockets inside which means air went into the radish as it was growing in the field. These radishes are drier, less sweet and is low on nutrients. To pick radishes without these air pockets, pick up a few similar sized radishes and compare the weight. Radishes with air pockets inside are lighter in weight than the ones that are solid.
substitutions – if you can't get Korean radish, you can use Daikon radish instead. But daikon has more moisture so they can grow mold easily if you try to dry it naturally. Even with full sun, I have found that some pieces will become black so be sure to pick them out and discard. Use a dehydrator for Daikon for best results.
don't cut radish too thin – cutting the radish the right size is very important. Radish will reduce to about 1/3 the size when all dried so if cut too small, your mumallaengi will end up too thin and will not have good texture.
Store in a cool dry place or in the refrigerator if you live in a very humid climate.
Keep the radish away from moisture and rain. Bring the radish inside for the night to prevent it from getting wet by morning dew.
Alternatively, use a dehydrator. The basic 8-10 hrs at 130 ℉ should work. Dry it longer if you think it's still soft.
FYI – Chaeban 채반 – is what you call the shallow weaved bamboo basket (often made from bamboo or other grass) you see in the picture above.
Step-by-step instructions
Peeling radish – it's best not to peel your radish if it is fresh and the skin is nice and clean. But in my case, the radishes were not in the best condition so I had to peel most of it. (The skin has lots of blemishes, scarring and some stuff going on. So I peeled mine with a peeler.)
Cut radish into 2 to 2.5 inch (5 – 6 cm) wide disks.
Turn each disk to have the flat side sitting on the cutting board.
Cut the disk into 1/2 inch (1.5 cm) wide pieces. Then cut each rectangle into same width sticks so you end up with a thick french fry cut that's even all around.
Spread the radish on your basket or drying rack and dry it in full sun for 4 to 7 days (4 days for sunny California) depending on your climate. Basically, you want to dry it until you have a very hard, fully dried radish that just cannot get any drier.
See Video of how it's done!
Serving Suggestions
Mumallaengi Muchim – is a spicy and sweet side dish made with rehydrated dried radish, seasoned with red chili pepper and garlic. Recipe coming next!
Make Tea – roast the dried radish in a frying pan on low heat for few minutes until it is nicely browned but not burnt. Add to hot water and let it steep for few minutes. This tea is said to have many health benefits – high in calcium, great for digestion and also helps the body get rid of toxins.
Use in Bossam – instead of making the spicy radish muchim, use the dried mumallaengi to make it. It has more texture than regular fresh radish.
Make Geotjeori Kimchi – in addition to the muchim seasoning, add some fish sauce and guk ganjang to give it more of a kimchi flavor.
If you liked this recipe, please leave me a comment and ☆☆☆☆☆ rating below!
Print Recipe
How to Dry Radish to make Mumallaengi
How to dry radish strips for Mumallaengi at home
Servings: 1 cup
Equipment
Weaved basket or Drying rack
Ingredients
1 each Korean radish each radish is about 2 – 3 lbs
Instructions
If radish is fresh and clean, no need to peel it. But if radish has brown spots, peel those areas only.

Cut radish into 2 to 2.5 in wide discs. Then turn each disc flat on the cutting board and cut 1/2 inch wide flat slices and cut each slice further into 1/2 inch baton sticks or into very thick fries.

If you get a lot of sun and is relatively dry weather, spread them out on a weaved basket or an herb drying rack. Dry it in the sun for 4-7 days. And don't forget to bring them in at night so it doesn't get wet. Keep away from moisture and rain.

Alternatively, you can use a dehydrator and dry it for 8-10 hrs until fully dried.

Store in a cool dry place in a air tight container or plastic bag. Or store in the fridge if you live in a humid climate.
How to use dried radishes
Make mumallaengi muchim, tea or more. See notes above in the post for different uses.
Notes
Notes –
Store in a cool dry place or in the refrigerator if you live in a very humid climate.
Daikon Radish will also work but use a dehydrator for best results.
How to use dried radishes
Make mumallaengi muchim, tea or more. See notes above in the post for different uses.
Follow Me on INSTAGRAM or my Facebook Page to share, support and ask everything about Korean food with others just like you!