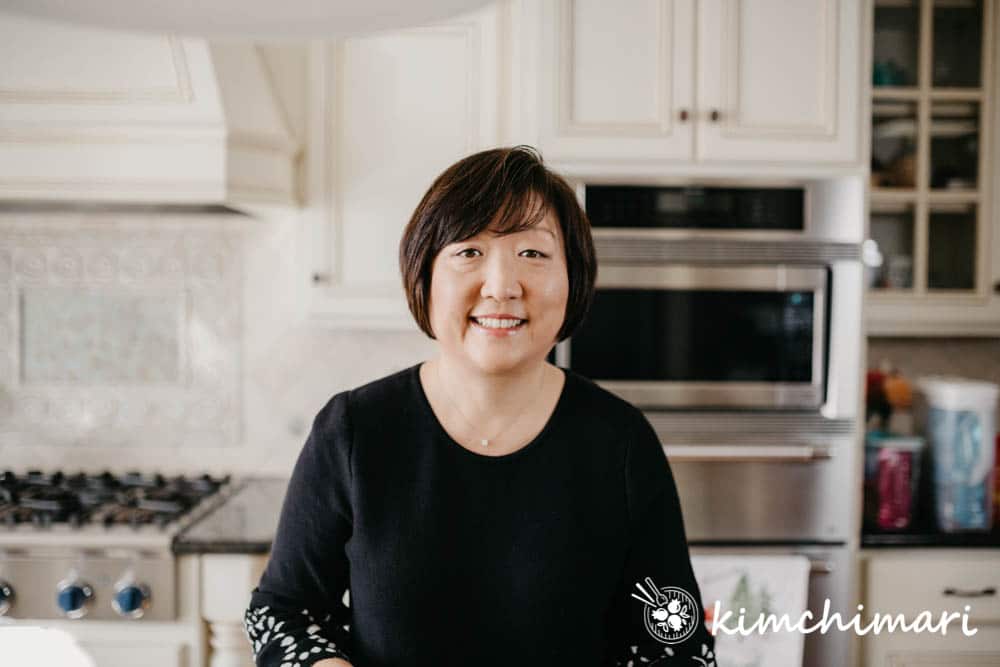 Hi! My name is JinJoo! Welcome to my brand new Kimchimari site!
I am the blogger/photographer/stylist/recipe maker behind this Korean food blog – Kimchimari.
I am also a VERY shy person so it took me 10+ years (as this is now 2021) to make a video of myself. 😝 But I realized I do need to say HELLO in person!! So, here's a brief HELLO from me and a quick introduction to the different areas of my Kimchimari site with Authentic Korean Recipes that ANYONE can cook!
Initially, when I started the blog back in 2011, I was almost embarrassed to tell people that I had a blog because I was just too self-conscious of everything I had on my blog – from pictures to recipes.
When my daughter first approached me with the idea, I said "Who would come and see my blog? I am no chef, I'm nobody…just a mom who loves to cook for her daughter and friends and family." But wow.. I can't believe I am still doing it (almost 10 years since) and I am now proud to show and tell people what I do. And that's all thanks to all of you ❤️ — my wonderful followers and friends who encouraged me all through the years.. (updated 2020)
Welcome to my Kimchimari blog. And here's the story about me (written in 2011).
My Early Career as a Computer Scientist
It's hard to believe that it has already been 20+ years since I left Korea to make a home in the US. In those twenty-some years, I have gone from a Computer Science grad student and a new mom (got married, had a baby and got my Ph.D. degree all in the span of a few years – with a lot of help from my husband, of course), to a full-time software engineer and a part-time mom (this was a very trying time which ended with me getting very sick ) and then to a part-time telecommuting project manager and an almost full-time mom (enjoyed this period a lot with lots of freedom since I worked at home).
Mid-life Dilemma
Now with my only daughter off to college and my health in a better state, I now again have the luxury of being able to pursue whatever I want- full-time, of course with my husband's support (need to make sure he gets proper acknowledgment here 😉 ). And so I am once again faced with the question of "What do I want to do with my life?" or at my age, it's probably more a question of "What do I want to do with all this time I have?"
Of course, there are professional interests and goals that I have but I won't bore you with those. And then there are many other things that I should do – clean out the garage, get new window treatments for our bedroom (the temporary paper blinds are still hanging strong after 3 years! It's not going to be pretty when we take it off!!), sort out the closet, the list goes on and on..
Why I care about Gluten-Free eating
But as a mom, I realized that my job is not done yet. There are still so many things that I didn't get to teach my daughter before she left home-especially about Korean food- not just about cooking, but about the ingredients, about how different foods affect your health and about everything else that you just cannot learn from a book. And with the recent discovery that both my daughter and I are very sensitive to gluten, cooking at home has become even more important.
We both tested negative for Celiac disease but we just know that if we keep eating gluten, it eventually starts to upset our bodies in many ways. Read more here about my symptoms and going GF. We kind of lucked out in that sense because many Korean foods are actually gluten-free – another reason why I need to teach her about cooking Korean!
Food and I were best friends growing up
But this Korean Food at Home blog is not just for her. It's also for me- because it's about what I always loved doing. I always had a passion for good food and I find great joy in cooking, eating and sharing them.
Growing up, I spent a lot of time in the kitchen –not because I had to help out but because I just loved eating (yes, I was a bit overweight growing up). Actually,  my whole family loved to eat and even though we had maids (labor was really cheap in Korea many years ago), when our family wanted to celebrate or enjoy a fun time together, we all gathered in the kitchen and cooked our special recipes.
Being the youngest of five children, I spent a lot of time watching and learning how the wonderful dishes were made by my dad and my sisters (sometimes also my mom and brother 🙂 ). I loved watching them cook because I knew if I learned it well enough, I could make it for myself anytime-just the way I wanted.
If you want to hear more about how I grew up, how I got into food and all that, here's another video from me! 😍
Food pairings started early for me
I also loved to experiment with different food pairings even as a kid. I am a firm believer that pairing foods are just as important as cooking. One of my favorite pairings (my sisters and brother always called me crazy and strange when I ate these together!) was to eat apple pie and salami together. Another great pairing is Korean yakgwa and salami. You see the trend.. Yes, salami was and still is my ultimate favorite!
And I'm sure you have tasted the savory and sweet pairings in other ways. Pairing brie cheese with fig preserves or prosciutto with honeydew melon is all based on similar concepts.
So, I guess, in a broader sense, I hope to make this blog a place for our children who want to cook and eat Korean food at home as well as for anyone else who might be interested in learning and sharing about real Korean food-sometimes in a simplified way compared to the ways of our mothers, but still very traditional and totally Korean.
Happy cooking and eating everyone!
❤️
JinJoo
Interviews and Mentions
My Culinary Education
Culinary Techniques, French Culinary Institute (now ICC in Campbell, CA)     Spring 2012
Food Stylist Program, Sookmyung Women's University (Seoul, Korea)   Sept 2012 – July 2013

Obtained Korean Food Stylist license in 2013

Kimchi and Fermentation, Institute of Traditional Korean Food (Seoul, Korea) Sept – Dec 2013
Korean Dessert Class, Sookmyung Women's University (Seoul, Korea)  Jan – Mar 2014