Multigrain Rice Instant Pot recipe is the perfect solution for making what usually takes a long time in the regular pot or even in the fancy pressurized Korean rice cooker. Instant Pot reduces the cooking time by as much as 40% (compared to pressurized Korean rice cooker) so if you have it, you gotta try it!!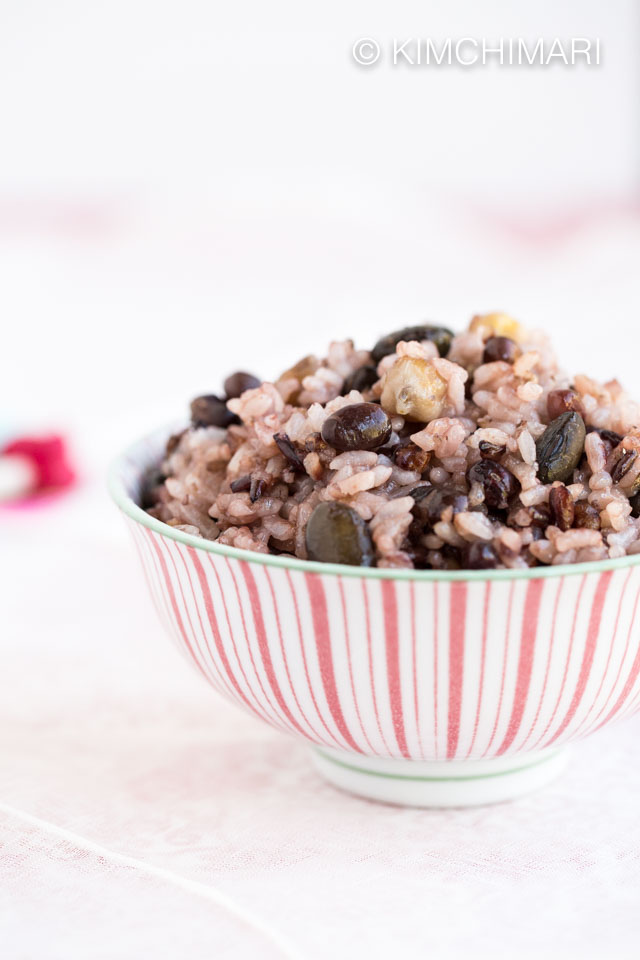 Multigrain rice or Japgokbap was not an easy rice to make in the old days before the invention of pressurized rice cookers or other cookers like the Instant Pot. Because even after soaking the individual grains and beans for hours, our moms had to pre-cook the beans, especially the Adzuki beans. Then the grains and beans were often added at different times during the cooking process.
I think partly because of how time consuming it was to cook the Korean Multigrain Rice, in previous generations Japgokbap was a special treat that was prepared only on special occasions like on the eve of First Full Moon festival (Jeongwol Daeboreum 정월대보름). You can read more about the festival in my Multigrain Rice Recipe post.
In recent years, especially with the knowledge that anything that's whole grain and less processed is healthy, Japgokbap has become very popular is preferred by many Korean adults with diabetes, weight problems and other health issues.
BTW, this Multigrain Rice Instant Pot Recipe was quite easy to do  – I actually succeeded on my first try! (I did test it couple more times though, just to make sure).
List of 10 Different Korean Multigrain Rice
Korean Multigrain Rice or Japgokbap  잡곡밥 is such a general Korean word for a whole variety of rice that has different grains or beans added to regular white rice. Although the combinations are pretty infinite, here are some common 10 Korean Multigrain Rice (Japgokbap) that have their own name.
Ogok Bap 오곡밥 – this rice contains 5 different grains or beans. Read more + recipe in this post.
Heukmi Bap 흑미밥- purple rice (white rice + black rice). Recipe here.
Hyeonmi Bap 현미밥 – brown rice (white rice + brown rice or 100% brown rice)
Bori Bap 보리밥 – barley rice (white rice: barley in 1:1.5 ratio)
Kkong Bori Bap 꽁보리밥 – 100% barley
Kijang Bap 기장밥 – proso millet rice (white rice: millet in 5:1 ratio)
Jopssal Bap 좁쌀밥 – foxtail millet rice (white rice:millet no more than 5:1 ratio)
Paat Bap 팥밥 – rice with Adzuki red beans (white rice:sweet rice:red beans = 4:2:1 ratio)
Kong Bap 콩밥 – rice with any kind of beans (usually one or more of black beans, chickpeas,
Nokdu Bap 녹두밥 – rice with mung beans (white rice: mung beans in 2:1 ratio)
Goguma Gamja Bap – rice with sweet potatoes and regular potatoes
Wandukong Bap 완두콩 밥 – rice with green peas
Yulmu Bap 율무밥 – rice with Job's tears (Adlay)
FYI, here is a picture of 8 common grains and beans that can be used for this Multigrain Rice Instant Pot recipe.
General Cook's Tips for Multigrain Rice Instant Pot Recipe
As I discuss in my other Korean multigrain rice post, you can basically mix in any number of whole grains and beans to make what Koreans call Japgokbap. However, there are some general tips that you can learn from our ancestors and me. 🙂
Multigrain rice Instant Pot Recipe need less water than cooking in regular pot. Total rice mix to water ratio is 1:0.8~0.9 compared to 1:1 in general rice cooking guideline.
No need to soak grains like white, sweet, brown, black rice when cooking in IP
ALWAYS SOAK BEANS – soaking beans is important not just for fully cooking them but also important for removing any toxins. Read more HERE.
Do NOT use natural release or let the rice sit too long, covered in the IP after it's cooked. Rice will get too wet and mushy if left too long.
SENSITIVE STOMACHS – AVOID sorghum, Job's tears and beans but DO add sweet brown rice, black rice and millet. They are known to help with digestion.
FREEZE SOAKED BEANS to SAVE TIME – Unlike grains, most beans need to be soaked before it is cooked. A great time saver is to soak the beans in larger amounts overnight, drain and keep them frozen until you are ready to use. Just toss in frozen beans to your rice and you are good to go right away!
FYI, mixed beans generally double in volume when soaked so if you are using fresh or soaked beans, you can roughly use 1/2 of the recipe amount.
FREEZE leftover multigrain rice and reheat in microwave on high for 2 min or so. I actually like to make a big batch and freeze for later. I think frozen home made rice is SOO much better than haetban 햇반.
Step-by-Step Directions for Multigrain Rice Instant Pot Recipe
Measure dry beans and grains. Soak beans for 6 hrs or more or overnight. Change water 1-2 times during soaking and drain and discard water before cooking with rice.
Rinse white and sweet rice with water. Rub rice with hands to remove dust and other particles. Rinse about 2-3 times. Drain.
Mix drained rice and soaked beans in the pot. Add water. Use 1:0.9 dry rice mix to water ratio.

Defrosted frozen beans for Multigrain Rice

** This picture shows previously frozen beans+sorghum+millet in the front cup. The 2nd cup in the back shows white and sweet rice mixed.

Add salt. Salt is optional but traditionally Korean Japgokbap is cooked with salt and it does taste really good that way.
Close lid, lock and seal the knob. Set manual HIGH pressure for 18 minutes.
When it's done, turn knob to release steam!
Serve warm with any Korean meal! Except… this rice doesn't work great for bibimbap. But it's wonderful with any Korean stews, soups, side dishes.
XOXO ❤️,
Enjoy!
JinJoo
☆ Did you make this recipe? I hope you can give me a 5 star rating below!
And leave me a comment to let me know how you like it! I'd LOVE to hear from you! 😍
You can also FOLLOW ME on FACEBOOK, PINTEREST and INSTAGRAM or join my FACEBOOK GROUP to see, ask and share everything about Korean food with others just like you!
Instant Pot Multigrain Rice (Korean Japgokbap)
Korean Multigrain Rice is a great healthy white rice alternative but it needs a long time to fully cook. With the Instant Pot, it's ready in 25 min total as long as the beans are pre-soaked.
Prep: 5 minutes
Cook: 25 minutes
Total Time: 30 minutes
serves: 12
Ingredients
2 cup short grain white rice
1 cup sweet rice (glutinous = sticky)
1/2 cup Adzuki red beans
1/2 cup Sweet Sorghum
1/2 cup Millet
1/4 cup Chickpeas
1/4 cup Black Beans
4 1/2 cup water
3/4 tsp sea salt
Instructions
Measure about 1/2 cup of Adzuki red beans, Sorghum, Proso or Foxtail Millet and 1/4 cup of Chickpeas or other beans. No need to soak white rice. Change water at least 1-2 times during soaking and rinse the beans before adding to pot.

Measure 2 cups short grain white rice and wash by rinsing and rubbing rice gently between your hands in water. Drain then repeat at least 2-3 times.

Drain all beans and grains. Discard water.

In the pot, add white rice, sweet rice, beans and grains.

Add 4 1/2 cup water to pot. The general rule of thumb is to use grain to water ratio as 1:0.9.

Add about 3/4 tsp sea salt.

Close lid and set to Manual High pressure 18 min. Make sure the seal is tight and everything is set correctly for pressure cooking.

When rice is cooked, manually release pressure. And open and serve once fully released.
Tips & Notes:
Fully soak all beans and change water to make sure all beans are completely re-hydrated and any toxins (lectin) rinsed off.
Adzuki red beans can cause some irritation for sensitive stomachs. Pre-cook Adzuki beans if you want to make sure it doesn't cause any digestion issues for people with weak stomachs. But I have no issue so it should be fine for most.
Mix some type of glutinous sweet rice or grain to produce a good chewy texture.
To save time, FREEZE re-hydrated beans and sweet rice and add them directly to white rice to make multigrain rice in your rice cooker or Instant Pot in just minutes.
Salt is optional but add salt for most traditional flavorful Japgokbap.
Do NOT use natural release because it will make the rice too wet and overcooked.
Nutrition Information:
Calories: 249kcal (12%)| Carbohydrates: 53g (18%)| Protein: 6g (12%)| Fat: 1g (2%)| Sodium: 116mg (5%)| Potassium: 153mg (4%)| Fiber: 3g (13%)| Calcium: 13mg (1%)| Iron: 2.4mg (13%)