Korean rice bowl recipes for every kind of diet, from vegans and health-conscious eaters to meat and raw fish lovers. Some are more involved (like Bibimap) but others are quite easy, simple and quick to make with just a few ingredients. Great for lunch and when cooking for one.
Whatever your diet may be, everyone can benefit from quick and easy rice bowls. These convenient and customizable Korean rice bowl recipes offer delicious options rich in authentic Korean flavors that anyone can enjoy. Whether you are vegetarian or carnivorous, these meals will satisfy you. If you're cooking for a family or a party of mixed diets, some of these recipes offer the easy solution of simply adding the meat later. If you are vegan and gluten-free or simply watching your diet, there are healthy choices for you. Grab a bowl now!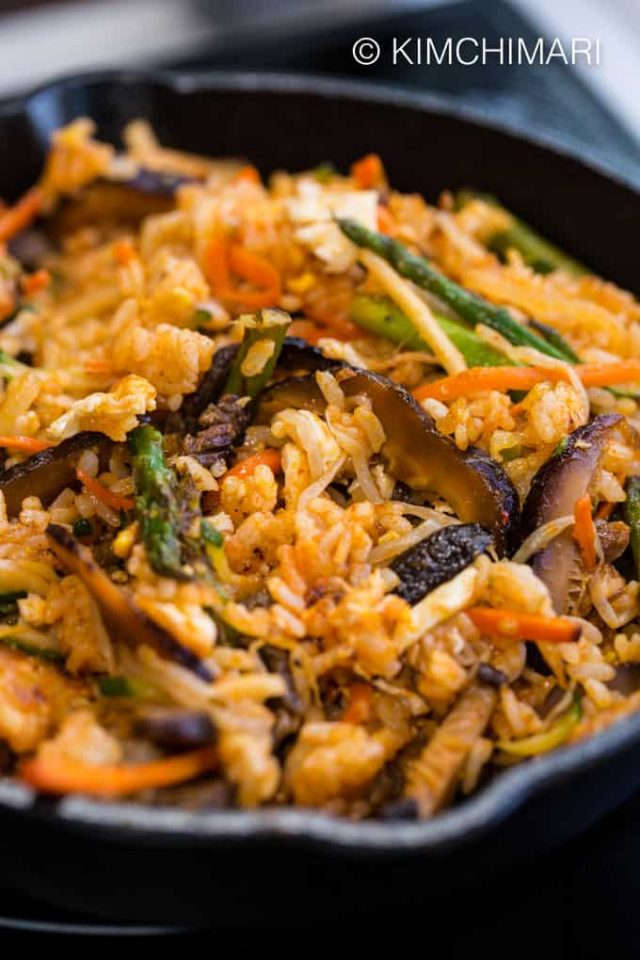 Bibimbap is a classic Korean rice bowl made of rice, vegetables, and meat all mixed together in a spicy gochujang sauce. What makes bibimbap good is the combination of spicy, savory, and slightly sweet flavors with a variety of textures from the ingredients. It's truly a complete meal!
VEGAN –  just omit meat and substitute with extra firm tofu strips or shitake mushrooms with bulgogi marinade
GF – make sure you use GF soy sauce then the rest should be good
Another variation of Bibimbap is Dolsot Bibimbap In this version, bibimbap is served in a sizzling hot stone pot, which means you'll get aromatically browned rice at the bottom. Top it with a fried egg and you have a visually stunning complete meal that everyone will love.
Same GF, Vegan suggestion as above. For Pescatarians or if you like seafood, substitute beef for calamari and or shrimp.
This one is for sashimi fans! Hoedeopbap or Korean Rice Bowl with Sashimi is similar to bibimbap except for the fish. Or one may say it's almost the same as a poke bowl. EXCEPT, Korean Hoedeopbap does not marinate the fish but just adds it raw. It has a rice base topped with veggies and they are mixed together with a tangy gochujang sauce. Instead of plain gochujang with sesame oil, a sweet-sour gochujang (chogochujang) sauce is used for Hoedeopbap.
If you're not a fan of raw fish, then try this meat lover's special. This is not a traditional Korean dish and even the name Bulgogi Rice Bowl is my creation. The main difference from Hoedeopbap is that sashimi is replaced with bulgogi (Korean BBQ beef), so you're still guaranteed authentic Korean flavors. Great meal using leftover bulgogi.
Mushroom lovers, rejoice! Four Mushroom Rice in Stone Pot (Beoseot Bap) is a one-pot rice dish that highlights the flavor of mushrooms in a wonderful way. This recipe uses enoki, shiitake or brown, oyster, and king oyster mushrooms. It's vegan and gluten-free so it's perfect for a health-conscious VEGAN meal.
The simple yet nutritious Rice with Soybean Sprouts (Kongnamul Bap) is a Korean family favorite. Rice is cooked with soybean sprouts and beef and served with seasoned soy sauce and green onions. Note that Korean soybean sprouts have bigger heads that are yellow, unlike the mung bean sprouts that are more common in the US. Great with a side of Kimchi.
No kimchi?? No problem!
Let's get creative when the kimchi cravings strike. My Mock Kimchi Rice uses sauerkraut and bacon (yes, you read that right!) to create the flavor of kimchi. All you need are 5 ingredients: rice, red chili powder, garlic powder, bacon, and sauerkraut. Soooo yummy!! This is a favorite for our family when we go to places when there are no good Asian or Korean groceries nearby.
These 7 Korean rice bowl recipes should give you some ideas when you need to make a quick and easy complete rice-bowl meal for every kind of eater in your life!
XOXO ❤️
JinJoo