One item on my "Must Do" list while I was in Korea was to make a trip down to Damyang (담양) to visit a renowned artisan who owns his own craft shop called Moksan Gongyakwan (목산공예관) as seen in the picture above.
FYI – The doggie is a Korean breed called Sapsalgae (삽살개) – very cute isn't he?
Mr. Kim Gyuseok is a famous Korean Rice Cake Mold (Tteoksal 떡살) Artisan who has been collecting and restoring over 1000 traditional Tteoksal designs for over 30 years. And in 2013, he was even awarded the title of Korean Living National Treasure in the area of wood sculpture by the Korean government for his dedication and mastery of traditional Korean wood sculptures and carvings.
I became interested in these beautiful Korean rice cake molds while I was researching for traditional Korean designs to use for my logo on my Kimchimari blog. Among many traditional Korean rice cake mold designs, this triple pomegranate design really caught my eye so I decided to make a logo out of it. I did this, of course, after checking to see if there would be any copyright issues of the design and I was happy to find that it would be OK since it is part of the public national cultural heritage design catalog.
During my visit with Mr. Kim, I learned that the 3 pomegranate design is one of the three special fruit (pomegranate, peach, buddha's hand) designs that was used in traditional Korean weddings for centuries. All three fruits symbolize good fortune, prosperity and fertility. I have been wanting to visit Mr. Kim and his workshop in person to see his creations and also possibly buy a mold with my logo in it because it was NOT available anywhere else in Korea. After almost a year, as I was getting to leave Korea, I was finally able to make the trip with my husband.
Now, it turns out Mr. Kim has not only collected and restored the traditional rice cake mold designs but had also co-authored a Korean cookbook called Sensible Korean Food. All recipes in the book are based on yin=cold and yang=hot energies of food. He told me that at first, he fstarted researching about just mold designs but then in the process, he uncovered many traditional recipes unknown to the public. And to him, the recipes seemed so precious because it was based on the wisdom of our ancestors, passed down through generations for thousands of years.
Mr. Kim also talked about how unfortunate it was that today's Korean food has forgotten these basic concepts in cooking shaped by Korean ancestors for many generations. He was disappointed that the latest trend in Korean food was based on food combinations mostly coming from a series of medical books written in the 16th century called Dongui Bogam(동의보감). Compiled by the royal physician, Heo Jun (1539 – 1615) during the Joseon Dynasty of Korea. The title literally means "a priceless book about medicines of an eastern country".
And until he pointed this out, I never gave it much thought…But he was totally right in that this medical book called Dongui Bogam was written to help sick patients, NOT healthy people. He said, sick people's yin and yang balance is drastically out of balance and therefore more extreme foods are advised to bring the balance back to normal. However, for healthy people, such extreme foods are not necessary nor advised. What most healthy people should know is how to eat a well balanced meal of both cold (yin) and hot (yang) foods and not leaning too much to any one side. How wise!!
Mr. Kim also shared his worries regarding rice cake mold designs – each mold designs have specific meanings and were meant to be used for different occasions such as weddings and birthdays but now almost all of that knowledge is lost. Out of the 1000 mold designs, I would say there are probably less than 10 designs that are commonly used by Korean rice cake makers today. Before I met him, I never knew we had so many designs and also how the rice cake mold stamps came in so many different shapes and size: as a single mold stamp, a cube stamp having 6 stamps, a long bar that has several designs.. I mean it just goes on and on..
Look at all the different stamps Mr. Kim has in his shop!
Through Mr. Kim's words, I somewhat got a glimpse of the real old traditional ways of Korea –
How in the old days, there was time to put meaning into everything and appreciate and share the beauty of them, even in something as simple and small as the design of a rice cake.
As for my pomegranate design, Mr. Kim told me that it is a design that is only in the record books and is no longer available in real life. But he had an idea to carve a custom mold for me using all the 3 symbols (pomegranate, peach, buddha's hand) for weddings. I wasn't sure if there would be enough time for me to get this custom made stamp back from him before I left Korea but he told me he would work through the Korean Lunar New Year holiday to make it happen. I couldn't believe that I was able to get it just before I left Korea.
And so here it is!! Below is a photo of my very own Tteoksal!!! I feel so LUCKY to have met Mr. Kim and to be the proud owner of the one and only custom made Korean rice cake mold stamp with my very own Kimchimari logo on it.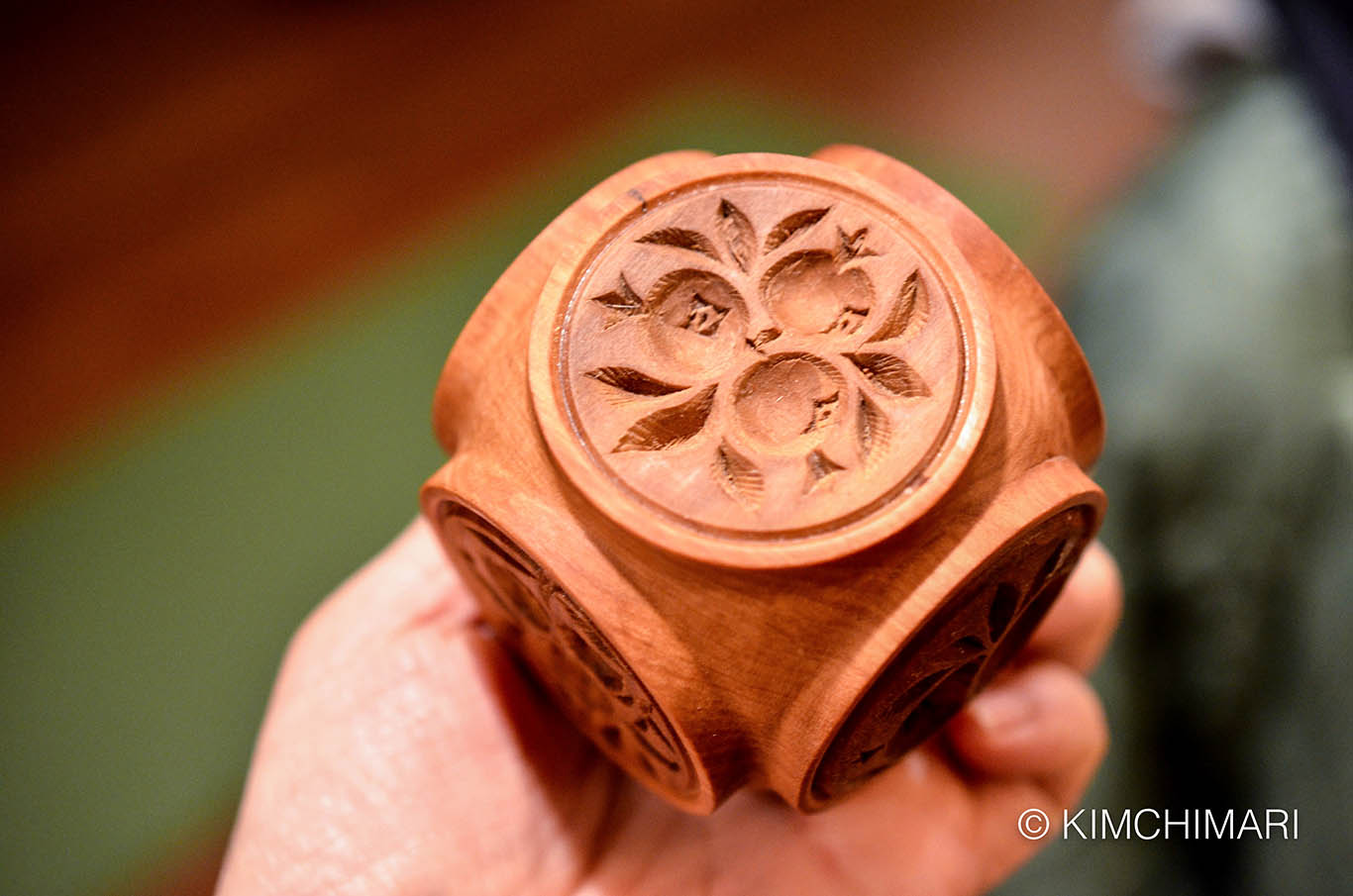 Each side features a fruit pattern using one ore more of the 3 fruits (peach, pomegranate, buddha's hand) which were meant to bring prosperity and fertility for the new bride and groom.
I just can't wait to make my own Jeolpyeon (절편) with these Korean rice cake mold stamps. BTW, here is a sample picture of some of the more common tteoksal mold used today stamped on Jeolpyeon.
My visit with Mr. Kim has truly inspired me to research more into the traditions and the yin and yang theory of foods and incorporate into our daily Korean cooking. I feel truly lucky to have made the visit to an artisan who dedicated his whole life to preserving the fantastic heritage of our Korean ancestors.
Hope you will take the time to learn more about your own food culture and heritage as much as you can!
Take care,
JinJoo