Korean Soup Soy Sauce (Guk Ganjang) is not very well known but is a must in any kind of authentic Korean cooking because most Korean soups are seasoned with it. It is also used to add incredible umami flavor to Korean stews and many vegetable side dishes (namul).
Korean Soup Soy Sauce or Guk Ganjang (국간장) is a unique Korean soy sauce that you may not heard of before. Most of us are familiar with soy sauce but did you know that there's a specific soy sauce in Korean cuisine for making soups, stews and namuls? If you are serious about authentic Korean cooking that is not limited to BBQ and bibimbap, then Guk Ganjang is a must-have in your Korean pantry.
Since it is the go-to soy sauce for making Korean soups, it also goes by the name Guk Ganjang or "soup soy sauce". In addition to soups, one simply cannot make Korean vegetable namuls without this amazing soy sauce. Up until about 50 years ago, every Korean home made and used this sauce at home and thus the name – Jip Ganjang 집간장, meaning "house soy sauce".Different names for Korean Soup Soy Sauce – Guk Ganjang 국간장, Joseon Ganjang 조선간장, Jip Ganjang 집간장, Jeontong Ganjang 전통간장 (traditional soy sauce), Jaerae Ganjang 재래간장(Jaerae means 'of the old ways').
How is Soup Soy Sauce (Guk Ganjang) made?
Traditional Korean soup soy sauce is made from soybeans, water and salt. Cooked soybeans are formed into blocks (meju) and the entire fermentation process that takes two to three months, resulting in a unique umami flavor packed soy sauce.
What does Soup Soy Sauce taste like?
Korean Guk Ganjang is saltier, lighter in color, a little more pungent and much more complex in flavor than regular soy sauce. It smells quite funky like a fermented fish sauce. For more information, read my
Korean soy sauce buying guide
. Now that you know about Korean soup soy sauce, it's time to start cooking with it!
SOUPS AND STEWS
Almost all Korean soups (guk) and stews (jjigae) are best seasoned with it, which is why it is known as "soup soy sauce" or guk ganjang. Here's a great selection of Korean soup and stew recipes using this wonderful seasoning sauce.
The classic Beef and Radish Soup (Seogogi Mu Guk), also known as Daikon Soup, is an everyday Korean soup that's very simple to make. It's mild in flavor and easy to digest, making it a wonderful soup for the entire family, even for children and the elderly.
Rice Cake Soup is an important dish in Korean cuisine and is served during special occasions like the new year celebration. This recipe has a rich beef broth that usually takes a long time to make, but you can save time with the Instant Pot without sacrificing the flavor. No Instant Pot? Get this recipe.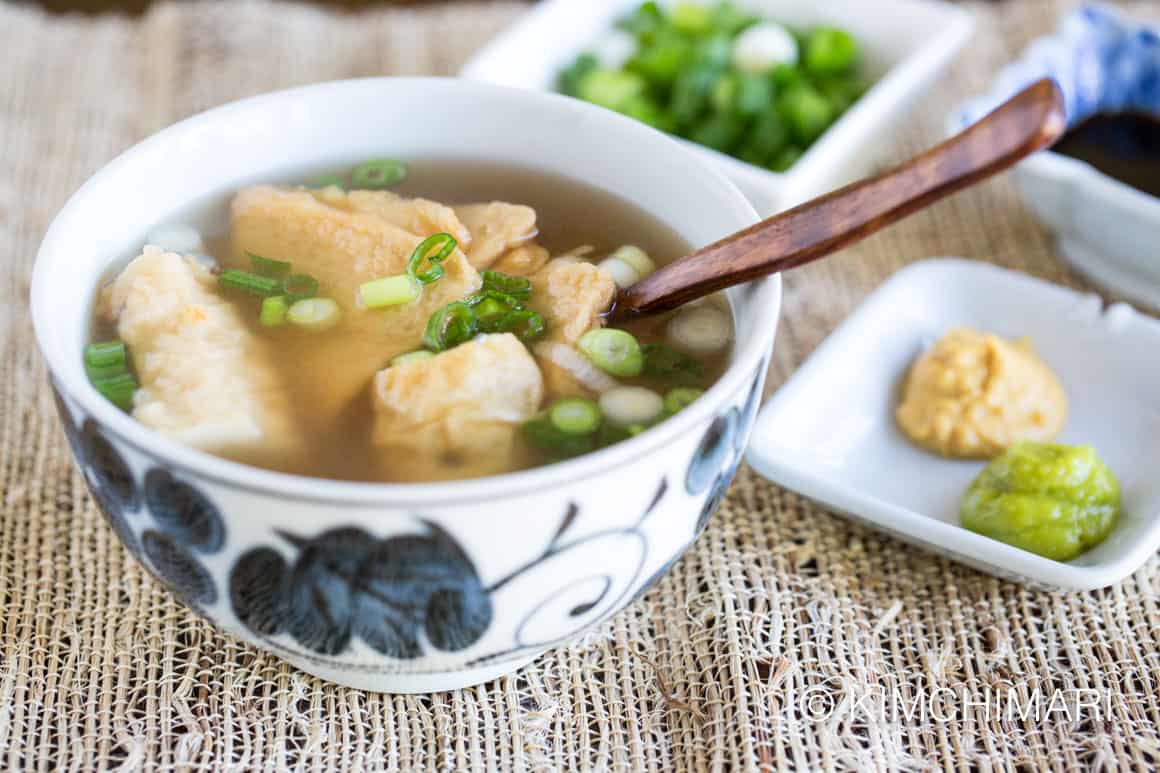 The tummy-warming Fish Cake Soup (Eomuk Guk) is a popular street food in Korea, and is especially comforting on cold days. I know originally it comes from Japan where it goes by Oden Soup. But what makes this different from the Japanese style sweet Oden soup is that once it is seasoned with Korean soup soy sauce, it totally turns into something else. You can find fish cake from Asian or Korean supermarkets. To make a meal, serve it with bibim noodles and Korean vegetable fries (yache twigim).
Yukgaejang is a spicy Korean beef soup made with brisket meat and has green onions, bean sprouts, and gosari (bracken fiddleheads). If you taste the soup BEFORE you add the soup soy sauce (guk ganjang), you will feel like something is missing from the flavor profile… then you add the magic Korean soy sauce and voila!! The dish is complete.
It's so good you will not be able to stop at one bowl. Don't worry, my recipe is on the less spicy side! Serve it with some rice and kimchi for a complete meal.
The meaty Korean Short Rib Soup (Galbitang) is a rich and deeply satisfying soup. It usually takes hours to boil on the stovetop, but you'll only need half an hour of cooking time with the Instant Pot.  This soup is very simply seasoned with just salt and Guk Ganjang. If you don't have an Instant Pot, check out my traditional Galbitang recipe.
Seaweed Soup (Miyeok Guk) is a highly nutritious vegan soup made simply of seaweed and seasoned with chosun ganjang, salt, and sesame oil. It is rich in minerals and is traditionally consumed by women after childbirth to help with recovery. Make it for your family today!
If you like kimchi, then you must make the classic Kimchi Stew (Kimchi Jjigae). It is a good way to use up old and overripe kimchi that may be too sour to enjoy fresh but is wonderful when stewed. Don't miss this must-try recipe!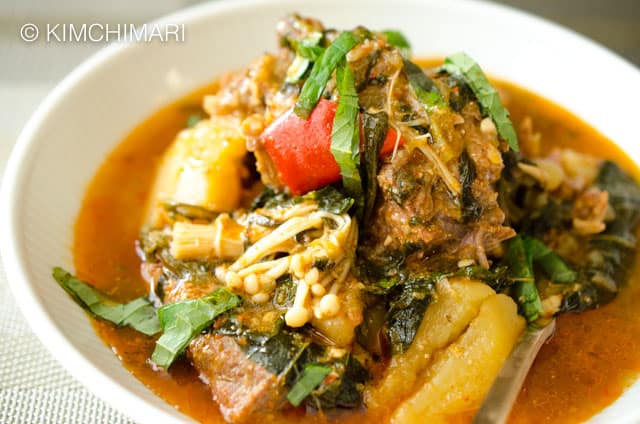 Korean Spicy Pork Bone Stew (Gamjatang) is a hearty stew made with pork neck bones and potatoes. It is easier to make with the Instant Pot because the pork bones need a long cooking time, but you can also make it on the stovetop with my regular Gamjatang recipe. Another dish where the addition of Guk Ganjang makes a huge difference in flavor.
Spicy Pollock Roe Stew (Al Tang) is a unique Korean dish that's bursting with the taste of the sea and unmistakable Korean flavors like pepper powder, gochujang, and chosun ganjang. If you love seafood and spicy food, this is the recipe for you! It only takes about 30 minutes to make.
Alaska pollock is a very important ingredient in Korean cuisine. You can make a delicious and spicy Alaska Pollock Stew (Dongtae Jjigae) with frozen Alaska pollock, which you can find at the Korean supermarket. Koreans will tell you this is the best fish stew to warm up your tummy!
SIDE DISHES

Other than soups and stews, most namuls (Korean seasoned vegetable dish) are seasoned with Korean Soup Soy Sauce, especially the ones made with dried vegetables. Here are a few traditional namul recipes using Guk Ganjang:
This vegan Korean side dish is made with dried zucchini slices instead of fresh ones. It's very easy to make and super delicious. So now you know what to do with the abundance of zucchini when the season comes: dry them in slices so that you can make this recipe anytime!
This recipe is part of the three-colored Samsaek Namul collection that comes from the Korean tradition of paying respects to ancestors with a thoughtful display of food offerings. This dish represents the green color and is made with perilla leaves.
This is another recipe in the Samsaek Namul collection (see above). It represents the brown color and is made with dried bracken fiddleheads (gosari), which you can find at the Korean supermarket.
FINALLY, VEGAN KIMCHI…
Guk Ganjang is a great substitute for fish sauce if you want to make vegan kimchis. It's also great in fresh kimchi for a light and refreshing flavor. Here's a recipe for instant kimchi that everyone will enjoy:
Fresh Kimchi Salad is instant kimchi you can make in minutes without pickling. It does not require fermentation and can be eaten right away. Keep this recipe handy and whip it up to impress guests at a party. It will be a conversation starter!
I'm sure that these recipes will make you fall in love with Korean soup soy sauce. Leave me a comment below and let me know if you try any of the recipes. I'd LOVE to hear from you! Feel free to tag me on Instagram @kimchimari so I can see your cooking. 😍