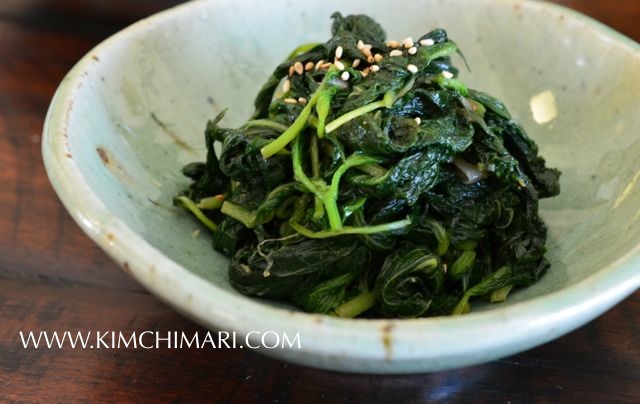 In my 2nd post about Korean Samsaek Namul (Three color vegetables), I will show how to make a green Kkaetnip namul (깻잎 나물) or Sauteed Perilla Leaves.  If you have a perilla plant that is growing out of control in your garden or if you just simply have too much perilla leaves (kkaetnip), this will be a perfect dish to make. It is great way to eat a lot of perilla leaves because it uses a good part of the plant (stem and all) without having to pick individual leaves.
If you have just the leaves, you can use that instead. I planted some seedlings about a week ago so hopefully I should be able to make this with my own perilla leaves very soon.
BTW, did I tell you how happy and thankful I am to be back in California and having my own backyard vegetable garden? Cooking and gardening are two things that make me very happy and grateful. Here are some pics from my garden..
I planted this orange tree right before I left for Korea in 2012 and this is the first year I have seen any fruit on it, so I'm really excited to see this baby orange fruit for the first time.  Please don't fall, baby orange!!
Now, for a little bit of a history lesson on Samsaek Namul…The dish comes from the tradition of Koreans paying respect to their ancestors by preparing an offering of a table full of food and the descendants bowing in front of the table.  There is a very complicated protocol on how to prepare the table of offering – so complicated that there is even an App developed to help the clueless young Koreans prepare the제사 Jaesa (offering).
5 rows with odd number of dishes per row, fish to the east, meat to the west, rice and soup on the north end (where the ancestral ghosts will sit) and desserts like yakwa and fruits (in odd numbers) at the south end.  Nothing spicy or red colored (hmm.. guess ghosts can't eat spicy foods?? haha),.. the rules go on and on..Of these rules, there is one rule that says you must have a plate of 3 colored vegetables or Samsaek Namul of white, brown and green.
I was surprised to find perilla leaves in bunches at our local grocery store,  so it was perfect! This was one bunch which was probably about 10 stems?
Servings: 2                  Cooking Time: 10 min                     Difficulty: easy
Ingredients
4 oz fresh perilla leaves or top part of plant (2 bunches)
1 tsp Guk kanjang/Gook Kanjang(korean soy sauce for soups) – see K ingredients
1 tsp perilla seed oil (들기름 deul gireum) or sesame oil
1/2 tsp chopped garlic
1/4 onion, thinly sliced (optional)
sesame seeds or perilla seeds
Wash and clean perilla leaves. If you have the whole top part of the plant, take off leaves and tender part of the plant. Discard any thick stems that do not break easily.

Discard Perilla Stems too thick to eat

Prepare a pot of boiling water with salt added and an ice bath. Blanch perilla by putting perilla leaves in boiling water for 10 ~ 30 seconds depending on how tender they are. Do Not over cook.

blanching perilla in pot

Once perilla leaves are blanched, quickly remove from boiling water and plunge them into an ice bath to stop cooking.
Grab a handful of blanched perilla and form a ball in your hand. Squeeze any excess water and it should look like this (top)-

blanched perilla and fiddleheads with excess water removed by hand

Season perilla leaves by adding perilla oil/sesame oil, guk kanjang and garlic. Massage with your hands to make sure leaves are seasoned well.
Saute seasoned perilla in a non-stick frying pan over medium low heat for 1 – 2 min until they are gently cooked. If they look too dry, add 1 T of water and cook some more until most of the liquid has evaporated. I added some thinly sliced onions for extra flavor here but that's totally optional.

Seasoned and sauteed perilla kkaetnip namul

Sprinkle sesame seed or perilla seeds and that's all you need to do!

Korean Samsaek Namul or Three color vegetables (White, Brown, Green)

Three Color Vegetables (Samsaek Namul) – Green

Samsaek Namul comes from the tradition of Koreans paying respect to their ancestors by preparing an offering of a table full of food and the descendants bowing in front of the table. One of the rules of the tradition is to have a plate of three colored vegetables, white, brown, and green. This recipe is for the green part.

Cook: 10 minutes

Total Time: 10 minutes

Nutrition Information:

Calories: 28kcal (1%)| Carbohydrates: 1g| Fat: 2g (3%)| Sodium: 138mg (6%)| Potassium: 20mg (1%)| Vitamin C: 1mg (1%)
Enjoy Kkaetnip Namul (Sauteed Perilla Leaves) as a side dish to any meal or make Traditional Bibimbap by adding some other wonderfully healthy and delicious Korean namuls such as Kongnamul, Radish Namul, Gosari Namul, Shikeumchi (Spinach) Namul, Doraji Namul and more.
Note about Perilla Oil or Deul gireum(들기름) :
Korean Deul gireum/Deul gi reum is oil made from pressing the perilla seeds. It has a stronger nuttier taste than sesame seeds and has a minty, anise flavor that some people find it too strong. Even among Koreans, you either love it or your don't. I love it, my husband doesn't. But if you can get it, by all means try it. It also has great health benefits – very high in Omega 3 and also contains Omega 6 and Omega 9 fatty acids.
Here are two other colors – BROWN Gosari Namul (fiddlehead ferns)  and WHITE Radish Namul.