9 Chuseok (Korean Harvest Moon) recipes that you can make at home, from rice recipes like Songpyeon (rice cakes), Sikhye (rice punch), Jeons (fritters) to Samesaek Namul (vegetable side dish with three colors).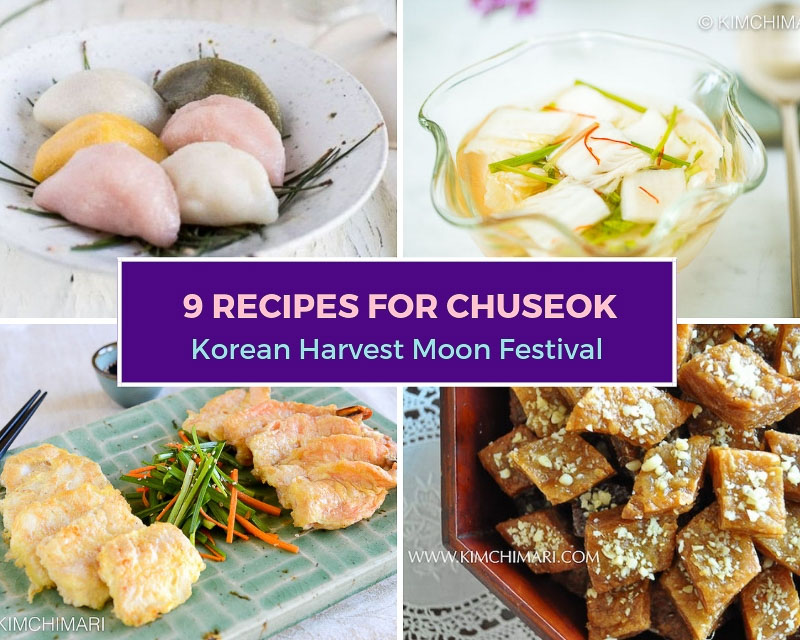 What is Chuseok 추석?
Chuseok 秋夕 literally means "autumn evening," and it's a harvest moon festival commemorating the season's crops. In Hangeul (pure Korean), it's also called Hangawi 한가위. 한가위 means the middle of August or Fall as this day is Aug 15th in the lunar calendar around the autumn equinox.
In 2023, this day falls on Sept. 29th and the Korean government has announced a long holiday that starts from 28th Thursday till Monday Oct 2nd. Since Chuseok will be different every year depending on the lunar calendar, the Korean government announces a temporary long holiday weekend to make sure every Korean has enough time to go back home to their hometown if they need to and celebrate the tradition together.
For many Korean families, Chuseok is a time when people gather together to perform Jesa (제사 ancestral rites) by cooking wonderful foods to offer to their ancestors,  setting the table and inviting the ancestor spirits to visit and enjoy the food. Jesa for Chuseok is also called Charye 차례 and when the ceremony is over, the whole family will enjoy the food together.
Traditionally in the past, the women in the family (mom, daughter-in-law, daughters) spent days preparing all the Jesa food. But today's modern Korean family often chooses to go on trips instead or actually order the foods from businesses instead of laboring for days to prepare it all. But it's still good to know the history behind these foods.
Chuseok is also a time to celebrate all the abundance of This Year's crop which will always include rice and fruits. Chuseok recipes include rice cake, rice wine, and rice dessert with the new rice crop along with festive dishes like grilled fish, dried seafood (octopus, pollock or yellow croaker), beef jerky (yukpo), seafood fritters (saengseonjeon), and vegetable side dishes (namul).
How to set the table for Chuseok Jesa (Charye 차례)
When setting up the table for the ancestral ritual, there are certain rules and guidelines on what and how foods should be prepared and how they should be placed on the table. This tradition has been part of the Korean culture for hundreds of years, perhaps going back to when Koreans prayed to mountain gods or tree gods for safety and abundance.
When setting up the table, here are some general rules (it is said that the spirits are not fond of the following 😉)
no aromatics such as garlic, red chili powder, green onions should be used – which means no spicy or heavily seasoned foods
no peaches or other fruits that are fuzzy – ghosts don't like fuzzy things.. 😝
BTW, if you want to learn how the traditional Jesa table was setup, here's a diagram that I drew to show you how it's done! So the ancestor's place is at the North end and at the South end, the descendants will take turns to bow and offer wine to the ancestral spirits.
There are 14 rules in all that guide how you set this offering table. Overall, it should have 5 rows with different foods that range from fruits to soups and tteok.
There's even a rule that says all produce from the earth (i.e. plants) should be in odd numbers (hence the fruits are stacked in odd numbers) and all produce from the sky (i.e. meat and fish) should be in even numbers. Anyway, I've drawn a sample Chuseok table that contains typical Jesa foods. Hopefully, you can see it OK!
NOTE – there is a little mistake in this drawing. I should have drawn 2 place settings (2 spoons + chopstick sets and 2 memorial tablets (신의 shineui)) since we have 2 plates of songpyeon for each ancestor but I only drew one instead… not sure what I was thinking.. that's why I wrote "x2" next to each. Guess spirits come in couples.. LOL.
Row 1 (from top, left to right): Noodles, wine, songpyeon, wine, songpyeon, flat tteok (rice cake)
Row 2 (left to right): 어동육서 (魚東肉西 eo-dong-yuk-seo) means fish to the east and meat to the west, 동두서미 (頭東尾西 dong-du-seo-mi) means fish head must face the east and tail must face the west. So we have beef jeon, beef jerky, assorted skewered jeok, grilled fish (with head pointing to east), fish jeon
Row 3 (left to right): 3 soups, beef soup, tofu soup, fish soup
Row 4 (left to right): 좌포우혜 (左脯右醯 ja-po-wu-hye ) means dried food (po) to the left or west and Sik(hye) to the right or east.
Row 5 (left to right): 조율이시 (棗栗梨柿 jo-yul-yi-si) means fruits must be placed in this order – dried jujubes -> peeled chestnuts -> pears with top cut off -> persimmons.
Based on this table, I've put together 9 Chuseok recipes that Koreans cook and eat to memorialize and pay respects to their ancestors and also to just celebrate the coming of autumn!
1. The most famous Chuseok Recipe – Songpyeon – ROW1
One cannot celebrate Chuseok without making this wonderful treat called Songpyeon(송편). As a kid, this was one time when I was allowed to fully participate in the kitchen without being told I should just go and do my homework. 😝I think I always preferred being in the kitchen than being up in my room doing some boring homework..hahaha..I guess I was meant to be doing this.😍
This steamed rice cake is made with short-grain rice cake dough and has a sweet filling. It's vegan and gluten-free! I use matcha powder and kabocha squash to create different colors of the dough, and I like to make fillings from sesame seeds and mung beans. It can be a fun kitchen session with the family! Don't miss my step-by-step photos and a how-to video in the post here.
Tradition has it that the rice cake is steamed on top of a layer of pine needles so that the "chi" of the pine tree will transfer and make us strong and healthy. Plus, this process also gives the rice cake a wonderful aroma of the pine tree.
2. Beef Soup (Yuk Tang 육탕) – ROW 3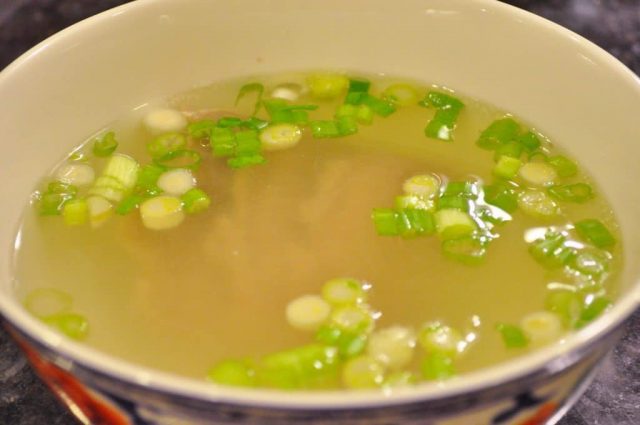 Hearty Korean Beef Soup (Yuktang aka Gogiguk)
Probably the most basic soup in Korean cuisine but also one of the three soups in Chuseok recipes. This beef soup is wonderful on its own but also a great base for many other soups like Tteokguk and more.
3. Three-Color Vegetable Side Dish (Samsaek Namul) – ROW 4
Another pretty dish that's always included in Chuseok recipes is Samsaek Namul, which basically means "three-color vegetables." The specific colors are white, brown, and green. I use white radish to make white namul, bracken fiddleheads to make brown namul, and perilla leaves to make green namul.
This significant dish is part of a display of food offerings to family ancestors on the morning of Chuseok in a memorial ceremony known as Charye 차례. Koreans return to their hometowns to pay respects to their ancestors for a bountiful harvest.
4. Pan-fried Fish and Shrimp Jeon (Saengseon and Saewoo Jeon) – ROw 2
Fish and shrimp fritters, or jeon in Korean, are almost always served in a full-course traditional Korean dinner, especially for special festive meals around Chuseok and New Year's. To prepare this, simply coat fish and shrimp in eggs and flour and then pan-fry them to golden brown perfection. Fish jeon is usually made with white meat fish, especially cod and pollock.
These fritters are another great party food because they can be made ahead and kept warm in the oven until serving time. The tip is to cover them partially so that they don't dry up. You can serve jeon at room temperature too, but they taste so much better warm.
5. Water Kimchi (Nabak Kimchi 나박김치) or MUL KIMCHI- ROW 4
As the rules say,  you cannot put heavily seasoned spicy foods so a regular kimchi cannot go on the Chuseok charye table. However, there is a spot for mul kimchi. And how can one ever have Korean food without any kind of kimchi?? Dead or alive..?? HAHAHA.. but I guess I must be missing something.
I have 2 water kimchi recipes – Radish Water Kimchi and Nabak Kimchi. You can choose any one of these. They should only take 3-4 days to fully ripen.
6. Dakdoritang or Dakjjim (Stewed Chicken)
Soy Sauce Chicken Stew – Dakdoritang with carrots, colored potatoes and green chili peppers[/caption]
Dakdoritang or Dakjjim is another meat dish that can be placed on the table. This is a very mild stewed chicken dish with lots of root vegetables making it a hearty dish.
7. Yakgwa (Honey pastry)
Yakwa/Yakgwa – Korean honey pastry dessert[/caption]
Holidays always call for something sweet, right? A celebration dessert for Koreans is Yakgwa, a healthy sweet treat made with sticky rice, dried jujube dates, chestnut, and pine nuts.
Fun fact: This delicacy was created by one of my husband's ancestors! You can read about it in this post. I learned the traditional Yakgwa recipe from my mother-in-law and I created this baked Yakwa recipe in case you don't want to bother with frying.
8. Sweet Rice Punch (Sikhye)
Much like holiday time in other cultures, Sikhye is a holiday time drink and is a classic dessert drink in my Chuseok recipes list. This dessert beverage is made from rice and malt barley. It has a unique sweet taste with melt-in-your-mouth rice grains that come floating in the drink.
9. Dasik (Tea Cookies)
Another classic treat that is rarely made at home anymore are these delectable sweet Korean tea cookies that our Korean ancestors enjoyed many moons ago. 😝They can be made with black and white sesame seeds, green matcha and omija tea. I share below 2 recipe posts that together will help you make 6 different dasik cookies!
Matcha Green Tea and Omija Cookies are wonderfully healthy no bake Korean cookies that are so elegant, beautiful and traditional. These delicate cookies are made with fine Matcha powder and Omija tea sweetened with honey. Korean nobility enjoyed these sweets as snacks during their tea time.
Get Recipe
How to make traditional Korean tea cookie (Dasik) for Lunar New Year's. Cookies are made from finely ground sesame seeds, green tea powder and more. Great melt-in-your-mouth cookie that is simple to make and pairs wonderfully with green teas.
Get Recipe
EXTRA- RICE for ROW1
Although my diagram doesn't include rice, some families like to serve rice and beef soup on row 1 in the center. You can make rice following my RECIPE HERE.
Well, I hope these recipes will give you a taste of the traditional Chuseok celebration in Korea.
🍁Happy autumn!🍁