What is Hwangtae (Dried Pollock) ?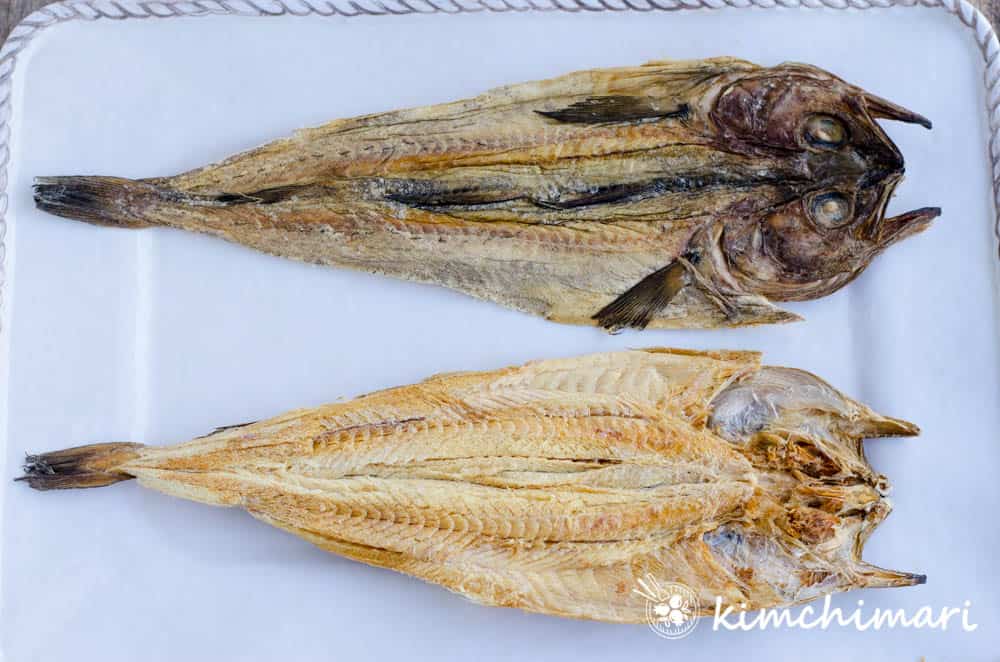 Dried Pollock or Hwangtae (황태) is the dried Alaska Pollock but the process of drying involves freezing/drying in the cold winter months which produces a more intense flavor and dark yellow color and hence the name 'hwang' which means 'yellow'.
FYI, Koreans have different names for all the different forms of this favorite fish.
명태 (Myeongtae) – is THE name for Alaska Pollock. They are caught in the North Pacific.
동태 (Dongtae) – frozen Alaska Pollock
생태 (Saengtae) – fresh Alaska Pollock
북어 (Bugeo) – fully dried Alaska Pollock
황태 (Hwangtae) - freeze-dried Alaska Pollock
코다리 (Kodari) – semi-dried Alaska Pollock
 노가리 (Nogari) - smaller younger pollocks are dried until they're rock hard. 
Not To Be Confused With
Pollack or Atlantic Pollock which is a different genus Pollachius and not Gadus.
Where and What To Buy
Hwangtae comes in different forms. You can buy the whole dried fish or you can buy just the meat part torn into pieces which are called Hwantgae Che 황태채.
How to Use/Cook
Even though technically there's a difference between Bugeo vs Hwangtae, the word is used almost interchangeably in Korea since almost all dried pollock sold are Hwangtae as they are softer and more flavorful.
You can use the whole fish and make jorims or Bugeo Bulgogi. You can see a close up of the dried pollock flesh in the picture below -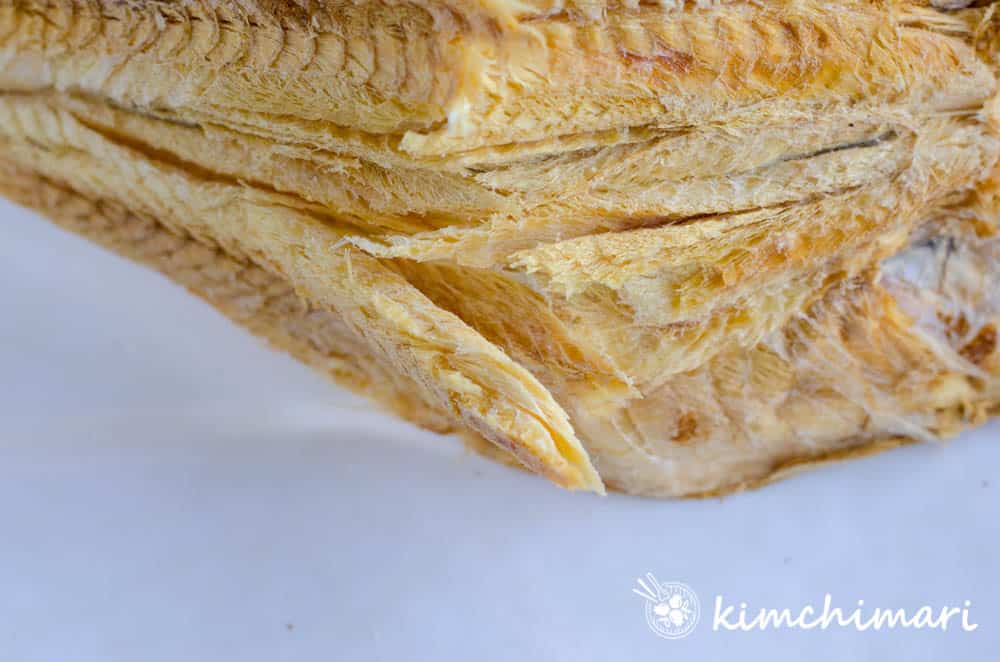 And then when you tear up the dried fish with your hands into strips, you get what you see below -
Or you can tear out meaty flesh part into strips and make Hwangtaeche 황태채 and use it to make Bugeo Guk with it or season it and make a side dish like Bugeo Muchim.
Also, Bugeo is also a very popular Anju (side dishes that are served with liquor or rice wine) in Korean cuisine. Usually it is enjoyed by dipping the dried fish in simple gochujang (not seasoned but straight up gochujang).
How to Clean/Store
You can store Hwangtae in a cool dry place but for longer storage it's best to keep it refrigerated.
Nutrition/Health Info
Research shows that pollock has a high amount of an amino acid called methionine that helps with normal liver function and is essential for elimination of toxins in the body. And in Korean culture, Bugeo has long been known to help with hangovers by detoxifying the liver.
When I was growing up, I remember many feeding boiled dried pollock head soup to dogs whenever they ingested something bad. Once my dog ingested rat poison and my parents gave the dog some bugeo soup and he survived!
Recipes that use it: