Healthy Korean Ingredients that you must try at home with easy recipes. From Kimchi to Dried Pollock, I share how these recipes also benefit your health!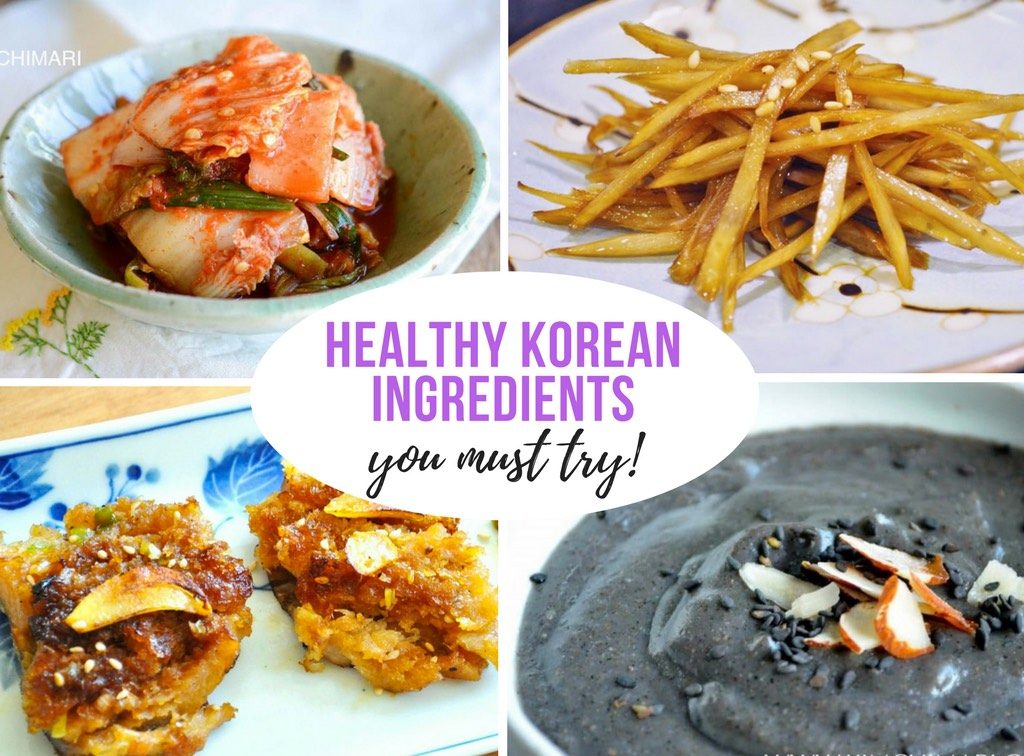 Healthy Korean ingredients that are a must-have in your pantry so that you can enjoy the tastiness of Korean cooking at home as well as reap its health benefits. Food as medicine is such a big part of the Korean food culture that there's even a name for it – Yakseon (약선 藥膳) Eumsik (음식 飮食). Yak means 'medicine' and this refers to cooking and eating foods as a way to heal the body from various illnesses or to simply promote one's well being. Here's an article that has more info on this subject.
Yakseon Eumsik is a combination of oriental medicine, nutrition, and food science. Sometimes oriental herbs like ginseng is added to soup or desserts and sometimes a HOT food is suggested to warm up a COLD body and bring it back into balance. And sometimes a nutritious food is suggested to help someone regain their strength. Yakseon has always been incorporated into Korean Royal Cuisine as it is only natural that the royal cooks would do everything in their power to cook the most healthy foods to help promote the health of their King. An example is a Royal Chicken Soup (Gungjung Baeksuk) dish where 16 different grains and 24 different berries/nuts/fruits were all cooked together with the chicken!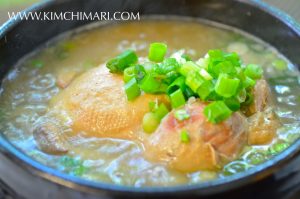 Check out my Korean chicken soup (Yeong Gye Baeksuk) recipe and Korean ginseng chicken soup (Samgyetang) recipe.
Also, certain healthy Korean ingredients are traditionally eaten during different times of the year and at different stages of a person's life to support the body under various circumstances, such as extreme environmental temperatures and recovery from an illness.
These healthy Korean ingredients have been passed down for many generations. I learned it from the mother figures in my life, they learned it from their mothers, and I will pass it on to my children. And I'm so happy to share this food wisdom that I inherited from my ancestors with you. I've also listed easy recipes to help you include these healthy Korean ingredients in your diet. Let's start with the most famous Korean ingredient of all… kimchi!
KIMCHI

This is one healthy Korean ingredient that everyone should know about! Eating fermented foods can optimize gut health. Lucky for us Korean food lovers, kimchi is packed with beneficial gut bacteria that improves digestion, which then supports our overall physical and even mental health. The good news is kimchi is low in calories, high in fiber, and loaded with vitamins and minerals.
While the traditional napa cabbage kimchi is the most common, you can actually make kimchi with many different vegetables, such as radish, green cabbage, and cucumber. If you're new to kimchi-making, try my recipe for Mak Kimchi, which is what Koreans like to call everyday kimchi because it's much easier to make with simpler ingredients and less time. For something light and refreshing, you might want to try water kimchi, which has a drinkable liquid. This type of kimchi is so clean tasting that you'll feel a belly-cleansing effect.
Kimchi Recipes:
Easy Kimchi aka Mak Kimchi (막김치)
Water Kimchi (Mul Kimchi물김치)
SOYBEAN SPROUTS
Soybean sprouts are super nutritious and versatile in Korean cuisine. Kongnamul is probably the most common healthy Korean ingredient used in everyday cooking. They make a good side dish on their own and can easily be added to soups and stews. In fact, Koreans swear by soybean sprout soup to help alleviate the common cold and even hangover. It's Korean version of chicken soup for the soul!
Another simple way to enjoy soybean sprouts is to mix them with rice, which was a popular dish in almost every Korean home when I was growing up. Nutritionally rich in vitamin C and Bs to boost one's immunity, the head part of the soybean sprout contains a lot of protein while the root end provides fiber. Research has also shown that the amino acid asparagine contained in the root contributes to healthy brain development in children. And when you add red chili powder to make it spicy, it adds even more vitamin C to this amazing soup.
Soybean Sprouts Recipes:
Soybean Sprout Soup (Kongnamul Guk 콩나물국)
Rice with Soybean Sprouts (Kongnamul Bap 콩나물밥)
RADISH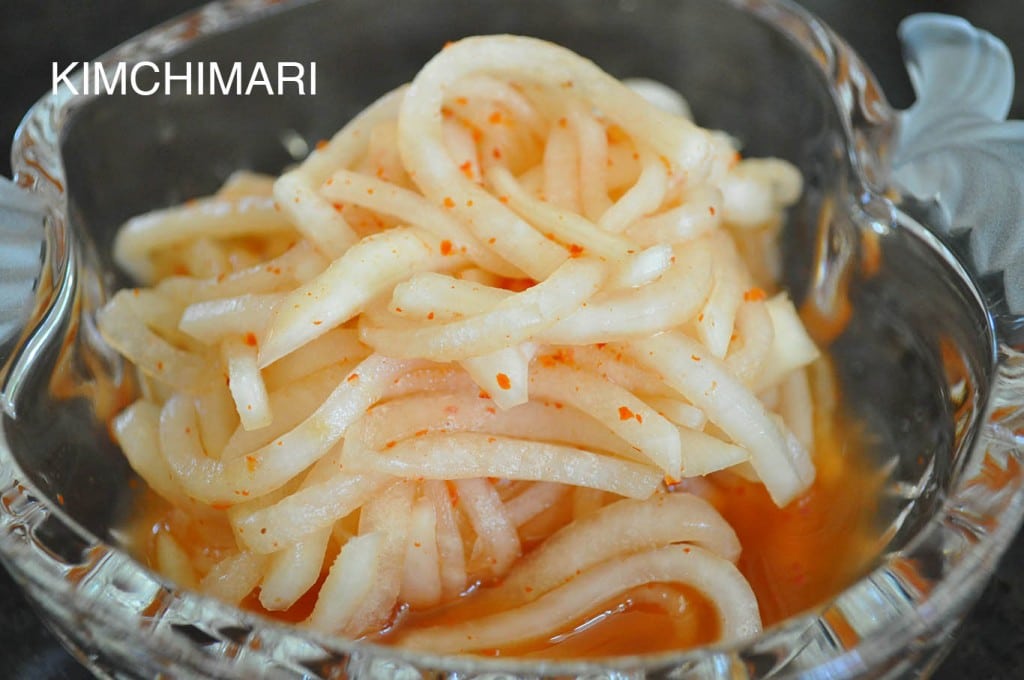 Did you know that the shredded radish that decorates your food in Korean restaurants is edible and really good for your health? Korean radish has various digestive enzymes, namely diastase, amylase, and esterase, that help us digest carbs, fats, and proteins. That's why they appear so often with Korean dishes and not just to look pretty! Radish salad is a nice side dish to have with heavy meat dishes to cool down your body, balance off the fattiness, and aid in digestion.
Koreans drink the juice of radish kimchi whenever they have indigestion. Researchers at Tokyo's College of Pharmacy have discovered that daikon juice inhibits the formation of dangerous chemicals in the body. If kimchi juice is not your thing, try making radish soup to enjoy the benefits.
Radish Recipes:
Radish Salad (Moo Saeng Che 무생채)
Radish Kimchi (Seokbakji)
Radish Soup (Mu Doenjang Guk 무된장국)
SEAWEED

The health benefits of the nutrient-dense seaweed are well-documented, especially the fact that it's an excellent source of iodine, iron, and vitamin C to aid iron absorption. No wonder Korean women are advised to consume seaweed soup after childbirth. It's a food wisdom that has been passed down through many generations from mothers to daughters to help with recovery and to increase the production of breast milk.
Seaweed is also low in calories and high in soluble and insoluble fiber, which is good for digestive health, lowering cholesterol, and weight control.
Seaweed Recipes:
Seaweed Soup (Miyeok Gook 미역국)

DRIED POLLOCK

Dried pollock is a type of dried fish traditionally used in Korea for its ability to help the body eliminate toxins. Hence, dried pollock soup is known as a hangover cure among Koreans. My mother-in-law also believes in eating dried pollock soup before and after a herbal medicine regimen to help clear away any toxins from the body. Research shows that pollock has a high amount of an amino acid called methionine that helps with normal liver function.
Dried pollock is a good healthy Korean ingredient to have in the pantry or even freezer because you can easily make side dishes and soups out of it any time. One can easily pan sear dried pollock and because it's dried, you can freeze marinated pieces in advance and cook them almost instantly without needing to defrost.
Dried Pollock Recipes:
Pan Seared Dried Pollock (Bugeo Gui북어구이)
Dried Pollock Soup (Bugeo Guk) 
SESAME SEEDS

Typically used as a garnish, sesame seeds add a nutty flavor and crunchy texture to Korean dishes. Sesame oil too is commonly used to make dipping sauces and dressing, like sesame soy dressing for salads. Sesame is not only an important flavor agent in Korean cooking but also included in the diet for its many health benefits.
In the winter, Koreans turn to the soothing black sesame porridge to stay warm. It is also easy to digest and Koreans often eat it to regain strength after surgery and to ease constipation. Sesame seeds are known to be high in fiber and calcium as well as rich in vitamins and minerals, including iron, magnesium, and copper. Recent research also claims that it may have anti-cancer benefits!
Sesame Seed Recipes:
Black Sesame Porridge (Heukimja Juk흑임자죽)
Songpyeong (Korean Rice Cake with Sesame Filling)
Korean Tea Cookis (Dasik 다식)
BURDOCK

Burdock root is a really popular root vegetable in Korea. This healthy Korean ingredient has reportedly been traditionally used as a medicinal herb in many cultures and consumed as a digestive aid and also acts as a natural diuretic. It is believed to be a blood purifier, has anti-inflammatory abilities, and can strengthen the lymphatic system.
A common way for Koreans to prepare burdock root is simply sauteed, which can then be added to kimbap, bibimbap, and even used to make japchae in place of glass noodles. You can usually find fresh burdock root at an Asian supermarket. It's also sometimes sold pre-washed and pre-cut if you find it too troublesome to cut fresh burdock root. I encourage you to give it a try for the health benefits!
Burdock Recipe:
Sauteed Burdock  (Woowong Bokkeum우엉볶음)
Gimbap (Korean Seaweed Roll) with woowong (burdock roots)
KABOCHA SQUASH
Korean women have long enjoyed the tradition of drinking pumpkin porridge or hobakjuk after giving birth because it helps eliminate fluid retention. Mature fairytale pumpkin (Neulkeun Hobak) is normally used but that's been replaced with kabocha squash in recent years because it's smaller, therefore easier to handle, and naturally sweeter. It also has the same nutritional benefits, such as being a rich source of dietary fiber, beta-carotene, vitamins Bs and C, and iron.
Korean-style kabocha porridge is a healing food that's easy on the digestion, especially for cold weather or someone in recovery after an illness. Another family favorite is the sweet and simple kabocha squash salad that really celebrates the flavor and texture of the low-calorie and health-promoting squash. Kids will love it!
Kabocha Squash Recipes:
Korean Pumpkin Porridge (Hobakjuk 호박죽)
Kabocha Squash Salad (Danhobak 단호박 사라다)
I really hope you will include these healthy Korean ingredients in your diet! These easy Korean recipes should help you get started. Share your healthy cooking with your family and loved ones. They will appreciate the deliciousness and also the goodness for their health. Happy cooking and eat well!
XOXO,
JinJoo