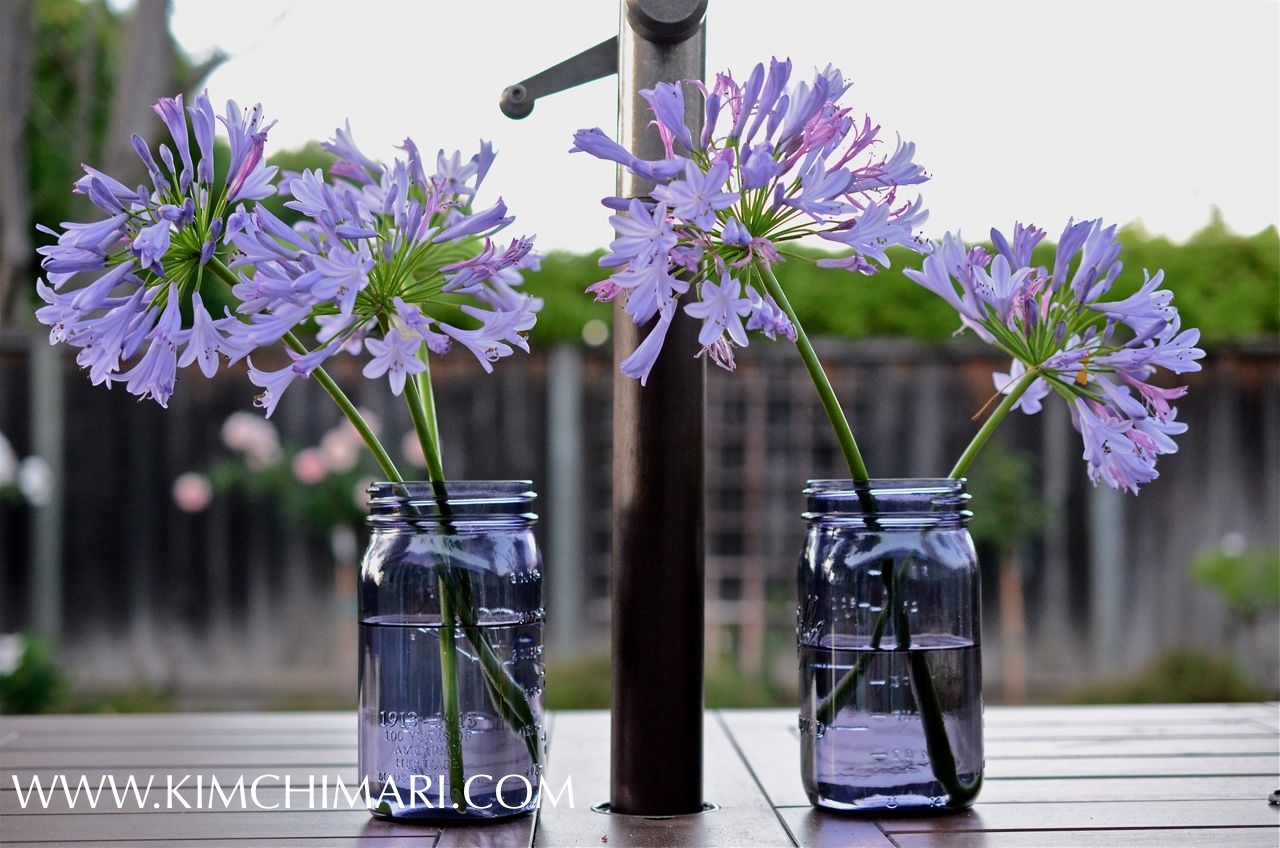 Korean BBQ Party Menu and Tips
Koreans LOVE BBQ in the summer. In Korea, when you visit the various parks, mountains and rivers, you will see that Koreans will find a way to grill everything, whenever and wherever they are. Most Korean pensions (Korean's version of Bed and Breakfast but without breakfast) will usually have picnic areas that allow BBQ and may even provide BBQ fire pits for a fee. It is almost unimaginable for Koreans to have a outdoor event without having some sort of a Korean BBQ Party.
Anyway, we recently threw a Korean BBQ party for my daughter's birthday in our backyard. She originally said she was thinking about 8 – 12 people but then while I was gone to Lake Tahoe,  it suddenly became 17!!!  Yikes!! I mean, a few years ago, that would not have been a problem at all…but I have not cooked for this many people in a while so I knew I had to keep it simple. Cooking for 17 young adults is not an easy feat – especially if you are going to make most of it alone.
As with any party, the key is to come up with the right menu, distributing the cooking over time (it's hard to cook everything in one day) and then also planning things well so that each dish is served at their right temperature. Some need to be cold, some need to be piping hot and some can be at room temperature.
So here's the Korean BBQ party menu – Kalbi is the only dish that need to be kept very warm.
Kimchi
Rice
Perilla Green Onion salad -This is basically a lazy man's ssam (lettuce wraps) because you don't have to wrap it
EXTRA Veggies with Ssam Jang-  if you want, you can serve some fresh green chili peppers (Annaheim peppers are great because they are not too spicy hot), bell pepper and cucumber sticks with some Ssam jang as dipping sauce.
1 day BEFORE Korean BBQ party 
Marinate Kalbi: Calculate about 1/2 lb per person if using bone-in LA style, thinly cut short ribs. But when cooking for large party, these bone-in LA style Korean Ribs are a lot of work because you have to rinse each piece to wash away tiny bone fragments. So I bought Boneless Beef Short Rib Meat sold at Costco. It comes in pretty thick pieces so I sliced it into thinner pieces about 1/2 in thick.
Make marinade using following recipe –
PER POUND(lb) of Rib Meat, mix following and marinate the meat overnight in the fridge.
3 T soy sauce (Kikoman)
2 T sugar
1 T honey
2 T red wine [ or sake ]
1 T sesame oil
2 T minced garlic
1 t ground black pepper
2 t toasted sesame seeds
1 T chopped or thinly sliced green onion
1 T chopped kiwi  (An emergency fix is to add 2 T or so of diet coke if you find that the meat is too tough and no time to marinade for hours beforhand)
Tip: Make sure you add some kind of tenderizer like kiwi, pear, pineapple or even coke for Kalbi because the rib meat is really flavorful but can be quite chewy. I did not have kiwi so I did not add it and regretted it. Flavor was great but meat was a little too tough. Lesson learned again.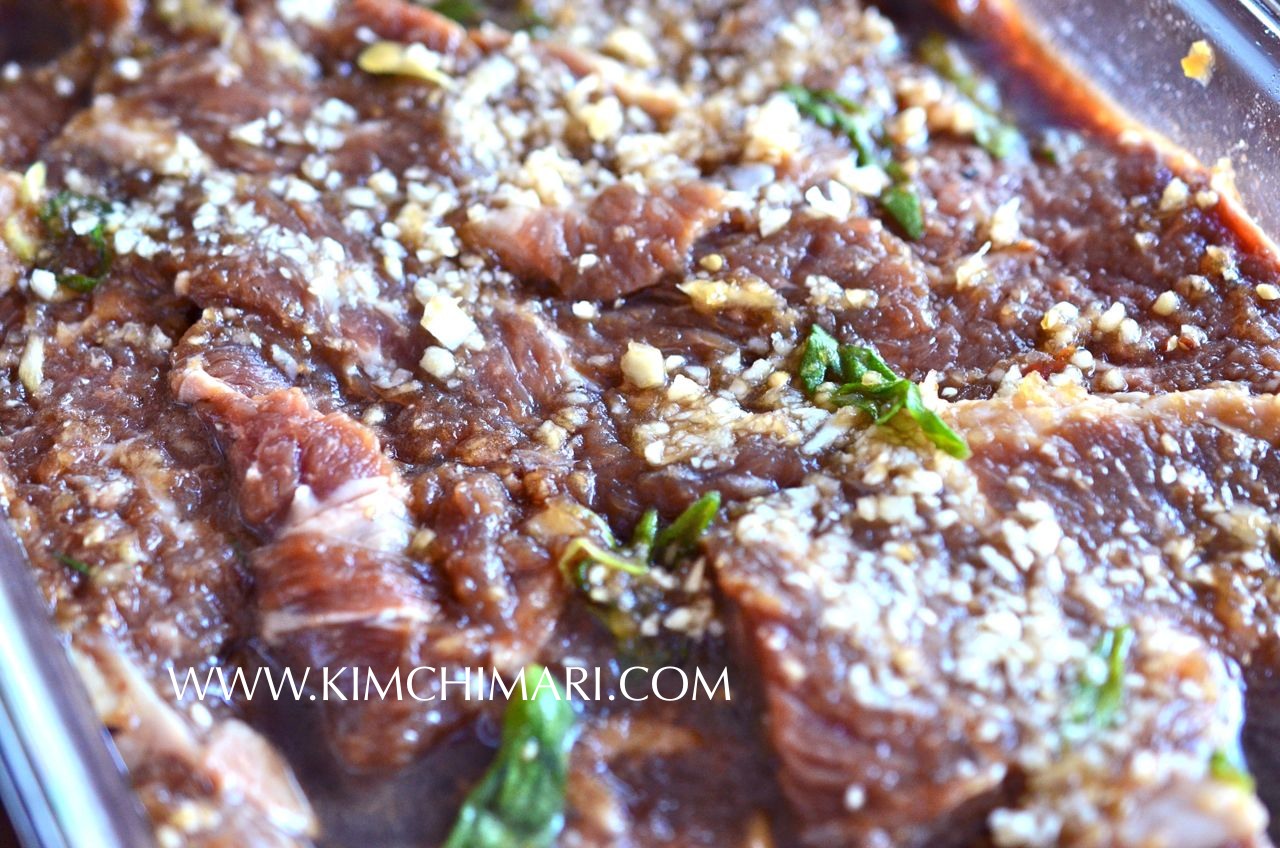 Moosaengche: Moosaengche can be made using my moosaengche recipe, 1 day ahead. Store in the fridge. It actually taste better when it has time to pickle in the fridge.
The Day of Korean BBQ party
Make Korean Potato Salad – go to Recipe.
Korean Potato (Gamja/Kamja) Salad
Cook Rice – I made about 6 cups of rice with brown rice and that was enough.
Perilla and Green Onion Salad (Sangchoo Kkaetnip Pa Moochim 상추깻잎파무침):
Wash and tear lettuce and perilla into bite size pieces. You can also cut them with a knife to make it go faster for larger amounts.
Cut green onion into thin strips and soak in cold water for lighter flavor. This is when the green onion curls up like I wrote in my Chapsal Bulgogi post.
Right before serving, toss the greens by adding a few splashes of rice vinegar, sprinkling of sugar, dashes of salt, black pepper and red chili powder. Go light on all the seasoning. It is not a stand alone dish but served as an accompaniment to Kalbi.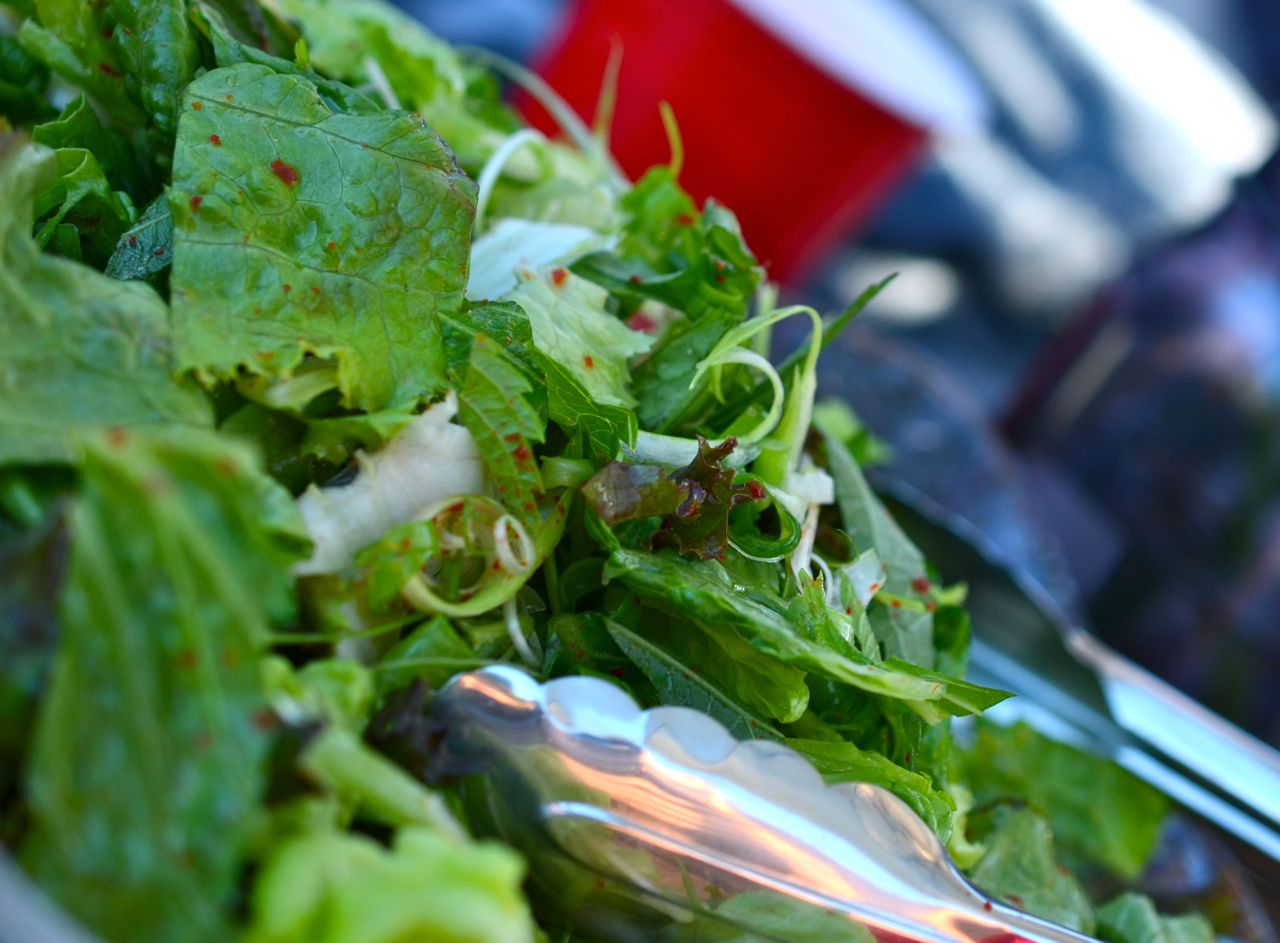 Ready to Serve!
When guests arrive, grill Kalbi/Galbi. Korean way to BBQ Kalbi is to serve it well done. If you'd like you can serve it medium or medium well. I served it in my Staub cast iron pot to keep it warm.

Grilled Korean Beef Ribs BBQ (Kalbi)

While the Kalbi is grilling, set the buffet table with all the other dishes including rice and Kimchi. For Kimchi, try making some easy green cabbage kimchi from my recipe – ahead of time.

Korean Summer BBQ party table with Kalbi, Radish Salad, Kimchi and Potato Salad

These next 2 photos are by one of my daughter's friend who is an amazing young street photographer Ben Lee (www.benjmin.com). If you need a photographer for your event in the bay area, check him out! Thank you Ben for these photos!! I love how you have captured the sun shining on my food.. :))

Party table with Chips, Guacamole and Salsa, Moosaengche, Kimchi – courtesy Benjmin Photography

Korean Vegetable Platter with Ssam Jang –  courtesy Benjmin Photography

Raw carrots, cucumbers and green chili peppers all taste great with Ssam Jang and goes well with Korean BBQ's.

One last thing – if you want to make it even more perfect, make some Dwenjang Jjigae or Kimchi Jjigae and serve it hot. This will be just absolutely delicious and will help cut through any greasy taste of the Kalbi.
Well, hopefully this is helpful in preparing a simple and easy, yet delicious Korean summer BBQ party. If you have any other Korean BBQ party menu ideas, I would love to hear from you!
Enjoy your summer everyone!
Come visit me at my facebook page -https://www.facebook.com/pages/Kimchimari/1696601200567516
Also my instragram – instagram.com/kimchimari
And pinterest – pinterest.com/kimchimari