15 quick and easy Korean salads to go with any meals, including vegan recipes, kimchi-like salads, hearty salads with protein or noodles, and creamy salads that kids will love.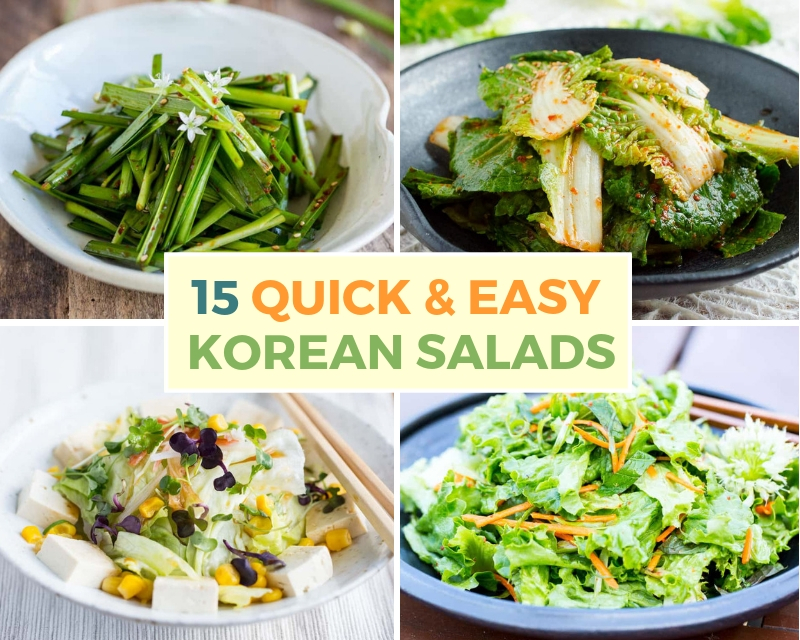 Korean salads are simple to make but are an essential part of a Korean meal – especially with BBQs to help cut the greasy taste. I am sure you are aware that Korean food is generally known to be bold in flavors and rich in meat dishes. To balance that out, a Korean meal is typically served with many mild
vegetable side dishes
(known as banchan) and salads.
The great thing about these Korean salads is that they are quick and easy to make. They are usually tossed in a light tangy dressing that complements other complex dishes or made with naturally sweet ingredients to go with spicy dishes. So, Korean salads are great with any meals and come in variations that are suitable for everyone, including kids. In this round-up, I've put together a collection of quick and easy Korean salads for you to try and keep as an easy addition to your everyday meal whenever you feel you are missing some FRESH ingredients.
Vegan Korean Salads
A must-have side dish to accompany Korean BBQ grilled meats, this easy green onion salad helps bring out the flavor of the meat while also cutting out the fatty taste. The recipe calls for simple ingredients, and it can be ready in less than 10 minutes. Make this your go-to salad but don't toss it too early because they will wilt quickly.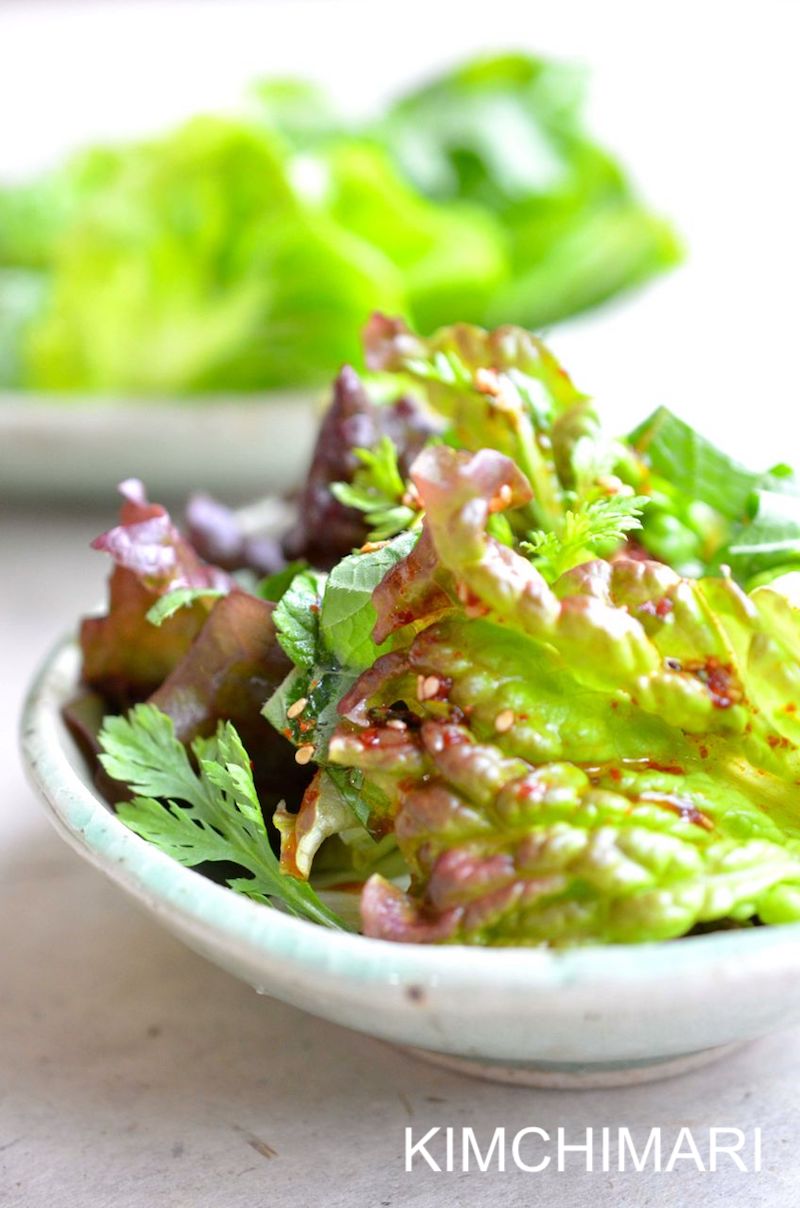 If green onion is too pungent for your taste, here's another easy salad that is wonderful with any protein dish. It's a really wonderful way to eat lettuce and any other aromatic veggies you may have such as Perilla and Chrysanthemum leaves. You can use any kind of lettuce too – from green leaf, red leaf, romaine to even butter lettuce.
This crowd-friendly cucumber salad is a variation of my ever popular Korean Cucumber Salad (Oi Muchim) that is made without soy sauce and any pungent ingredients like garlic or green onion. Enjoy the sweet, refreshing taste and crunch of fresh cucumber with this five-minute recipe.
Kimchi-like Salads but lighter
How about kimchi that can be made in minutes? This kimchi salad does not require any pickling or fermentation and can be eaten right away! Keep this fresh and quick kimchi recipe handy and use any cabbage that's in season. It's sure to impress your Korean food-loving friends and satisfy any kimchi cravings.
The garlicky punch of fresh chives in this Korean salad is complemented by a tantalizing sweet, sour, and salty soy vinegar dressing. It makes a great side dish to Korean BBQ or any heavy meat dishes.
If you like bok choy and looking for a new way to enjoy it then this is it. This salad is best made with tender, young baby bok choy or Shanghai bok choy. The vegetable is simply tossed with a spicy, tangy, and sweet dressing that's full of Korean flavors but not as pungent tasting as kimchi.
Hearty Korean Salads good enough to be a meal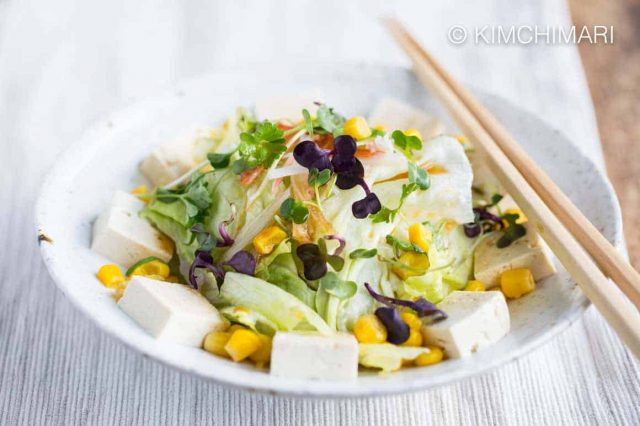 If you didn't like tofu because it was too bland tasting then please try this salad. It offers a great way to enjoy fresh raw tofu, which soaks up the wonderfully sweet and tangy mustard soy honey dressing. Iceberg lettuce, corn, and daikon sprouts give the salad a great crunch. It's cooling and refreshing.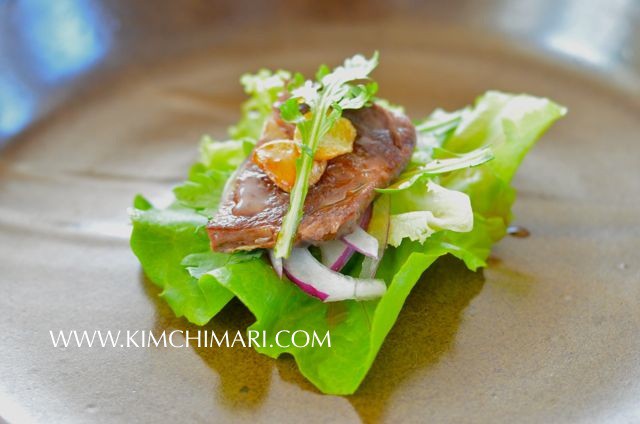 A hearty high-protein meat salad for those days when you want a more substantial salad. The star here really is the Korean-style rib eye (deungshim) cut, which is a lot thinner than the American cut – flavorful, rich with a slight chew. And don't forget the crispy garlic that is the 'cherry on top'!  🍒For convenience, you can use leftover steak to make this lovely Korean salad.
This is my interpretation of the Japanese tuna tataki salad. So yes, it's not exactly Korean but the addition of the roasted garlic definitely gives this a Korean twist. The key to this salad is cooking the tuna right: crispy on the outside, moist and soft on the inside. It is then combined with fresh greens, crunchy roasted garlic, and a creamy zesty dressing.
Jellyfish is enjoyed for its unique chewy and crunchy texture, and it's pretty amazing when combined with julienned carrot and cucumber. The sweet and zesty dressing really brings all the ingredients together. This salad can be made ahead for a party and freshly dressed right before serving time.
The great thing about this soba noodle salad is that it makes a great one-dish meal that can be ready in 15 minutes. It can be customized with your favorite seasonal greens, and the versatile dressing doubles up as a dipping sauce for other dishes. It's amazingly simple to make and yet so delicious.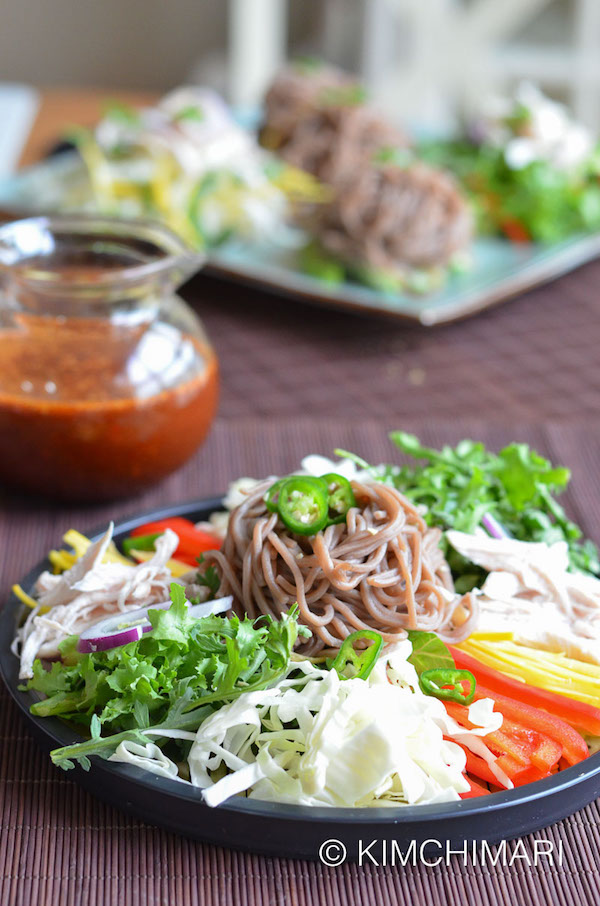 A bit more elaborate and filling than the simple recipe above since it calls for chicken and more variety of vegetables. Present the salad like I did above and serve the sauce on the side then have your guests serve it themselves so they can choose what they like and don't like.  It will look beautiful on your table and really easy and quick to make too!
Creamy Korean Salads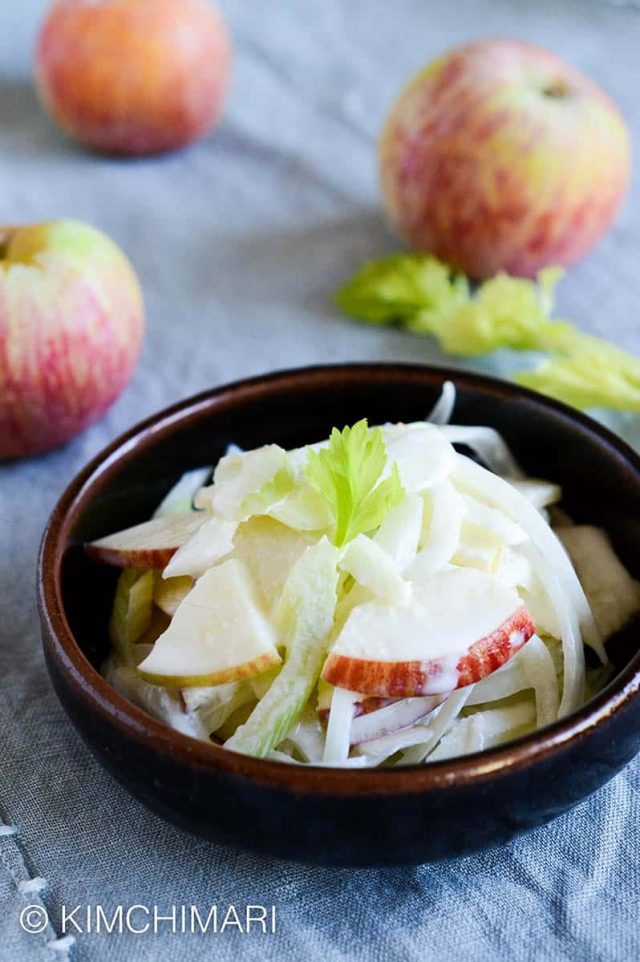 I created this salad for a Korean BBQ restaurant and I must say I am quite proud of this one. It's great when served with any Korean BBQ meats. The contrasting taste and texture of celery, onion and apples in a creamy, slightly sweet, tangy dressing makes this a winner salad for any meal – even non-Korean foods. So I hope you try it at your next BBQ party!
This Korean potato salad is somewhat similar to American potato salad, but it has a great crunch and freshness thanks to the addition of cubed apples and cucumbers. Everyone will love this! You can even add raisins or dried cranberries for extra sweetness. It can be made ahead and stored in the fridge for up to 3-4days.
Naturally sweet with a creamy texture, kabocha squash makes a good salad to go with your BBQ meats. This salad can even be enjoyed as a snack and will be a crowd favorite at your next potluck too! Can be made ahead and served cold right from the fridge.
I hope these quick and easy Korean salads will get you and your family eating more greens and vegetables in delicious ways. Enjoy!
XOXO ❤️
JinJoo
CONNECT WITH ME on FACEBOOK, PINTEREST, and INSTAGRAM. Join my FACEBOOK GROUP to meet other Korean food enthusiasts just like you!