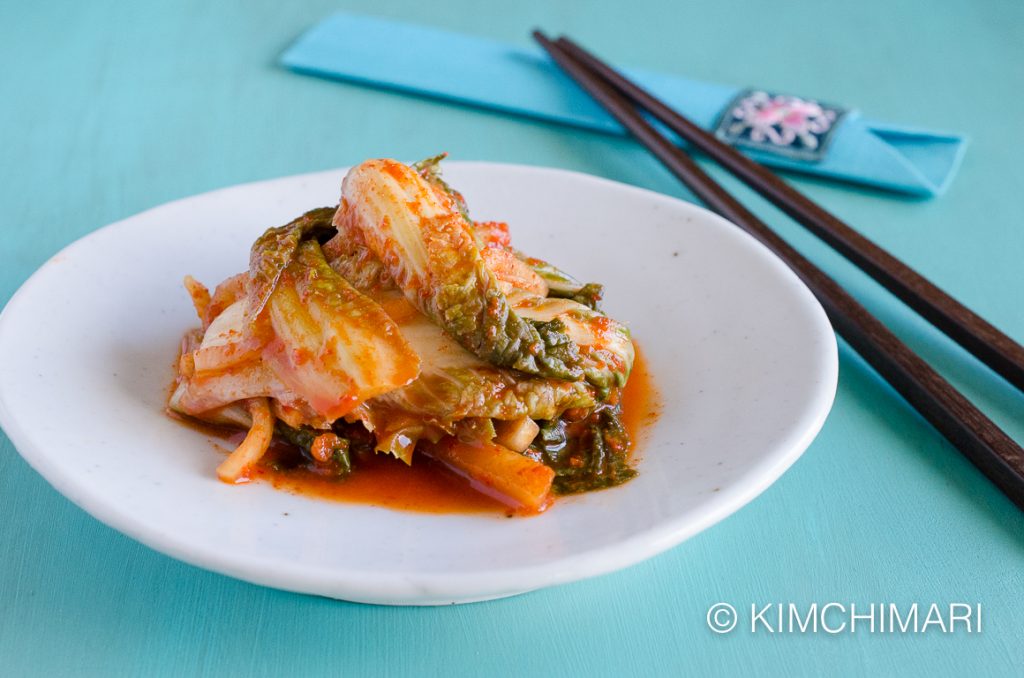 Vegan Cabbage Kimchi recipe that is authentic and delicious… This is the kind of recipe that I have been wanting to post for quite some time. Luckily, during my visit to Korea last November, I had a chance to attend a temple kimchi master class taught by the famous Korean monk Seonjae (선재스님) during Seoul's annual Kimchi festival.
Seoul Kimchi festival is quite an amazing sight to see – the whole plaza in front of City Hall is filled with tables and volunteers stuffing cabbages for Kimjang Kimchi. The huge plaza in front of City hall was just full of people dressed uniformly in red aprons, red head scarves, masks and pink rubber gloves. Koreans just LOVE dressing in uniforms, don't they?!! The land of uniforms. And oh the smell.. wow, you gotta love Kimchi to be strolling around and basking in the ambience… HAHAHA.
Anyway, many Koreans do it for the experience but they do it also to help make Kimchi for the needy who are either too poor or too sick to make Kimjang on their own. And you know Koreans cannot live without Kimchi. As part of the festival, there was also a master class taught by the well-known monk – master Seonjae Seunim (선재스님).
Here's a pic showing Seonjae Seunim on the left and also the Seoul City mayor in the middle. After attending the class, I was really inspired to work on a vegan cabbage kimchi recipe but because she used some ingredients that would be very hard to get in the US like Cheonggak 청각 (Codium fragile) which is a type of seaweed), I had to make sure the recipe would work without it. Besides the special seaweed, the recipe also uses Hongsi 홍시 (Soft Persimmons) which may not be easily available for some people here either.
Just in case you are curious, here's a picture of Cheonggak. You can read more about it in my Ingredient Page for Cheonggak. It adds great flavor to regular Cabbage Kimchi, not just this vegan version.
Now, during my most recent trip to Korea, I was again deeply inspired after eating some really amazing temple food and vegan Kimchi at Barugongyang 발우공양 at Jongro. I love meats and I love garlic so it was hard for me to imagine that temple food could actually be delicious. I will share more about that in another post but wow… the most intriguing foods of such delicate and sophisticated flavors without using any pungents like garlic and green onions. I mean, can you think of Korean food without garlic and green onions? I can't…but together we shall explore..
If you have traveled around Korea, you will see that Kimchi comes in many different flavors and is made with different seasoning ingredients based on the region you are in. Due to warmer weather in the southern part of Korea, kimchi is seasoned more heavily to ensure better preservation. The farther up north you go, Kimchi seasoning gets lighter and lighter. Less spicy, less salty and less fish sauces – which results in a cleaner and fresher tasting Kimchi. As you know my parents are originally from North Korea (before the Korean war) and so I grew up with this kind of Kimchi. I feel this type allows you to taste the ingredients better and the heavy seasoning just overpowers everything else. Anyway, that's just my opinion.
Anyhow, here's my vegan cabbage Kimchi recipe that doesn't use the hard-to-get ingredients but still tastes good. I do have to say it came out a little spicier than I would have liked. So use less chili powder if you like it less spicy. Reduce chili powder to 3/4 cup or even less if you want.
Korean Temple Vegan Cabbage Kimchi using Bomdong
Yields:  1.5 quart        Prep: 1~3 hrs  Active: 20 min        Difficulty: Medium
Ingredients
1~2 small bomdong cabbage or napa cabbage (750g/10 oz)
1 medium radish (500g/1 lb)
1 piece kelp (dashima 다시마) – 2 x 2 inch
Brine

10 cups water + 1 cup Korean coarse sea salt with bittern removed (cheonilyeom 천일염)

Sweet rice flour paste

1/4 cup sweet rice flour
1 1/2 cup sea kelp stock

Seasoning

1 cup Korean chili powder (Gochugaru) – use less to reduce spicy level
1 small apple, grated (1/4 cup)
1 tsp ginger, grated or chopped
2 tsp Korean soup soy sauce (Guk ganjang)
3 Tbs Korean sea salt, bittern removed
1 Tbs + 2 tsp green plum syrup (maesil extract) or 2 tsp to 1 Tbs sugar
Make brine by mixing 10 cups water and 1 cup Korean coarse sea salt.
Make sea kelp stock by simmering 1 large piece of dashima (sea kelp) in 2 cups of water. Simmer for 10 minutes and let it cool.
Cut bomdong cabbage by cutting the end so that you have individual leaves.

Bomdong Cabbage – cutting root end

Add cabbage to brine. If brining bomdong cabbage leaves, leave for 1 hr. If using a regular napa cabbage, cut it in half and pickle for 3 hrs and then cut into pieces. See my Mak Kimchi post for more details on how to brine cabbages for Kimchi.

Cabbage Leaves in brine for Kimchi (bomdong)

While cabbage is in the brine, make sweet rice flour paste by mixing 1 1/2 cup sea kelp stock from #2 and 1/4 cup sweet rice flour in a pot. Bring paste to boil.

sweet rice flour paste for kimchi

Once the paste starts to bubble, lower heat to medium low and simmer. Mix with a whisk for 2 min. or so while it's simmering (slight bubbles). Whisking will prevent lumps and also from the paste sticking to the bottom of pan and burning. Let it cool.
Julienne radish.
Separately grate apple and ginger.
Coat radish slices with 1/3 of the gochukaru (korean chili powder) or just enough to coat.

radish coated with chili powder

When sweet rice paste has cooled (can be warm to touch but not hot), add grated apple and ginger and mix.

apple aded to sweet rice flour paste for vegan kimchi seasoning

Then add remaining chili powder, soy sauce and salt.

Vegan Kimchi seasoning with salt

Finish with green plum syrup or sugar.
When cabbages are pickled (if cabbage bends easily without breaking), rinse in cold water 2-3 times. Let excess water drain for about 15-20 minutes. Because bomdong is thinner than napa cabbage, I just slightly pickled these. You should pickle napa cabbage longer and more.

salted cabbage for vegan kimchi

In a large bowl, add cabbage, radishes and mix seasoning paste from 13.

Vegan Kimchi radish seasoning paste

Vegan Cabbage Kimchi all mixed

Taste. Adjust seasoning if necessary. Add more salt if you need. It should taste a little bit on the salty side. Saltiness will reduce once kimchi is ripe. Now you are done!

Leave kimchi at room temperature for 1 to 1.5 day until it has started to ripen. Then store in fridge and it will ripen further in the fridge but slowly.
Notes
If you are wondering what bomdong is, read this post.
Gukganjang (국간장) or Soy sauce for Soup is a very important ingredient in vegan Kimchi. It replaces the role of anchovy or shrimp sauce so be sure to get a good quality gukganjang that as been naturally brewed/fermented.
If you can find ripe persimmons, try using that instead of apple. 1 persimmon.
When putting kimchi in a container, make sure you press down everything to remove air bubbles as much as you can. Kimchi should always be immersed in liquid. After leaving the kimchi at room temperature for 1-2 days, you should see more liquid being produced and press things down once again so they are covered in liquid.
If for whatever reason, you find that there is just really too little liquid, you can always make a quick salt solution (just 1/2 tsp for 1/2 cup) and rinse the bowl with it to add to your Kimchi. But you should not need it normally.
PLEASE note that Korean coarse sea salt for Kimchi is less saltier than commonly available coarse sea salt like Morton's. Also, sea salt without the bittern removed will make your Kimchi bitter. More about Korean sea salt here.

Simple Vegan Cabbage Kimchi

Vegan Cabbage Kimchi with Apples and Ginger

Korean Vegan Temple Cabbage Kimchi that is made without fish sauce and no garlic and no green onions. Simple but delicious.

Prep: 1 hour

Cook: 20 minutes

Total Time: 1 hour

serves: 12 servings

Ingredients

1 small bomdong cabbage or napa cabbage (or two) (750g/10 oz)
1 medium radish (500g/1 lb)
1 piece kelp (dashima) – 2 x 2 inch
10 cups water
1 cup Korean coarse sea salt with bittern removed (cheonilyeom 천일염)

Seasoning

1 cup Korean chili powder (Gochugaru) – use less to reduce spicy level
1 small apple , grated (1/4 cup / 62.5 ml)
1 tsp ginger , grated or chopped
2 tsp Korean soup soy sauce (Guk ganjang)
3 Tbsp Korean sea salt , bittern removed
5 tsp green plum syrup (maesil extract) or 2 tsp to 1 Tbsp sugar

Instructions

Make brine by mixing 10 cups water and 1 cup Korean coarse sea salt.

Simmer 1 large piece of dashima (sea kelp) in 2 cups of water to make sea kelp stock. Simmer for 10 minutes and let it cool.

Cut bomdong cabbage by cutting the end so that you have individual leaves.

Add cabbage to brine. If brining bomdong cabbage leaves, leave for 1 hr. If using a regular napa cabbage, cut it in half and pickle for 3 hrs and then cut into pieces. See my Mak Kimchi post for more details on how to brine cabbages for Kimchi.

While cabbage is in the brine, make sweet rice flour paste by mixing 1 1/2 cup sea kelp stock and 1/4 cup sweet rice flour in a pot. Bring paste to boil.

Once the paste starts to bubble, lower heat to medium low and simmer. Mix with a whisk for 2 min. or so while it's simmering (slight bubbles). Let it cool.

Julienne radish.

Separately grate apple and ginger.

Coat radish slices with 1/3 of the gochukaru (korean chili powder) or just enough to coat.

When sweet rice paste has cooled (can be warm to touch but not hot), add grated apple and ginger and mix.

Add remaining chili powder, soy sauce and salt to seasoning mixture.

Finish with green plum syrup or sugar.

When cabbages are pickled (if cabbage bends easily without breaking), rinse in cold water 2-3 times. Let excess water drain for about 15-20 minutes. Because bomdong is thinner than napa cabbage, we are just lightly pickling these. Pickle napa cabbage longer for 3 hrs.

In a large bowl, add cabbage, radishes and mix with seasoning paste.

Taste. Adjust seasoning if necessary.

Leave kimchi at room temperature for 1 to 1.5 day until it has started to ripen. Then store in fridge and it will ripen further in the fridge but slowly.

Nutrition Information:

Calories: 41kcal (2%)| Carbohydrates: 9g (3%)| Protein: 1g (2%)| Sodium: 734mg (32%)| Potassium: 258mg (7%)| Fiber: 1g (4%)| Sugar: 3g (3%)| Vitamin A: 245IU (5%)| Vitamin C: 27.1mg (33%)| Calcium: 66mg (7%)| Iron: 0.4mg (2%)
XOXO ❤️
JinJoo