You can use this guide to make your Korean meal planning and prep easier and yummier. I believe you don't need to cook a lot of Korean dishes to have a wonderful meal. You just need a few dishes that go well together with awesome flavor combinations to enjoy the most amazing dinner (or lunch)!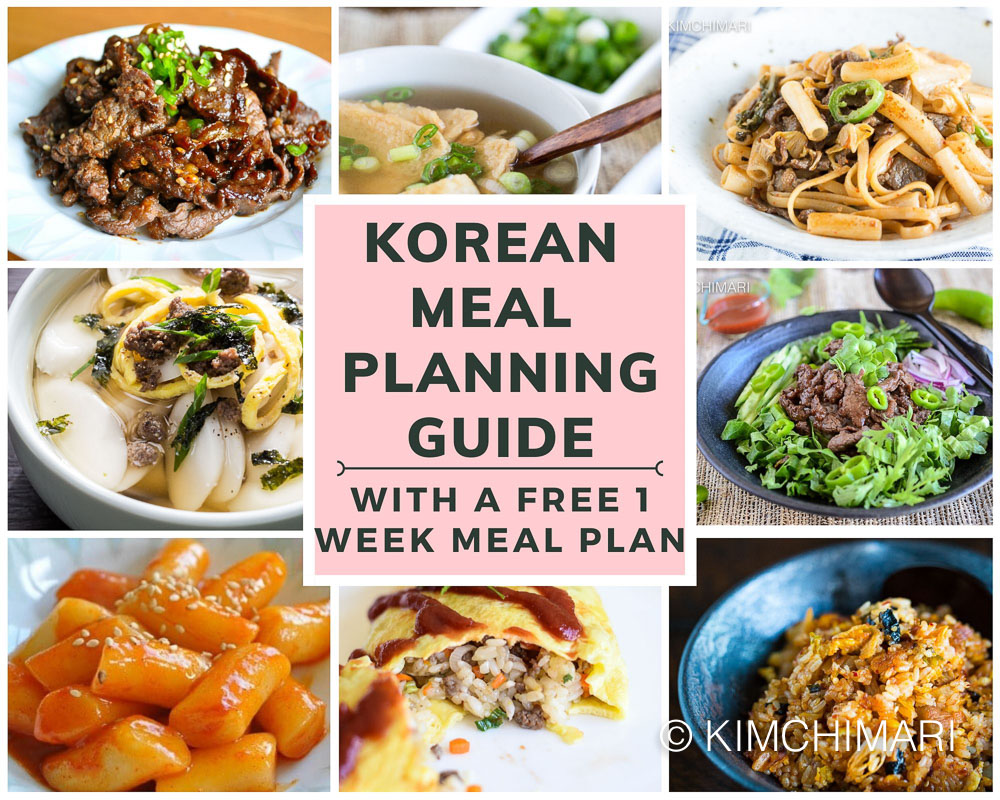 I know I have said this a few times before, I have often experienced and seen Korean meals where there are several side dishes (like 6-7 or more) but where most banchans are all spicy and they all fight each other when it goes in your mouth.  And when you are done eating, I always come away wondering if there was a way the meal could have been better.
When I plan my menu, I try to do it so that there's a good balance in flavors, for example – here are some quick ideas that are behind my Korean Menu Plan  —
Because, as much as I love cooking, I don't like to spend too much time and energy on a meal where it won't be fully appreciated or simply, not yummy as it could be. I would rather make 3 dishes that go wonderfully together than 7 dishes that individually are delicious but when served together in a meal.. it's not as amazing as it could be…
Perhaps, I'm just an engineer at heart.. haha..maximum impact with minimum effort!! Anyway, it just makes me very happy and content when I hear people say how everything tasted so wonderful TOGETHER.
Case in point, if you are going to make Kimchi Jjigae, you don't want to make Kimchi jeon or Kimchi Fried Rice at the same time.. right? Or make spicy Tteokbokki and then also make a spicy and salty Gochujang Jjigae or Soup?  That's just too much of similar flavors – at least that's my opinion.😝😜
When I make Kimchi Jjigae, I like to make a savory, nutty or creamy dishes like Sauteed String Potatoes with Mayo (believe me, it just goes so wonderfully together), or just plain pan-fried Tofu or grill some hearty oily fish like Spanish Mackerel.
General Tips about Korean Meal Planning:
Some basic compositions of an everyday Korean Meal (note these are NOT the traditional full meals with 10 side dishes but more of just my take on simplified Korean meals that are easy enough to cook every day).
Most Simple Korean Meals:
To the above meals, especially for 1, 3, 4, 5 compositions, you can freely add more side dishes to each meal to make it even more wonderful and tasty. Compositions 2 and 6 are such that, additional side dishes are really not necessary.
Tips on planning Korean Side Dishes
Side Dishes (banchan) make Korean meals extra fun to eat and delicious. And the nice thing about most side dishes is that they can be made in a big batch and then eaten over several days or weeks depending on how long they keep.
See my list of 15 vegetable side dishes and 12 meat + seafood side dishes to get ideas on what you want to try. In the first post, I also have a table that shows how best to store each dish and how long they will last. You can also refer to Food Safety.Gov site for more info on how to safely store foods.
My favorite list of side dishes (because they are my family's favorite and also because they keep well) that get included in my rotation (I'll probably have 2 of these at any time): Myeolchi Bokkeum, Ojingeo Chae Bokkeum, Kongnamul, Jangjorim, Cucumber Salad, Kongjaban, Burdock Roots, Musaengche.
What I like to do is to make 2 or 3 side dishes on a weekend or for example, make a large batch of myeolchi bokkeum (dried anchovies) for dinner when I'm making something simple like Baeksuk (Korean Chicken Soup). Because I don't need to cook much else and have extra time while the soup and rice are cooking.
Once I make it, I serve the anchovies with the soup and then save the rest for the week. At meal-time throughout the week, I take one or two banchan out and serve with other dishes. I try not to serve it every meal because people will get tired of it and won't eat it.
Kimchi and Pickles – as you probably know already, kimchi is a must to have. You don't need many different kimchis but it's usually good to have a radish and a cabbage kimchi.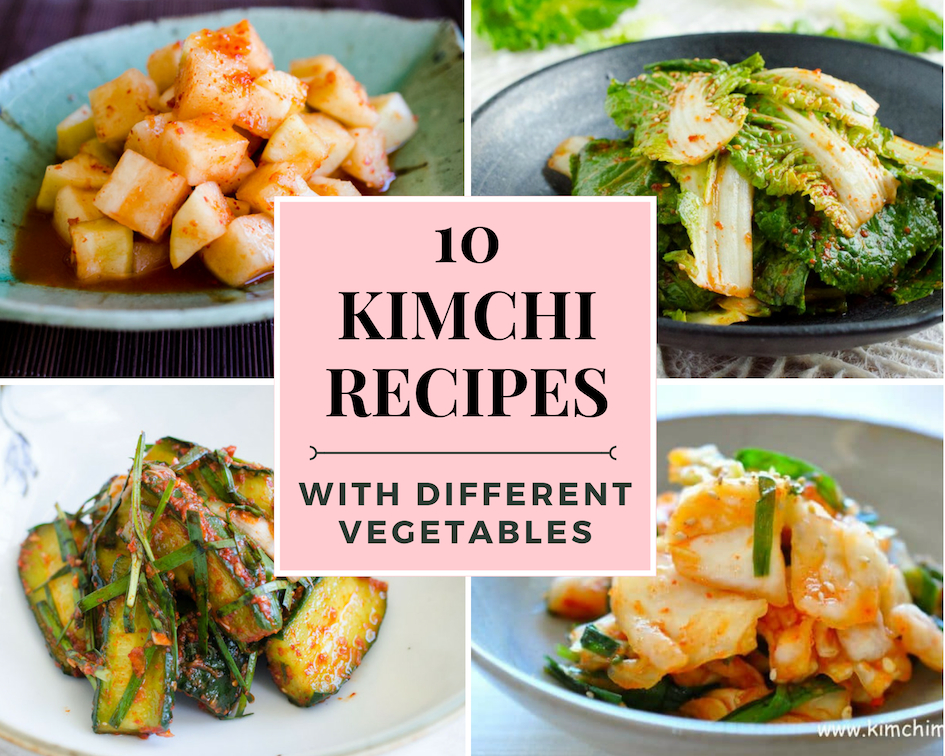 I have listed all my Kimchi recipes in this post above so you can check out to see which ones you might make. If you are a beginner to kimchi, I would recommend making the cucumber kimchi (bottom left) or green cabbage kimchi (bottom right). They are simple and quick to make.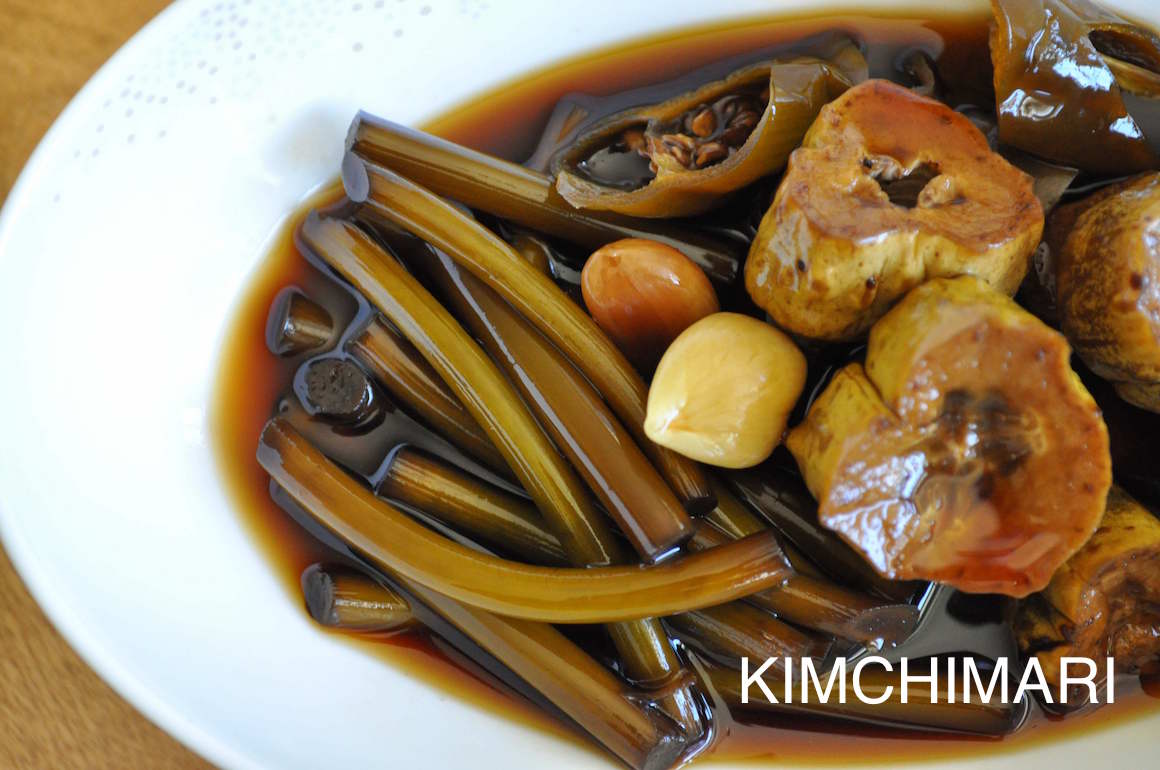 I also always have some pickles (Jangahjji) that I make with one or more of the following: cucumber, garlic scapes, garlic, broccoli stems and green chili peppers (Jalapeno or Korean peppers). You can pickle them altogether or separately. Read more HERE.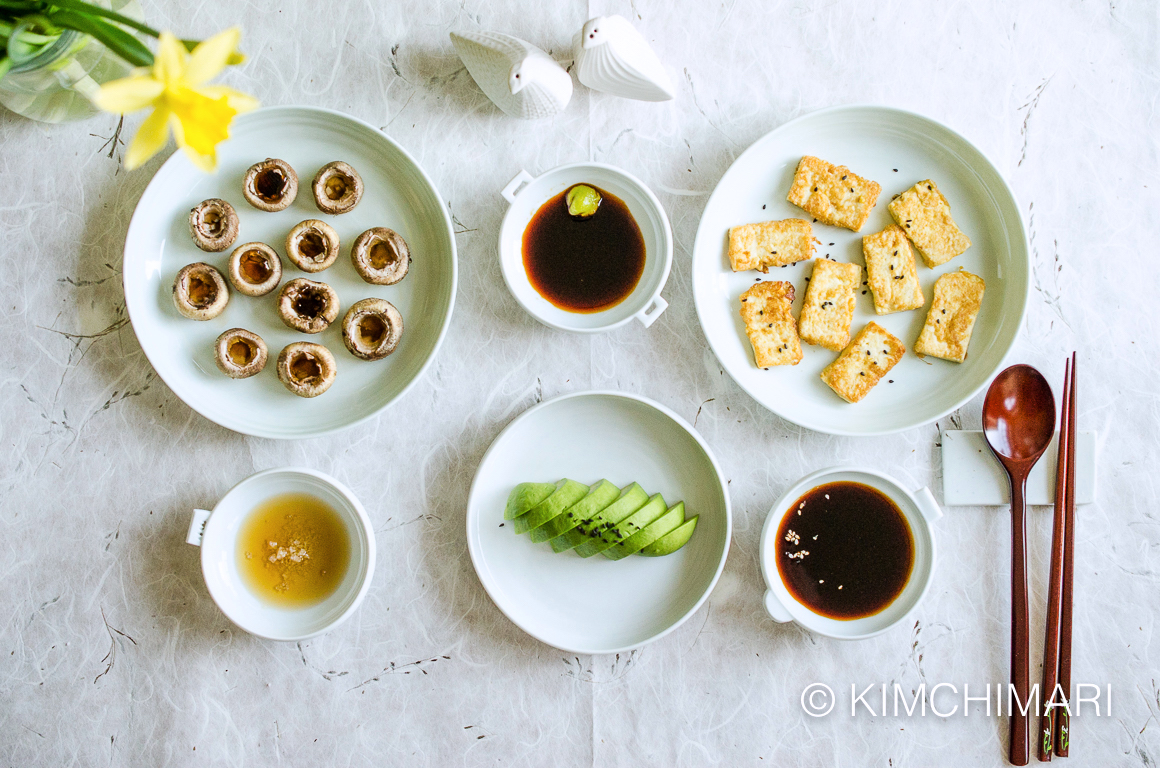 3 Quick Korean Side Dishes (Avocado, Mushrooms, Tofu)Lastly, have a list of really quick and last-minute side dishes that you can make in just a few minutes for those times when you just don't have the time or energy to cook additional dishes.
See my 3 Quick Side Dishes post for ideas.
Korean Menu Planning for 1 week
Below, I have a sample meal plan for 1 week. I kind of have a theme for this one which is Bulgogi. As you can see, once you make a big batch of bulgogi, you can make a series of meals using bulgogi as the main ingredient.
I only have one meal per day because I assume most of you would not be eating Korean food every day of the week, lunch and dinner. Even in the latest stay-at-home era, I find that we mostly end up eating leftovers for lunch and also enjoy having other foods on some days of the week.
How to store and reheat Bulgogi –
Both cooked and uncooked bulgogi can be stored in the refrigerator for 2-3 days or in the freezer for weeks. Reheating is easily done by thawing bulgogi in the microwave or in the refrigerator and then once thawed pan-frying or grilling (uncooked only).
DON'T FORGET TO SUBSCRIBE!!
Subscribe to my emails and you can get my FREE Korean BBQ Dinners Cookbook and also get updates on NEW Recipes, Monthly Newsletters and more Meal Plans!!!
** Thanks to WP Recipe Maker, you can adjust servings, remove recipes from the list below and also generate a shopping list for this meal plan and even PRINT them – so don't forget to try that feature and let me know how you like it!
Stay SAFE everyone! Take Care 💕
XOXO
JinJoo