28 Kid-friendly Korean foods that every kid will love. These ideas will also help make your family meal planning a breeze, from lunchbox items to after-school snacks and one-dish meals for those hectic days.
What are some healthy Kid-Friendly Korean Foods??
This is the question I get asked often from new moms and parents with fussy eaters. For your convenience,  I've put together a list of kid-friendly Korean foods that include lunchbox items, after-school snacks, and versatile dishes that can be included in everyday meals.
I am sure you are aware that there are many research studies that say the eating habits developed as a child will continue into adulthood. As I was growing up, I remember always having a special little bowl filled with water so I could rinse the spicy kimchi before I ate it.
And when my daughter was just starting solid foods, she refused to eat all the 'healthy' baby foods like peas and carrots but only wanted to drink milk and apple juice. But one day, my baby sitter (I was a grad student then so had to be in school during the day) who was an older Korean ajuma told me that she just fed her rice with Korean Cabbage Soup (Baechu Doenjang Guk) and she ate the whole bowl!!
WHaat?? Just like that?!! And that's when I had an epiphany – oh, my daughter enjoyed good tasting real food.. none of the bottled bland stuff..hahaha..and then I found out, she actually LOVES to eat!
Why are these Kid-Friendly Korean Foods?
First, these are non-spicy Korean yet yummy dishes that I grew up eating and also raised my daughter with. Not only are they easy to prepare, but they are also packed with nutrients that benefit every stage of a child's growth. From soups and porridges for young toddlers learning to eat solid foods to protein-, calcium-, and fiber-rich side dishes for active kids, they are easy to incorporate into your child's diet.
NOTE – these foods are meant for kids at least 2 years and older.
Your kids will love them! And don't be surprised that the adults will love them too. Many of these were also my favorite Dosirak (lunchbox) banchan too so you may want to try adding these to your child's lunchboxes!
RICE AND NOODLES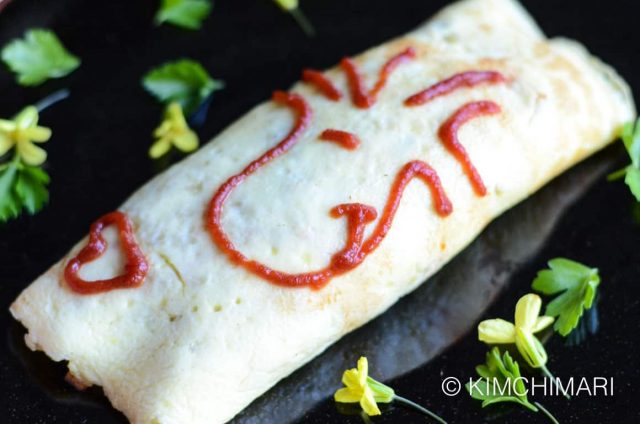 Omurice is basically fried rice wrapped in an omelette. It's a simple one-dish meal that can be personalized by including your kid's favorite meat and vegetables (or maybe hide the non-favorites, haha 😆) in the rice. You can also add a little ketchup art on top. Kids love that! GO TO RECIPE >>
Jajangmyeon was every kid's favorite when I was growing up. There's something about the flavor of the yummy black bean sauce that kids just really love. With my homemade noodles (see my Kalguksu recipe), you can make everything from scratch at home! GO TO RECIPE >>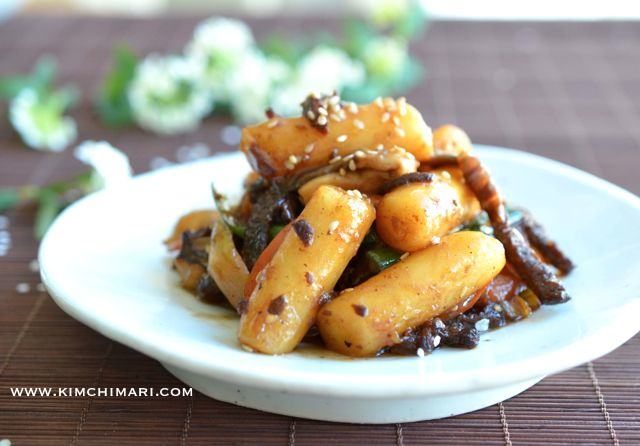 A cousin of the spicy tteokbokki, this is a mild version that has the flavors of sweet bulgogi. No kid can resist the wonderful flavors of this dish so give this a try! Great as snacks or even a simple meal. GO TO RECIPE >>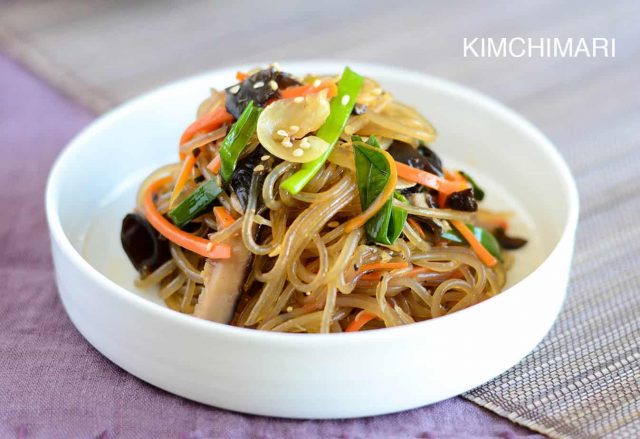 The classic japchae made in my one-pan recipe. It's vegan, gluten-free, and just as delicious as the traditional recipe minus the time and hassle. You can also add thinly sliced bulgogi beef or ground beef and/or spinach to this dish if you want to make it even more nutritious. You know how kids LOVE noodles.. you can reduce the sugar amount to make it even more healthy.
IMPORTANT –  these noodles spoil quickly in hot weather so please be careful in taking this outside for picnics in the summer.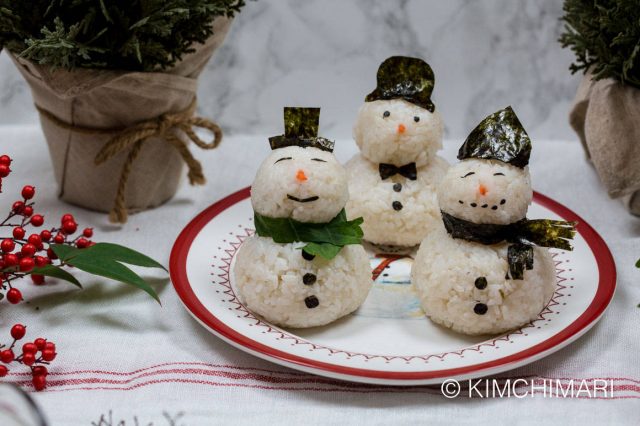 As you can tell from this photo of snowman rice balls that I made for Christmas, you can have a lot of fun with jumeokbap (Korean Rice Balls) or Rice Triangles. Easy to make, this kid-friendly Korean food and snack item requires minimal ingredients but also so versatile, rice balls are definitely a kid-friendly Korean food that's great for lunches and snacks (great to eat in the car, on the go) and can be a fun project to do with the kids. You can put in shitake mushrooms, beef bulgogi, tuna salad, or even rinsed and seasoned kimchi.
Kid-Friendly Korean PANCAKES (JEON)
Look at all these jeons and pancakes that you can make for your kids! And we all know kids LOVE jeons because these are mild, crispy and yummy! Also, a great way to hide veggies and when at restaurants, always order these and your kid will be happy.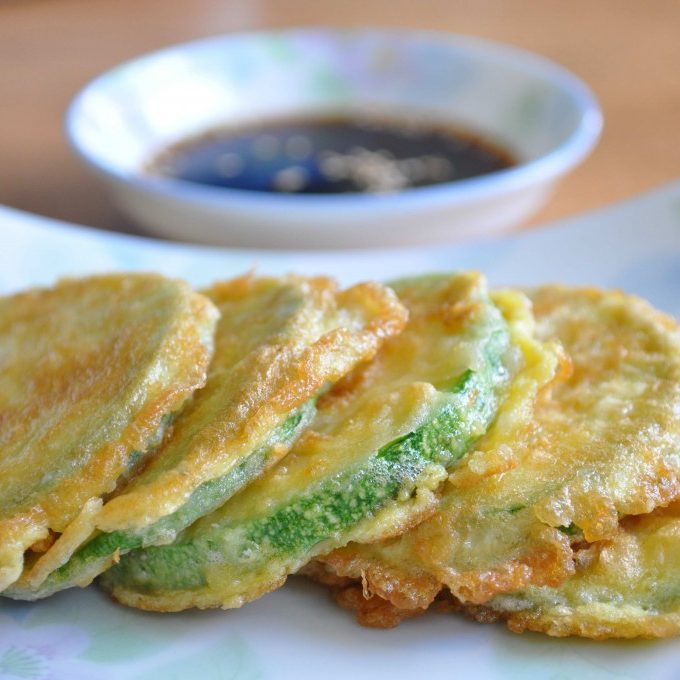 Korean Zucchini Fritters (Hobak Jeon) is a great banchan(side dish) for your everyday meal. This mildly sweet (naturally) and soft jeon makes it perfect for kids. One of my daughter's favorite!
Get Recipe
This jeon soft and mildly sweet which makes it perfect for kids. My daughter is a BIG FAN!
Korean potato fritters or gamjajeon is so simple to make yet so delicious. Great side dish and appetizer. Crispy with soft inside.
Get Recipe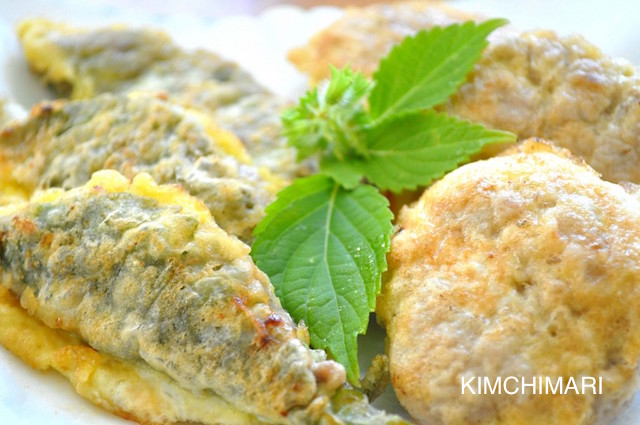 Wanja Jeon and Kkaennip Jeon are easy to make and produces a great side dish to any Korean meal with spicy soups or jjigaes. They are also great for lunch boxes because they keep well and taste good even when they are not warm.
Get Recipe
Slightly crispy on the outside and full of potato goodness inside, these potato pancakes make for great snacks that are easy to whip up with simple ingredients.
Get Recipe
Korean Chive Pancake (Buchujeon) uses Garlic Chives and is one of those foods that may seem like there is not much difference between different recipes but you can actually have an amazingly good chive pancakes and oh, so-so Buchujeon so please try this recipe.
Get Recipe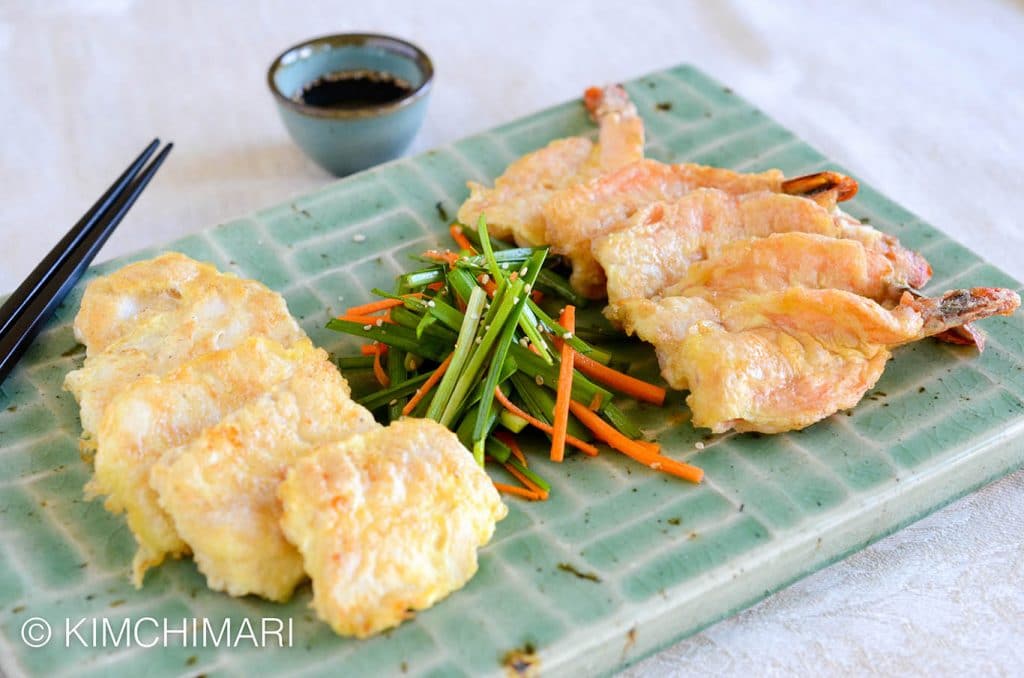 Cod and Shrimp are coated in flour and egg and then pan-fried golden brown. Great side dish or even main dish to any Korean meal. Easy, Simple and Delish!
Get Recipe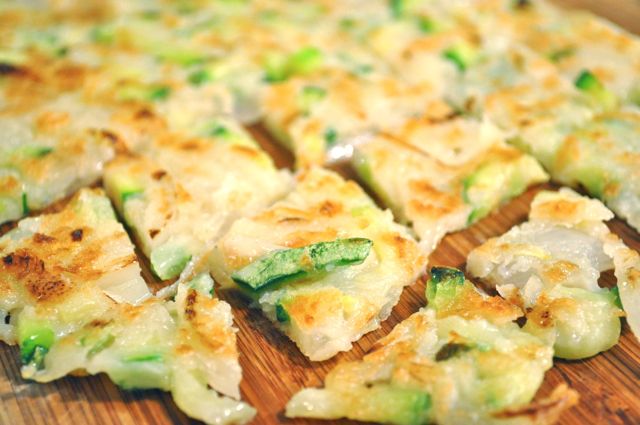 Easy Korean Zucchini fritters that is great as appetizer, side dish (banchan) for any Korean meal. Serve hot or room temp. Serve with soy vinegar dipping sauce.
Get Recipe
Unlike the common, everyday Korean Pajeon (Green Onion Pancake) which is made by just mixing everything together – batter, seafood, vegetables and all – Dongrae/Dongnae Haemul Pajeon is made in several steps or layers which is more work but definitely worth the effort. 
Get Recipe
All these Jeons can be served at room temperature which is easy for kids. These kid-friendly Korean foods can also be made ahead of time, refrigerated and reheated. Also making them very convenient to have in your weeknight meal plans. Serve them to your kids as a snack or as part of a meal.
Kid-Friendly Korean SIDE DISHES (BANCHAN)
This potato side dish recipe uses whole baby potatoes, which has a soft skin that can be left on for a nice chewy texture. That also means less work in the cooking process! But if you want, you can also use peeled potatoes or cubed potatoes. Gamja jorim does not need to be served warm.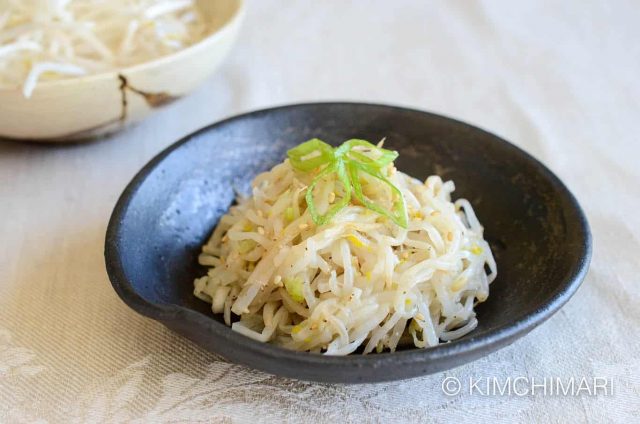 This popular Korean side dish is an easy and quick way of preparing mung bean sprouts. It's gluten-free, vegan, protein- and fiber-rich, and can be added to any of your kid's meals. Some kids also love Kongnamul (soybean sprouts) but then some kids don't like the attached soybeans. This is very similar to that except the mung beans are almost not noticeable. Koreans love it as a topping for bibimbap.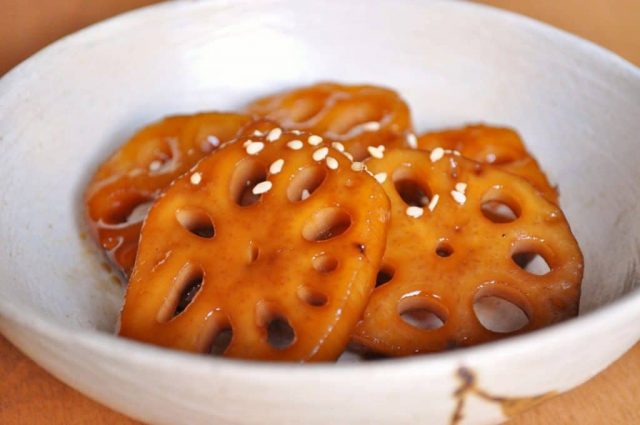 This is a lunchbox favorite for obvious reasons: the lotus roots are slightly crunchy, sweet, and salty all at the same time! Lotus root is a great source of fiber, Vitamin C, and minerals, so be sure to include this in your kid's diet.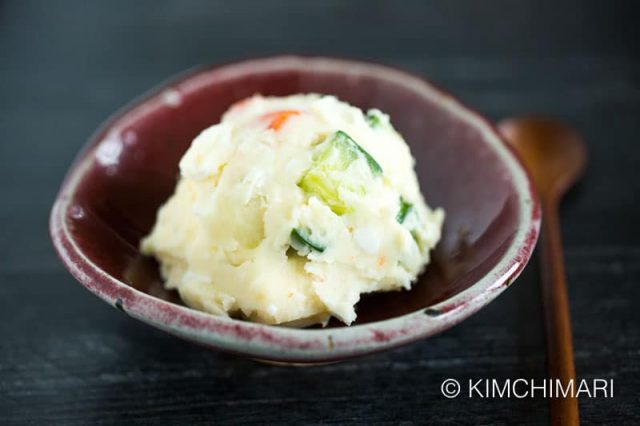 Although somewhat similar to the classic American potato salad, Korean potato salad differs with the extra crunch and fresh flavors from the addition of apple and cucumber. Raisins are welcome too if your kids like them.
Another lunchbox favorite, this side dish is made with black soybeans. It has a good balance of sweet and salty flavors that easily complement other dishes in a meal. You can also use regular white soybeans instead.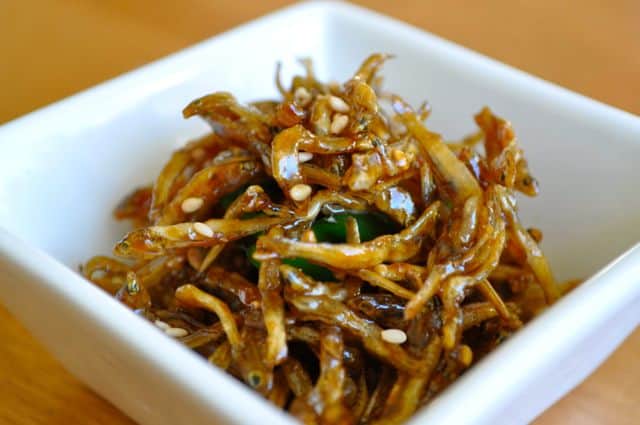 Korean dried anchovies are loaded with calcium and DHA, an important nutrient for the brain and bones. So a Korean mom always makes sure this banchan is in their kid's lunchboxes. There are many Koreans (including my husband) who are lactose intolerant so grew up not drinking milk but just on these little anchovies!! You can see how this may be the most beneficial lunchbox item you can make for your growing kid. And the sweet and salty crunch definitely makes this probably the best kid-friendly banchan you can make.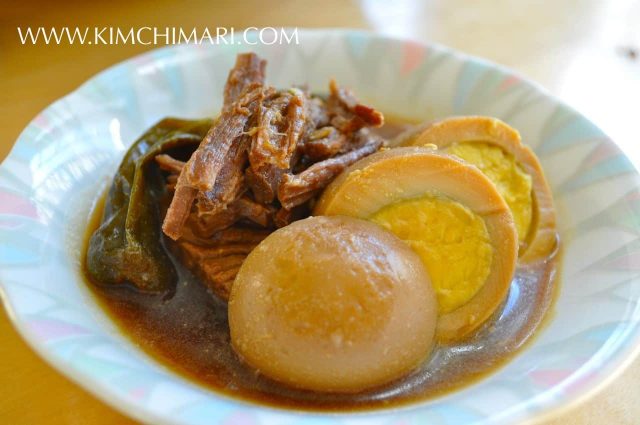 Beef brisket (or just chuck) is slow-cooked in sweet soy sauce to make this meaty side dish. When stored properly in the fridge, it can last up to a couple of weeks. Serve it with rice for a complete meal, and use the sauce to make other side dishes. What a great dish for the whole family!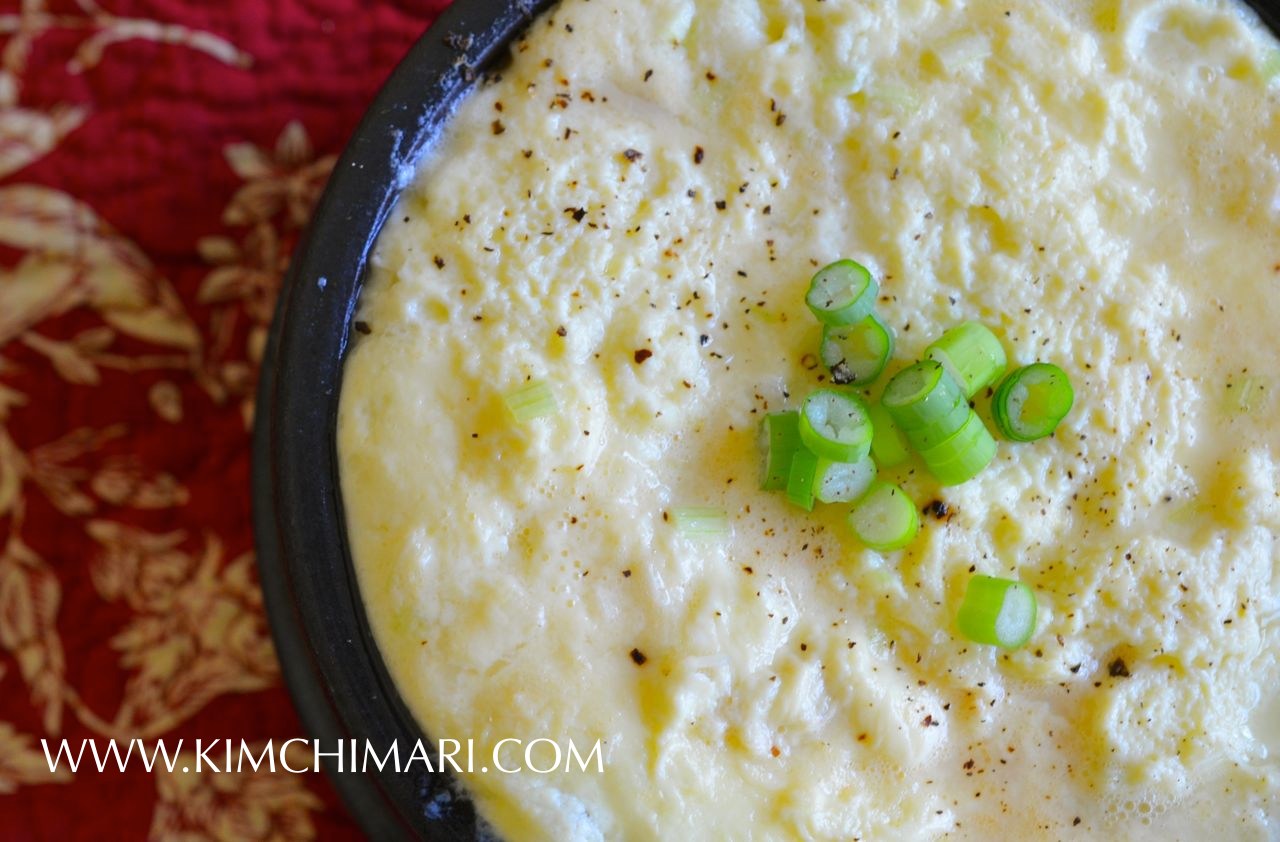 This soft and nutritious steamed egg is such a great side dish for kids. Just a spoonful of this and rice will get your most picky eaters to eat. And the great thing is that you can finely chop veggies like carrots and hide them in it.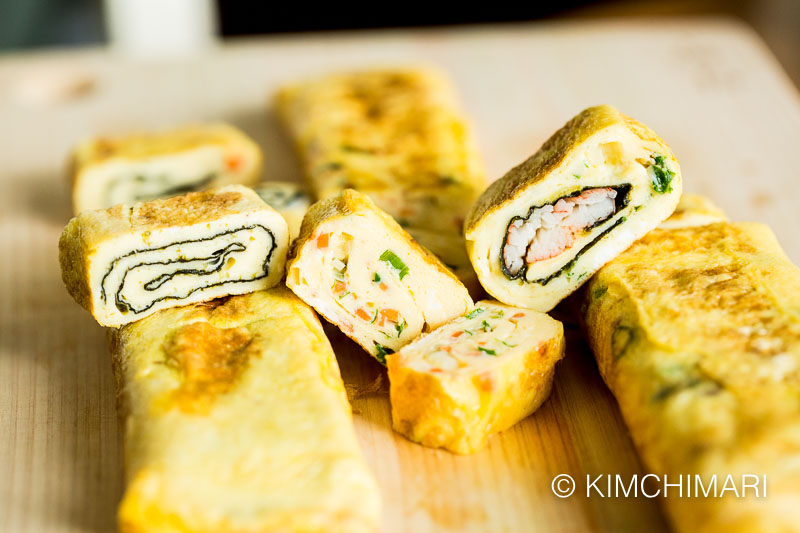 This egg omelet is so versatile – you can add your child's favorite fillings from cheese, ham, seaweed and more. Easy and quick to make, it's a great last minute add-on banchan to any meal. It was my favorite lunch box banchan and your child will love it.
SOUPS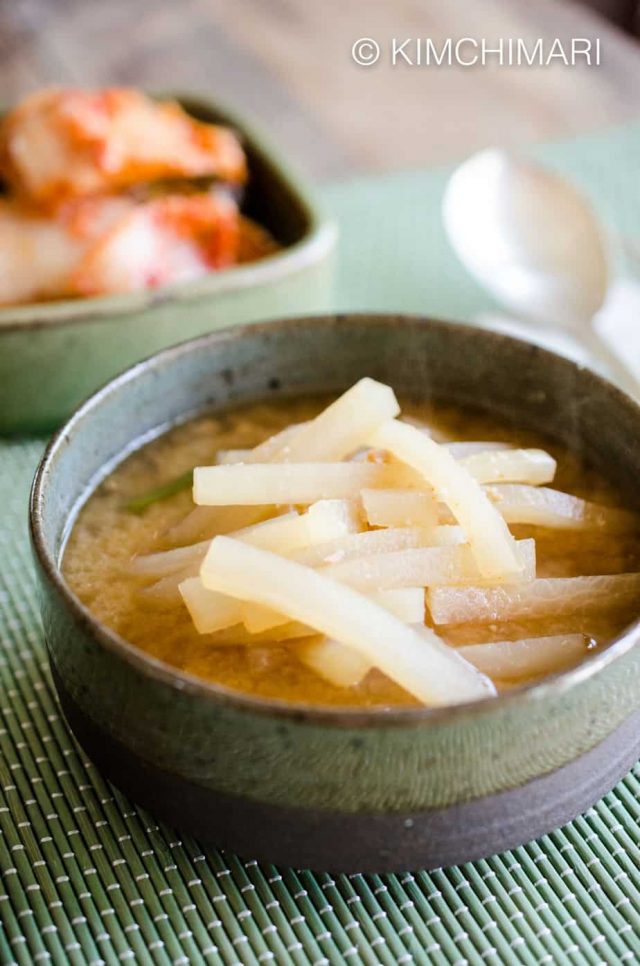 This is one of the most comforting soups that Koreans grow up with. It is packed with nice umami flavors thanks to the fermented soybean paste and the radish makes this soup kinda sweet without any addition of sugar. Add some rice to this soup and your child will gobble it up in no time.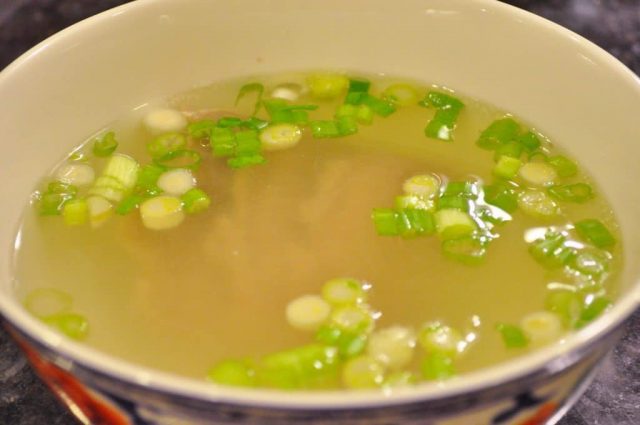 This is one of the simplest and probably most kid-friendly Korean food to make. Clear soups like this can help you introduce solid foods to toddlers. Koreans like to add rice to soup and feed to kids with rinsed (to remove the spicy seasoning) and chopped up cabbage kimchi.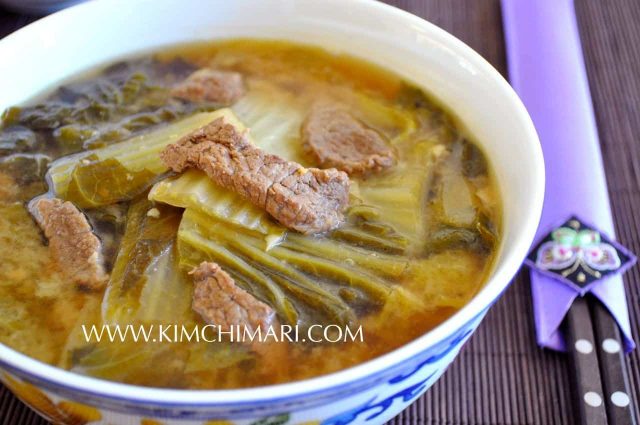 This hearty soup with meat and vegetables can easily be a complete meal when served with rice. It was my daughter's favorite soup when she was a toddler. She needed a lot of fiber in her diet and this totally did the trick + prune juice.. 😝
High in iodine, calcium and fiber, seaweed (kelp) is considered a healing food in Korean tradition. Your kids will appreciate that it supports digestion and can help with constipation. This easy recipe highlights the wonderful and delicate flavor of seaweed. Again, mix with some rice and feed some myeolchi bokkeum or rinsed kimchi as a simple side dish.
PORRIDGE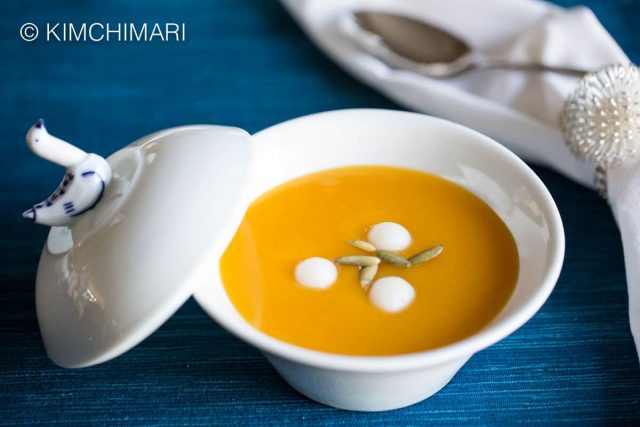 The light and digestible pumpkin porridge is another healing food in the Korean tradition high in Vitamin A and C. With well-cooked and blended pumpkin, this sweet porridge resembles baby food and is naturally sweet from the Kabocha squash that I used here.
Porridge is a good option for young toddlers as it falls somewhere between liquid food and solid food. This one's filled with calcium- and fiber-rich, tummy-warming black sesame seeds perfect for cold weather enjoyment. I hope you will have a fun time cooking for your kids with these recipes!
XOXO ❤️
JinJoo
Follow Me on INSTAGRAM or my Facebook Page to share, support and ask everything about Korean food with others just like you!