Do you like a good crispy Vegetable Tempura? I DO!! Did you think making really crispy and airy tempura at home was IMPOSSIBLE?? Wrong. Use my tempura recipe and you can make perfectly crispy and light tempura at home every time.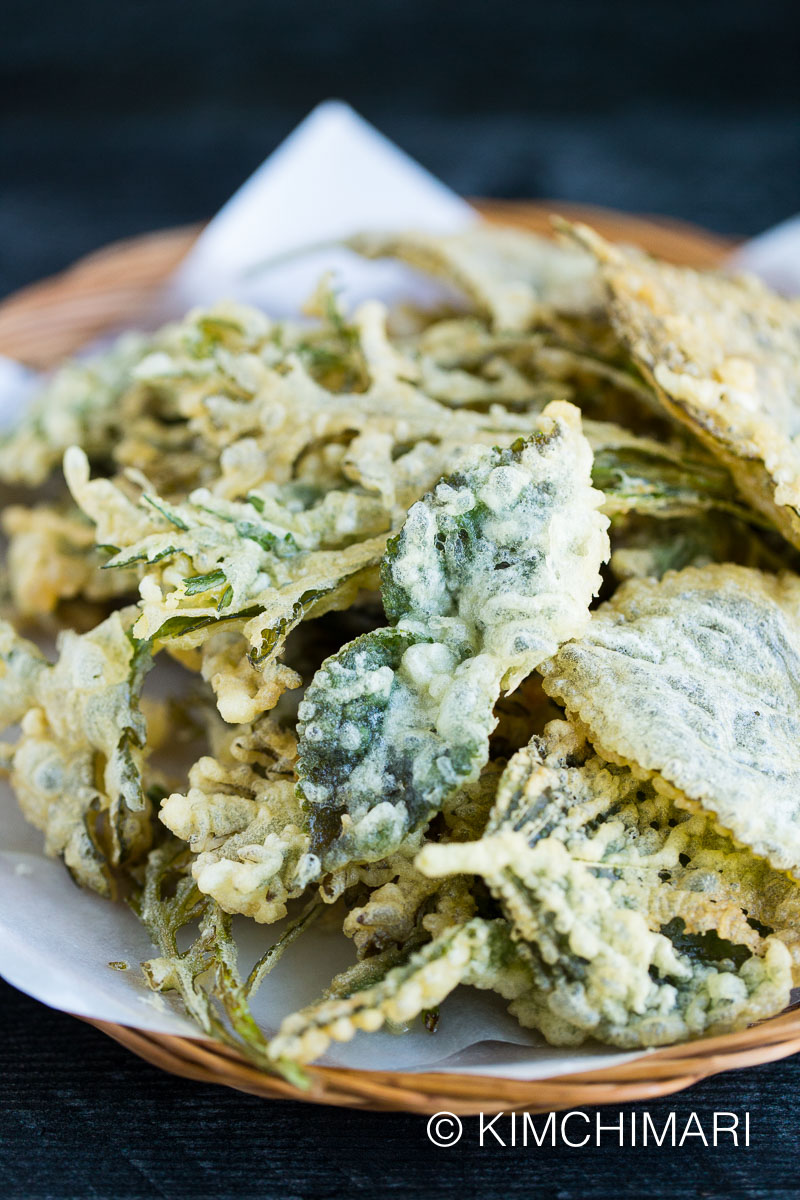 So… there's something that I have never figured out. Why can't most Japanese restaurants in the US serve Tempura that is really crispy, light and airy?? I mean, there are some that are decent but I am always disappointed than not when I order tempura at restaurants.
Now,  I must say it took me years to perfect my vegetable tempura recipe as this is not something I learned from my mother or my mother-in-law. This was through many years of trial and error. And also because I happen to see a Japanese restaurant chef make tempura at our home when I was little..more on that later.
Key for Perfect Vegetable Tempura
In my opinion, there are 3 things that are key for perfect Vegetable Tempura: oil temperature, batter and how you coat your vegetables with the batter.
Oil Temperature for perfect tempura needs to be

340°- 356°F (170-180°C) for the matchstick style Vegetable Tempura (Yache Twigim) or other leafy vegetables like shiso, perilla or ssukat
285°- 320°F (140-160°C) for thicker vegetables like sweet potato (when cut into 1/2 inch discs) or carrots

How to tell if the oil is HOT enough for tempura without a thermometer

Sea Salt – I actually never use a thermometer to measure the oil temperature, instead, I drop a couple of big sea salt crystals. If it's hot enough (around 350℉) when the salt immediately starts to bubble and makes a sizzling sound right away.
Batter –  oil is around 350°F or so if you drop some batter in the oil and it only goes down halfway and then comes right back up bubbling.  If the batter goes down all the way to the bottom of the pot and then comes back up, you are close to 280°F.  If the batter stays on the surface and just bubbles right away then it's probably TOO HOT.

Tempura Batter  – batter needs to be ice cold and not too thick to produce very airy and crispy Japanese tempura.
Coating –  as I show in my video, let tempura batter drain away a bit before you put your vegetables in your oil.
More Tips for Ultra Crispy Japanese Tempura
add 3-4 ice cubes to your batter to keep it cold
timing is everything  – heat the oil, have the veggies ready and then make the batter then add ice right before you start
remove excess batter from vegetables before frying
don't overcrowd your fryer – every time you add a piece of tempura, the temperature of the oil goes down, so don't add too many at a time because that will lower the oil temp too much. If oil temp stays too low, the vegetables will absorb too much oil
fry them twice when making a large batch for a party – Fry them just lightly the 1st time and then re-fry until golden brown the 2nd time after guests arrive
What other vegetables are good for vegetable tempura?
Zucchini, carrots, shitake mushrooms, enoki mushrooms, bell peppers, Kkaetnip (perilla or shiso leaves), chrysanthemum leaves (ssukat) and lotus roots all work well. BTW, the 1st picture in this post is perilla and ssukat twigim.
Vegetable Tempura Variations (Japanese vs Korean)
In Korea, vegetable tempura is also called Yache Twigim 야채튀김. Yache means vegetables and Twigim means 'fried'. For some reason though, yache twigim usually means a Mixed Vegetable Tempura (like above) where a mix of vegetables are cut into matchsticks and fried together (as in the picture above) instead of each vegetable being cut and fried individually which is usually the case in Japanese style Vegetable Tempura.
My Tempura Story
OK, so when I was about 8-9 years old, back in Seoul, a professional Japanese restaurant chef came to our home and cooked for our whole family for a whole week. Wow.. it was like going to the Japanese restaurant every day!! I am not exactly sure how this happened (I think the restaurant owner was my Dad's friend and he let us have him for a week as a gift) but I was in heaven for a week… not to mention gaining a few pounds I'm sure. HAHA…
My most memorable dish was the tempura the chef made for us. Before we had his vegetable tempura and shrimp tempura at home, we always used to say that the really crispy and non-oily tempura was only possible in the restaurant kitchen with their really high-temperature giant fryers. But, we were pleasantly surprised to learn that you could make the same crispy restaurant tempura at home when the temperature of the batter was right.
But of course, we never really needed to make it at home in Korea after that because so many restaurants in  Korea all made excellent tempura. And btw, if you ever have Tempura in Korean Bunsik (분식) restaurants, you may find that it's a bit heavier and less airy but still so yummy in their own way.
See below for my notes in my recipe card on how to make it more of a Korean style Yache Twigim instead of the traditional Japanese Tempura.
Anyway, my family really loves these and because it's hard to find restaurants in the US that make good vegetable tempura, I started making it at home man years ago.  It's also because I missed it terribly when I first came to the US; it's one of the things that my college friends and I used to have all the time when we were at Ewha Womans University in Seoul.
The Original Bunshik 오리지날 분식 was famous for their vegetable and squid tempura. It originally opened in 1967. I would put a link up but I heard it closed in 2018. So sad…😢I feel so sorry for the younger kids who will never get to taste it.
This restaurant in front of Ewha has been serving Yache Twigim, Tteokbokki and Oden Soup for generations.  In fact, I remember my sisters taking me to this place on special occasions (it was really a hole-in-the-wall kind of place at that time) and I remember thinking how lucky my sisters were that they could eat this whenever they wanted to….😝this may be the secret reason why I wanted  to go to Ewha growing up. HAHAHA..
Ok, so here's how you can make your own Vegetable Tempura fries at home.
Step-by-Step Instructions
Difficulty: Moderate                  Prep Time: 25 min.           Cooking Time: 30 min              Servings: 6
Peel sweet potatoes and carrots. Cut them into french-fry sized sticks. The potato and carrot sticks should be cut roughly the same thickness because you want them to both cook evenly. If using individual vegetables, just cut each vegetable into thin discs.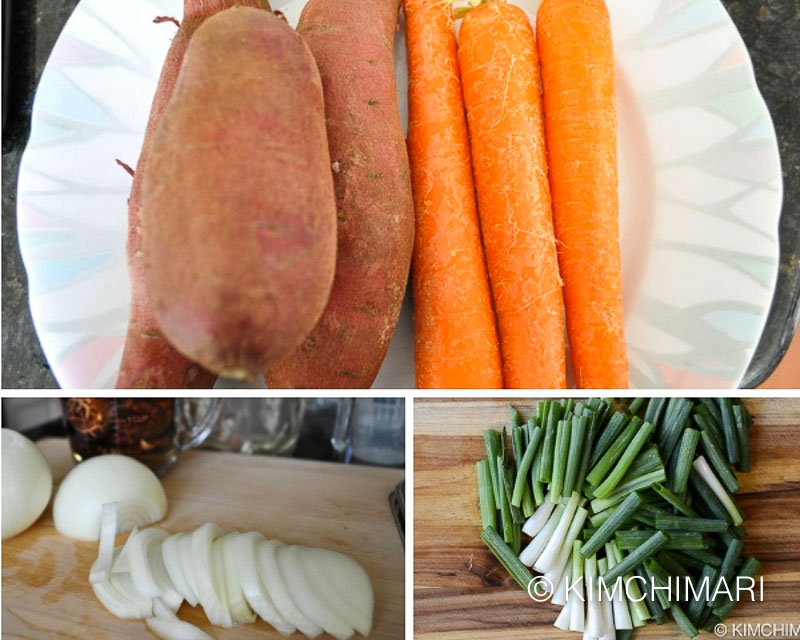 Clean and cut both green onions and onions so that they are roughly similar in size to the potato and carrots. Onions cook quicker so they can be cut a little thicker.  Add all the vegetables into a large bowl.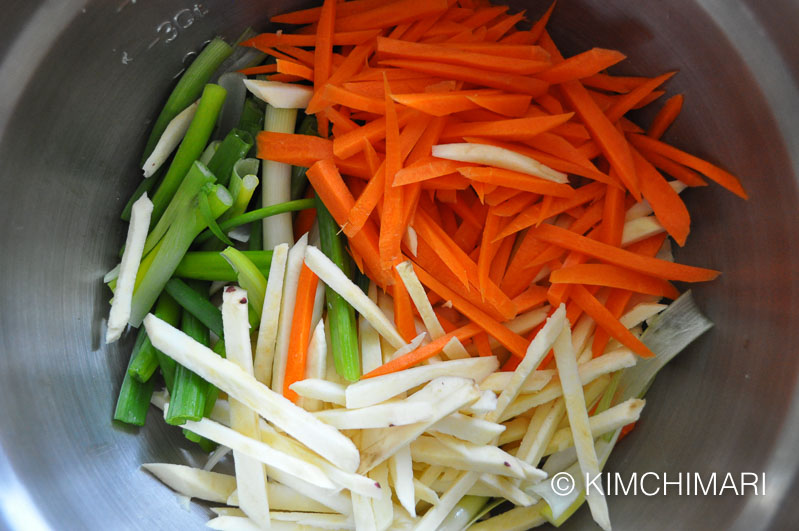 Heat up the oil: Heat about 6 cups of vegetable or canola oil for deep frying on medium high heat. You can use a deep fryer, a wok or even a regular saute pan (3 1/2 qt or larger). Just make sure the pan or pot is deep enough to hold the oil and not have it overflow when it bubbles up (at least 2 1/2 inches or more between top of oil and top edge of your pan).
Mix batter according to recipe below. I have 2 different batter recipes: Japanese Tempura batter and Korean style batter. The Korean style works great for mixed vegetable sticks that I'm doing here. If you want to make an ultralight and crispy tempura (like my top most picture) then make the Japanese Tempura batter recipe (below) by adding ice, making sure the batter stays icy cold throughout.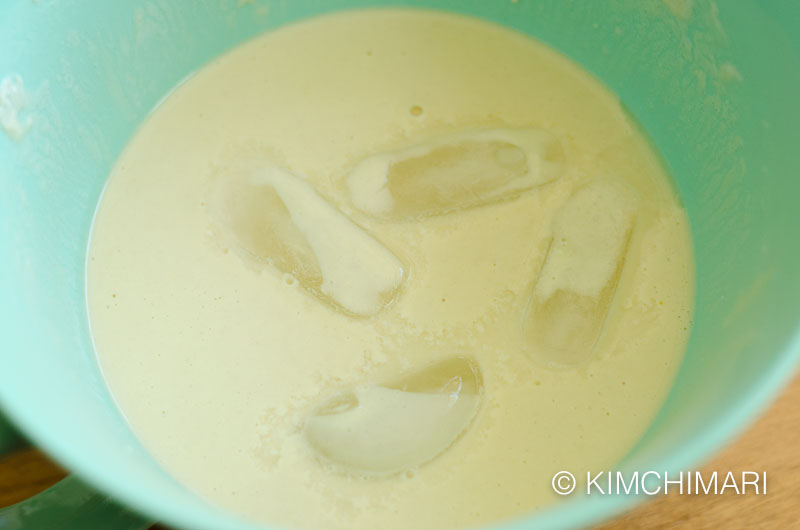 Mix in the vegetable sticks into the batter. and coat them in batter.
When frying light and leafy vegetables such as ssukat (chrysanthemum leaves) or perilla, be sure to let excess batter drip away before adding to the fryer. See my short video on how I do it –
How to fry ultra light and crispy Vegetable Tempura
READY?? Let's FRY them!!  When OIL is HOT enough (see my tips above for correct temp), you can add a bunch of the vegetable sticks coated in batter into the fryer. Again, make sure of the following:
The temperature of batter is still cold
Drip off excess batter before adding
Don't overcrowd the fryer – about 5 bunches. Putting any more may lower the temperature too much. But not putting in enough may end up burning the fries too quickly without the vegetables being fully cooked.

vegetables frying in wok
By looking at the picture above, you can see that there are 4 bunches in the oil. The bunch at bottom left is almost ready to be taken out, the top right one is the least cooked and will need to cook some more. I haven't measured the exact time but I would say it probably takes about 3-4 min for each bunch to cook. Just watch for the color to become light golden brown and the texture to get crispy and hard.
Line a plate or a colander with a paper towel or oil absorbing paper and let the oil drain for few minutes. Serve them hot with a simple soy sauce and vinegar ( 1 T soy sauce + 1 tsp vinegar) or go fancy and make my Yangnyeomjang dipping sauce recipe.
Vegetable Tempura Dinner menu ideas
Can I use the same Tempura batter to cook seafood or other veggies?
YES!! You can use this same batter recipe to fry calamari/squid – YUM!! Another favorite of mine.
Storage and Reheating
Store leftover tempura in the fridge up to several days. My favorite way of reheating leftover fried foods is to reheat them in the oven (325-350℉) – this way, it gets crispy and also lot of the fat drips away. Microwave is the worst way to reheat it. Cut it into flatter pieces and pan fry them if you don't have time to heat the oven.
Well, I hope I explained it clearly enough. Please watch my video to see the full recipe. Note, I did not add ice in the video because I was making the Korean style batter.
If you have tried this or any other recipe on my blog then please rate the recipe (☆☆☆☆☆ at top right of the recipe card) and leave me a comment to let me know how you like it! Every 5 star helps me a lot and I also love hearing from you! 😍
You can also FOLLOW ME on FACEBOOK, PINTEREST and INSTAGRAM or join my FACEBOOK GROUP  to ask and share everything about Korean food with others just like you!
Enjoy!
XOXO ❤️,
JinJoo
How to make Crispy and Light Vegetable Tempura
Vegetable Tempura
Vegetable Tempura Fries that's just as crispy and light as you get it from (a good) restaurants. I actually think it's better than most restaurants. Use the same batter recipe to make shrimp and other tempuras.
Prep: 25 minutes
Cook: 30 minutes
Total Time: 50 minutes
serves: 6
Ingredients
1/2 large yellow onion (sliced)
1 Korean sweet potato (Goguma 고구마) mediium sized, or 1 C french fry-sized strips
2 carrots (small to medium, 1 C french fry-sized strips)
1 green onion (bunch)
Tempura Batter (Japanese style) - option 1
1 cup flour (all-purpose)
1/4 cup cornstarch
1/4 tsp sea salt (optional)
1/8 tsp baking powder
1 egg
270 ml ice cold water (+ 3 ice cubes for extra light n crispy)
Tempura Batter (Korean Style) - option 2 - seen on video
1.25 cup flour
1/4 cup cornstarch
1 egg
300 ml ice cold water
1 tsp sea salt
For frying:
6 cups vegetable or canola oil for deep frying
Instructions
Peel sweet potatoes and carrots. Cut them into thin french-fry sized match sticks. The potato and carrot sticks should be cut roughly the same thickness because you want them to both cook evenly.

Clean and cut both green onions and onions so that they are roughly similar in length to potato and carrots. Onions cook quicker so they can be a little thicker.

Add all the vegetables into a large bowl and toss with hand.

Heat oil: Heat about 6 cups of vegetable or canola oil for deep frying on medium high heat until it reaches roughly 335 - 350 F. See my tips above on measuring temp of oil without a thermometer.

Make batter - add all batter ingredients and mix until they are no big lumps. Do NOT overmix. If adding ice cubes, DO NOT add them until you are all ready to start frying. You want to keep this batter cold so do not wait too long before using it.

Add vegetables to batter and mix to coat evenly. I use long chopsticks or hands - this works best.

Fry them! By now, your oil should be hot enough. The oil temperature should be around 340 -355 ℉ (170-180 ℃). Best to start at 355 because it will cool down once you add your vegetables. Keep the heat between med-high and medium and it should work.
Equipment
deep fryer (or deep pot)

mixing bowl

tongs or long chopsticks
Tips & Notes:
Serve with my Yangnyeomjang - soy vinegar dipping sauce.
If you are feeling really lazy, buy Korean Tempura Mix (available at my Amazon store), you can just use that mix or try my tempura mix recipe -

1/2  cup AP flour
1 cup frying batter mix (튀김가루 Twigim Gahroo)
1 1/4 cup cold water
Nutrition Information:
Calories: 326kcal (16%)| Carbohydrates: 28g (9%)| Protein: 4g (8%)| Fat: 23g (35%)| Saturated Fat: 18g (113%)| Cholesterol: 27mg (9%)| Sodium: 269mg (12%)| Potassium: 194mg (6%)| Fiber: 2g (8%)| Sugar: 2g (2%)| Vitamin A: 6530IU (131%)| Vitamin C: 2.8mg (3%)| Calcium: 27mg (3%)| Iron: 1.3mg (7%)