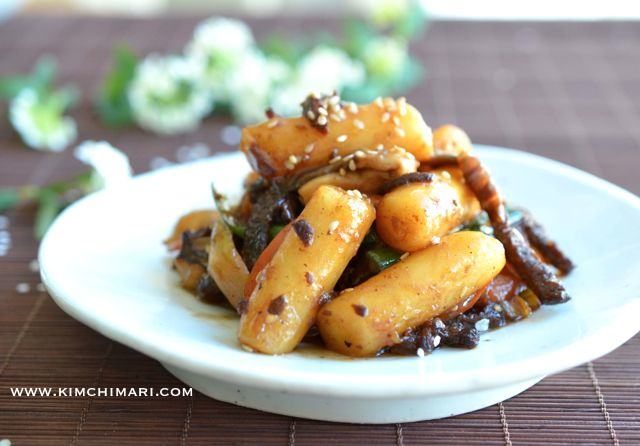 Rice Cake Stir Fry with Soy Sauce (궁중떡볶이 Gungjung Tteokbokki or Ddukbokki) has been around much longer than the more common red spicy version. The name Goongjoong/gungjung/Kungjung/Koongjoong means royal court and so you can guess where this dish comes from. The Korean Royal Court Cuisine (궁중요리 Gungjung Yori) as we know today are recipes passed down through generations of King's chefs during the Joseon Dynasty (1392-1910) and only became available to everyone after the fall of the dynasty. There are separate cooking schools dedicated to teaching this cuisine but as you can imagine, it's really not your everyday food..
In contrast, the prevalent story for the very popular spicy rice cake (ddukbokki or tteokbokki) is that it only came to existence in the 1950's in the 신당동 (shindangdong) part of Seoul. Since then it probably has become the most popular snack for kids-although recently pizza and hamburgers have started to take over. But certainly when I was a student, there was always a tteokbokki house near every school and we just could not go home without taking a tteokbokki break!
BTW, here are some Spicy Rice Cake (Tteokbokki) recipes if you want to try it!
Eating tteokbokki after school…it was sooo good but also soooo spicy sometimes. As much as I loved eating the spicy version, I often had hard time with hot spicy foods when I was little. As a kid, I used to wash Baechoo Kimchi in water before I ate it. You would think that washing it with water makes it taste like nothing but it actually had plenty of flavor – still a little bit spicy, slightly sour, definitely salty and then that deep, can't-really-describe-with-words unique taste of Kimchi. Mostly, this is how most Korean kids get used to eating spicy foods at an early age – by just tasting the watered down version first and then you want more..
Because this Gungjung Tteokbokki dish is salty, savory and slightly sweet, it is a great dish that can balance the spiciness of many spicy Korean dishes. Great for dinner parties and also a great snack for kids since you can sneak in some extra veggies if you want.
Gungjung Tteokbokki (Rice Cake Stir Fry with Soy Sauce)
Servings: 2                                  Cooking Time: 25 – 30 min                                Difficulty: Medium
Adjustable Ingredients appear in Recipe Card below
Step-by-Step Directions
If you have access to fresh rice cake, that's great. If not, no matter, just defrost frozen rice cakes by soaking in cold water first for 10 min. or more.
Cook rice cakes in boiling water for 2-3 minutes until they are soft all the way through.
Drain. Do not rinse. While it's still hot, add 1 T soy sauce and 1 T sesame oil. Toss. Set aside.

marinade rice cake in soy sauce and sesame oil

Cut beef into thin strips (approx 1/4 in), against the grain. This is probably the most time consuming part of this recipe. EASY TIP: cut bulgogi meat into smaller pieces instead. In Korea, markets sell pre-cut beef strips like so…nice, huh?

beef cut in strips for Korean cooking

BTW, the label says the beef cut is 설도(seoldoe) which is bottom round or eye of round. It also says it's 잡채용 (chopchaeyong – for chop chae).

Marinate the beef strips in my apple lemon soy sauce, rice wine, sugar, sesame oil, honey, garlic mixture and let it sit while you prepare other ingredients.

marinated beef strips for Korean Ddukbokki

I used my apple lemon soy sauce but you can substitute it for regular soy sauce and more rice wine. See my bulgogi post for the exact recipe. Also note that the amount of sauce is good for 1 lb of beef which is too much if it was just the meat but I wanted this sauce to season the entire dish and thus the extra sauce.

Cut carrot lengthwise and then into thin slices diagonally so that the size is similar to your dduk piece.

cut carrots for Goongjoong Ddukbokki

Tear 0yster mushrooms by hand into smaller pieces.

tearing oyster mushrooms for ddukbokki

Dried shitake mushrooms are probably the most authentic ingredient but these oyster mushrooms were so fresh looking at the market! King or enoki mushrooms will be good too~

Cut  1/2 of a Korean leek first into 2 in long pieces and then quarter them.

Korean leeks are pretty big and long (usually longer than 2 ft and some are even longer than 3 ft! see photo below left – this is a pretty big cutting board) but not as big and not as thick as the ones you see in the US. I know Korean leeks are probably hard to get in places outside of Korea so substitute green onions if you can't get Korean leeks.

Korean Leek (대파 Daepa)

Cut onions into thin slices. And now you should have a plate full of cut vegetables!

cut vegetables for ddukbokki

Heat a nice big frying pan on med-high heat. Transfer just the beef (set aside any leftover marinade sauce) into the pan and saute the beef strips for 2-3 minutes.

sauteing beef

leftover beef marinade – save it for later!

Saute carrots, onions and mushrooms (except for green onions) with the beef, 2-3 min.

Gungjung tteokbokki beef and vegetables

Add rice cakes and stir fry for 5-6 minutes until everything is evenly cooked.

Gungjung Tteokbokki in Pan

Taste. For kids snacks, keep the seasoning light and do not add the leftover marinade sauce. For side dishes, add some of the remaining beef marinade sauce for additional seasoning.
Add green onions. For final seasoning, swirl in some honey and sesame oil before serving.
Sprinkle some sesame seeds as garnish.
This rice cake stir fry is a great for parties, pot luck and as snack for kids. So enjoy!
Storage
Leftovers can be stored in the fridge for several days. Dduk becomes hard once it's stored in the fridge. Reheat it slowly on medium to med-low heat by adding couple T of water and stirring often. Microwaving will reheat faster but dduk will become really hard once it cools so I don't really recommend it.
Variations
Add regular or napa cabbages, fish cake, zucchini for variations.

Gungjung Tteokbokki-Rice Cake Soy Sauce

Rice Cake Stir Fry with Soy Sauce (Gungjung Tteokbokki)

Great rice cake stir fry with vegetables in a bulgogi like seasoning. Salty, savory and slightly sweet, it can balance the spiciness of many Korean dishes. Great for dinner parties and also a great snack for kids since you can sneak in some extra veggies if you want.

Prep: 10 minutes

Cook: 15 minutes

Total Time: 25 minutes

serves: 2 people

Ingredients

1 lb rice cake for ddukboki

marinade sauce for rice cake

marinade for beef

1/2 lb beef (chuck, sirloin, bottom round) or stew meat, cut into thin strips
1.5 Tbsp soy sauce
1 Tbsp rice wine
1 Tbsp sesame oil
1 tsp sugar
1 Tbsp honey
2 garlic cloves , minced
black pepper

Vegetable ingredients

4 oz oyster mushrooms (dried or fresh shitake, enoki, king all work well), torn
1/2 yellow onion , sliced
1 small carrot , sliced
2 green onions or 1/2 Korean leek (대파 Daepa)

Finishing Seasoning

swirl of honey (optional)
swirl of sesame oil (optional)
sesame seeds for garnish

Instructions

If you have access to fresh rice cake, that's great. If not, no matter, just defrost frozen rice cakes by soaking in cold water first for 10 min. or more.

Cook rice cakes in boiling water for 2-3 minutes until they are soft all the way through.

Drain. Do not rinse. While it's still hot, add 1 T soy sauce and 1 T sesame oil. Toss. Set aside.

Cut beef into thin strips (approx 1/4 in), against the grain. This is probably the most time consuming part of this recipe. EASY TIP: cut bulgogi meat into smaller pieces instead.

Marinate beef strips in my apple lemon soy sauce, rice wine, sugar, sesame oil, honey, garlic mixture and let it sit while you prepare other ingredients.

Substitute my bulgogi marinade. Also note that the amount of sauce is good for 1 lb of beef which is too much if it was just the meat but I wanted this sauce to season the entire dish and thus the extra sauce.

Cut carrot lengthwise and then into thin slices diagonally so that the size is similar to your tteok piece.

Tear 0yster mushrooms by hand into smaller pieces.

Dried shitake mushrooms are probably the most authentic ingredient but these oyster mushrooms were so fresh looking at the market! King or enoki mushrooms will be good too~

Cut 1/2 of a Korean leek first into 2 in long pieces and then quarter them.

Cut onions into thin slices.

Heat frying pan on med-high heat. Transfer beef (set aside any leftover marinade sauce) into the pan and saute the beef strips for 2-3 minutes.

Saute carrots, onions and mushrooms (except for green onions) with the beef, 2-3 min.

Add rice cakes and stir fry for 5-6 minutes until everything is evenly cooked.

Taste. For kids snacks, keep the seasoning light and do not add the leftover marinade sauce. For side dishes, add some of the remaining beef marinade sauce for additional seasoning.

Add green onions. For final seasoning, swirl in some honey and sesame oil before serving.

Sprinkle some sesame seeds as garnish.

Nutrition Information:

Calories: 1089kcal (54%)| Carbohydrates: 146g (49%)| Protein: 33g (66%)| Fat: 40g (62%)| Saturated Fat: 11g (69%)| Cholesterol: 80mg (27%)| Sodium: 1368mg (59%)| Potassium: 762mg (22%)| Fiber: 2g (8%)| Sugar: 17g (19%)| Vitamin A: 5240IU (105%)| Vitamin C: 7mg (8%)| Calcium: 61mg (6%)| Iron: 3.9mg (22%)