Korean meat and seafood banchan (side dishes) that you can make at home. Easy and full of flavors, these dishes can be added to any meals or even enjoyed as hearty snacks.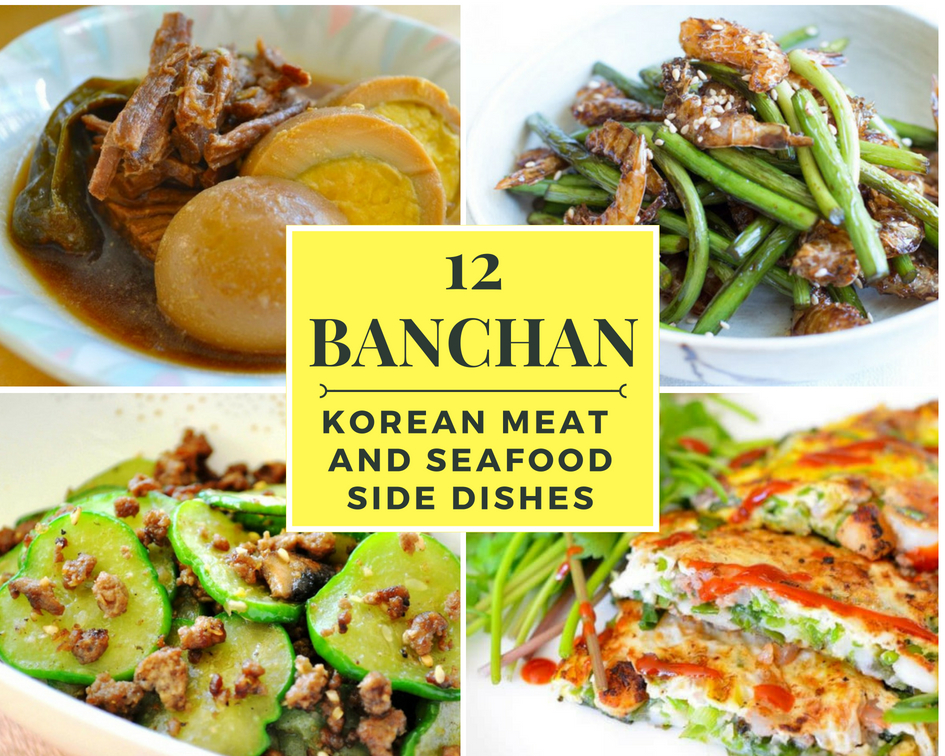 Korean Meat and Seafood banchan (side dishes)
Here are 12 more meat and seafood banchans (in addition to the 15 vegetable banchan I posted recently)to inject a burst of Korean flavors to any meal on any occasion. These are popular banchan that you've probably come across at Korean restaurants, and I'm sharing with these simple recipes with you to try at home. Be sure to heck out my 15 Korean Vegetable banchan recipes if you are looking for some more side dishes!
These recipes are an easy gateway to Korean cooking, using common Korean ingredients like dried seafood and highlighting authentic Korean flavors like the wonderful and well-loved gochujang paste. Add one or two to your meals, or have them as a snack. You'll be surprised at how addicting some of them can be!
Jorim vs Jjim vs Bokkeum vs Gui vs Jeon Banchan – What's the difference?
Although I have tried to use the right corresponding English words to describe these dishes, I have to say they are not always an exact match. For example, I've used 'braised' to describe jorim or jjim but technically it is not the exact same method because Braising assumes there is a searing or browning of the ingredient before it is slowly reduced whereas jorim or jjim rarely includes any browning process. But they are both similar in that they are slowly cooked on low heat until the liquid is reduced.
So, I will now share below what each of the names mean and how the cooking process is different.
Jorim (조림) – jorim refers to protein and/or vegetables seasoned and simmered on low heat until sauce is reduced to a glaze.
Jjim (찜) – jjida 찌다 means to 'steam'. But in addition to simple steaming, this category also includes dishes where protein and vegetables are stewed on low heat for a long time.
Bokkeum (볶음) – refers to stir frying ingredients on medium to high heat.
Gui (구이) – means to 'roast' or 'grill'. Traditionally these were grilled on open flame but is now often pan-fried but stilled retains the name Gui.
Jeon (전) – refers to ingredients that are either cooked in either one of the following methods: thinly sliced, seasoned then individually coated in flour and egg than pan-fried in oil (as in Hobak Jeon) or thinly julienned and mixed in a flour based batter then pan-fried in oil like a pancake (as in Pajeon).
Muchim (무침) – means to 'toss in seasoning' and so ingredients are dressed with seasoning and then tossed to evenly coat everything
8 Best Korean Seafood Banchans (side dishes)
This seafood banchan has a great texture and a nice depth in flavor thanks to the crunch of garlic scapes, aromatic saltiness of dried shrimp, and a slightly sweet soy sauce to bring it all together.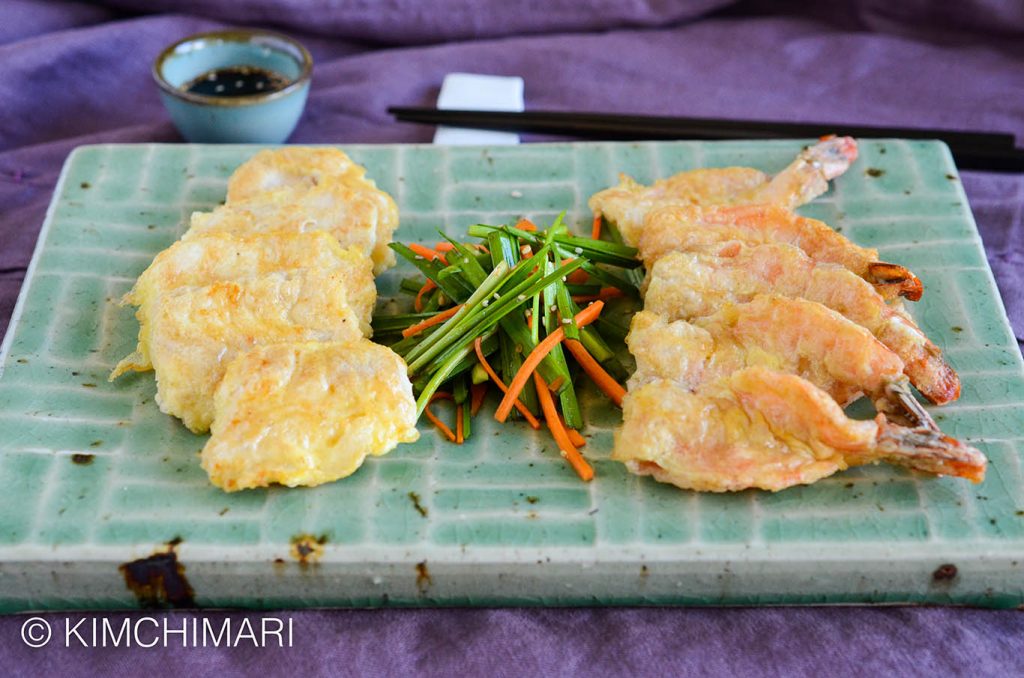 Fish and shrimp simply coated in flour and egg and pan-fried to golden-brown perfection to be enjoyed as a snack on its own, as a side dish to any meal, and even as a main dish.
Unlike the usual style of mixing everything into a batter, this savory seafood banchan pancake is cooked in generous layers of vegetable and seafood for maximum flavor in every bite.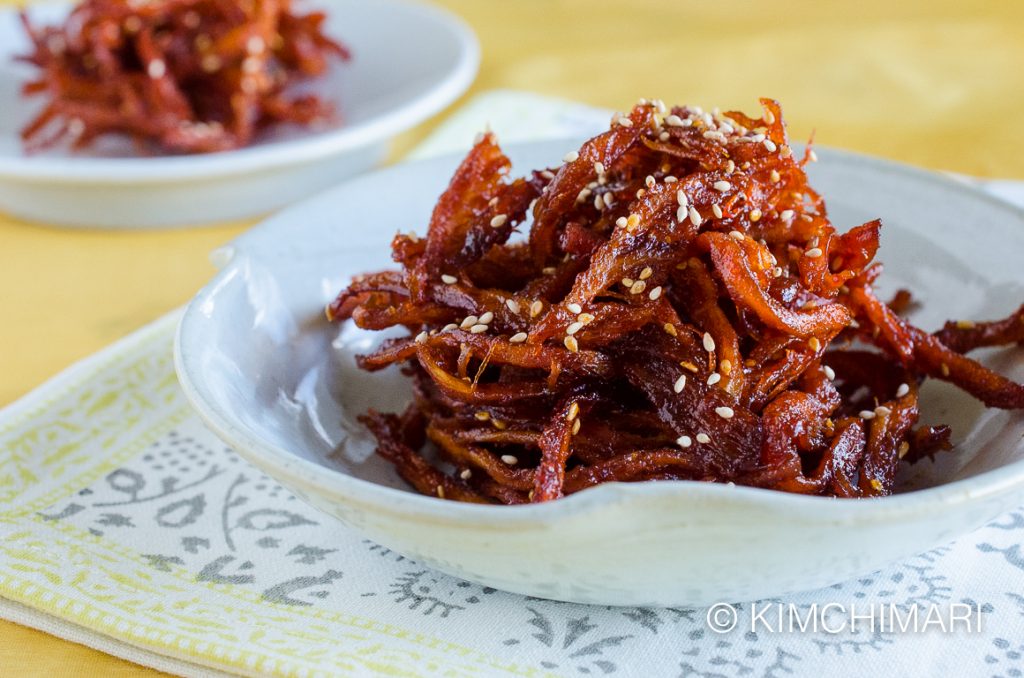 Sweet and spicy gochujang sauce is mixed with salty and chewy dried squid to create a simple seafood banchan that is irresistibly addicting. It is super easy to make and stores well in the fridge. All you need is some rice and gim and it's a quick meal right there!
A classic Korean seafood banchan made with small dried anchovies in an incredibly delicious sweet and salty sauce. It stays fresh for a several days at room temperature so it can be made in large batches. I'm famous among friends and family for this dish so hope you try it!
Dried shrimps are high in calcium so this is a popular banchan in Korean children's lunchboxes. Crunchy, sweet, and salty, adults can't get enough of it either!
This nutritious fish stew is easily made with canned mackerels and flavored with gochujang. Serve with rice or fresh lettuce leaves to make wraps(ssam) instead of the usual bulgogi. It's delicious and healthy!
Bugeo (dried pollock) is a great side dish to have on hand because it will keep forever in the fridge and can be turned into a delicious seafood banchan at any time. Marinated bugeo pieces can be frozen in advance and pan seared straight out of the freezer!
4 Best Korean Meat Banchans (side dishes)
These mini beef patties are a flavorful addition to any Korean meal and go really well with spicy stews or jjigaes. Makes for a hearty snack and great in lunch boxes!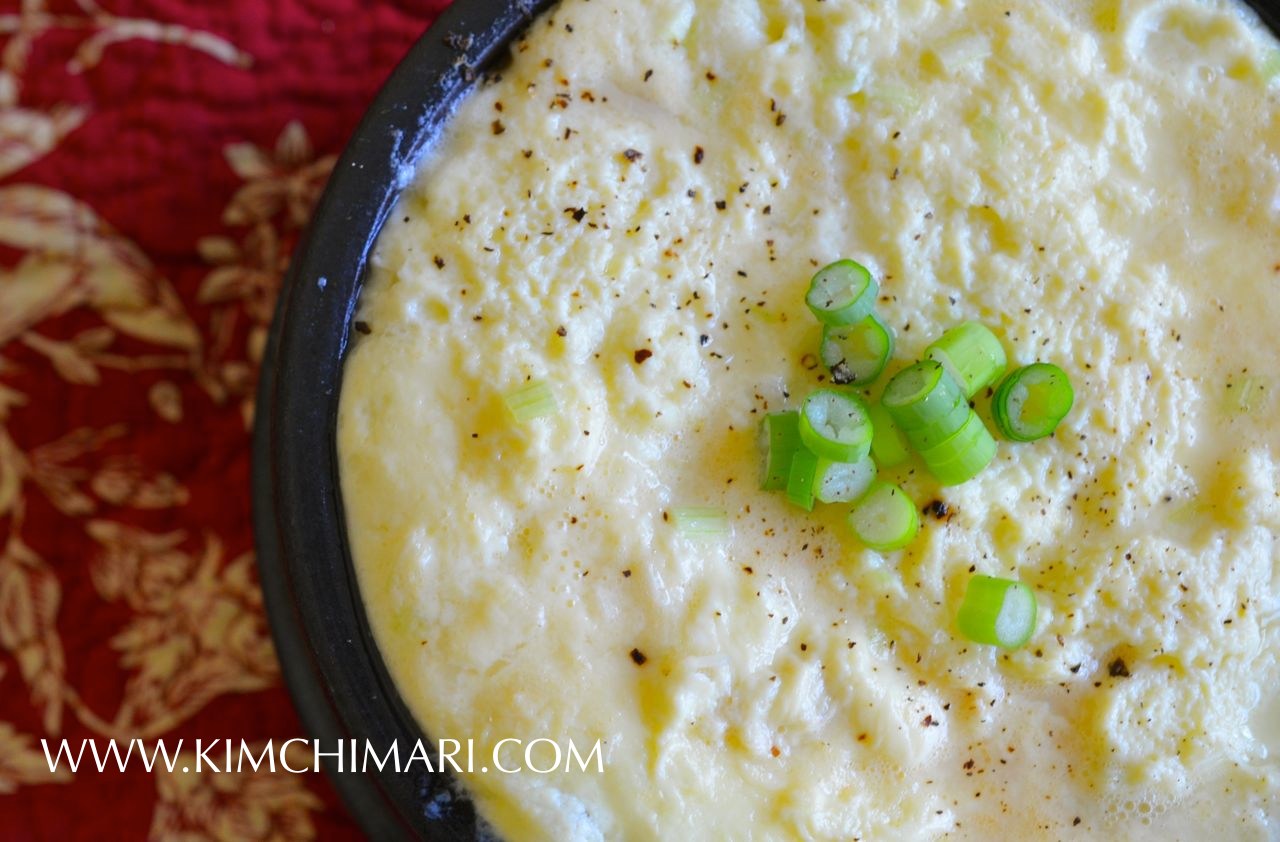 Best served straight from the stove and piping hot, this is one of the easiest Korean comfort food to make, requiring only a handful of ingredients. The burnt part is a delight so be sure to scrape off the bottom!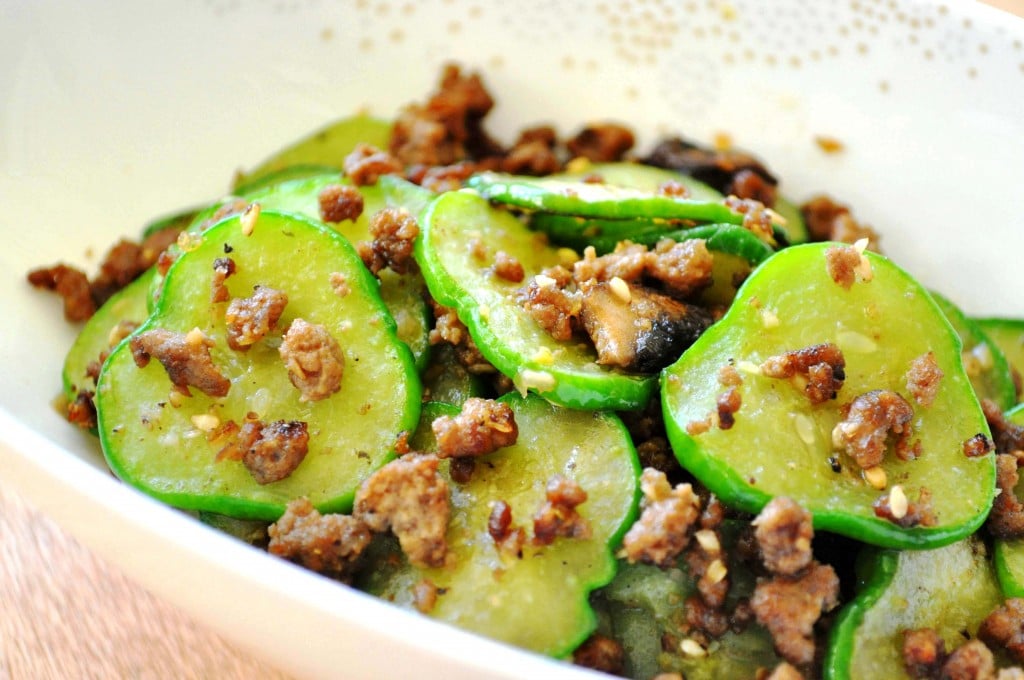 Cucumbers are slightly pickled before being stir-fried, giving them a wonderfully crunchy and chewy texture. And the raw cucumber taste is nicely smoothed out by the cooking process and make them even a little sweeter tasting.
Beef brisket slowly cooked in sweet soy sauce. Enough said! It tastes just as good if not better after a few days, and can be served cold straight from the fridge or heated. Sooo good with rice and in lunch boxes. The eggs and chili peppers are all optional. Use spicy peppers for an extra kick or use shishito peppers to enjoy their flavor.
These 12 meat and seafood banchan (side dishes) will add authentic Korean flavors to your dining table. Don't forget to also check out my round-up of 15 Korean Vegetable Side Dishes for some vegetable options.
Enjoy!
XOXO ❤️
JinJoo
P.S. Let's stay connected. FOLLOW ME on FACEBOOK, PINTEREST, and INSTAGRAM. You can also join my FACEBOOK GROUP where we share everything about Korean food, including cooking tips, with other Korean food enthusiasts just like you!