Korean noodles that you can make at home, from cold noodles and noodle salads for summer days to classic favorites like japchae and easy ramen fixes.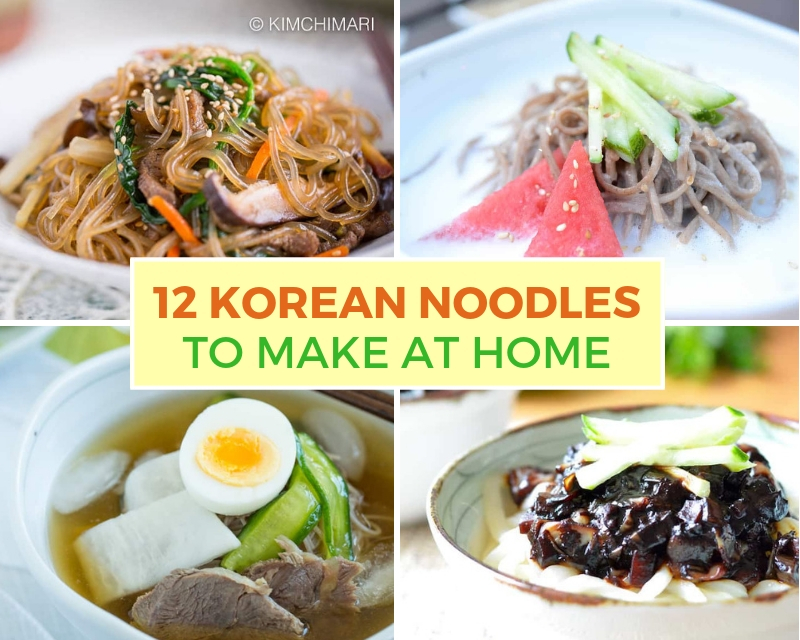 There are many ways to enjoy noodles in Korean cuisine. You're probably already familiar with noodles that come in comforting soups or broths. We also serve noodles with thick, flavorful sauces like bibim sauce and black bean sauce. On summer days, we make cold noodles and noodle salads so that we can enjoy noodles throughout the year. That's how much Koreans love noodles!
Some of my noodle recipes are family recipes that have been used for many years. Many of these Korean Noodle Recipes are great as one-dish meals so be sure to include them in your weeknight meal planning. If you're cutting down on carbs, then try the noodle salads. I also included several simple yet creative ideas to use ramen noodles. Whether you're cooking for your family or just fixing yourself a quick meal on a busy weekday, there's something for everyone!
6 Non-Spicy Korean Noodles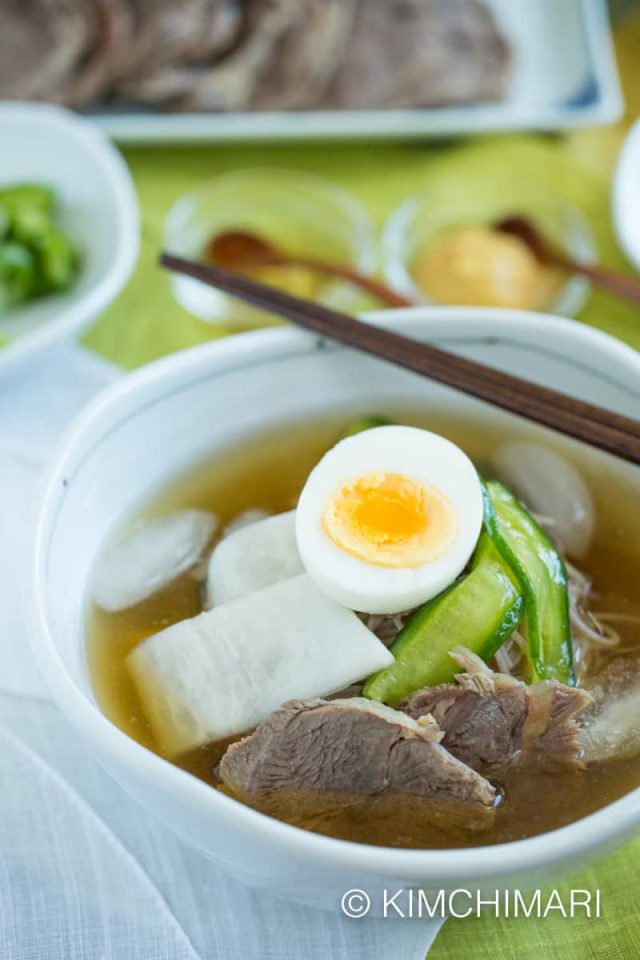 This is one of the best Korean noodles to have in summer or on a hot day. It has light, chewy noodles in an icy cold broth that will cool you down. It's such a wonderful Korean novelty. I shared two recipes: one with a clean, refreshing Northern-style beef broth and another version from the South that's sweet and tangy. Try them both and tell me which one you best!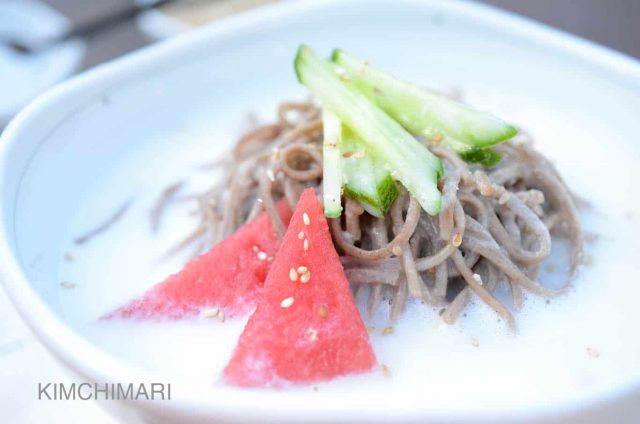 Here's another cold noodle soup recipe that's made with soy milk. Soy is considered a cooling food in traditional Korean medicine. This dish is simply seasoned with salt and sesame seeds and garnished with more cooling ingredients like cucumber and watermelon. My recipe includes instructions on how to make your own soy milk, so you can make extra and have fresh soy milk at home.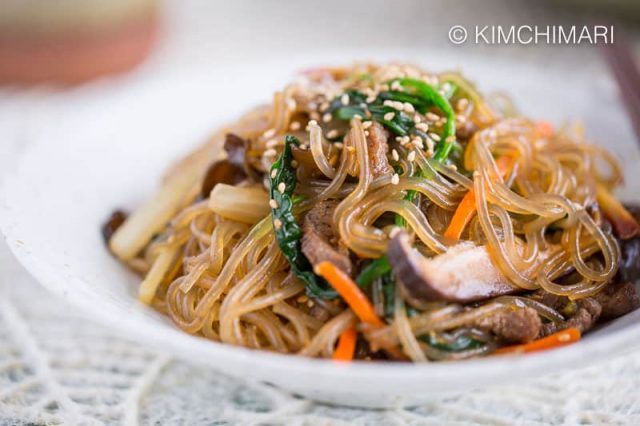 Japchae is a Korean classic that is commonly served as a side dish or appetizer in Korean restaurants. You can now make it at home with my traditional and authentic recipe that's been used in my family for years! The original recipe can be time-consuming, so I also created a simple one-pan recipe that can be cooked in 20 minutes! You can omit the meat to make it vegan.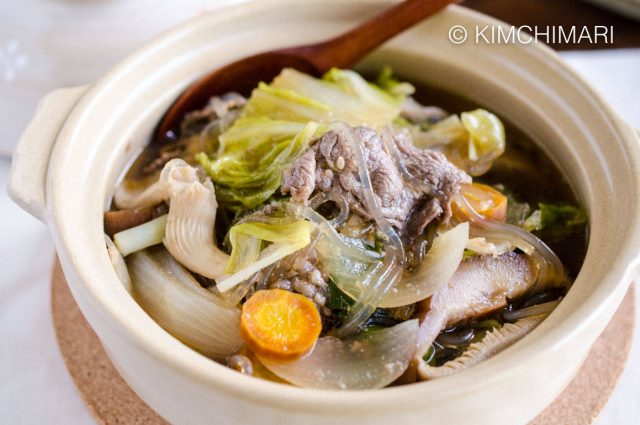 This dish has a fantastic combination of bulgogi, vegetables, and glass noodles cooked in a tasty broth right at the table or served boiling hot in a stone pot. Either way, it's a great one-pot meal for the entire family that is usually served with rice. Prepare the ingredients ahead of time, and this dish can be put together in less than 30 minutes.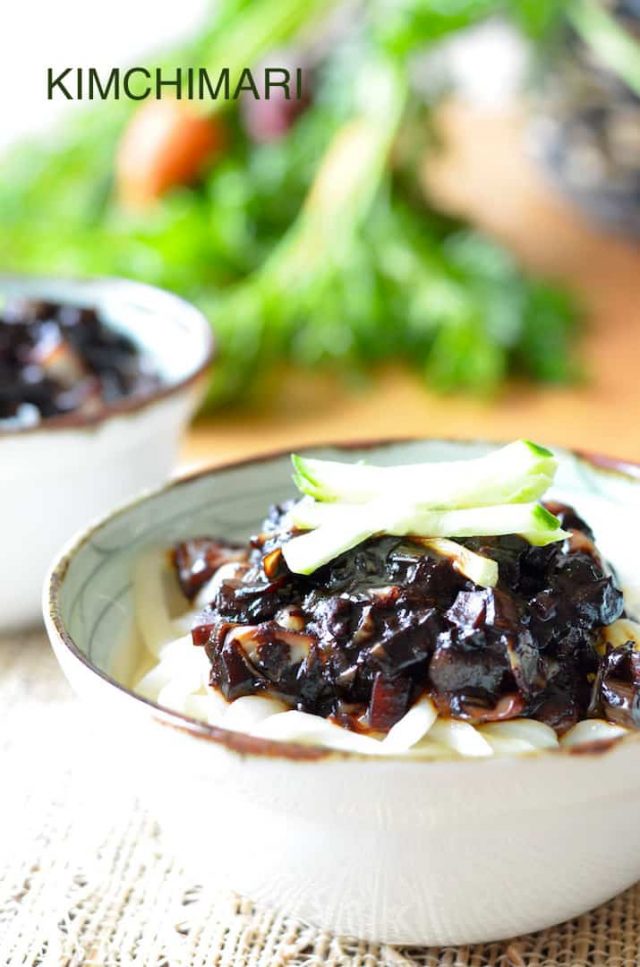 This is a popular Chinese Korean noodle dish made with Chinese black bean paste (chunjang). I like to make my sauce more concentrated than the regular recipe to achieve a more intense flavor with less sauce. It's very easy to make and is a great one-dish meal any time you crave a good slurp of noodles. Make extra sauce so that you can easily recreate this dish on another day.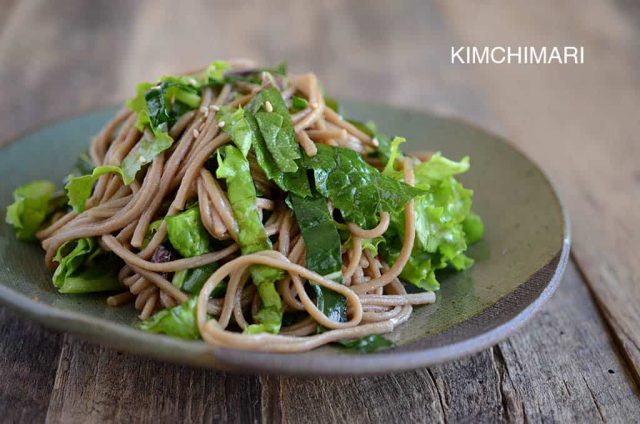 This noodle salad can either be served as a light meal or as a side dish to any meal. Made with buckwheat, soba noodles are lower in calories than most noodles yet high in protein and fiber, making this an excellent vegan dish if you're trying to eat healthier. It's served with an appetizing sweet and tangy sesame soy vinaigrette dressing. To make it gluten-free, use 100% buckwheat noodles and gluten-free soy sauce.
6 Spicy Korean Noodles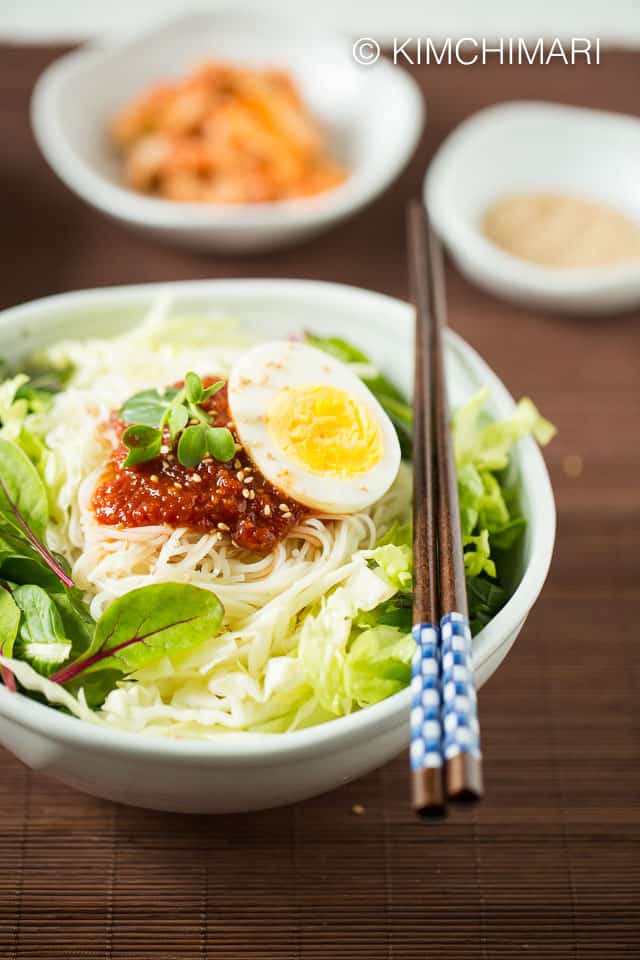 Korean Spicy Cold Noodles (Bibim Guksu)
If you like a little spice in your food, then this is the cold noodle recipe for you. It is served with my sweet and spicy apple gochujang bibim sauce that has the perfect balance of spicy, sweet, tangy, and umami flavors. The good news is it can be made easily in the blender, so this Korean noodle dish can be done in only 20 minutes!
This is a wonderfully hearty kimchi stew that was created after the Korean war, hence the name. What makes it unique is the use of an American product—SPAM! And sometimes it is served with a slice of American cheese on top. It's not technically a noodle dish, but it is often served with ramen so it's kind of a noodle dish. 😋😜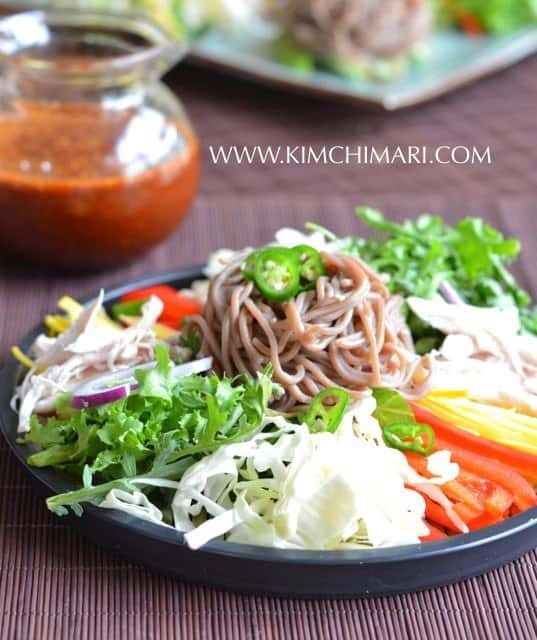 Buckwheat noodles are served with chicken and more variety of vegetables. It is highly customizable so feel free to add any of your favorite greens and vegetables. The sauce is made with Korean red chili powder (gochugaru) so it has more of a Korean flavor than the recipe above. It makes a wonderful platter for pot-lucks or to be shared at the table or a quick and easy one-plate meal.
Who doesn't love instant noodles? So convenient and versatile. If you're one of those people who always have dried ramen on hand, then I have three recipes for you to enjoy: kimchi butter ramen, bibim noodles with sea whelk, and japaghetti! Curious? Go to the post to see the recipes! Who knows? Maybe these recipes will encourage you to stock up on ramen.
Now you have my tried and tested recipes for Korean noodles that you can make at home!