Korean lunchbox ideas to inspire your daily lunches! The list includes banchan (side dishes) that make the classic Korean Dosirak, but also some simple one-dish meals that can be packed easily in a container.
What is Dosirak?
Dosirak 도시락 means Lunchbox in Korean. Korean Dosirak is usually comprised of Rice + Banchan (side dishes). It usually has side dishes that keep well at room temperature and they are usually seasoned well so that a little goes a long way.
Lunchbox containers were first made with bamboo and then it was made with metal until the 70's or so (if my memory serves me right). And then as plastics became more readily available in Korea, plastic Dosirak containers along with thermos round ones became the main stream as I went to high school.
Korean Lunchbox (Dosirak 도시락) is something I totally grew up with – from elementary all the way to high school. Korean schools didn't have cafeterias back then and so everyone brought lunchboxes to school. And so lunchtime was the highlight of everyone's day!
And recently, Korean lunchboxes have received a burst in popularity due to K dramas like Crash Course in Romance (it's a Netflix Korean drama that my followers asked me about) where you see how Korean's language of love is often through Dosirak. Haha..
My Korean Lunchboxes (Dosirak) story
Going back to my school days, back in elementary school, we would swap our banchan a lot because.. not only is the 'grass greener on the other side', my friend's 'dosirak banchan looked always tastier on the other side'. 😝😝
Also when I was in high school, I remember that we were all very hungry teenagers and we could never wait until lunchtime (period 4 or 5) to have our dosirak. So we all started eating our lunches after the first 2 or 3 periods which was around 10-11am.. lol.
Because our recess time was only 10 min max, sometimes my friend wasn't able to finish all of her lunch. But instead of stopping and putting her lunchbox away, she told me that she had to finish eating cause she hates stopping in the middle of her meals. So she secretly had the lunchbox under the desk and tried to finish eating her lunch while the teacher was getting ready for class. Good thing we were sitting way back of the class!
And what was the worst was she made me hold her banchan on my lap so she could continue eating!!! OMG – that stressed me out soo much! Because I hated getting into trouble!!
I also remember one time, a teacher came into the class and complained that we should not be eating our lunches so early. This teacher said, 'Ok, I get it, I know you guys are just too hungry to wait until lunchtime but can you guys at least have the decency to OPEN THE WINDOWS???' HAHAHA…
Imagine 72 students and their lunchboxes with all the smells of kimchi and banchan in one classroom ~~ Bless our teachers~
Anyway, hope this post of Korean Lunchbox Ideas is helpful. Enjoy!
---
SEAWEED RICE ROLLS and More
These recipes are dishes that mainly contain rice, or other kinds of carbs all in one, and usually fill up the whole lunchbox. You may want to add some simple side dishes like pickles (jangahjji) or kimchi.
BTW, if you don't have a rice cooker, don't worry! Here's my guide on how to make Korean rice on stovetop, so you can still fill your lunchboxes with delicious rice regardless.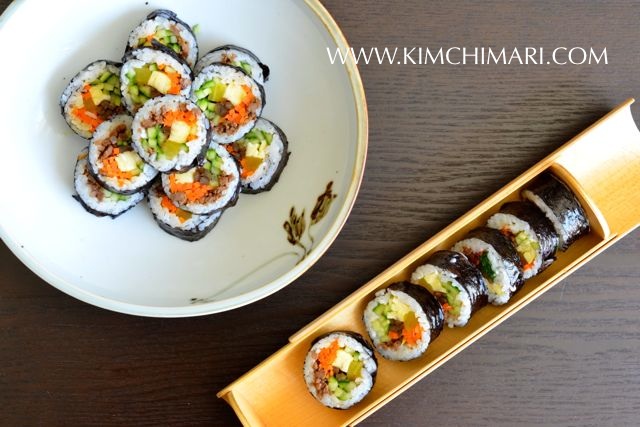 Kimbap can easily fit into the confined spaces of Korean lunch boxes. Since they're wrapped in seaweed, it doesn't make much of a mess, either, and keeps everything neat and tidy.
In some ways, kimbap is like a present, wrapped with all the goodies inside. It's such a joy to open my lunchbox and see yummy slices of kimbap.
Kimbap can be made with a wide variety of fillings, so you can easily use the ingredients lying in your pantry.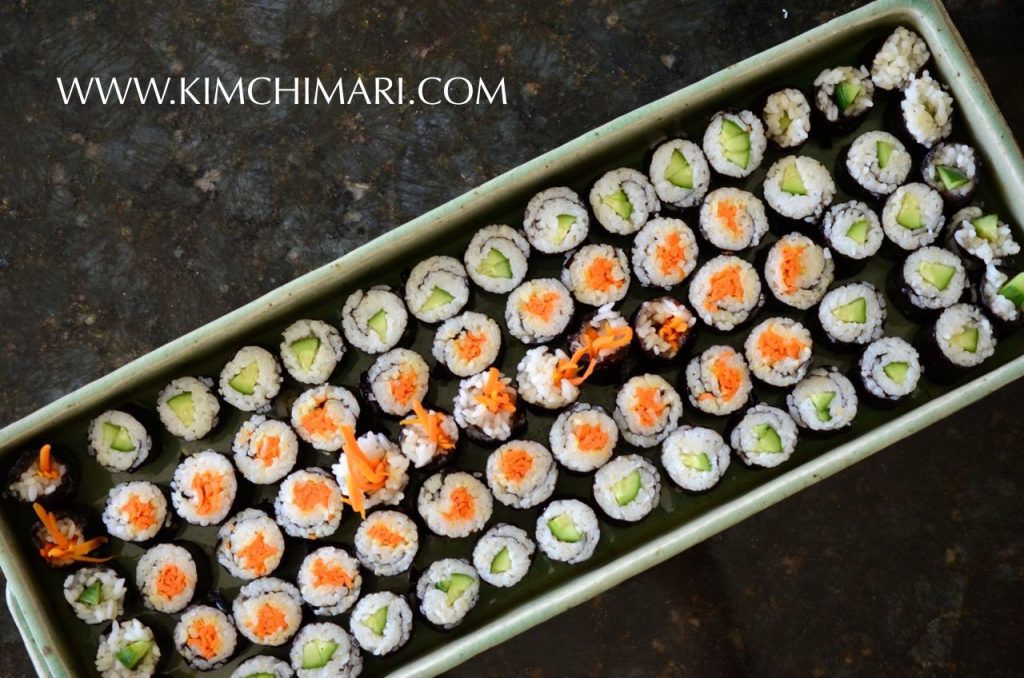 Now, if the original kimbap is too difficult for you, here's a total simplified version of it.
Since these mini kimbap is only composed of one ingredient, it's much easier to make, and can fit into even smaller spaces (if you have a teeny lunchbox). When dipped into the wasabi soy sauce, these kimbap are so addictive, it's nicknamed Mayak (drug) Kimbap!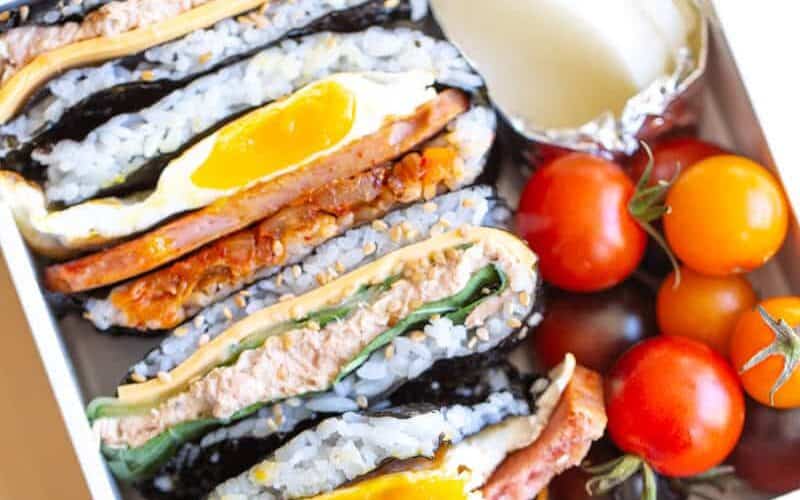 Here's another kimbap variation you'd love, this is a new way of making kimbap that has become popular in recent years.
The seaweed and contents are folded instead of rolled which makes it much easier to make.
In contrary to the usual set of vegetable fillings that kimbap rolls have, people make sagak kimbap with easy foods such as spam, and fried eggs. It shortens cooking time because of how quickly those ingredients can be prepared.
Sagak kimbap is a good choice for you if you enjoy kimbap, but find making it too much of a hassle.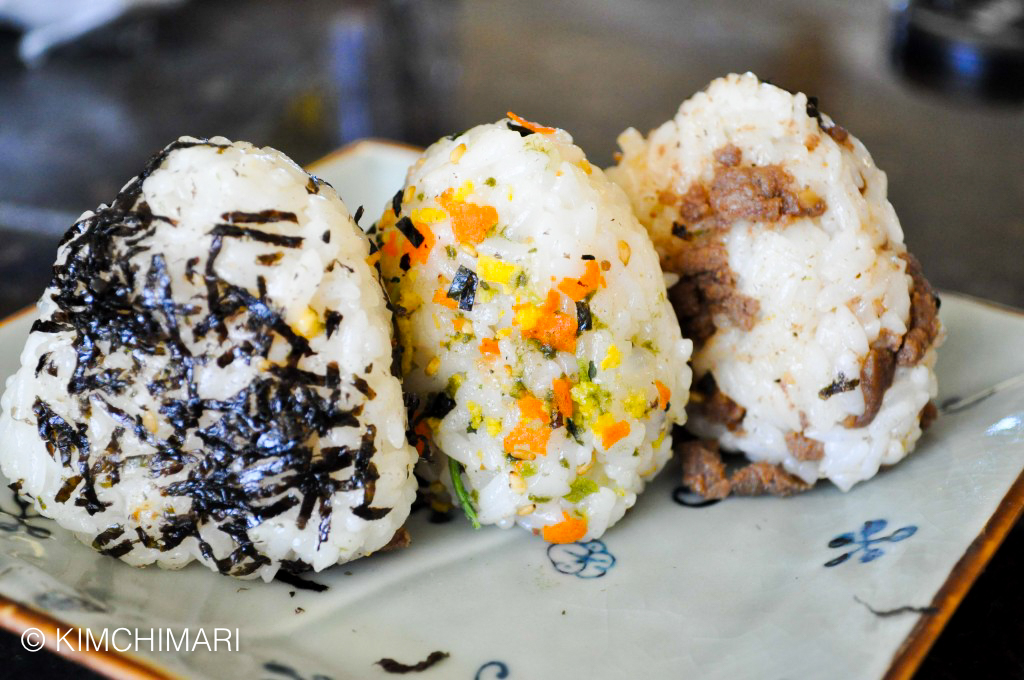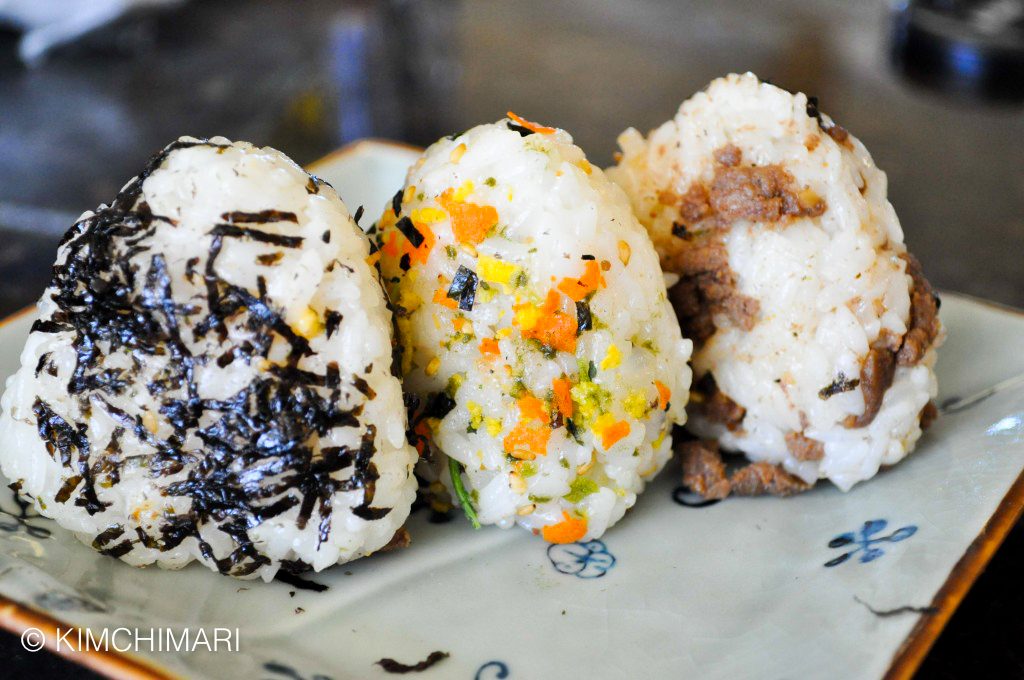 I'd say jumeokbap is the rice equivalent of sandwich. When you're traveling about, you can unwrap your jumeokbap, and take a bite out of it at a time. It's a very convenient meal to eat on the go. I used to make this for my daughter when she was in high school because she was gluten sensitive. meal despite its simple ingredients, and you can customize the fillings to your own tastes.
There's really nothing better than the warmth in your heart (and belly) when you finish a jumeokbap. It just makes you so happy and fulfilled.
While this recipe is slightly time-consuming when you first make it, I have tips and tricks on how to quicken the process in the recipe page.
Ahh, another classic dish for the Korean lunchbox! It was a super special day for me when I had Omurice in my lunchbox as a kid. BTW, in the picture above, I made some cute Snoopy drawing with the ketchup but feel free to decorate how you want. It's a great way to bring joy to your kid's lunchboxes!
Or adult's lunches for that matter! Try making one for your loved one – just like how they do it in Kdramas. HAHAHA
All the foods listed above are mostly comprised of rice which may be a lot of carbs for some. So here's one with more protein! Although this needs a bit of work, you can always make a big batch for dinner then wrap it for lunch the next day!
Here's one of my favorite combo – chicken katsu on rice with mak kimchi, and Korean lettuce salad on the side. You can also totally just include a coleslaw or just sliced cabbage + mayo + ketchup for the dressing.
The chicken katsu is of course best when heated in the oven but as long as they weren't refrigerated, it will totally be good at room temperature.
---
Banchan
Banchan are small side dishes Koreans serve along with rice as a meal but also in Dosirak. It gives a lot of personality to plain white rice or Japgokbap (multigrain rice) and comes in a wide array of ingredients and flavors.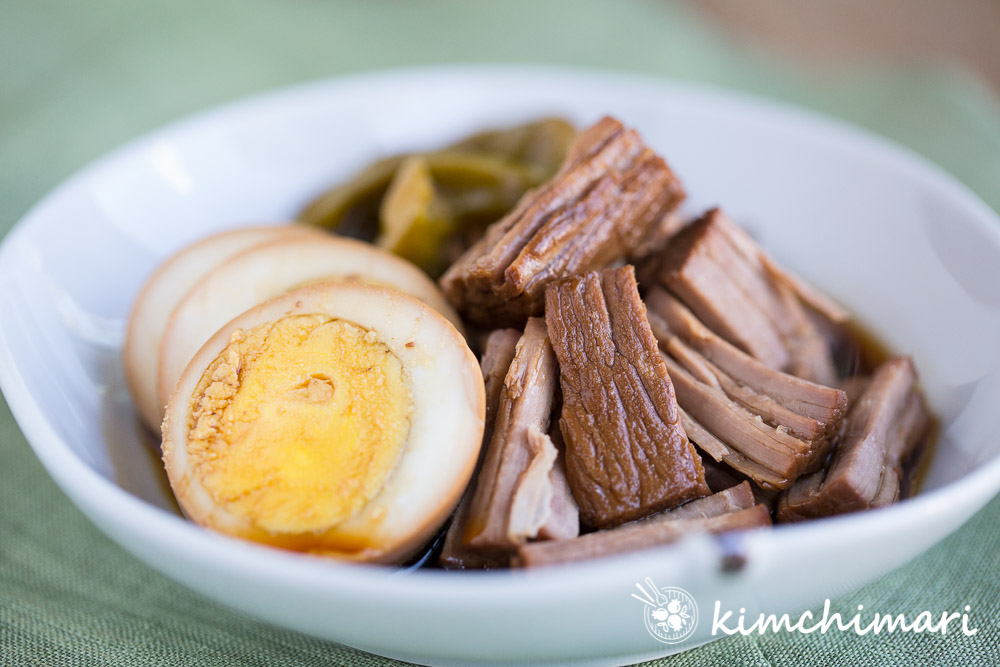 For those who enjoy umami flavors, Jangjorim is a must-try! If you have this and some rice, you really don't need much more!
Soy braised eggs are sooo delicious, I highly recommend making it with eggs too. FYI, I have a stovetop version of the same recipe.
Get Recipe!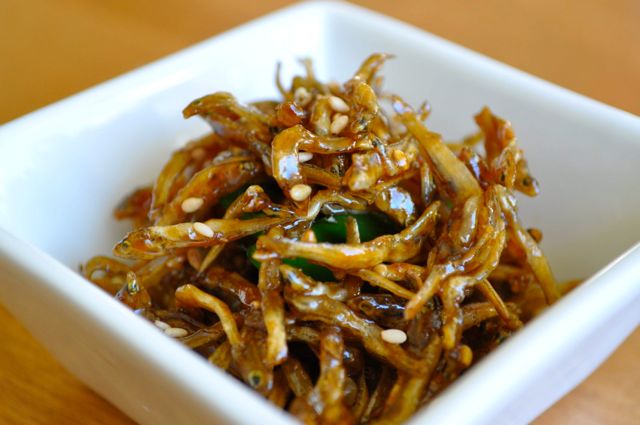 Myeolchi Bokkeum is a classic Korean side dish that is made from small dried anchovies. It is sweet and salty and delicious.
Get Recipe
Lotus roots are crunchy, yet starchy, and very mild in flavor. So it's a great blank canvas for you to add flavors to it – the sweet and salty soy sauce adds the perfect balance of flavors.
Get Recipe!
Gamja jorim is made from boiling potatoes (you can cut up regular potatoes) in soy sauce, and then reducing it. The potatoes become so soft and fluffy while the skin still holds it altogether.
Get Recipe!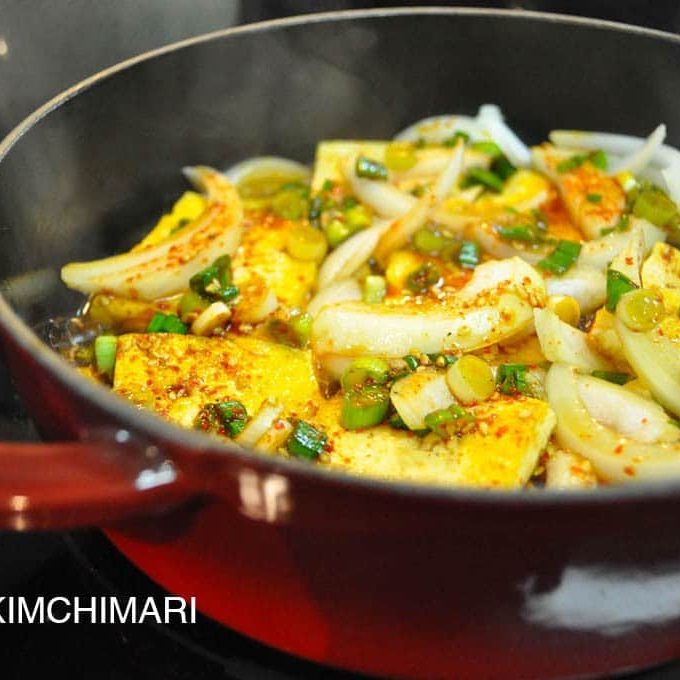 Dubu jorim is a common Korean side dish, where slices of pan-fried tofu is simmered in soy mirin sauce until the flavors are all absorbed by the tofu.Frying tofu first changes the texture of the tofu and makes the skin perfectly chewy while still being really soft on the inside.
Get Recipe!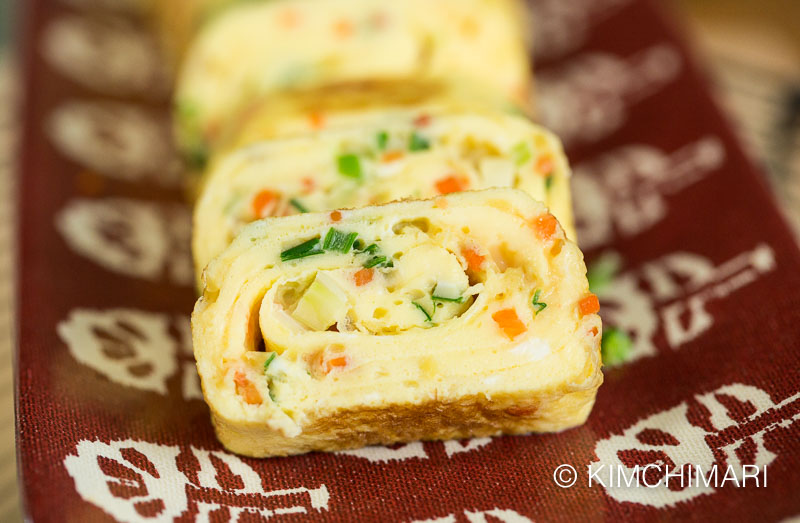 Gyeran Mari is a dish that is perfectly delicious and room temperature and also fits easily into lunchboxes. Not to mention the great nutritional value of eggs.If you know the basics of making it, you can make limitless variations while also hiding those precious vegetables for kids who won't eat them!
Get Recipe!
Spicy dried squid is a popular choice for banchan in Korea. You can make a big batch and enjoy it for days. It also adds a great punch of spicy to your banchan set so try this as one of your banchan rotation.
Get Recipe!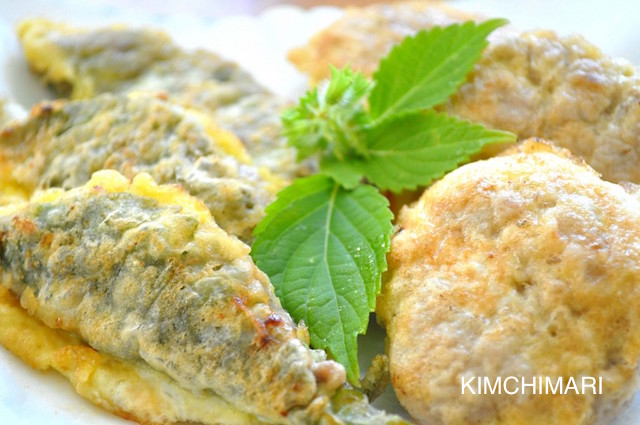 Wanja Jeon and Kkaennip Jeon are easy to make and produces a great side dish to any Korean meal with spicy soups or jjigaes. They are also great for lunch boxes because they keep well and taste good even when they are not warm.
Get Recipe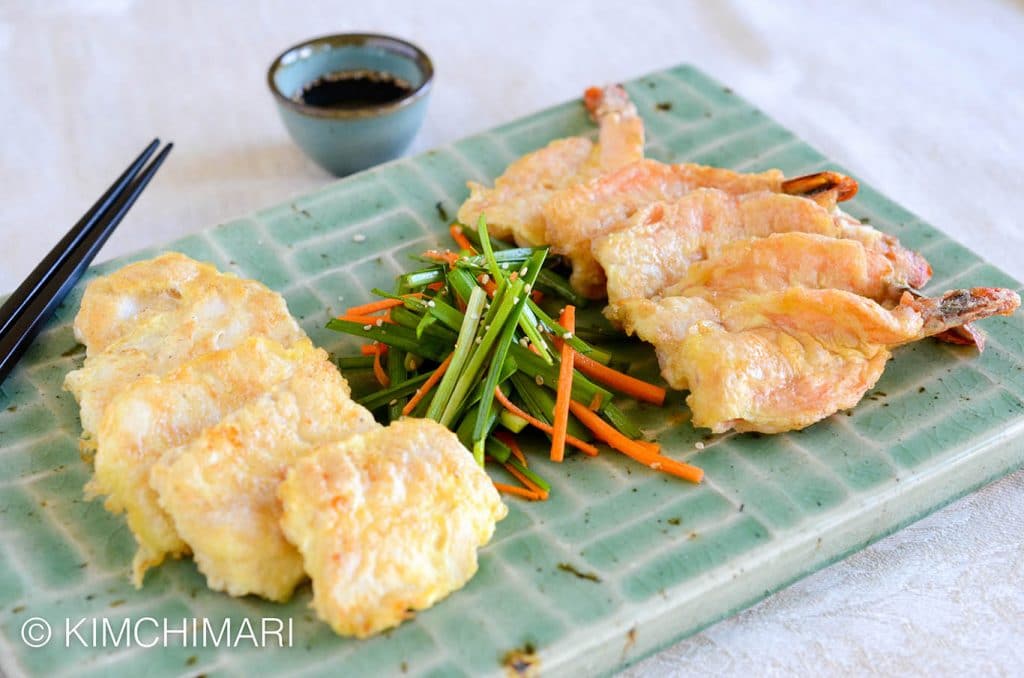 These Jeons made with fish and shrimp are the perfect protein packed banchan for your lunchbox. They are savory and mild, packed with light flavors of the sea.I usually get a whole Cod fillet and make jeons from it and eat it over several meals.
Get Recipe!
---
Simple Korean BBQ Meats + Rice = Lunchbox
If you made any of the classic Korean BBQs like Bulgogi (chicken, pork, beef) for dinner then you can pack a great lunch for next day! Just enjoy it with some rice and veggies like my simple cucumber salad or even just steamed broccoli and Cho Gochujang (sweet sour chili sauce) or soy sauce + wasabi + vinegar + sugar sauce!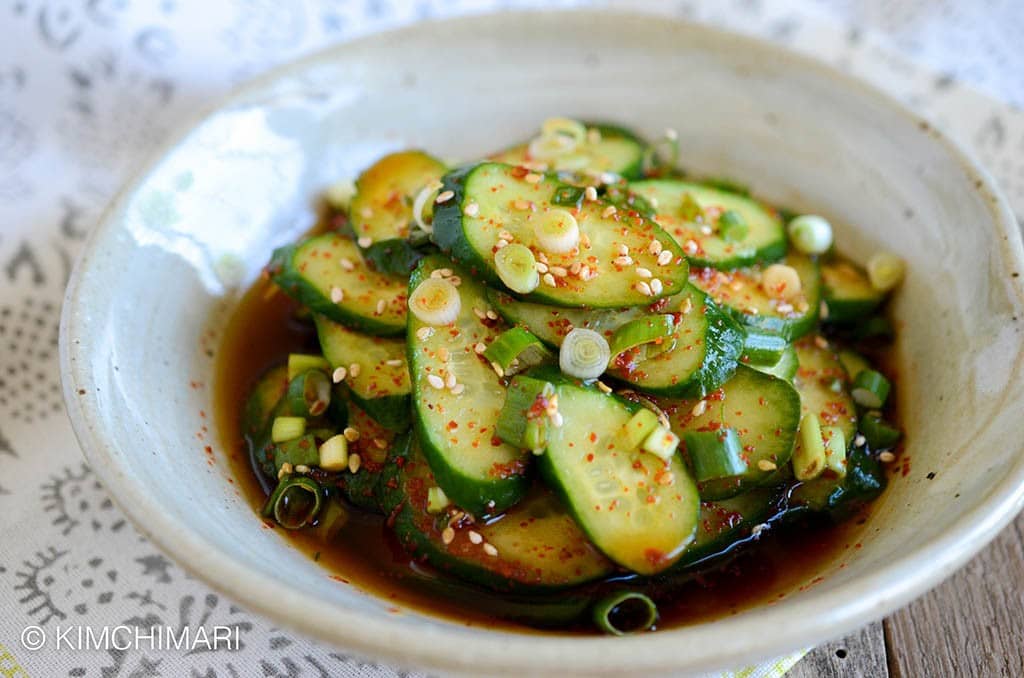 A simple light Korean cucumber side dish that's like a salad. Very light seasoning allows the cucumber flavor to stand out.
Get Recipe
Spicy pork bulgogi is a great choice for lunchboxes because of how compatible it is with rice. You can make a big batch of marinated uncooked pork bulgogi and freeze them in portions.Spicy pork bulgogi is an all-rounded dish and can be served with rice, soups, vegetables, etc.
Get Recipe!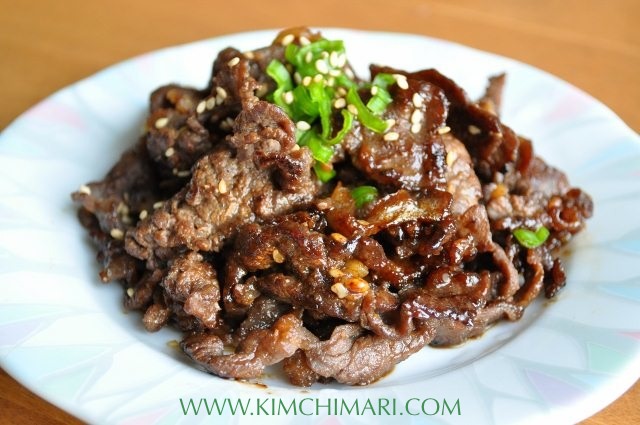 Beef Bulgogi is my best recipe for over 30 years. It goes great with some rice or any big salad (esp. if you want to have a low carb meal.) Add various veggies like bell pepper, carrots or onions if you want to. Uncooked marinated or cooked bulgogi freezes well so make a big batch and freeze for later!
Get Recipe!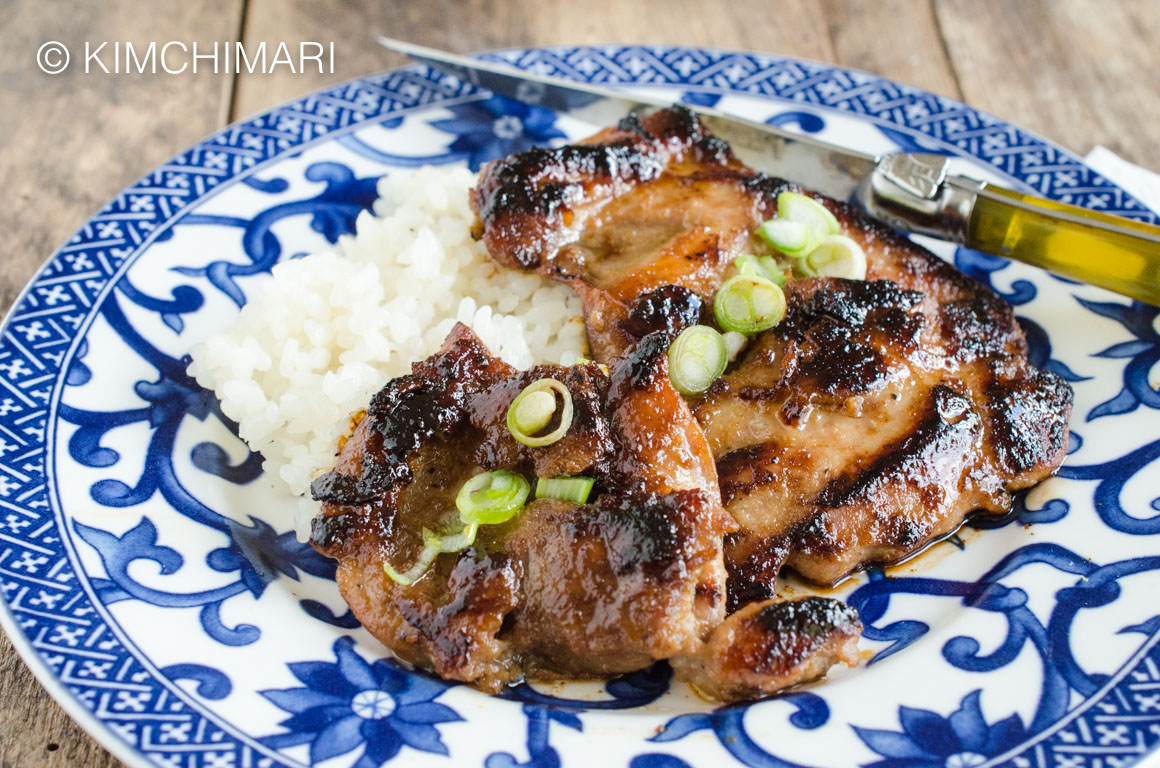 Chicken Bulgogi that is fabulous on the grill or on a pan. Marinade with just pantry ingredients. Delicious and easy to make. Serve with rice, kimchi and lettuce salad (geotjeori).
Get Recipe
---
Lunchboxes have been a way for people to eat conveniently on the go or at work away from home. Korean lunchboxes or Dosirak (도시락) have a special place in my heart because they remind me of my childhood, how they sustained me through a long day at school of about 12 hours long… I literally counted the minutes till lunch time every day because that was about the only thing to look forward to all day long.
Once I became a mom, lunchbox was a way for me to show my love for my daughter with hopes that it may brighten up her day a little just like mine did!
XOXO ❤️
JinJoo