A list of 15 popular Anju (안주) or Korean bar foods that pair well with Korean bar drinks. Great for parties where liquor is involved or not!
About Korean Bar Foods (Anju 안주)
Traditionally and typically before the main meal, Koreans enjoy eating certain dishes called Anju 안주 or Bar Foods that pair well with alocholic drinks. Anju would be equivalent to today's Bar Food. These are usually served with some Makgeolli, soju, beer, or other Korean liquors.
Anju also sometimes go by Sul-anju 술안주 which is actually a redundant word as Sul 술 means liquor in Hangeul whereas Ju 酒 also refers to liquor or wine. And 안 按 means to 'supress or block'. So this is just my thinking but I think Anju is referring to the fact that these foods are meant to help you get less drunk or perhaps drink less since you will also get full sooner. HAHAHA
BTW, I have a fantastic recipe for making Makgeolli at home so try making it at home sometime! If you are going to buy Makgeolli, I also have a post where I compare the different brands and flavors in my Ultimate Guide to Makgeolli .
---
Jumak, Inns and Taverns
In ancient Korea, you could find little establishments called Jumak 주막 throughout the country. They served drinks like Makgeolli or Yakju and food but also many times provided rooms to sleep in. Ju (주) stands for alcohol, while Mak (막) means curtain or veil.
The really interesting this is, in the old days in the western side of the world, "An inn is a tavern that has a license to put up guests as lodgers." So even though Korea and the West were worlds apart, humans had the same need. A place to fill yourself with energy with food, to treat yourself with a little bit of a drink and then to sleep overnight so they can continue the journey the next day.
In a Korean Jumak, you would be served alcohol, along with other dishes to fill your stomach. It is said that these foods that accompany your drinking would eventually become what we all know as "Anju 안주".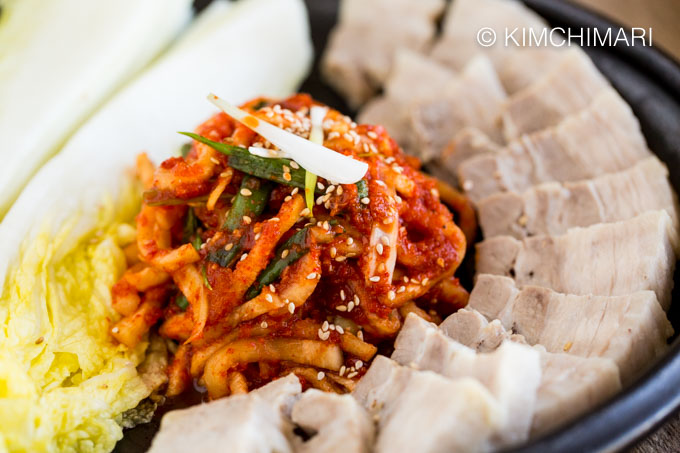 This Anju dish is what my family always had after making Kimchi all day— with or without liquor but it's probably my most favorite Korean bar food of all. It's the perfect dish to have after making kimchi, because you can easily use leftover cabbage leaves and the Kimchi Sok (속), which is the spicy radish stuffing that you put inside a cabbage Kimchi.
But try this with some Makgeolli or Soju— it's the perfect pairing for it!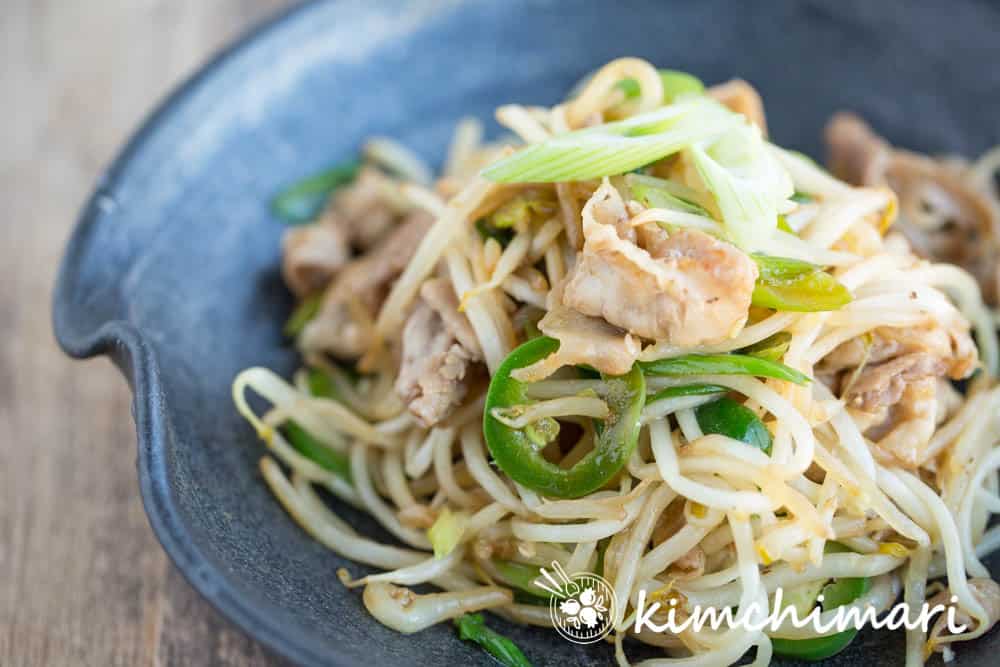 This dish is a common Korean bar food these days — often served in bars due to its popularity. I've had this stir-fry countless times because of this reason.
It also reminds me of the popular K-drama Itaewon Class on Netflix! It features lots of delicious bar snacks that makes my mouth water while I watched the show, haha.
The main feature of this dish is that it uses very (very!) thinly sliced sheets of Korean pork belly along with lots of mung bean sprouts with hints of spicy when you bite into the green chili pepper pieces. YUM!
You've probably heard of this before, but let me say it again — Kimchi and pork are a match made in heaven! And of course a heavenly bar food for all Korean alcoholic drinks!
This blog post contains 3 dishes that are made with Kimchi and pork as the main ingredient, suggested by my awesome sister #3! Due to her busy-bee lifestyle, these are freezer-friendly recipes that taste just as good as freshly made ones!
My freezer friendly 3-in-1 recipes include:
Kimchi Jjigae with Pork Belly
Kimchi Pork Belly Tofu (shown in image above)
This pancake recipe is gluten free!
I can still smell the Bindaetteok from the days I used to make them with my sisters.
Most restaurants that serve Bindaetteok mix mung beans with flour to save time and effort. But it ends up making the pancakes kinda tough and dry. Try my authentic Bindaetteok recipe (North Korean style) which uses 100% freshly ground soaked mung beans, pork, bean sprouts and Kimchi – this is exactly how my mom made it growing up.
And this is one of the oldest Anju or bar food for Koreans.
The Haemul Pajeon made with this recipe uses less batter than the ones you usually see but has lots more seafood, green onions, and lots of my fav – Minari! This is better because the pancakes end up being lighter, more flavorful than the usual ones served in restaurants.
This recipe also teaches you how to make Chogochujang, a sweet and sour Gochujang sauce that initially surprised me by how well it goes with the Haemul Pajeon.
Chive pancakes, also known as Buchujeon, is a common Anju dish that may seem too simple in its ingredients but can be the most delicious kind of Jeon when made properly. To make perfect Buchujeon, you need to use less batter and more Buchu.
This recipe is going to be your guide on how to keep that chive-batter balance in check. Get ready to have some delicious Buchujeon with some yummy Makgeolli!
Kimchi Jeon and Makgeolli is a rainy-day staple for many Koreans. I think it's just kinda in our bones to feel the urge to eat Jeon on a rainy day.. 😝☔️ but pairing it with some Makgeolli or Soju makes it even more perfect.
This is a simple and easy Anju dish to make, and the ingredients are usually easy to find as long as you have some ripe Kimchi. This Kimchi pancake is actually a way for people to use up their old Kimchi— Kimchi that has grown too fermented and sour to be eaten as is.
The recipe includes both instructions for making the batter from scratch, and adjustments if you opted for store-bought, pre-made batter mix.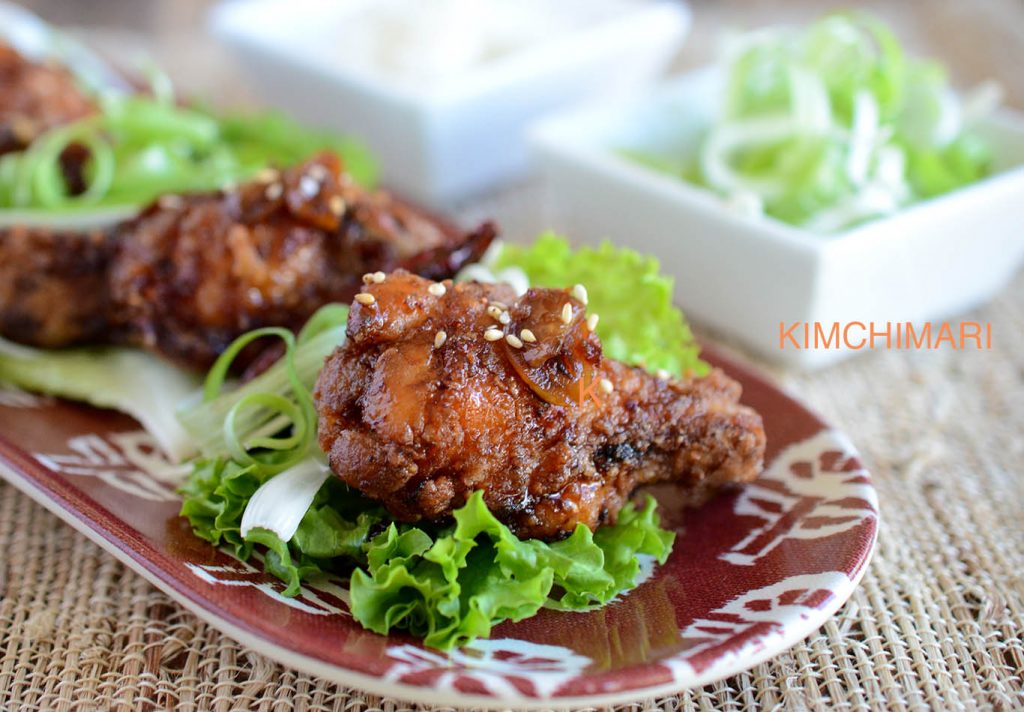 The combination of Korean Fried Chicken and Beer (aka Maekju 맥주 in Korean) became so popular among Koreans, it created the word Chimaek 치맥 which means Chicken + Beer. Many working Koreans love to go to places that just focus on beers and fried chicken on a Friday night and celebrate the end of the week. So KFC has truly become one of the most popular Korean bar food for young people.
Korea fried chicken is less fatty but much crispier than other kinds of fried chicken. Why? Because there's a special trick to how you make it. You'll find out how in this recipe.
You can do a lot of things with Bugeo (dried pollock). Dried bugeo by itself dipped in some gochujang is a great simple Anju (just like peanuts) but this one is even better because it's marinated. Once you've marinated it, it can be re-frozen, and pan-sear them instantly— which is what this recipe will teach you to do.
Note, the pollock is also known to have liver detox enzymes that help you with hangovers the next day so why not get ahead of the game and start eating it with your drinks the day before?!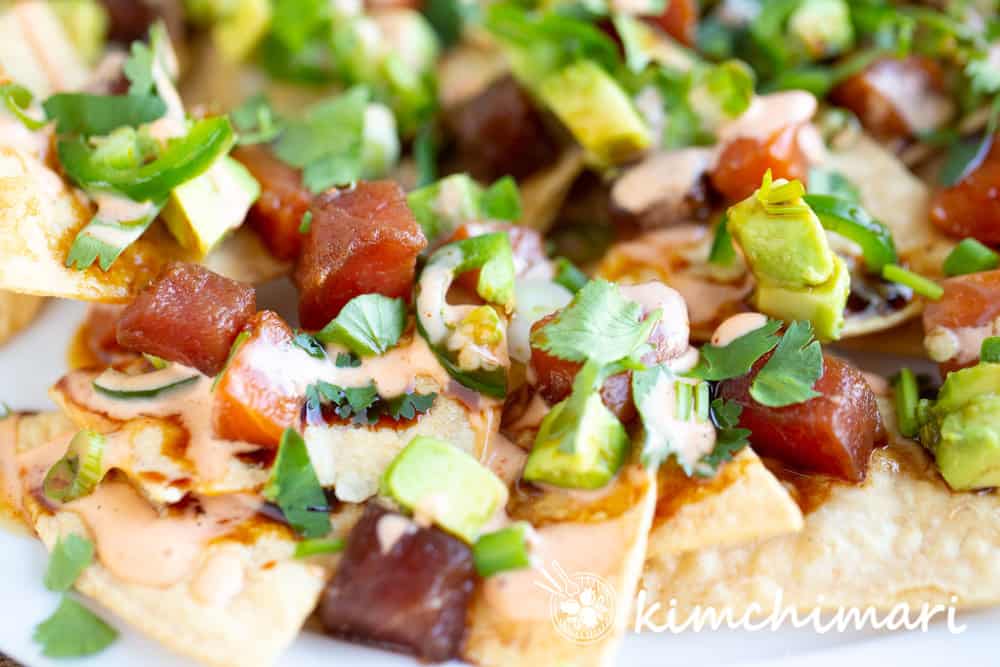 I know that this dish isn't exactly Korean but it certainly can be a great drink snack and it goes really well with a glass of Soju or Sake.
This is a really simple recipe and just make sure that the fish is sashimi-grade fresh. It's a good introduction to people who aren't familiar with the wonders of poke dishes and Gochujang!
The recipe includes a bonus tutorial on how to make poke bowls, in case you have leftover fish from the nachos.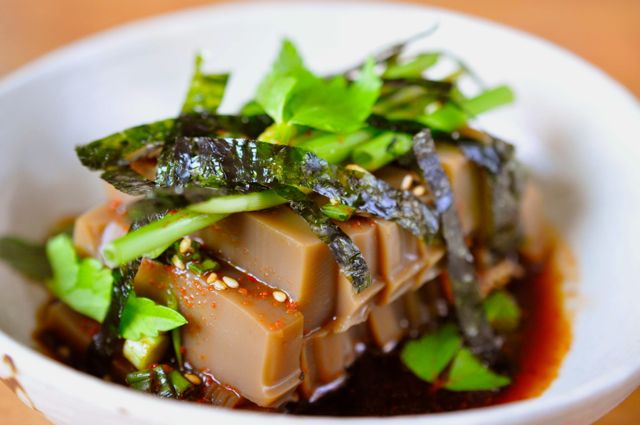 Did you know that Dotori Muk is low calorie, low sodium, and vegan?
As the name suggests, Dotori Muk is made from acorns. When you drizzle spicy soy sauce on top of the acorn jelly, it becomes a nutty and earthy delicacy. And trust me, homemade Dotori Muk always tastes better than store-bought ones.
Korean summers are never complete without Makguksu. This combination of crunchy veggies, chewy noodles and spicy sweet sauce also pairs really well with Soju as an Anju. Compared to other Korean bar foods, this is also quite filling and lower calories so it can be a great dish to end the meal time.
Did you know that Dakgalbi translates literally into "chicken ribs"? It was a very popular dish back in the 60s, because of its deliciousness, and affordable prices.
This recipe makes use of chicken, vegetables, and Gochujang sauce. All the flavor comes from how you make the sauce, so I made sure to put a lot of heart into how to make the Dakgalbi sauce!
You can even make it fun by cooking it at the table and finishing off with some fried rice at the end.
Kimchi Jjigae may not feel like a great bar food, but Koreans will actually eat this with their alcoholic drinks. Because of the hot spicy broth, it also kind of works as a hangover-prevention food.
Just like making Kimchi Jeon (Kimchi pancakes), it makes use of over-ripened Kimchi that became too sour.
This simple fish cake broth is one of the most popular comfort foods. It's also a common Anju served in makeshift restaurants like Pojang Macha 포장마차 in Korea, where you can drink and enjoy other bar snacks.
This dish is a common sight in K-dramas— characters would often sit inside a tent with friends while drinking the soup and some Soju.
---
Whether you are in the Makgeolli camp or Soju camp or some other, consider mixing and matching Anju dishes with different types of drinks, and see what works for you!
With Love,
JinJoo❤️