I visited Jeju Island just for 2 nights in June 2023 so I don't have a whole lot of recommendations but here's at least what I can highly recommend. There's also a previous post from Jeju Island Trip 2017 that you can also check – I just verified that all the restaurants in that list are still open.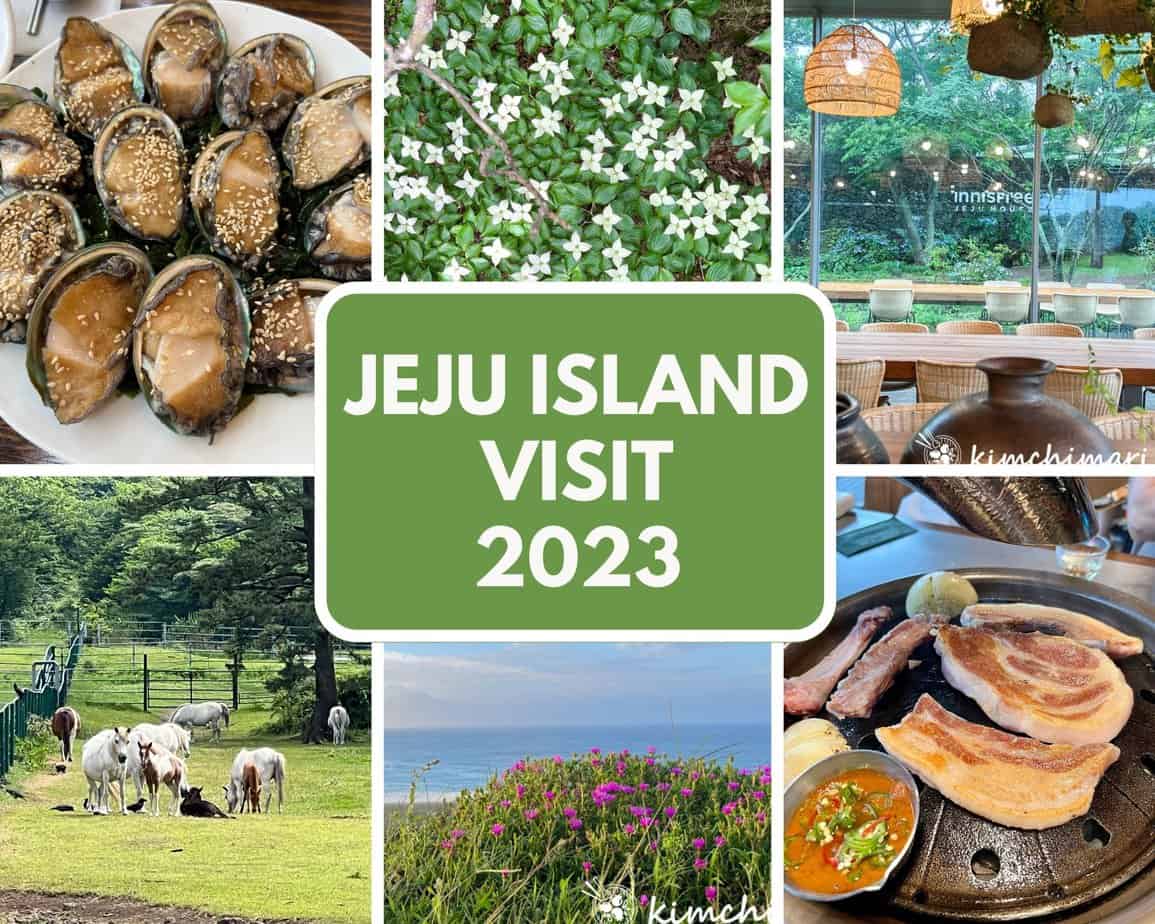 Hwamokwon 화목원
As our first meal on Jeju Island, we went to have a traditional Korean Hansang 한상 (one table) menu with lots of banchan and my favorite Silverbelt fish (Galchi 갈치). We ordered the Hwamokone Jungsik 화목원 정식 which includes rice cooked in stone pot, and all the banchan in season, grilled Red Tile Fish (Okdom 옥돔) and jeju pork.
Everything was delicious and very homey… each banchan was perfectly seasoned and cooked.
You have a choice on how the fish is prepared – grilled or braised (jorim 조림). They also had Bulgogi, grilled mackerel and abalone on their menu so you have other options if you wanted. Additionally, they have a pretty garden that you can view while dining so overall it was a very enjoyable experience. Below is my tiktok video of the yummy lunch we had!
DINING STYLE – simple no fuss Korean neighborhood restaurant with efficient service looking out onto the garden.
RESERVATION – no reservation needed unless you want to book a big party or even a wedding!
LOCATION – 제주시 연화남길 41 Jejusi Yeonhwanam Gil 41 (Naver)
WEB SITE – http://hwamokwon.snname.com/ (IG)
Boreum Sup 보름숲 – Jeju Pork BBQ Restaurant
Wow – I was in heaven dining at this restaurant. I highly recommend this place!!
From the amazing aged and pre-smoked Jeju black pork to the smokeless grill, it was truly an amazing and delicious experience. The side dishes were also very uniquely Jeju, accompaned with dipping sauce that's made from fermented anchovies (myeolchi jeot) that stays on the grill for the first few min. until it's perfectly reduced.
Everything worked together really well! Please watch my youtube video above and you will see what I mean.
DINING STYLE – casual, modern, very clean upscale. Great view of the gardens. There are tables outside for grilling when the weather permits.
RESERVATION RECOMMENDED – this is a very popular restaurant and they have a bit of a complicated reservation system. You can only reserve through here and the indoor reservation opens after 2pm Monday each week so you have to wait till then. Open for dinner only but just saw starting 7/19/2023, they also are open for lunch. Not sure if this is just for the summer or not. Best to call and ask. CLOSED TUESDAYS.
LOCATION – 255, 1100-ro, Seogwipo-si, Jeju-do, Republic of Korea (google map link), Phone – 0507-1484-1041
IG – https://www.instagram.com/_boreumsup/
Sagye JeonbokJip 사계전복 (Four Seasons Abalone Restaurant) near SanBangSan
This is a no-frill humble restaurant that specializes in Jeonbok (Abalone). They serve it raw – sashimi style, they make porridge with it (Jeonbok Juk) and much more. They also serve Mul Hwae 물회 with it which means it comes in a cold icy spicy sauce with tons of julienned radishes.
The abalones were not huge, hence a plate had 12 of them. They were fresh and delicious!!
DINING STYLE – very casual and simple place.
LOCATION – ADDRESS – 933 Sagye-ri, Andeok-myeon, 특별자치도 Seogwipo-si, Jeju-do, South Korea (goolge map). This is near Sanbangsan (a beautiful mountain with a huge temple). It has a really big parking lot so it's easy to stop by if you are driving.
RESERVATION NOT NEEDED
D&Department in Jeju
I would have never visited this place if it wasn't for my good friend Eunjeong. Despite it's somewhat confusing and unusual name, D&Department is NOT a department store but a cafe + store where you can find goods made by various local artisans.
If you feel like you need a one-stop place to taste and bring home the goodness of Jeju all in one sitting then this is the place for you. They have a collection of the best products made by local artisans ranging from homegrown green tea to a traditional hand-woven basket.
They also have a cute and modern restaurant downstairs where they have a simple menu along with some locally crafted Jeju beer. I had the Jeju Gang Doenjang Bibimbap which was rice topped with lettuce, and egg.
It also comes with instructions on how to enjoy it (in Korean sorry) but you are supposed to mix the bowl of rice and greens with the Gang Doenjang (instead of gochujang like you normally would). I love Gang Doenjang and this was such a wonderful way to enjoy it.
My friend had the Pork Bulgogi Ssambap and that was delicious too. The flavors are overall very mild and gentle, the kind that makes you feel good all around. A meal that does a body good. It was the best last meal before going to the airport.
The beer – honestly it's not my favorite. I like the other Jeju Wit Ale (that I had at the hotel) better.
DINING STYLE – this is a very casual, bright coffee shop vibe! The restaurant serves food, drinks as well as some simple desserts. Great place to just sit down for some coffee and relaxation.
LOCATION – 3 Tapdong-ro 2-gil, 특별자치도, Jeju-si, Jeju-do (google map)
RESERVATION NOT NEEDED
** There's also a D&Department in Itaewon Seoul. If you are in the area, it's a great place to just visit. You can see all the great modern and traditional Korean craftmanship and some awesome recycled materials on display and for sale.
PLACES IN JEJU – I STAYED IN AND VISITED
Jeju Hotels
In terms of hotels, I have stayed in Podo Hotel, Shilla and Parnas. Shilla and Parnas are both near the ocean with spectacular views. Shilla of course is top-notch and very popular. If you can afford it, definitely, that's the place to be.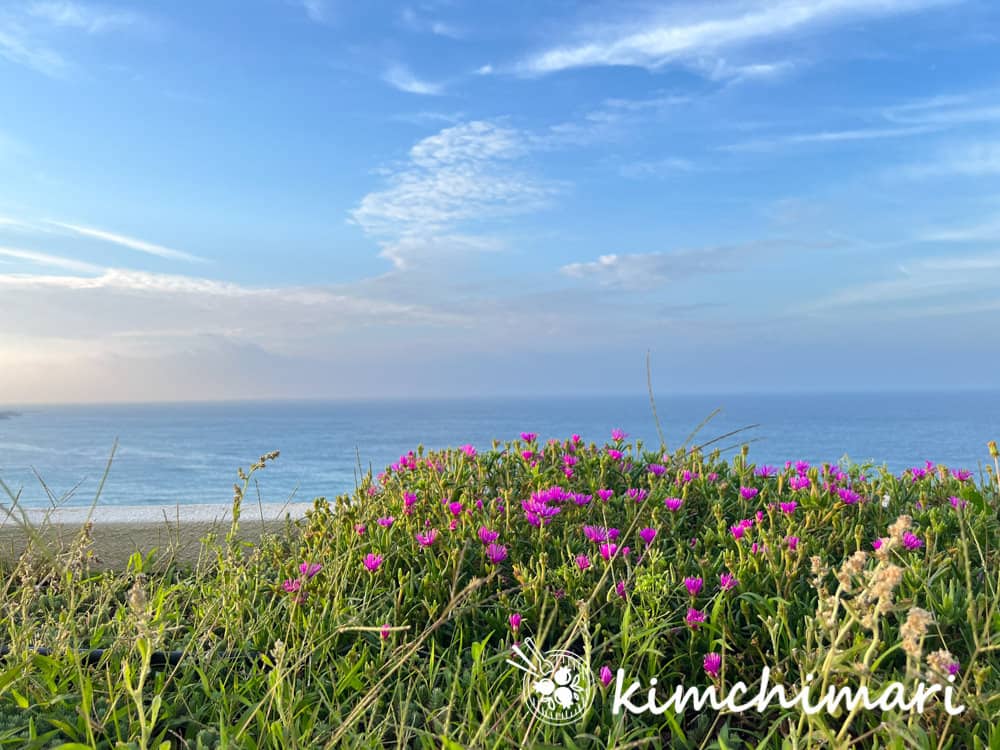 Parnas Hotel is the one I stayed in my this Jeju trip and while it was brand new and modern with a great infinity pool, something just felt a little lacking. It almost felt like the hotel was still not in full operating mode or that it was not operating fully because there weren't enough people. I don't know.. not sure if I will go back there.
Here's a quick tiktok video of the fabulous ocean view from my Parnas hotel room – TIKTOK VIDEO
Podo Hotel is located inland and has a very architecturally interesting design and gardens. The rooms were very well equipped but I felt the hotel interior was just too dark and dim. I didn't really enjoy the vibe of the hallways..
JEJU PLACES I VISITED
Jeju is all about tourism, which means there are are just too many places to visit. You can go all nature and visit beaches, the Halla mountain (the tallest mountain on the island), wetlands, horse sanctuaries, tangerine orchards, and much more.
Because of the rainy weather, and the fact that I've visited Jeju Island before, we didn't go to the textbook tourist spots, but opted for the less traveled areas instead!
Jeju Mabangmokji 제주 마방목지
Jeju is known for its horses as the relatively mild weather and the abundant greenery provided the most ideal environment for raising horses. In the old days, horses were raised in Jeju then transported to the mainland for many uses – for the military, for farming and simply for enjoyment.
It is said that horses have been raised in Jeju ever since the Bronze Age. Jeju horses also share the bloodline from Mongolian horses as history states that Mongolia brought their horses to be raised in Jeju starting around 1230's during Mongol invasion of Korean during the Goryeo dynasty.
This was my second visit and I originally wanted to avoid it because I already visited it in 2017. But my friend persuaded me and paid for us to take the Tea Class. In the class, you learn to brew and enjoy tea and I'm SO glad I did!!
It was pouring rain outside but we were nice, cozy and dry inside in the tea room, learning about green tea (Nokcha 녹차) and the meaning behind the Chinese character Cha 茶.
It was honestly such a peaceful, relaxing and beautiful experience. I still can't forget the exquisite sound of water being poured out of about dozen tea pots, all in unison.. it truly made me appreciate tea time at another level.
If you love Korean skincare, or makeup products, I'll have you know that there's also an Innisfree shop right next door! Attached to the store was a coffee shop that has great view onto the tea garden. So don't miss it!
RESERVATION NEEDED for the tea class! Remember to plan ahead and make reservations by calling the museum or visiting the website.
If you love flowers and discovering beauty in hidden places, visit this gem of mother nature. These are preserved natural wetlands, 1100 meters above sea level, and it's right off the highway on your way to Mt Halla.
But if you want to spend your time visiting the most popular touristy places, you may not enjoy this as much as I did.
In the wetlands, I got to see deer happily grazing the natural habitat. It's a short self-paced walk around the elevated wooden walkway around the volcanic wetlands but you can spend as much or little time.
LOCATION – 산1-1 Saekdal-dong, Seogwipo-si, Jeju-do, South Korea (1100 Highland Rest Area)
Well, that's it for this post! I hope you will visit, eat and enjoy these places. Please let me know how you liked them!
Have a great summer!
XOXO❤️
JinJoo