Minari (water dropwort) is a fragrant vegetable plant that's used extensively in Korean cooking. Read about how to grow, cook, eat and also info on health and nutrition of this wonderful plant.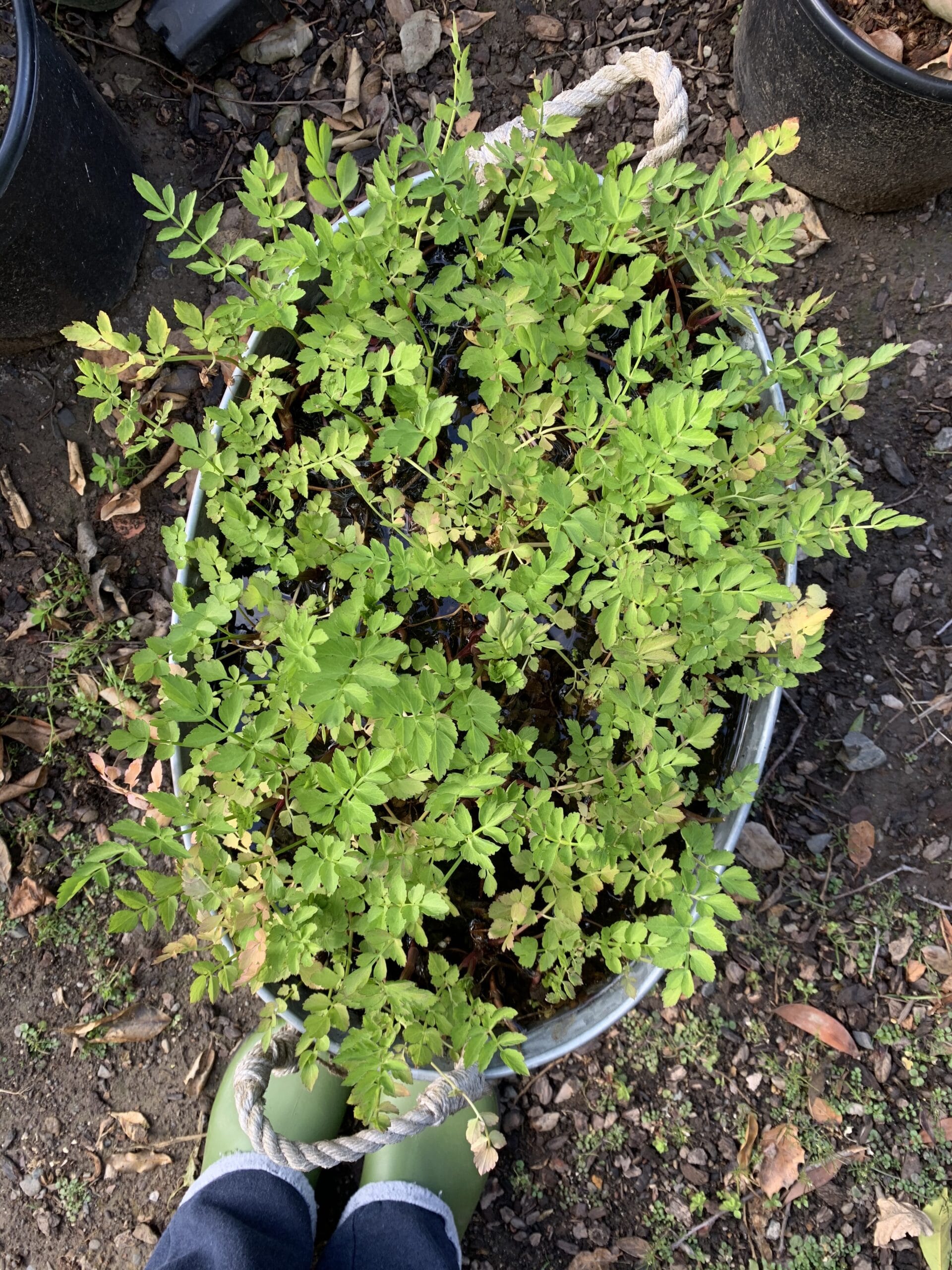 Minari – what is it?
Minari (Oenanthe Javanica) is a plant of the genus water dropwort originating from East Asia and is used in Korean, Chinese, Japanese and Indian cuisine. It's also known as Water Celery, Water Dropwort, Japanese parsley, Chinese celery, Indian pennywort. It is used extensively in Korean cooking – fresh but often blanched, cooked in stews and added to Kimchi.
The picture above is my homegrown Minari plants – growing in an old beverage bucket/tub with no holes in the bottom so it can hold water. It's not yet fully grown but it should soon grow tall enough to be harvested!
And here's one from the market. This one is very young so it's not as tall as they come sometimes.
Minari – The Movie
Lately, the word Minari has become widely known due to the movie Minari – a story of a Korean immigrant family, their struggles for survival and yes, the plant Minari does appear in the movie. I think one of the neat things about this movie is that it almost feels like a documentary in that there's no one main character where the whole movie's plot is written around it. It shows each family members' life struggles and hilarious moments – of the father, mother, children and the grandmother. Now, I won't talk much more about it except to say this plant comes up as something that can be grown in the wild.
And if you read further down below, you will learn more about the different kinds of Minari that Koreans grow. 😉 If you haven't watched the movie, you should definitely watch it. 👍
My TV Interview on Minari the movie and the plant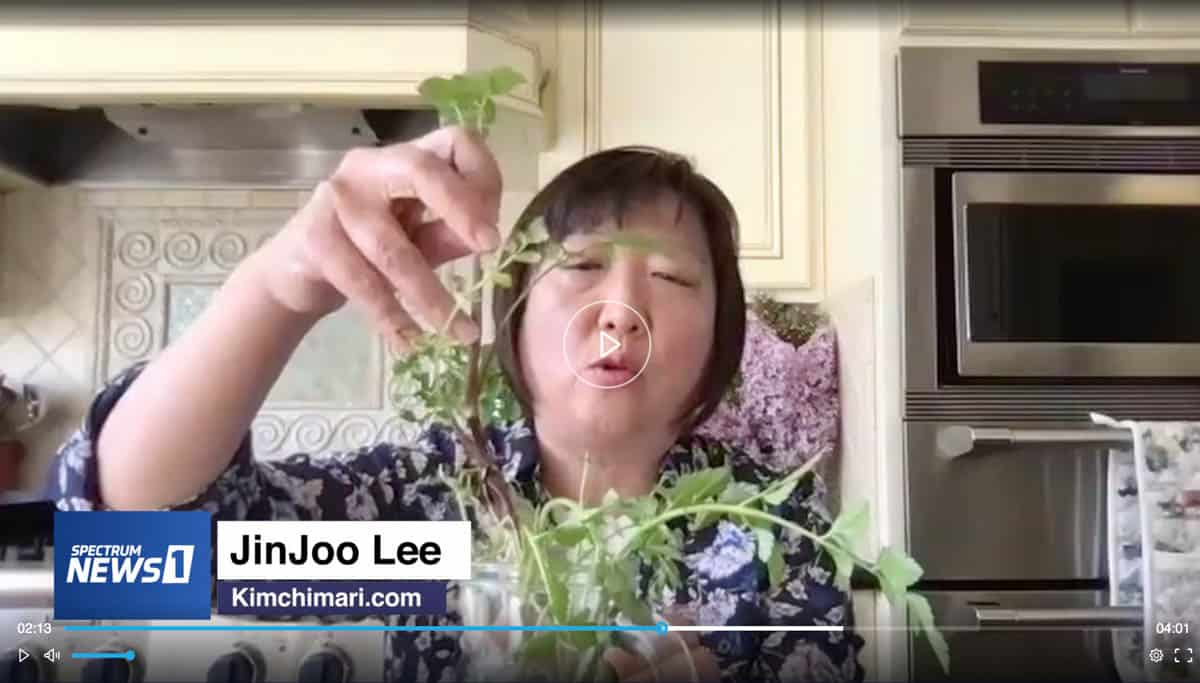 Click HERE for My Minari Interview Video with Spectrum news1
In April 2021, I was contacted by Spectrum News1 in Southern California for an interview about the plant Minari and the movie Minari as the Korean movie Minari was nominated for Oscars. So I talked about Minari the plant, how to grow and cook but then also talked about why I thought Minari the movie attracted so much attention.
As you know I am very camera shy and was very nervous but Brian DeCloux (my amazing interviewer) made me feel totally comfortable so I actually had fun talking about it!
What does it taste like?
Minari has a grassy, slightly peppery and mildly bitter aftertaste but with a wonderful feel good fragrance that is just strong enough to add a fresh herb flavor to a dish but not overpower it.
Some say it tastes similar to regular parsley and while it looks very similar (see pic below), unlike regular parsely, you can eat Minari on its own and you will still enjoy the flavor while Italian parsley has a surprising sweeter note at the end and is somehow not very pleasant to eat by itself. Yes, I did a taste-test between the two to writhe this post. 😜
Don't get me wrong, I love love parsely in Italian food but when I actually tasted it by itself (which I have not done to be honest), I found the flavor was a bit too strong and didn't find it very pleasant to eat. Korean Minari on the other hand, has a curious clearing and refreshing taste that's a lot more pleasant to eat on its own.
Of course, just like Cilantro, some may love it while some may not. Compared to Perilla, the fragrance and flavor is milder. And once added to dishes and cooked (as long as it's not a stand alone namul), you really won't notice the flavor too much.
How to eat Minari
There are many ways to enjoy this wonderful plant. You can enjoy this raw in salads (muchim), slightly blanched then made into namul, in kimchi and added to stews (jjigae). The bottom ends are usually too fibrous so you want to cut them away – like you see below.
The leafy part is also edible but not always used – especially when adding to Kimchi because the leaves are too tender to withstand the pickling. But if using fresh in a lightly seasoned dish, you can certainly add it.
Add to Kimchmi
I love adding Minari to Kimchi, especially Water or Nabak Kimchi as it adds a great freshness and texture to the dish. When adding to kimchi, only the stems are used because the leaves will become messy and too soft once it's pickled in brine.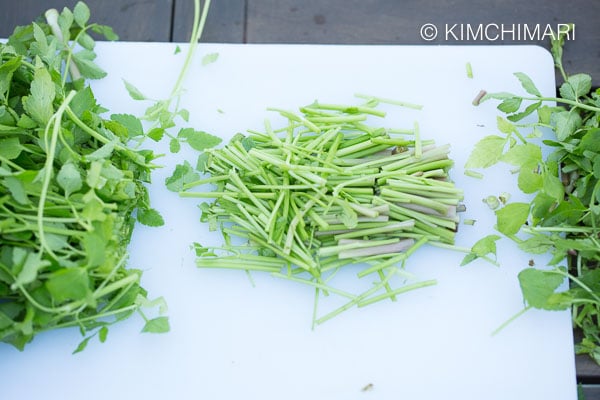 Make Namul
I don't yet have a recipe specifically for Minari Namul or Minari Muchim on my blog – but you can simply make Minari Namul by blanching the minari then seasoning it with some guk ganjang, perilla or sesame oil, chopped garlic and green onions with a pinch of seasme seeds. It's very similar to how I made Kkaennip Namul.
Make Haemul Pajeon (Seafood Pancake)
Different from the common seafood scallion pancake (pajeon) that you get at a restaurant, my Dongrae Pajeon is a lighter and more delicate version wth layers of tons of green onions and minari along with seafood. The batter is then poured over – just enough to hold everything together but not so much that it mutes the texture and flavor of the vegetables.
This version of Pajeon is really one of my MOST FAVORITE way to make pancakes – it's a must-try. BTW, if you can't get the water dropwort, you can omit it or sub with some watercress although you will be missing the wonderful flavor of it.
FYI – the green leaves you see on the left on the plate in the above picture is minari. And just to give you a peek, here's how Dongrae Pajeon is made.
ADD TO FISH STEWS
Koreans love to add minari to seafood stews (Haemul Jjiggae or Jeongol) because it really brightens the flavor of what's usually a heavily seasoned dish while neutralizing any fishy flavor the stew may have.
I have a Spicy Alaskan Pollock Stew (Dongtae Jjigae) where minari is used.
In the picture below, you will see a bunch of water dropwort and Ssukat (right bottom).
is Minari good for you?
Koreans have long believed that Minari has great health benefits, good for your liver and also for your blood (cleanses? the blood) which is then said to help lower your blood pressure. *Please note, I have not yet found any substantial modern medical research that supports these facts so please do not substitute this for any treatment or medication prescribed by your doctor. Always follow your Doctor's advice.
In ancient Korean medical books like Dongui Bogam, it is said that this plant helps with thirst, clears your head, helps with hangovers by helping the liver get rid of toxins and also helps in aiding the circulation of the small and large intestines.
'동의보감'을 보면 "미나리는 갈증을 풀어주고 머리를 맑게 하며 술 마신 후의 주독을 제거할 뿐만 아니라 대장과 소장을 원활하게 해주는 등 신진대사를 촉진시킨다."
Source in Korean:
http://weekly.khan.co.kr/khnm.html?mode=view&artid=9783#csidx8bf81a79a8c2e85be0ef6f8b1cc8b10
In addition, here are couple papers I was able to find that seems to somewhat support the above claim.
research done on lab mice that show the extract from Oenanthe Javanica does help mice get rid of liver toxins faster than the controlled group. [Lee, Park, et al 2015]
research showed that Oenanthe Javanica possessed significant antiviral activity in vitro and in vivo on human and duck Hepatitis B infection. [Wang, Yang, et al 2005]
Nutrition-wise, water dropwort is high in ascrobic acid, beta-carotene, iron and vitamin E. It also has a good amount of riboflavin and calcium.
How to store
The best way to keep this vegetable fresh is to wrap the bottom end part with a wet paper towel then keep it upright in the fridge in a container or jar. It will keep for up to a week and you may even see roots sprouting! To store longer, you can blanch them, put them in ice bath, squeeze excess water then freeze in a plastic bag for later.
how to grow
You can easily grow Minari at home! Water Dropwort is a perennial plant that will continue to grow under the right conditions. In Korean weather, it is harvested around June and it flowers from July to September then goes dormant in the winter.
Ideal growing temperatures are between 68℉ – 77℉ (20℃ – 25℃) during the day and 50℉ – 60℉ (10℃ – 15℃) during the night. It will not grow in temps under 50℉ nor does it like temps over 90℉
Soil – grows in a marsh like very wet soil or will grow in 20 inch deep water.
Sun – prefers part shade so the soil can keep very moist
Will grow up to 7-20 inch (20-50cm) tall.
How to start – it is hard to get Minari seeds in the US but the great thing is that it's very easy to root them. But first, let's learn about how Koreans categorize water dropwort into 3 different kinds
1. MulMinari 물미나리 or NonMinari 논미나리 – Mul means water and Non 논 refers to fields filled with water. e.g. Rice fields are 'non 논'. These are grown in 20-inch deep water and they are the most tender ones with a milder flavor. They are the ones usually sold at markets.
2. BatMinari 밭미나리 or DolMinari 돌미나리 – These are minari that are grown in very wet conditions but not in deep water marsh. Typically, they are grown in greenhouses and the ground is filled with water during the night and drained out during the day. This is not as tender as Mul Minari and is a bit stronger in flavor. The bottom stem part may have a red tinge which is too tough to eat so should be removed.
3. BulMinari 불미나리 – these are wild water dropworts that grow in the wild (without much water) and is the most intense in flavor and not really tender. So they are really not good for cooking but is consumed mostly as juice extract as it's also known to have the most medicinal benefits.
Between the Mul and BatMinari, the BatMinari is a lot easier to grow unless you live near a marsh or you already have the right conditions.
Growing from Seeds
Although I have not yet grown these from seeds (because growing them from the stems are so easy), you can buy Minari seeds online like at the Kitazawa seed company. I hope to try growing some from seeds soon and share my experience back here.
How to root Minari
You can root Minari easily in a jar of water using store-bought ones. Watch the video to see how I did it or follow the instructions below. I also have a fully narrated Youtube Video if you want more info on how I grow it.
Cut the bottom thick parts of the stems – making there you have at least one node so the roots can grow from it.
Stand the stems in a jar or container and add enough water so the nodes are immersed in water.
Leave the jar in a bright location and replenish the water every other day to keep the nodes immersed in water. You should have roots and leaves emerge in 5 days.
You can just continue to grow them in water indoors and harvest them as they grow. After about 10 days, you can also transplant them into a container with soil outside to grow as BatMinari.
With ideal temperatures, you should be able to harvest in about 6 weeks.
Enjoy!!
XOXO ❤️
JinJoo