Korean Sauce Recipes
Just like many other cuisines, Korean sauces play an important role in Korean cooking. The same kind of sauce is used in many different dishes so many Koreans can make these sauces with their eyes closed. When I was preparing to write about sauces, I was hoping that there would be some well organized categorization of Korean sauces much like the 5 mother sauces in French cooking. Unfortunately there doesn't seem to be any (or I simply may not have found it) so using my engineering sense, I am going to group the sauces into 5 groups. There are sauces for
Dipping and Mixing (Bibim)
Braising(Jorim) or Glazing (Jjim)
Tossing and Coating (Moochim or Namool)
Stir Frying (Bokkeum)
Marinades for Grilling (Gui).
Let's first start with Korean sauces for Dipping as shown below. These 3 sauces are probably the most used and also the most basic of all sauces. When foods are dipped into these sauces, the flavor really comes alive. And the great thing is that the seasoning level can be controlled by individuals who dip the food. Some people like to make a batch of these sauces and keep them in the fridge for easy use. But unless you are eating these all the time and/or have a big family, I don't think you really need to.
Korean Sauce #1 – Soy Sauce with Vinegar (Chokanjang 초간장)
2 Tbs Soy Sauce (Jinkanjang 진간장)
1 Tbs Vinegar (brown rice, rice wine are best or just use white)
Optional Extras
1 Tbs water or anchovy stock (for a milder tasting sauce)
1/8 tsp chopped pine nuts (for a richer tasting sauce)
dash of dried red pepper powder (gochookaroo 고추가루 for more zing)
dash of crushed roasted sesame seeds
1/8 tsp sugar
*  When adding pine nuts, it is best to not add other extra ingredients because the other extras (except for sugar) will overpower the taste of the pine nuts.
Use as dipping sauce for: all kinds of Jeon (hobahkjeon,zucchini fritters, fish jeon, beef jeon..), Mandoo(dumplings), and Twigim (Yache Twigim)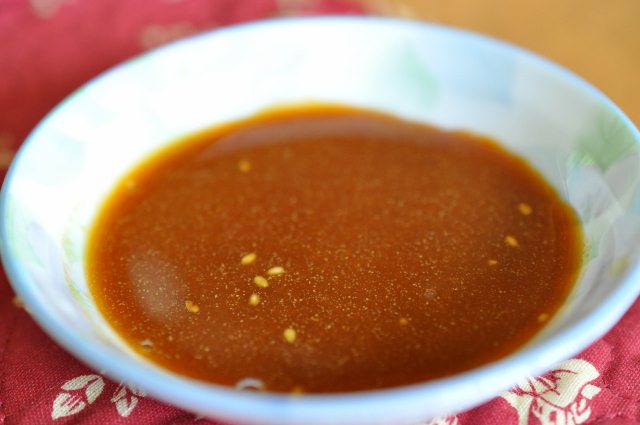 Korean Sauce #2 – Spicy Soy Sauce with Yellow Mustard(Gyeojakanjang 겨자간장)
2 Tbs Soy Sauce (Jinkanjang 진간장)
1 Tbs Vinegar (rice or white)
1 Tbs Oriental Yellow Mustard (Gyeoja 겨자)
Optional Extras
1 Tbs water or anchovy stock
1 Tbs sugar
1 tsp chopped garlic
1 tsp sesame oil
1 green onion (chopped)
*  Making yellow mustard from powder : mix equal amount of yellow mustard powder and warm water. Cover the mustard mix with plastic wrap and keep it warm (in rice cooker or on top of a warm pot) for 15 min. You will notice that the hot spicy flavor and smell intensifies over time. Sometimes the yellow mustard can taste bitter – this is because the flavor has not developed properly (probably not the right temp or time). In this case, it's just best to discard and make it again.
Use as dipping sauce for: Korean style sashimi (Hwe 회),  grilled fish or meats – the mustard is great in getting rid of any fishy or oily taste.
Korean Sauce #3- Red pepper paste with Vinegar (Chogochujang 초고추장)
1 Tbs Korean red pepper paste
1 Tbs vinegar (rice wine or white) or 1 Tbs lemon juice
1 1/2 tsp sugar
Optional extras:
1 1/2 tsp honey/yuzu syrup/plum syrup(maesilchung)
dash of ginger powder or garlic powder
dash of black pepper
sesame seeds (1/4 tsp)
1 tsp of cider or coke (to add extra zing right before serving)
Chogochoojang can be made in larger batches and stored in the refrigerator for several weeks or even longer. When making larger amounts, use a bit more vinegar or lemon juice to increase the storage life. Using lemon juice instead of vinegar will work better with fish dishes.
Use as dipping sauce for: boiled squid, raw seafood (oyster, abalone, sashimi, squid), boiled vegetables(green onions, broccoli)
With some modifications, it can also serve as the base for mixing sauce for Bibim Kooksoo (비빔국수) or Sashimi Rice (Hwe Deopbap 회덮밥).
Check out my Korean Sauces II – Yangnyumjang post for more seasoning sauces.
Happy Dipping!