14 everyday Korean teas that are commonly enjoyed with or without meals. The flavors of each tea are discussed with information regarding how it is grown, made and enjoyed.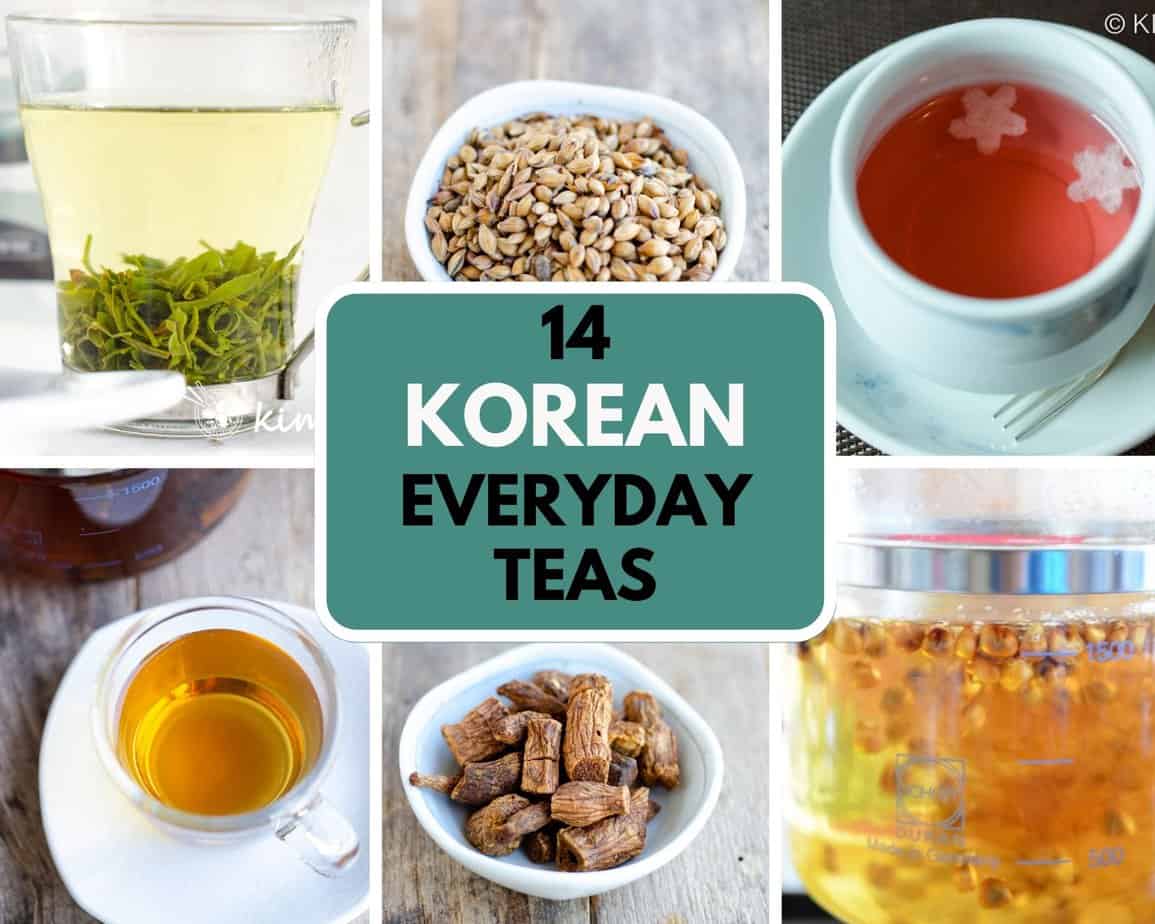 Tea is a staple element in Korean culture. It is often drank at home, and served in restaurants in place of water. Korean teas make use of all sorts of plants, including roots, vegetables, flowers, and fruits alike. Each carries distinct flavors and health benefits that can be enjoyed on different occasions. Below is a list of everyday Korean teas with detailed descriptions, so you could find your perfect match for steeping!
Korean Teas that you can drink with your Meal
Okususu-cha 옥수수차 (Corn Tea)
Okususu-cha (옥수수차) is a staple everyday Korean tea that's so mild that it goes well as part of a Korean meal and also preferred by many Koreans instead of plain water. Corn is a great plant for tea because of its ability to grow even in the most barren lands.
HOW IT'S MADE – To prepare corn kernels as a tea ingredient, it goes through the same process as other grains, such as barley, or buckwheat. The dried corn kernels are toasted in a big pan without oil, until they turn black (but don't worry, it's not burnt!) and stored in the pantry.
HOW TO ENJOY – Similar to making barley tea, place whole kernels of toasted corn in water and simmer for 15-20 min. Let the brew cool off quickly to ensure the aroma stays. When the tea becomes a nice shade of yellow, that's when it's ready for drinking. Drink it HOT or COLD. In the winter, I cook a whole kettle full and drink hot from there or warmed up when needed. In the summer, I boil it, cool it and then keep it in the fridge. Corn tea is a warming food so it's a good tea to have in winter.
CAFFEINE – None.
TASTE – Strangely enough, corn tea doesn't taste like corn. Instead, it has a earthy, grainy, nutty flavor with an ever-so-slight sweetness that goes perfectly well with the hints roasted flavor.
Sources: naver1, naver2, wikipedia
WHAT TO BUY – Korean corn teas are sold in bags of whole roasted corn kernels, crushed up and sold in large filter bags which are meant to be added to a whole pitcher of water (you can just add a bag to a pitcher of cold water and let it sit for overnight instead of boiling them) OR sold in individual tea bags. Sempio Sunjak 샘표 순작 is a brand you can trust and has most of the tea varieties in this post.
9 Korean Teas are available at my SHOP!
This box includes a few more exotic teas than the list here but you may still want to try them! They also make great gifts since it comes so beautifully illustrated.
Includes – the following tea bags
Plum flowers + Green Tea
Persimmon Leaf Tea
Chrysanthemum Flower Tea
Mulberry Leaf Tea
Oriental Raisin Tea
Hydrangea Leaf Tea
Bellflower Root Tea
Buckwheat Tea
Premium Green Tea
BoRi-cha 보리차 (Barley Tea)
Bori-cha (보리차) is one of the most widely-enjoyed teas in Korea, especially in summer. If you regularly visit Korean restaurants, chances are you've already had this tea. They are usually served hot in the winter and cold in the summer.
HOW IT'S MADE – In order to prepare barley as a tea ingredient, it must first be toasted. Barley must be prepared very carefully, because its flavor depends wholly on this process. To ensure the barley is of the best quality, the grains are toasted until their husk is slightly burnt.
HOW TO ENJOY – Add toasted barley to boiling water, and let the brew cool down immediately so that the aroma doesn't wear off. Also avoid heating up barley slowly, as the starch would dissolve and give your tea an unpleasant texture. You can drink it HOT or COLD. In the summer we usually keep a pitcher in the fridge.
Bori-cha is said to strengthen gut health but is also a cooling food so it's a great tea to drink ICE COLD in the hot summer!
CAFFEINE – None.
TASTE – Bori-cha Korean barely tea tastes similar to other teas made from grain, like rice tea, for example. You can definitely smell and taste the roasted, perhaps even a little burnt tasting flavor from the tea. Compared to corn tea, barley tea is a little sharper, slightly bitter tasting but also very refreshing in the summer.
WHAT TO BUY – Korean barley teas are sold in bags of whole roasted barley grains, sold in large filter bags which are meant to be added to a whole pitcher of water (you can just add these to cold water and let it sit overnight instead of boiling them) OR sold in individual tea bags.
Sources: naver1, naver2, naver3
Oksusu-Suyeom-cha 옥수수수염차 (Corn Silk Tea)
Corn silk tends to be seen as a non-edible part of corn by most people, instead of a tea ingredient. People always end up tossing away corn silk during the preparation of corn, in order to avoid the 'fuzzy' sensation when cooked. Due to this, cornsilk's benefits are often overlooked but Koreans somehow decided to drink it as tea.
HOW IT'S MADE – When farmers harvest their corn, they remove the corn silk growing at the top of each ear of corn and wash and dry in the shade. Oksusu-suyeom-cha (옥수수수염차; 玉米須茶) is a good way to make use of this byproduct from corn farming. Note, commonly the corn silk is mixed with roasted corn to enhance the flavor.
HOW TO ENJOY – Corn silk is a very mild tea ingredient. You can let it simmer / steep for quite some time before drinking. You can see how I do it in my Corn and corn silk Tea recipe post.
CAFFEINE – None.
TASTE – The tea steeps into a nice caramel color, and smells stronger than it tastes. It carries a roasted scent, similar to that of toasted rice, and has a wonderful comforting earthy flavor.
It's a pretty well-accepted fact in Korean culture that corn silk tea is a mild diuretic and can help one get rid of water retention. Some also believe it can help with UTI (WebMD) but I don't think it can in anyway replace taking antibiotics but perhaps just aid in increased urination.
WHAT TO BUY – Below is a box of individual tea bags of Organic Corn Silk tea that I bought from our Korean grocery store but you can also buy them online.
Hyeonmi-cha 현미차 (Brown Rice Tea)
Hyeonmi-cha is made from roasted brown rice. It's similar to Japanese Genmai cha except Korean Hyeonmi-cha is made without green tea leaves. Sometimes Korean green tea leaves are added to make Hyeonmi Nokcha 현미녹차.
HOW IT'S MADE – To prepare rice for tea, brown rice is first washed clean in water, before being drained. After that, the rice is dried by being stir-fried in a pan without oil, until it is nicely toasted and becomes slightly puffy. This roasting process gives is a wonderful nutty flavor.
HOW TO ENJOY – Bring 5 cups of water to boil and add about 2 Tbsp of brown rice tea and let it simmer for few minutes but not too long as the rice will begin to swell up and in my opinion not very pleasant to eat. To drink when the rice is still slightly crunchy, you can simply pour hot water onto the rice and let it steep for a bit.
CAFFEINE – None.
TASTE – Hyeonmi-cha has a great roasted flavor and is nutty. It kind of tastes like Nurungji (scorched rice). It's great for soothing the stomach after a large meal.
Hyeonmi-cha is used as a Korean folk remedy for dehydration, and improves bad complexion.
NoK-cha 녹차 (Green Tea)
Green tea, or nok-cha (녹차; 綠茶) is one of the most well-known and popular teas around the world. Did you know that green tea, black tea, and oolong tea all come from the same plant? Their difference depends on whether they were fermented or not. Green tea is not fermented at all.
HOW IT'S MADE – Green tea plants are harvested 3-4 times a year. The earliest first harvest has the most elegant flavor with the least amount of tanins (the bitter aftertaste) but is also the most expensive while the larger older leaves harvested in late summer are very affordable with more tanins.
Sejak 세작 細雀 are the youngest tea leaves that are harvested between Apr 20th (곡우(穀雨))- May 6th every year. Because the leaves are thin and pointed, it is also said that it looks like the tongue of the sparrow and so it also goes by the name Jakseolcha 작설차 雀舌茶.
This is my most favorite green tea, it is very mild, grassy and slightly nutty at first with a very faint pleasant bittersweet aftertaste. The tannin flavor was still mild even after an hour of the tea steeping in water. It also has very minimal 'marine' seaweed like flavor.
Jungjak 중작 中雀 are tea leaves harvested between May 6th to mid-May. The flavors are not as mild as Sejak but is stronger in its grassy and bitter aftertaste than the first harvest.
Daejak 대작 大雀 are the largest tea leaves, harvested till end of May. At this point, there's a lot more to harvest and thus is the most economical of all Korean Green Teas but also has the strongest tanin flavor. These are also made into powder and used to flavor drinks, rice cakes and other pastries.
Once the leaves are harvested, it goes through a heating process in order to maintain its green color. The leaves are continually heated until most of the moisture is removed, and become somewhat crispy.
HOW TO ENJOY – Heat water until it reaches a rolling boil, and allow it to cool until it is around 70-80ºC (158-176ºF). This is because green tea burns and becomes bitter when the water is too hot. Let the tea brew for a while before consuming it.
CAFFEINE – Yes.
Green tea does contain caffeine, so it is a coffee substitute for people who are sensitive to the large amounts of caffeine provided by coffee drinks. Other than that, green tea is known to have great health benefits from lowering cholesterol, and preventing heart disease to anti-cancer. However, according to NIH info, most of it is inconclusive at this time as the studies are still small.
But for me, drinking green tea is just a great way to unwind and relax without calories.
WHAT TO BUY – Because I love Nokcha so much, I started selling my favorite organic Korean green tea in my Kimchimari Shop as loose leaf and also tea bags.
Sources: National Institute of Health, naver1, naver2
Korean Teas to enjoy as snacks or dessert
Daechu-cha 대추차 (Jujube Tea)
Jujube (Daechu 대추) is an ingredient commonly used in Korean cuisine. Other than being made into sweet jujube syrup, the fruits can also be brewed into Daechu-cha (대추차; 枣子茶).
HOW IT'S MADE – Jujube dates are harvested and dried. To make tea, you want to cook the jujube dates in water until they become soft. Then you mash them and cook one more time. Optionally, strain it to remove bits of skin.
HOW TO ENJOY – Mix a couple spoonfuls of the jujube concentrate with hot water. Finish with some pine nuts.
CAFFEINE – None.
TASTE – Jujube tea is naturally sweet with hints of berry flavor but has almost no sour flavor. You can add honey to your liking.
HEALTH BENEFITS – Jujubes are widely used in Korean herbal medicine due to their purported ability to prevent fungal and bacterial infections.
Maesil-cha 매실차 (Plum Tea)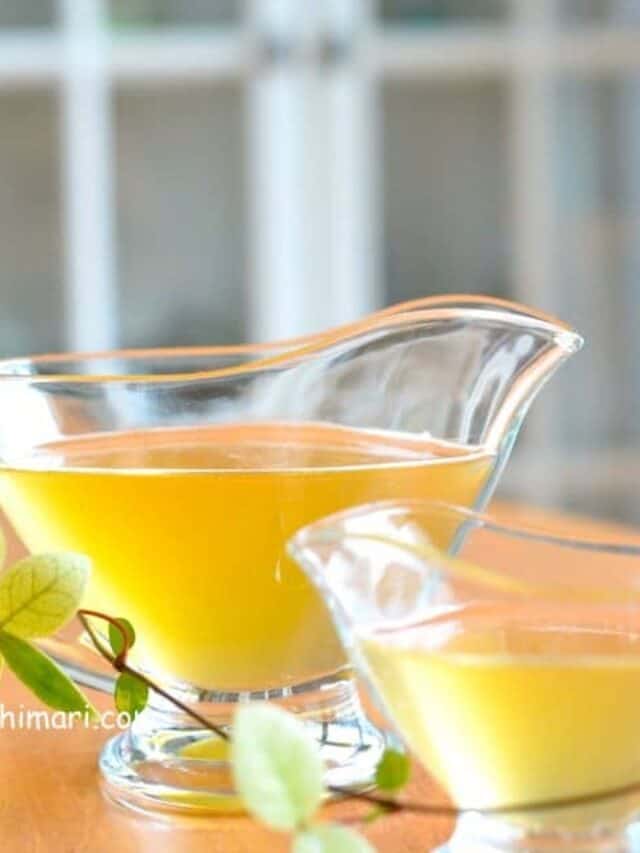 Maesil-cha (매실차; 青梅茶) is a tea made by mixing water and Maesil Cheong (Green Plum syrup) commonly named Japanese apricot or Chinese plums in English and scientifically called Prunus Mume.
HOW IT'S MADE – The plums/apricots are harvested at their unripe stage, when they are green around late-May, to mid-June. They are then put in a jar with sugar for 100 days until all the juice is all drawn out from the fruit into the jar to mix with the sugar. You can read all about how to make the Maesil Syrup in my post HERE.
HOW TO ENJOY – Mix maesil cheong with hot or cold water to make Maesil Cha. The amount of syrup you add differs depending on how intense you want the flavors to be.
CAFFEINE – None.
TASTE – Maesil cheong by itself is tart and sweet. Having a spoonful of maesil cheong is not going to be overwhelmingly, like honey or syrup but has a perfect balance of tartness and sweetness. It makes great tea when mixed with water but also adds perfect flavor to dressings and sauces.
Plum juice is said to be able to quench thirst more effectively than water, and can help with digestion.
Omija-cha 오미자차 (Five Flavor Tea)
Everyday Korean tea made from fruits of the Schisandra chinensis is named Omija-cha (오미자차; 五味子茶). The fruits of this plant are more commonly known as five-flavor-berries, because of how they are said to contain all five basic flavors— sweet, sour, salty, spicy, and bitter— how interesting! I also LOVE the red color of this tea and it's often used for food coloring in Korean cooking.
You can see an example of that in my Omija and Green Tea Dasik post.
HOW IT'S MADE – Ripe five-flavor-berries are picked in the fall, and dried under the sun to ensure that the flavors are preserved. Once moisture is fully removed, the berries are packaged in paper bags, and stored in well-ventilated areas.
HOW TO ENJOY – Omija-cha is made by pouring the dried five-flavor-berries into water, and letting it slowly decoct into a tea. Depending on how you like it, honey and sugar can be added to sweeten the flavors a little.
CAFFEINE – None.
TASTE – To me, the most pronounced flavor of this berry is the tartness and it pairs perfectly with a sweet honey or sugar. The unique taste of the berries gives the tea a very refreshing feeling when you drink so hope you try it!
Five-flavor-berries are known to be good for respiratory health and will relieve tickly coughs in Korean folk medicine.
Sources: wikipedia
Yuja-cha 유자차 (Citron Tea)
Similar to maesil-cha, Yuja-cha (유자차; 柚子茶) is made from Yuja-cheong (citron syrup). It is an everyday Korean tea that is enjoyed throughout the day. Yuja is better known as Yuzu in the US. These days you can even buy Yuzu trees from nurseries.
The way the fruit is, there's little flesh and is too sour to be enjoyed as a stand-alone fruit but it has great fragrance so it is made into cheong (syrup).
HOW IT'S MADE – Yuzu fruits grow year round. Ripened fruits are harvested, sliced thinly, and placed in sugar. The sugared yuzu are then stored for 2-3 weeks, until they become delicious yuja-cheong.
HOW TO ENJOY – Combining yuja-cheong with hot or cold water makes delicious yuja-cha.
CAFFEINE – None.
TASTE – Because the yuja are soaked in sugar, the tea will be pleasantly sweet, with hints of citrus. It's a refreshing drink regardless of whether it is drunk hot or cold, and it's probably one of my favorites!
Yuja cha is said to relieve sore throats or help with colds due to its high vitamin C content (more than lemons!)
Sources: wikipedia1, wikipedia2
MAEmil-cha 메밀차 (Buckwheat Tea)
Buckwheat or Maemil is another popular ingredient for everyday Korean teas. It is curiously
HOW IT'S MADE – Buckwheat grains are peeled before they are toasted. After that, they are grilled in a big pan. The process is similar to making stir-fry, where the workers stir and mix the buckwheat to make sure each grain is toasted equally. When that is done, the dried buckwheat is ready to be used as an ingredient for tea!
HOW TO ENJOY – Memil-cha is made with a ratio of 1:10, buckwheat to water. You can either drink it hot, or add ice cubes to cool down the tea for a calming summer drink.
CAFFEINE – None.
TASTE – Memil-cha tastes toasted and nutty, it's easy on the throat and quenches thirst easily.
Buckwheat is said to be a diuretic, and can improve liver functions.
Yulmu-cha 율무차 (Job's Tears Tea)
Yulmu-Cha is made from Yulmu or Coix Lacryma-jobi, also known as Job's tears, Adlay or Adlay millet. The hard shells of wild Adlay are used for bead-making, while the cultivated variants are softer, and are used as a medicinal herb in different parts of Asia.
HOW IT'S MADE – During September and October, matured Adlay plants are picked, peeled, then dried under the sun. It is then toasted until it is yellow. Most commonly, it is then ground into powder before it is ready to be made into tea. On some occasions, tea is made just from the toasted pellets much like brown rice tea.
HOW TO ENJOY – Most likely the tea will come in a powder form with added sweetener and other grains such as barley and rice. Just mix a couple of spoonfuls with warm water. It will produce a creamy drink. The other kind of tea is when you just boil the toasted yulmu to make a clearer tea.
CAFFEINE – None.
TASTE – Adlay tea has a taste that is reminiscent of toasted brown rice tea.
Yulmu-cha has lots of fiber and is quite filling so it's great for diets as long as you don't make it too sweet.
Insam-cha 인삼차 (Ginseng Tea) or Hongsam-Cha (red ginseng tea)
Insam (인삼; 人參) or Ginseng root is a popular herbal medicine in Asian cultures, and is a very popular health supplement that's said to give one longevity. The earliest texts mentioning the alleged benefits of ginseng were written in 196 AD. The plant has a long history of being used as a recovery tonic for chronically ill patients in the past.
Hongsam (홍삼; 紅蔘) are ginseng roots that are steamed and processed which results in a red color. Thus earning it the name red (hong) ginseng. This method is mainly used in Korea, and is only for ginseng that are more than 6 years old!
Teas are made from both forms of ginseng.
HOW IT'S MADE – For regular homemade Insam Cha, dried ginseng roots are usually used. It's simmered in water with some jujube dates and then the golden yellow liquid is served hot or cold with some honey to balance the bitterness. For commercial Insam chan, the tea solution above is made into a powdered form or reduced to produce a concentrated syrup. You can also use fresh ginseng (called Susam 수삼) instead which should result in a milder form of ginseng tea.
Red ginseng (Hongsam 홍삼) is on the other hand made by steaming then drying gingseng. Hongsam is much more expensive as it goes through many steps before it's ready. It is also said that Red Ginseng usually results in fewer side effects but is more powerful in its healing powers. Hongsam is often sold as a concentrate which can be diluted in water.
HOW TO ENJOY – There are many ways to enjoy insam-cha or hongsam cha. The first method involves boiling slices of dried or fresh ginseng until the water becomes a nice golden color. The second method requires powdered ginseng, where you add a few spoons to hot water, and stir before consuming. Lastly, you can make tea by mixing the concentrated ginseng essence in hot or cold water.
CAFFEINE – Ginseng belonging to the P. Ginseng family contains natural stimulants that replicate the effects of coffee.
TASTE – Insam-cha is earthy and quite bitter due to the ginseng. To counter the bitterness, honey or sugar can be added to lessen its intensity.
Ancient medicinal records believe that ginseng is effective in strengthening many parts of the body, however, these claims have not been scientifically proven as of yet.
Saeng-gang-cha 생강차 (Ginger Tea)
Ginger tea is a favorite not just in Korea but also all over the world including the US. Koreans though love saeng-gang-cha (생강차; 生薑茶) because of the flavor and its effects.
HOW IT'S MADE – To make Korean ginger tea, you slice or julienne peeled fresh ginger then let it sit in a jar with sugar or honey for 3-4 days. Optionally, you can add Jujube dates (daechu) to make Daechu Saenggang Cha 대추생강차. Then it's ready to be made into tea.
HOW TO ENJOY – Slice the ginger thinly, and strain the ginger in boiled water.
CAFFEINE – None.
TASTE – Saeng-gang-cha is spicy, and brings heat to your mouth and stomach. It is a unique and intense flavor that may be too strong for some people (for me anyway) but some love it. A little honey or sugar can be added to dampen the taste.
HEALTH BENEFITS – People believe that ginger tea can help with stomach pains due to the fact that it warms up your stomach, providing some pain relief. I know it definitely helps my guts calm down when I'm having a bout of bad diarrhea.
Dunggeullecha 둥글레차 (Solomon's Seal Root Tea)
Polygonatum, or Solomon's Seal Root (둥글레 Dunggeullae 玉竹), is a medicinal herb but is also an everyday Korean tea that people enjoy throughout all times of the year.
HOW IT'S MADE – Solomon's seal root matures during the fall months, and farmers harvest them and cut the roots into smaller pieces, and let them dry thoroughly under the sun. You can buy Solomon's seal roots as chunks like in the picture I have above but mostly you will see them ground up in tea bags. I find boiling the root chunks produces a much richer flavor.
HOW TO ENJOY – If you are lucky enough to get the root chunks, in 5 cups of water, put in 1.5 – 2 oz of the root. Bring to a boil and simmer for 20-30 min. Because it's so mild, you can let it steep for quite a while! If it's a tea bag then you just let it steep in hot water for 1-2 min. before you enjoy it.
CAFFEINE – None.
TASTE – The tea itself carries a gentle, earthy flavor— reminiscent of rice tea. I love enjoying this tea on its own.
HEALTH BENEFITS – The Goguryeo Kingdom in ancient Korean history greatly enjoyed the benefits of this tea. It is a folk remedy for soothing dry coughs, and is a rich source of vitamin A.
Well, I hope you enjoyed reading about all the different everyday Korean teas! I will soon share another post that has more Exotic Korean Teas!
Enjoy your cup of tea!
XOXO ❤️
JinJoo