Korean One-Pot Meals that are tummy-warming and satisfying without the use of tons of cookware – from soups and stews to noodles, and tender, braised meats packed with flavors! These dishes are sure to become some of your favorite go-to meals.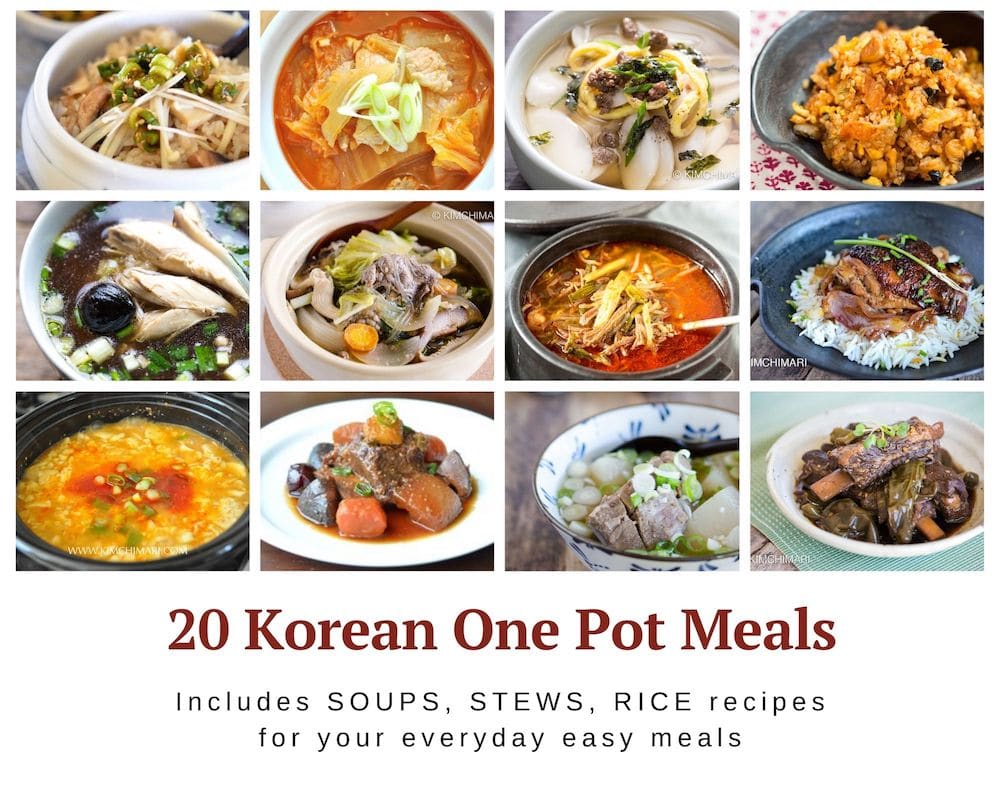 Although I love to cook, even for me there are days now where I just want something simple but yummy to make with little cleanup. 😉 Especially when we are all having to eat 3 meals a day, almost every day, 7 days a week.. at home. Can you tell, I'm getting a little worn out?? HAHAHA..
What comes to your mind when you think of Korean food? Maybe a table full of banchans, rice and either some stew or soup or a main of some Korean BBQ? Yes, that's how a full Korean meal is done. But for everyday meals, Koreans often make very simple one-pot meals like I'm sharing here.
BTW, I'm saying these are one-pot meals with the assumption that you will have rice available. To Koreans, rice 🍚 is like bread 🍞, something you have in your kitchen every day. Hope you don't mind.
And I think there's just something less stressful and more enjoyable when you don't have to juggle 2-3 different recipes to cook at the same time – yes, even for me. With these Korean one-pot meals, you can just focus on cooking one dish. Comforting recipes that are great for any day of the week and that your family will be sure to love – so give one a try!💕
I love cooking things in the oven – don't you? You can relax while dinner is cooking away. Well, here's a Korean one-pot dish that you can put in the oven, set it and forget it. Just make rice (long grain rice also goes well), and salad and there you go!
I have both a regular and Instant Pot version of this classic comforting soup. Cook rice and serve with Kimchi. Dinner done. Maybe add roasted gim or a banchan like Myeolchi Bokkeum if you have extra time.
You really just need rice and this is good for any meal of the day. Add some jeons or even just a fried egg or egg roll.
Enjoy this on its own with some kimchi and rice. Nothing else needed.
This one takes a bit of effort and time but once you make a batch, you can enjoy it over several meals. Cook rice, and serve with kimchi. Here's my Instant Pot version.
Finish this truly Korean one-pot meal by cooking rice in the pan at the end with leftover sauce. That will help clean your pot too.
Easy, simple rice dish for those times when you really don't want to think about a menu. Add whatever proteins you want to add – pork, beef, chicken, canned tuna, bacon, spam, sausage.. kimchi can take them all!
Mild and easy chicken stew that is really just simple as putting ingredients together and cooking it in one pot. Low carb dish.
I used to eat just a pot of this with very little or no rice when I was on a low carb diet. Tofu is healthy and filling.
If you want a vegan meal, this is for you. Enjoy this and some rice or make this a side dish with a protein dish if you need some meat in your life.
All made in the Instant Pot – a great hearty one pot stew full of vegetables and meat. A bowl of rice is all you need.
This is an almost weekly recipe in my house. Just make the soup in the Instant Pot or on Stove Top, enjoy with rice and kimchi. For extra delicious meal, make one of the seafood banchans from this banchan list like dried anchovies or shrimps.
My husband likes to eat tteokguk all by itself with some kimchi. I like to eat it with some rice. If you want extra banchan, make some Ojingeo Che (dried squid) or pan-fry some frozen dumplings. Instant Pot version.
You just truly need some kimchi with this one and you are done. If you like soup, maybe you can make some simple one like Sogogi Muguk (beef and radish soup).
A hearty Korean one-pot Kimchi stew that is just incredibly delicious. It was heralded by Anthony Bourdain and he cooked it on TV. You need rice for this because it's pretty strongly flavored but oh my, sooo yummy. Just put everything in one pot, cook and enjoy!
We probably make this soup at least 2-3 times a month in the Instant Pot. Just a bowl of this with rice and kimchi is totally good for lunch or a simple meal. Add some vegetables banchan if you want more.
There's also a Stove Top recipe so don't fret! BTW, If my husband wasn't allergic to pork, I would probably cook this all the time. It's soo good and soo simple to make. Just need pork ribs, soy sauce, ginger, chili peppers and black pepper. It's salty so you definitely need rice for this one!
Just make the sauce and then this wonderfully healthy and flavorful Korean one-pot meal made with rice and mushrooms will leave you feeling good but still very satisfied.
The best part of this dish is finishing up the meal by making fried rice with leftover sauce in the pan. So it's truly a one-pan or one-pot meal.
Enjoy!
XOXO ❤️,
JinJoo
Follow Me on INSTAGRAM or my Facebook Page to share, support and ask everything about Korean food with others just like you!