Spicy Turkey Leftover Soup is a Korean fusion version of the spicy chicken soup called Dakgyejang. This warm comforting soup is full of spicy and garlicky seasoning that screams Korean! And it's ready in minutes once you have the Turkey broth.
Spicy Turkey Leftover Soup -Korean Style is a take-off from a traditional Korean soup called Dakgyejang (닭계장) that's made with chicken. I decided to try it this year because I just had too much leftover Turkey after Thanksgiving. And I'm so glad I did because it's just really simply too delicious – my husband and I could not stop eating and my husband devoured it (after photos and video of course) and we had to make more. 😝😍
Turkey has a special place in my heart (or should I say tummy? 😝) because I grew up eating it every Thanksgiving as far as I can remember. Now, this is quite unusual because mose Koreans don't eat Turkey. It's just not part of the meat section in Korea.
I think it probably happened because my family had lived in the US before I was born and because we are a family of foodies, we tend to adopt the local food into our family menu wherever we go to live (my dad being a diplomat). So I'm pretty sure Thanksgiving Turkey dinner became a part of our family tradition ever since.
BTW, if you ask Korean immigrants living in the US whether they like Turkey – many might say, oh, we don't like it because turkey has a particular flavor and aroma. Yes, that's true, turkey can have a unique flavor and smell. But it's my belief that's mostly because it was not prepared and cooked right.
JinJoo's tips for Yummy Turkey
My advice on making Turkey that with minimal gamey taste and smell and also one that's not dry is to Brine the turkey the day before.
My favorite brine is – 1 gallon water, 2 cups sea salt, 1 cup light brown sugar, handful of citrus peels, fresh herbs (rosemary, parsley, sage, thyme, oregano), bay leaf, 5 crushed garlic cloves, 1 Tbs color peppercorns. Dissolve sugar and salt in water, add seasonings then soak turkey for 12 -24hrs. This is an adaptation of this recipe.
And when I cook, I just generously coat turkey with butter and roast according to turkey cooking instructions on the package but make sure I don't over cook it. You can always fix an undercooked turkey but you can never fix and overcooked turkey.
I want to say 'thank you' to a reader who asked me for Korean recipe that uses Thanksgiving turkey leftovers, I'm so happy I now have one more way of enjoying this beautiful bird.
How to make Korean Spicy Turkey Leftover Soup
Servings: 1 Time: 10 or 40 min (cooking broth) Difficulty: EASY
Make Turkey bone broth with leftover carcass.

e.g. for 16 lb Turkey carcass, I added 12 cups of water for stovetop. For Instant Pot, 9 cups of water will do. Add 1/2 onion, 5-6 garlic cloves. It works best with pre-brined turkey. If your turkey doesn't have any herb seasonings then add 1-2 bay leaves. Simmer for about 1 hour on stove or 30 min soup setting on IP.

While you wait, shred turkey meat.
Chop garlic (to make 1 1/2 tsp) and 3-4 green onions for 1 cup of meat.
Season shredded turkey meat with Korean red chili powder (gochukaru), chopped garlic and green onions, Guk ganjang (Korean soup soy sauce), little sugar and a generous amount of freshly ground black pepper. Note- depending on how well-salted your turkey is, you may need to add more salt. My brine was quite well seasoned so I did not need the additional salt but in most cases, you may need to add a bit more salt.
Mix turkey meat with seasoning. I use a plastic glove and gently massage the seasoning into the meat.
In a pot, add broth and seasoned turkey meat and boil for 2-3 minutes until broth looks spicy red and evenly mixed.
When serving, you can add some rice into the bowl and ladle the soup on top OR serve a side bowl of rice to go with your soup. Be sure to top with some extra fresh green onions!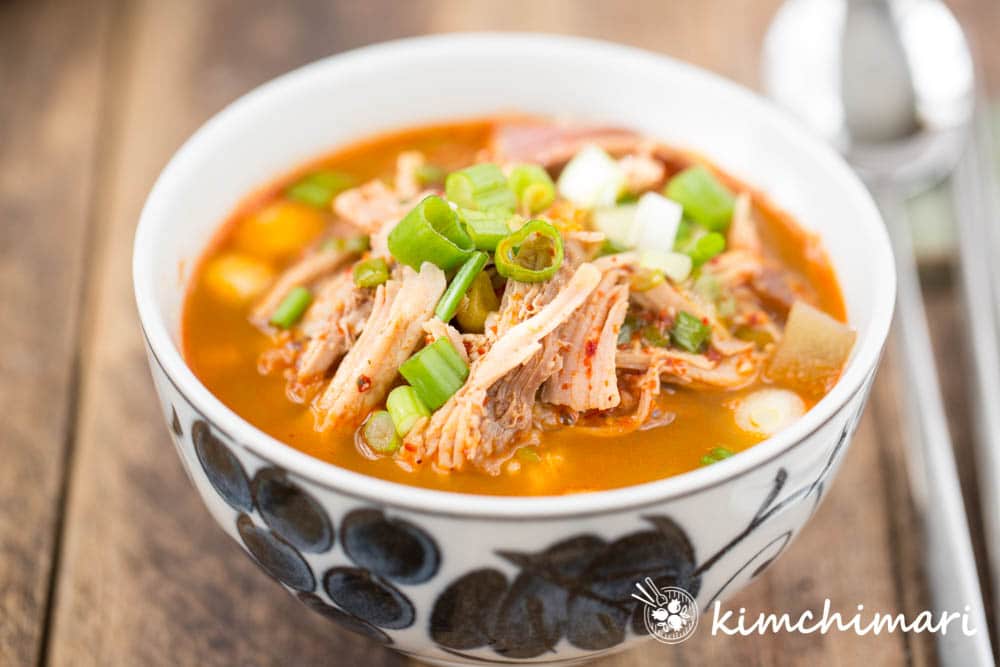 This was soo good, my husband and I just devoured the whole bowl and had to make more!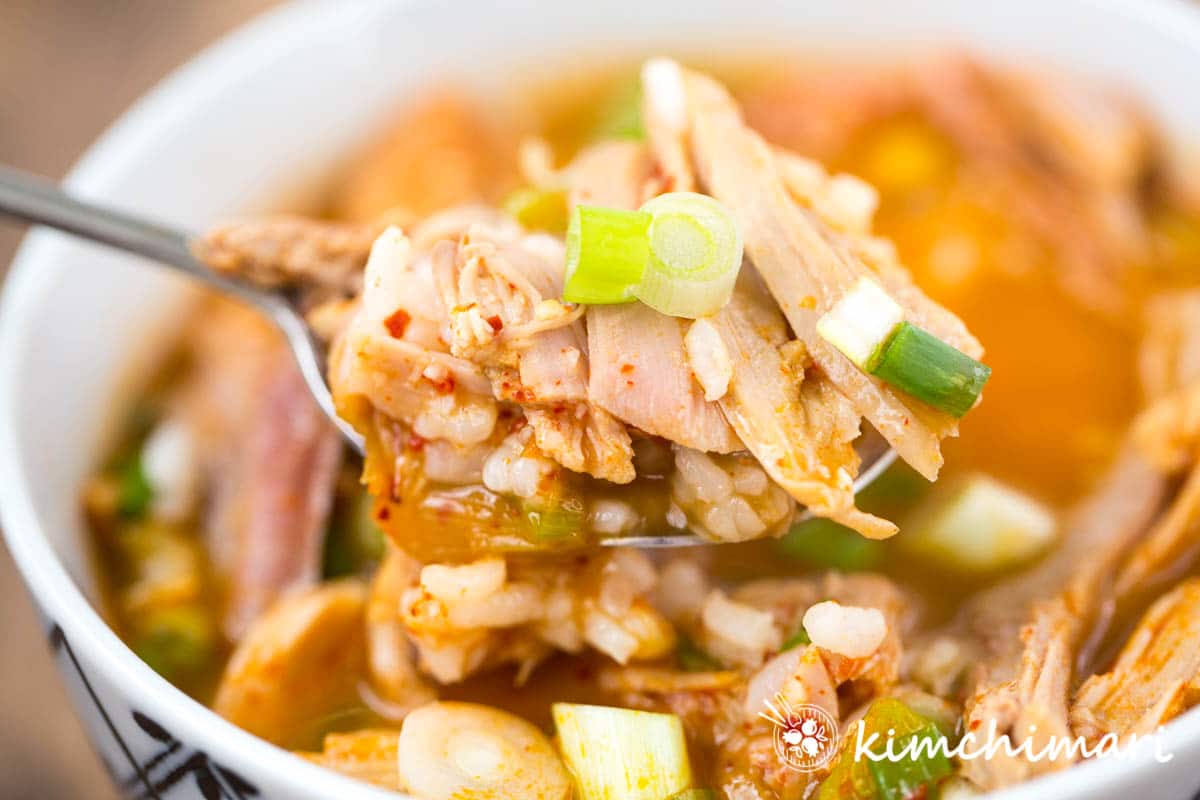 Don't have Turkey?
Sure, we don't eat Turkey every day… so if you don't have any Turkey bones to make broth with, you can just use canned chicken broth. If you don't have any turkey at all then just cook some chicken meat in chicken broth or make my Korean Chicken soup recipe but season the meats using the recipe here.
Dakgyejang (Spicy Chicken soup) is the original dish that this recipe was inspired from so you know it's going to be good with just chicken!
Korean Spicy Turkey Leftover Soup
Turkey Leftover Soup that has Korean Spicy kick! Easy, simple, quick but soo hits the spot delicious!
Prep: 30 minutes
Cook: 5 minutes
Total Time: 35 minutes
serves: 1 people
Ingredients
Turkey Bone Broth
1 turkey carcass
12 cups water
6 cloves garlic
1/2 onion
1 each bay leaf
Meat Topping
1 cup turkey meat shredded (dark or white or both)
1/2 Tbsp korean red chili pepper powder add more to taste
1.5 tsp garlic chopped
1 tsp Korean Soup Soy Sauce (Guk Ganjang) Learn more here
1/4 tsp sugar
3 green onion chopped
1/8 tsp black pepper
Instructions
In this recipe, I use 2.5 cups of broth and 1 cup of turkey meat to make 1 bowl of soup.Make Turkey bone broth with leftover carcass.

e.g. for 16 lb Turkey carcass, I added 12 cups of water for stovetop. For Instant Pot, 9 cups of water will do. Add 1/2 onion, 5-6 garlic cloves. It works best with pre-brined turkey. If your turkey doesn't have any herb seasonings then add 1-2 bay leaves. Simmer for about 1 hour on stove or 30 min soup setting on IP.

While you wait, shred turkey meat.

Chop garlic (to make 1 1/2 tsp) and 3-4 green onions for 1 cup of meat.

Season shredded turkey meat with Korean red chili powder (gochukaru), chopped garlic and green onions, Guk ganjang (Korean soup soy sauce), little sugar and a generous amount of freshly ground black pepper. Note- depending on how well-salted your turkey is, you may need to add more salt. My brine was quite well seasoned so I did not need the additional salt but in most cases, you may need to add a bit more salt.

Mix turkey meat with seasoning. I use a plastic glove and gently massage the seasoning into the meat.

In a pot, add broth and seasoned turkey meat and boil for 2-3 minutes until broth looks spicy red and evenly mixed. Again it's 2.5 cup broth + 1 cup of turkey meat to make 1 serving.

When serving, you can add some rice into the bowl and ladle the soup on top OR serve a side bowl of rice to go with your soup. Be sure to top with some extra fresh green onions. ⠀