Korean salt plays an integral part in Korean cooking, perhaps more so than some cuisines because for hundreds of years, Koreans have used salt to season, preserve and ferment many different foods like Kimchi, Gochujang (Korean chili paste), Ganjang (soy sauce) and Jeotgal (fermented seafood) for hundreds — at least 500 years or more.
As you can imagine, the type and quality of salt you use affect the taste and flavor of your food greatly in general but more so in fermentation. And because of that I always felt it deserved an in-depth discussion about the differences of different salts – in their saltiness and taste. I have been working on this for a while now (on and off), over a few years actually. 😝
So I will be writing 2 posts about Salt. This post is a general discussion of Korean Salts in Korean Cooking including the different varieties, what and when to use and more. The upcoming post will be about how different salts affect Kimchi making.
Korean Salt in Korean Cooking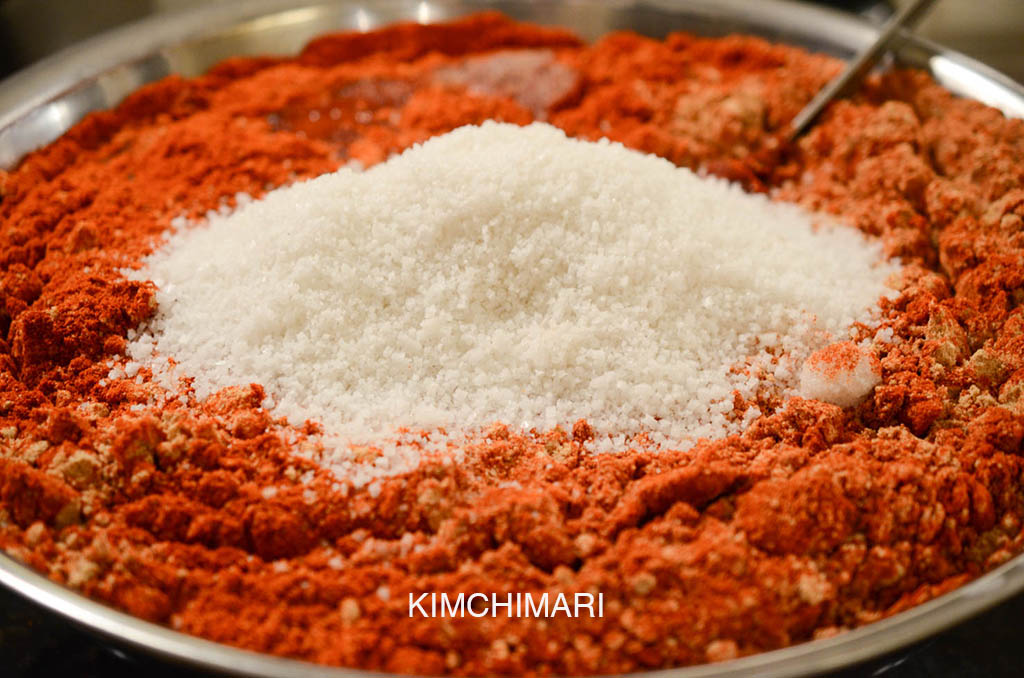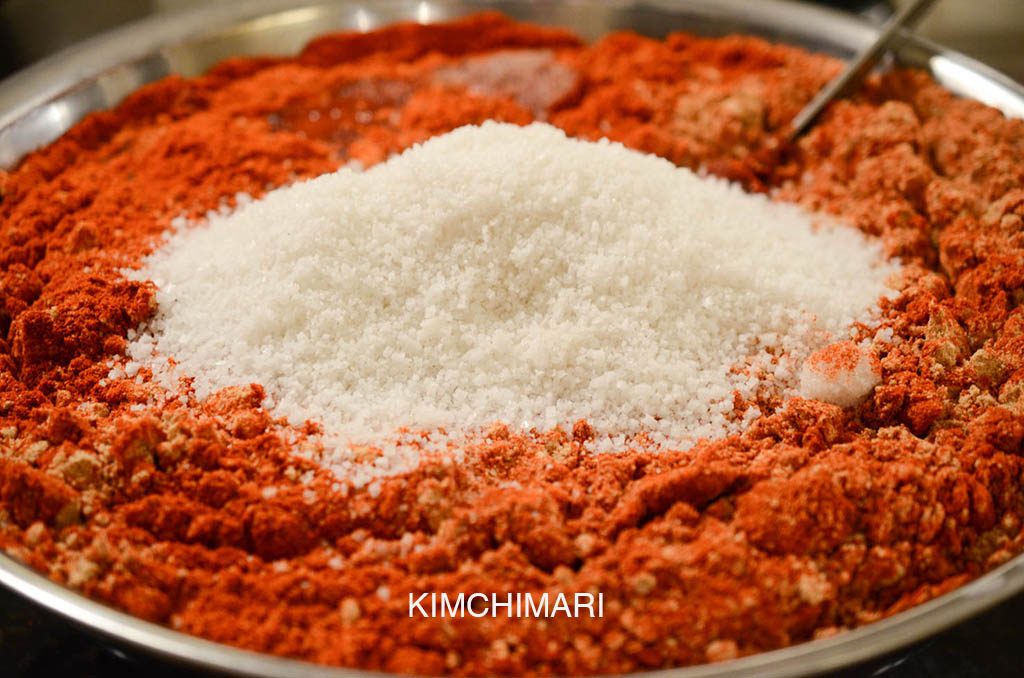 South Korea is surrounded by the sea on all 3 sides (except for the Northern border that borders with North Korea) so sea salt was abundant all around and that's probably why so many Korean foods have evolved around the use of salt.
So, I think it's only natural that Koreans love salt and also really know a good salt when they taste one.
One of the earliest records of salt used in fermenting Korean foods can be found in a Hanja/Hangul textbook for children called Hunmong Jahoe (훈몽자회) written in 1527 by a scholar named Choe Sejin. This book is unique in that it teaches Hanja (Chinese characters) using Hangul (Korean characters) written next to each character. In this book, he has the character Jang 장 醬 which refers to all fermented grain and soybean-based Korean sauces such as Gochujang, Ganjang, and Doenjang so we can deduce that Koreans have been making Jang since this time which is 493 years ago.
Over many generations, Koreans have learned that the quality and the flavor of salt greatly affects the final outcome of kimchi, gochujang, doenjang, and many other fermented preserved foods like jeotgal 젓갈 and so it was passed down to cooks that using the aged Korean solar sea salt was important.
In 2017, the US President visited South Korea and he was served a soy sauce that was aged over 360 years during a luncheon at the Korean President's home (aka Blue House). This shows you that with the right kind of salt, fermented foods can be preserved for a very long time, even over hundreds of years.
Korean cooks over generations tell us that using the wrong kind of SALT (if the bittern is not removed properly) will result in kimchi or other fermented foods that can taste bitter – and mushy especially in the case of cabbage Kimchi.
Different Korean Salts
The following are the most commonly used kinds of Korean salts.
Cheonilyeom 천일염 (天日鹽 Solar Sea Salt) – natural sea salt that's obtained by the oldest method of salt-making – solar evaporation method. It's the leftmost one in the above picture. BTW, Cheon means sky, il means Day or Sun and Yeom means Salt.) Seawater is collected in ponds and then naturally dried in the sun and wind, eventually leaving a concentrated amount of salt which then crystallizes. This type of salt naturally retains more moisture than other kinds of salt since it is minimally processed.
Koreans often compare this to the French Guerande Sea Salt as it is pretty much produced the same way. BTW, best quality cheonilyeom is aged at 3 years to remove the bittern along with the moisture.
Cheonilyeom can further be differentiated based on the type of floor used in the salt flats.
Topanyeom 토판염 – Evaporation of seawater takes place on natural soil floors near the ocean. Because separating the salt from the soil requires double amount of labor, Topanyeom almost disappeared over the years but is now making a comeback as people are appreciating the flavor difference between this type and the most common, less expensive Jangpanyeom which uses synthetic plastic flooring or tiles. *** This is my most favorite kind of salt.
Kkot-soh-geum 꽃소금 (Blended Salt) – it's not in the picture above but looks like Cheonilyeom except it looks extra bright white. This salt is a blend of 80% imported salt (maybe sea salt, maybe not) and 20% Cheonilyeom that is first dissolved in water, boiled to evaporate water. Saltier than 100% cheonilyeom with less minerals.
Jeong-jae-yeom 정제염 (Refined Salt) – is made by chemically isolating the salt from sea water. This type of salt can be produced very quickly and cheaply but the process also strips the salt of its natural minerals and it's unique taste of the sea. The salinity is also 99%. In US, this would be equivalent to table salt.
Mat-soh-geum 맛소금 (Seasoned Salt) – is salt and MSG blended in 9:1 ratio. Restaurants often use this for seasoning and it's often added in roasted laver (gim), so be aware when you buy gim from the store.
Roasted salt (Gueun Sogeum 구운소금) – salt is roasted in very high temperature for 2-3 hrs or more in a container such as clay jar or bamboo in very high heat over 400°C. Koreans distinguish these cooked salts into "roasted salt (구운소금 Gueun Soghum)" when it is heated above this temperature. Roasting salt dries away any bitterness or other impurities that give the salt a harsher taste. Roasted salts are even more smoother tasting than the aged Korean sea salts and even with a hint of smokey flavor.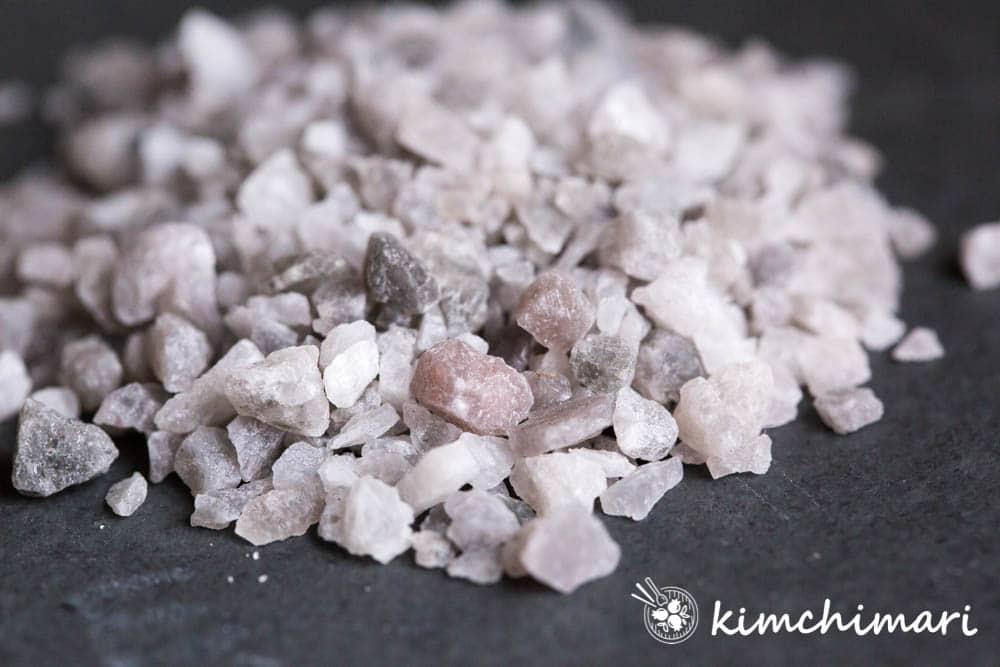 Jukyeom (죽염) (Bamboo salt) is the most popular and common roasted salt that's roasted 9 times inside bamboo trunks at over 1000°C fire made from pine trees. It is known to hold many health benefits including its healthy effects on gums.
Recently, major brands have come out with just regular roasted salt that has been roasted at 800°C.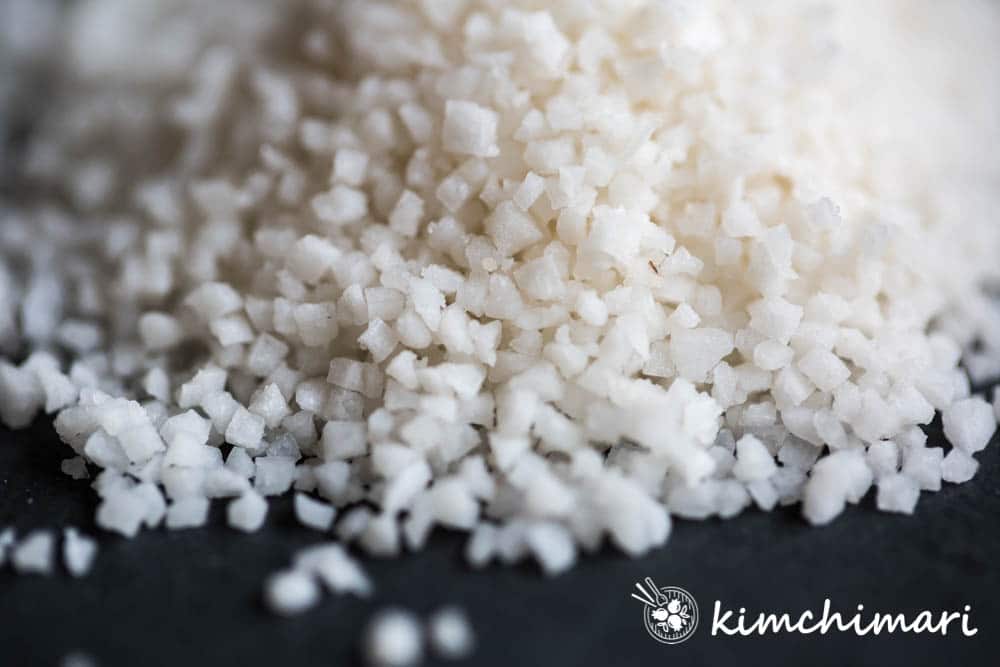 Sauteed salt (Bokkeun Sogeum 볶은 소금) – salt is sauteed in a pan which means it's never going to be over 400°C. Sauteed salt is easier to make and so is less expensive, which makes it ideal to use in cooking. Roasted salt is often sold as health supplements than in cooking but I find it extra yummy as a dipping sauce for Korean grilled meats like roseu gui 로스구이 or samyeopsal 삼겹살. Just add some sesame oil + salt + sesame seeds + fresh ground black pepper and you will be in heaven!
Sea bean salt (Hamcho Sogeum 함초소금) – is made from a succulent plant called sea beans or glasswort (aka Salicornia) that grow near the sea in salt marshes, beaches or among the mangroves.
In Korea, they grow near the Korean western salt ponds and are called Hamcho. Traditionally, they were ground into powder and used as a salt substitute but it is now often mixed with regular Korean salt to make Hamcho Sogeum as the pure Hamcho powder will be too expensive to produce commercially. The one bottle I have only has 0.5% Hamcho.. so it's very little.
If you need to see how the salt packages look like – here's a collage of the different salts that I saw at my local Korean market.
What is the best brand to buy?
Unless you are going to buy premium salts which are mostly (and sadly) not available in the US, I have not seen a huge difference in brands when it comes to Cheonilyeom used for Kimchi. But if you must know, my favorite is THE SALT brand if you can get it.
And if you can get some premium salts like this Topanyeom by THE SALT, it is one of my favorite salts of all!!
What Salts Should I USE for Korean Recipes?
I usually have at least 3 types of salts in my kitchen. I am going to list them in order of importance in terms of how they affect the outcome of your recipes.
I. Best Salt for brining Kimchi
Using the right salt for brining Kimchi is very important and I will write a whole separate post about this topic after this one. The BEST salt for Kimchi is the coarse Korean Solar Sea Salt (Cheonilyeom 천일염) aged 3 years or more. Koreans had hundreds of years to find the perfect salt to use for Kimchi so I think you can believe the collective wisdom of our ancestors.
And as many other fermentation experts agree, the best salt for fermentation are the ones that are minimally processed, have no additives like anti-caking agents or iodine and are rich in minerals – which is exactly what Cheonilyeom is plus it has the bitterness removed through aging.
It does make a difference in taste, texture and how well it stores so please be sure to check back for my Salt and Kimchi post. I also compare 12 different salts – including their sodium levels per weight and per volume.
II. Finishing Salt for seasoning fish, meat, namul and for dipping
Before I really got into cooking for the last 10 years, I never realized what a big different salt makes in your cooking – for certain types of dishes.
Topanyeom or Premium quality Cheonilyeom is best for seasoning fish and steak – especially for grilling. I also use it on simply seasoned dishes like Sukju namul made with just salt and sesame oil. Anytime you have a recipe where the seasoning is very minimal and salt is one of the main seasonings, using a premium quality salt makes all the difference.
Roasted or Sauteed Salt (Gueun Sogeum or Bokkeun Sogeum) – best to use in dipping salt + sesame oil for samgyeopsal gui (삼겹살 구이), roseu gui (로스구이), baeksuk (백숙), non-marinated grilled meats and seasoning beef soup (gogiguk)
Hamcho Sogeum (Sea Bean Salt) – try it as finishing or dipping salt on deep-fried squids, korean fried chicken (without sauce) and even samgyetang.
II. Salt for everyday recipes (other than kimchi and grilled proteins)
For most of the dishes where salt is used in small amounts and is just a small part of the recipe, regular fine sea salt like Trader Joe's/Mortons/Diamond Cyrstal and other sea salts are all fine to use. Examples of such recipes are where I don't specify Korean sea salt but just say 'sea salt'. You can also use any type of fine table salt as long as it doesn't involve pickling or brining.
IMPORTANT Tips
Not all tablespoon of SALT is equal. When measuring in volume like a Tbsp or in Cups, the amount of salt per the same volume CAN BE DIFFERENT due to the granularity of the salt crystals. The bigger the crystals, the less you can fit into a teaspoon of course. If the recipe requires a small amount of salt (less than a teaspoon range, it should not matter too much but if the recipe uses tablespoons or cups of salt, please make sure you are using the right salt and the right amount of salt.
Not all Salts have the same sodium level nor do they have the same weight per equal volume. But let's just focus on volume for now.

For 1/4 tsp of salt, — the sodium level can range from 280mg (Diamond Crystal Kosher Salt) to 580mg (Morton Mediterranean Sea Salt). Korean Cheonilyeom being in the middle at about 350mg. I will have more in-depth comparisons in my next Salt and Kimchi post but if you are using Diamond Crystal salts, expect to use up to double the amount of the recipe unless the recipe states exactly what salt they are using.

Try tasting the salt by itself. You will be surprised at how different they all taste. Common table salts are not at all pleasant to taste on its own and the saltiness is very harsh. But Korean Salts like Cheonilyeom or even other premium quality salts like French Guerande Salt will have a lot more complex flavor profile, a smoother, less harsh salty flavor and most surprisingly, can end with an almost sweet note which is a sign that it's a great tasting salt.
Well, I hope this was helpful to you! Please let me know if you have any other questions and I will try to add to this post as time goes on.
Take care!
XOXO ❤️
JinJoo
---