What is the best Salt to use for Kimchi? Do I have to use Korean sea salt? Can I use Himalayan salt for Kimchi? These are just some of the questions I am going to try to answer regarding salt and kimchi including the result of my experiment with different salts.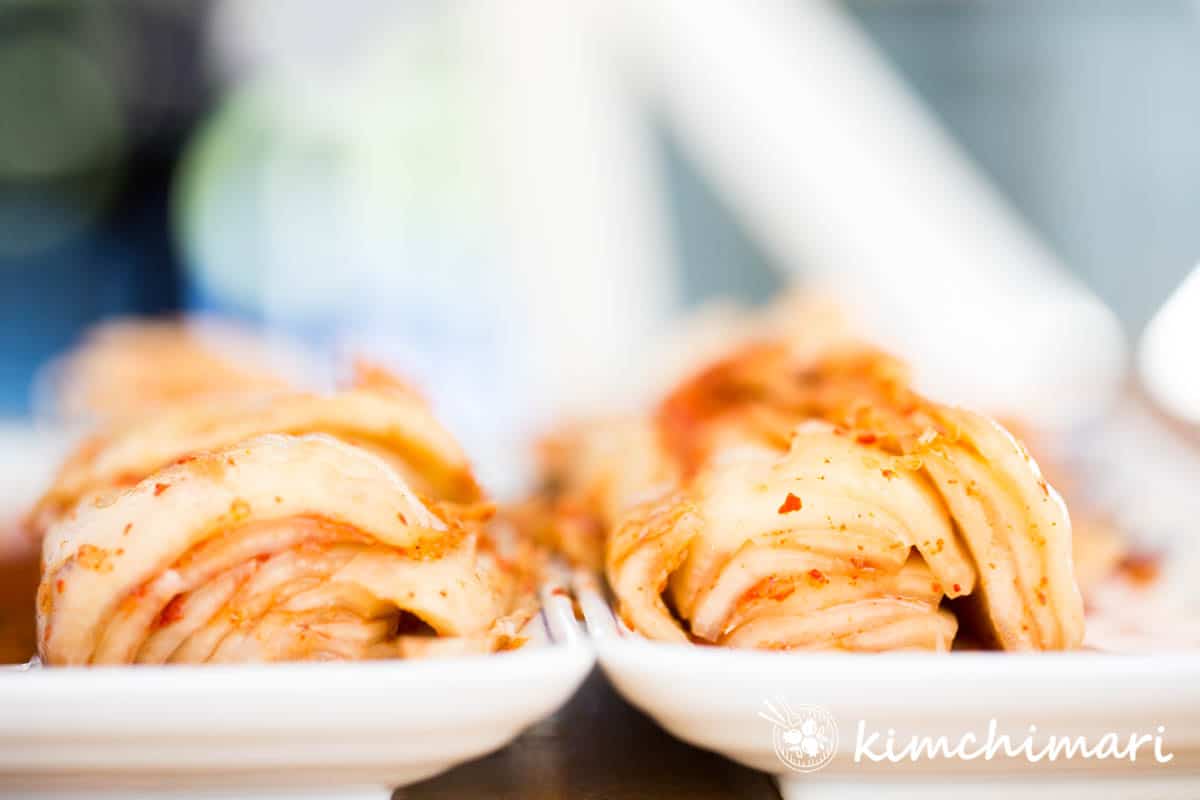 What Koreans say about Salt and Kimchi
Before I bring Korean moms into this topic, I just have to say that any fermentation expert will tell you that the role of salt in fermentation and preservation is very important to the flavor, texture and how well your food will stay preserved.
"QUALITY of SALT greatly affects the outcome of Kimchi, Gochujang, Doenjang and other fermented foods like jeotgal.. "
This is something that I have heard over and over growing up from my mom, and other ajummas (older ladies).
"에유.. 그저 좋은 소금을 써야 맛이 좋아" – translation – You need to use good salt to get good flavor.
And that is why most of my mother's generation takes extra care to obtain the best quality salt from Korean salt fields directly because they know.
Koreans all know using the wrong kind of SALT (if the bittern is not removed properly for example) will result in kimchi that can taste bitter and can get mushy sooner than later. And anyone who knows about kimchi-making even thinks about using some other salt other than Korean Solar Sea Salt (천일염 Cheonliyeom) to ferment foods.
But, of course, you know me, that's not enough. What if everyone is just repeating what people are saying? Has anyone actually tried using other salts? I need to understand and be convinced that indeed that is the case. And through this post, I will share my findings including some home salinity tests I have done and also a Kimchi experiment using Korean Solar Sea Salt vs Celtic Salt.
If you read on, I will also share info about research papers and even a PhD thesis written by Korean researchers supporting this theory more scientifically.
All salts are NOT EQUAL
First, the most IMPORTANT point you need to know is that all salts are NOT equal – not just in terms of taste but in terms of sodium level per same weight OR volume. So, let's try to get a good background understanding of how different salts can differ from each other and also how they are vs Korean solar sea salt.
10 Salts (Korean and Others) and their Sodium Levels
To start, let's compare 10 salts and their sodium levels. Below is a table and a graph I drew by just collecting the sodium level info that's on the labels of each of the following salts:
| | | |
| --- | --- | --- |
| Type of Salt (in 1/4 tsp amount) | Sodium (mg) | Weight (g) |
| Kosher Salt (Diamond Crystal) | 280 | 0.7 |
| Korean Solar Sea Salt (3 yr aged) (Sempio) | 350 | 1 |
| French Guerande Coarse Sea Salt (Grey) | 380 | 1 |
| Fine Sea Salt (365) | 440 | 1.2 |
| Coarse Kosher Salt (Morton) | 480 | 1.2 |
| Celtic Sea Salt | 480 | 1.5 |
| Himalayan Rock Salt | 550 | 1.4 |
| Coarse Mediterranean Sea Salt (Morton) | 580 | 1.5 |
| Canning Pickling Salt (Morton) | 590 | 1.5 |
| Table Salt, Uniodized(Morton) | 590 | 1.5 |
Sodium Levels of 10 Salts including Korean Solar Sea Salt
Now, in addition to the sodium levels being different per same volume, if you calculate per same weight of 5g, you can see how the sodium levels don't necessarily have the same trend. Diamond Crystal Kosher salt for example is so light in weight per granule that if you were to use weight – you will end up using almost twice as much more salt than by volume. Morton table salt on the other hand, is the opposite. If you were to use weight, you will have lot lower sodium amount than you would if you measured it by volume.
Now, normally, all of this does not matter too much because most recipes use just a tsp here and there. BUT, for Kimchi brine, we are talking about using CUPS of SALT and so then you can imagine the difference in sodium this is going to make.
LESSON 1 – Not all salts are equal. Korean Solar Sea Salt has on average about 350 – 400mg sodium per 1/4 tsp and all of my Kimchi recipes are based on that level.
I tried to include some of the more well-known and common salts by Morton, Diamond Crystal and natural sea salts like Celtic salt so you have a whole variety. And from these, you can see the range of different sodium levels whether it's by the same weight or by same volume.
The sodium levels in the table range from 280 to 590! That's more than twice. The saltiest Morton Pickling salt will be about 68% saltier than a Korean solar sea salt!!
SO PLEASE BE AWARE OF THESE DIFFERENCES when you use other salts.
10 Salts and their tastes
The first thing Judith and I did was tasting the salts on their own. I have a whole table of it but for now, I will just share that in general sea salts taste more complex, smooth and not as harsh. Korean sea salts, Guerande sea salt and Celtic sea salt all have similar pleasant tastes leaving almost a sweet aftertaste.
Table salts, kosher salts, rock salts are just plain salty and not have much flavor. Table salt tastes very salty right away, leaving an unpleasant after taste near your throat.
salinity test of 12 salts
For the Salinity test, I added 2 more Korean solar salts to see how different or similar their salinity was. So in total it's the 10 above + 2 more Korean.
The picture below is something I captured years ago when I started my study on this topic. Don't you just love all the different colors? My favorite is Korena Roasted Bamboo Salt – has a wonderful purple grey hue. Read more about that in my post HERE.
It's the saltiness of salt dissolved in water.
I know I could have just stopped at reading the labels and comparing the sodium levels in a table. But I decided to actually test the salinity of the salts because I was curious about the salinity between different Korean Cheonilyeoms that I had. I guess I am just a science nerd at heart… 😝
It's also because my experience tells me Korean Cheonilyeoms are all similar in salinity levels based on my Kimchi experience but the salt bags actually had totally different levels?? One bag said 550mg and another said 350mg sodium per 1/4 tsp. But when I taste it and use it, I feel it tasted the same. I also had some salts that I got directly from a salt farm in Korea with no labels of course so I was curious..
BTW – THANK YOU JUDITH! I'm finally posting this!! 😍
I have to share that I did these tests with my good friend Judith. Would you believe my salt study started in 2017… when a reader complained to me (my one and only in 10 years so not bad, huh?) that she had to throw her Kkakdugi kimchi away because it came out so salty.. I was crushed.. how could that be??
My suspicion was that she used some other very salty salt like table salt..And I was telling Judith about it and long story short, we decided we should test and measure the salinity of different salts!
BTW, I still make Kkakdugi with this recipe and it comes out great for me everytime!
Judith used to be a science teacher so she gave me great guidance to make the tests better – not to mention bringing her testing equipments like graduated cylinders and most importantly her suggestions like using distilled water!! HAHA..
DISCLAIMER – these tests were done at home and not in a lab so these results may not be totally accurate but I am just sharing what I found. I have tested each one about 3 times though.
The results did confirm my suspicions about all my 3 Cheonilyeoms having similar salinity and also explained why a person could totally end up with terribly salty kimchi if they used wrong kind of salt but still followed my recipe.
My SALINITY TEST – salinity values were obtained by dissolving salts in 30 ml of distilled water. Salts were measured by weight (5 grams) or by volume (1 tsp), dissolved until no salt particles remained and then measured using a Refractometer.
---
In the above graph, you can see all 3 Korean Cheonilyeom Salts all fall in the range of 10-11 ppt!!
Observations
8 out of 9 non-Korean salts all have higher salinity
Table Salt brine is more than 80% saltier than Korean sea salt brine in general
Himalayan Salt and Table Salt are the saltiest
Most sea salts tend to have closer salinity to Korean sea salts
LESSON 2 – Although I have not tested all Korean Cheonilyeoms, from the RESULT of my test above and from the fact that all Korean Kimchi recipes rarely specify the brand of Korean Cheonilyeom, I think I want to (carefully) say that most of them have similar salinity levels.
Is Cheonilyeom really the BEST salt for Kimchi?
I think we have established that Korean Cheonilyeom (Solar Sea Salt) on the average have lower salinity and sodium levels compared to most of other salts besides Dianmond Cyrstal Kosher salt.
Now, is that it? Are there other qualities in Korean solar sea salt that make it more ideal for Kimchi? Let's answer these questions below.
What is Cheonilyeom? What's special about it?
I already talked about Cheonilyeom in my Korean Salt guide post but I will briefly describe it here again.
Cheonilyeom 天日鹽 is made using the oldest salt making method in the world – by evaporating seawater in the sun. FYI, Cheon means sky, il means Day or Sun and Yeom means Salt – thus Solar Sea Salt. Sea water is collected in ponds and then naturally dried in the sun, eventually leaving a concentrated amount of salt which then crystalizes. This type of salt naturally retains more moisture than other kinds of salt since it is minimally processed but it also takes time (months) and a lot of human labor.
Koreans often compare this to the French Guérande Sea Salt as it is pretty much produced the same way and but at a much lower cost because Koreans are able to produce them more in mass quantities. BTW, best quality cheonilyeom is aged at 3 years or more to remove the bittern (Gansu 간수) along with the moisture.
Mark Bittermen, in his James Beard award-winning book The Salted, he writes about Korean salt and he loves it so much that he essentially repackaged Korean cheonilyeom into his own brand and named it The Meadow Sel Gris aka Korean Sel Gris. All of a sudden, Korean salt just got elegant.. haha. Now, why didn't I think of that business idea. 😝
Anyway, in The Salted, he writes (p123) – "It has not the slightest trace of bitterness, .. but rather something suggesting the sweetness of tropical fruits tamed down... Sparkling Korean sel gris on food feels like a fleeing privilege and every time you use it the sensation of your good fortune refreshes itself… it's certainly one of my personal favorites as an all-around salt for daily use, for cooking and for finishing.."
Well, he certainly agrees with me that this is a special salt with very fine artisan flavors. But what's amazing is that Koreans use this for pickling Kimchi everyday and have done so for hundreds of years.
Thus, Cheonilyeom is special because of its wonderful artisonal flavors but it's also special because of the fact that when it's made for Kimchi, it is aged for 3 years so all the bitterness is drained away. Which makes the Kimchi that more delicious. There are other scientific studies that support this salt helps other aspects of Kimchi – not just flavor but texture and storability.
My Kimchi Experiment (Korean vs Celtic Sea Salt)
Believe it or not, there are many research studies done on salt and Kimchi by researchers in Korea. But first, I wanted to share my own experiment. After having read lately that Celtic Sea Salt is the latest, highly recommended salt for general fermentation, and also finding the flavors and sodium level being somewhat similar to Cheonilyeom, I decided I would try a little experiment of my own.
THE EXPERIMENT – I cut the same cabbage in 1/2, and brined one in Cheonilyeom and another in Celtic Sea Salt. Now, I did account for the difference in sodium levels so I adjusted the salt amount accordingly to obtain equivalent salinity level in the brines. I tried to keep everything else the same – the same seasoning paste of course and put it in different plastic bags to ferment (after being at room temp for 2 days before) in my Kimchi refrigerator.
RESULTS – For the first couple weeks, I could not see any difference visually or texturally but taste wise, I and my husband could taste a difference. The Cheonilyeom one was definitely more brighter and had that hard-to-describe clearing zing that a good Kimchi has. The Celtic salt one had all the right basic tastes but was missing that special zingy flavor that makes kimchi OK vs AWESOME in my book.
And now past 1 month (pictured above), I took them out again and tasted it. Visually, now I can begin to see that the salts are also affecting the firmness of the cabbage.
I took a picture and it's kind of hard to see it here but you can see that the Celtic sea salt kimchi cabbage on the LEFT is starting to turn translucent and yellow (focus on the cut edges) which means the cabbage is starting to disintegrate and get mushy while the one on the RIGHT is still very bright, crisp and fresh looking.
And taste wise, it was still the same difference. The Celtic salt one was missing that special zing a good Kimchi has. But it was still ok tasting.
LESSON 3 – Using one of the best sea salt (other ones are cost prohibitive ) other than Korean Solar sea salt did not yield as good results both in flavor and texture.
Some Research on Using Different Salts in Kimchi
Below are quick summaries of research done on the effect of salt on kimchi fermentation.
Long lasting, Firm and tasty Kimchi winner – Cheonilyeom
STUDY A
A study on the effect of Solar Salt on Kimchi fermentation compared Korean solar sea salt (4 year old vs 1 year old) and purified salt. (Chang, Kim, & Chang, 2011)
Purified salt is Korean sea water that is filtered, boiled to evaporate the water and then the salt is collected. Sensory evaluation and firmness testing of kimchi after 33 days storage resulted in the 4 year old Korean solar sea salt having higher scores than other salts. The color was also observed and the Yellowness color values was higher with purified salt which means the kimchi soured more quickly with purified salt.
[Chang, Kim & Chang 2011]
Abstract – Kimchi was prepared with three types of salt (4-year-aged solar salt, FS; 1-year-aged solar salt, OS; and purified salt, PS), using Leuconostoc citreum GJ7 as the starter culture. The prepared kimchi was fermented (up to 0.5-0.6% of acidity) and stored for 5 months at −1∘C−1∘C. During the storage period, the acidity of FS kimchi increased gradually, whereas that of PS kimchi increased sharply. The yellowness (b) color value of PS kimchi (63.4) was higher than that of other kimchis with solar salts (55.6-60.3). Hardness of FS kimchi (1,912.6 gf) was greater than that of the other kimchis (1,554.4-1,650.2 gf) during the storage period. Moreover, sensory evaluation showed higher scores for FS kimchi than for other kimchis. These results suggest that FS is more suitable salt than PS for long-term storage of kimchi.
STUDY B
Kimchi was prepared with different types of salts: purified salt (PS), solar salt aged for 1 year (SS1), aged for 3 years (SS3), and bamboo salt (BS).
"From above results, it can be concluded that SS, especially aged for 3 years, and BS possess significant advantages over Purified Salt for kimchi fermentation. SS and BS seem to improve quality and extend shelf-life of kimchi by encouraging growth of Leuconostoc spp. and suppressing growth of yeasts during kimchi fermentation.
Conclusion — Kimchi prepared with solar salt or bamboo salt had better sensory properties than kimchi with purified salt.
Effects of different types of salts on the growth of lactic acid bacteria and yeasts during kimchi fermentation (Lee, Shim, Kim et al 2018 Food Science and Biotechnology)
Do I HAVE TO use Korean Salt Cheonilyeom for Kimchi?
The short answer is NO, you don't HAVE to. BUT (and it's a big BUT), based on personal experience, experiment and from what I heard all my life, Korean solar sea salt (Cheonilyeom 천일염) is the best salt to make Kimchi.
Although I have not tried making Kimchi with all the non-Korean salts I mention here, based on my experience with Celtic sea salt, I think you can safely use most sea salts but just know you will most likely not have the bright zingy flavor and long-lasting crunchy texture.
You can also use other non-sea salts like Himalayan salt (probably) or pickling salts, I will try to do more experiments with them and update this post periodically.
What can happen with non-Korean salts
Most non-Korean salts (except for Diamond Crystal Kosher salt) will be saltier than Cheonilyeom, tsp for tsp and as shown above in the graphs, so be sure to re-calculate the correct amount based on the sodium level.
Additives like anti-caking or iodine will hinder fermentation so avoid it
Kimchi may end up bitter unless it's a salt that's been aged with the bittern removed
Your kimchi may become mushy sooner and lose its crunch
CONCLUSION
Well, you already know my conclusion – that Korean Cheonilyeom aged 3 years or more is the BEST salt for making Kimchi in terms of taste, texture and long term storage.
At least a 3 year old (longer the better), aged Korean solar sea salt where the bittern is drained away over time works best.
BTW, I have spent hours (or easy it days?? 😝😜.) searching for research done on this topic and I have to say most of the research supports my conclusion. However, I do want to note that I found ONE research paper done that seems to claim otherwise. That salts don't seem to make any difference.
And I have even read another Korean food blogger saying you could use table salt for Kimchi and that it makes no difference. Well, honestly, I would never do that (if I can help it) but It's up to you, if you don't taste any difference and don't care about the texture there should be no problem. I do taste and see a difference even with Celtic sea salt but I may be extra picky and nerdy…🤓. haha
BUT PLEASE, at least make sure you use the correct amount of salt for brining Kimchi, should you decide to use another salt besides the one I recommend here.
EXTRA – Some Fun history about Salt and Human Civilization
Salt was not easy to obtain, however, and even treated as a form of currency by certain cultures. So it's not surprising that some say the origin of the word Salary comes from the latin word 'sal' and also the latin word 'salarium' which originally denotes a Roman soldier's allowance to buy salt. <source – https://www.merriam-webster.com/dictionary/salary>
Humans and most life forms need salt to survive. So it has been essential to human survival through History. Also, the ability of Salt to preserve food was one of the most important founding factors to civilization. Food preservation allowed humans to become independent from seasonal availability of food and made long distance trade possible.
Well, whew! I hope that's helpful.
Happy Kimchi making!
JinJoo