Sesame Oil is something many Koreans just love. It is used in marinades, seasonings, dipping sauces and as a finishing oil. Learn everything about this super important Korean ingredient – best brand to buy, how to use, store and more.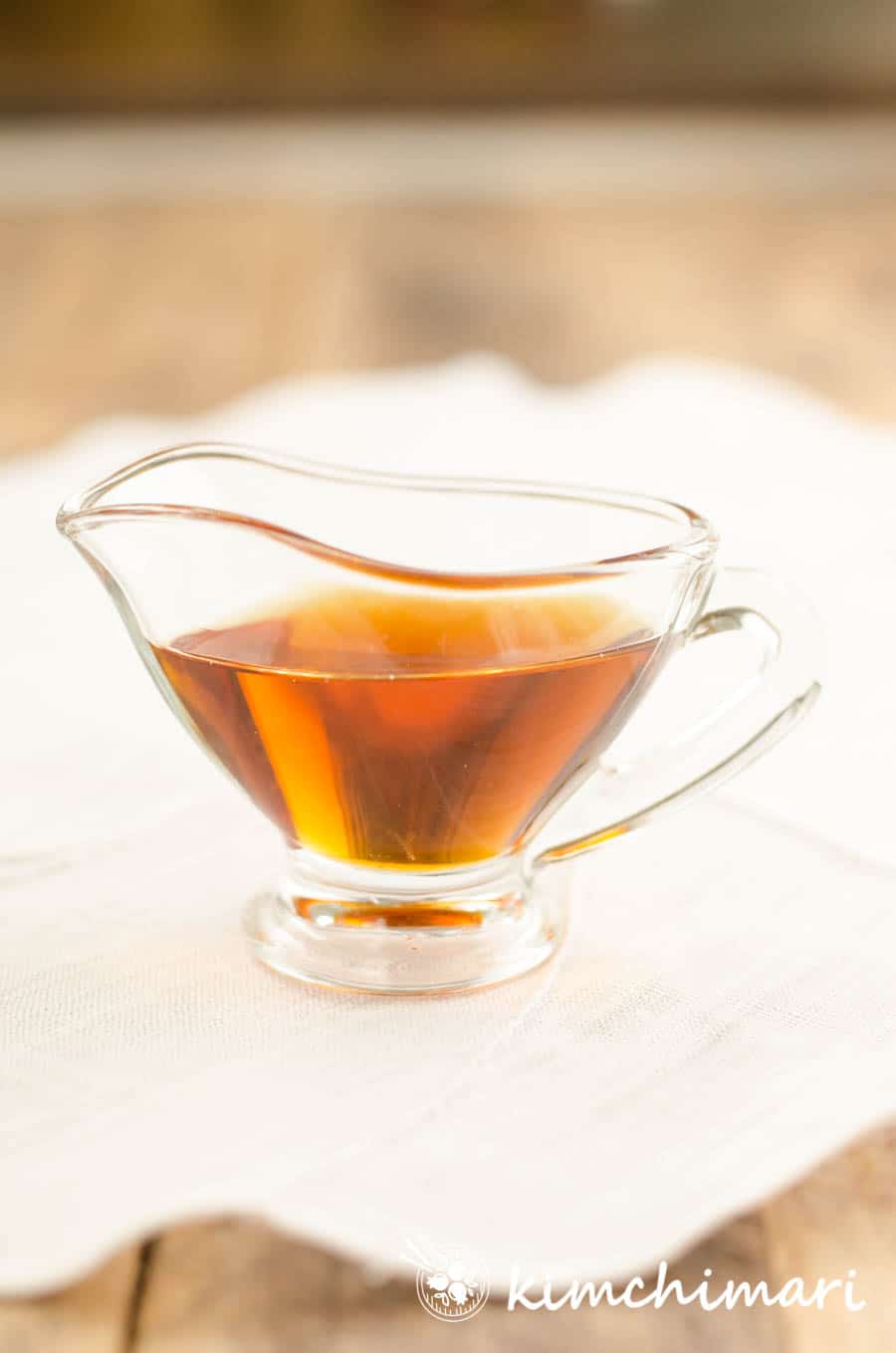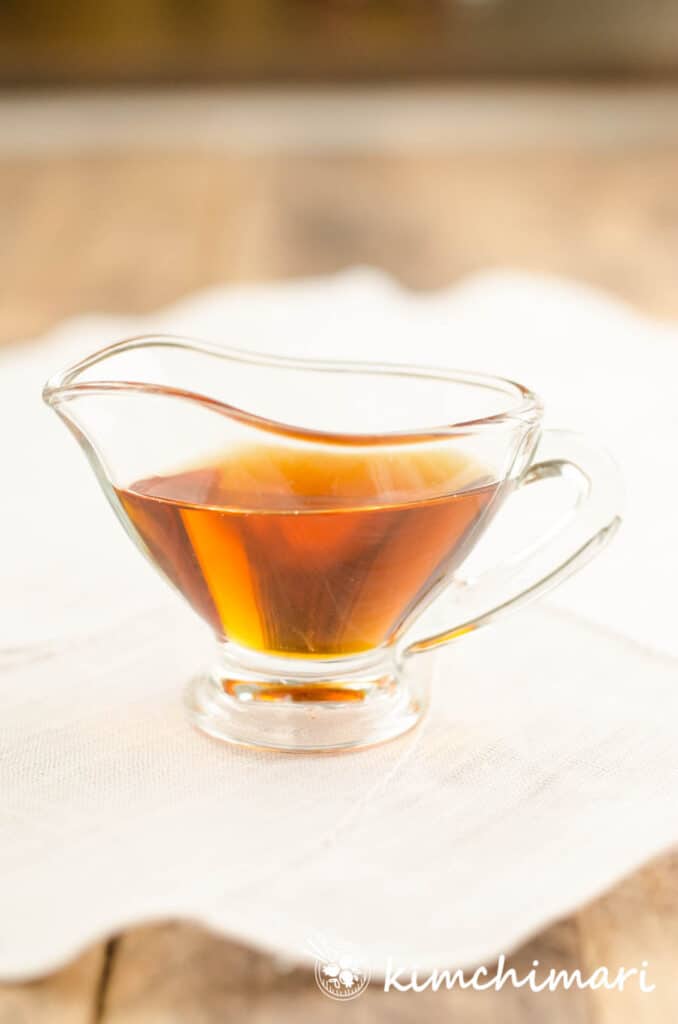 What is Korean Sesame Oil (Chamgiruem)?
Sesame oil (Chamgireum 참기름) is a light to dark brown colored oil made from sesame seeds. Sesame seeds come from the flowering plant Sesamum indicum. Sesame seeds (Cham kkage 참깨) are first roasted and grounded, then pressing it to produce oil.
It is one of the oldest crop-based oils in history as there's evidence that sesame was cultivated more than 5000 years ago either in India or Central Africa. The earliest records indicate sesame seeds were brought into Korea as early as 3000 BC from India through China.
Samguk Yusa 삼국유사 (which is a historical record of the Three Kingdom period 57 BC–668 AD) talks about a Shilla woman giving Chamgireum as an offering to Buddha in one of the temples. So you can see that this is an oil that has been part of the Korean culture for a very long time.
In addition to being used in cooking, Koreans have also used this oil for health remedies. More about that later.
Mass production of sesame oil has been limited due to the manual harvesting process needed to extract the oil. So Koreans use this oil mostly as a flavor enhancer rather than a basic cooking oil.
What does Sesame Oil taste like?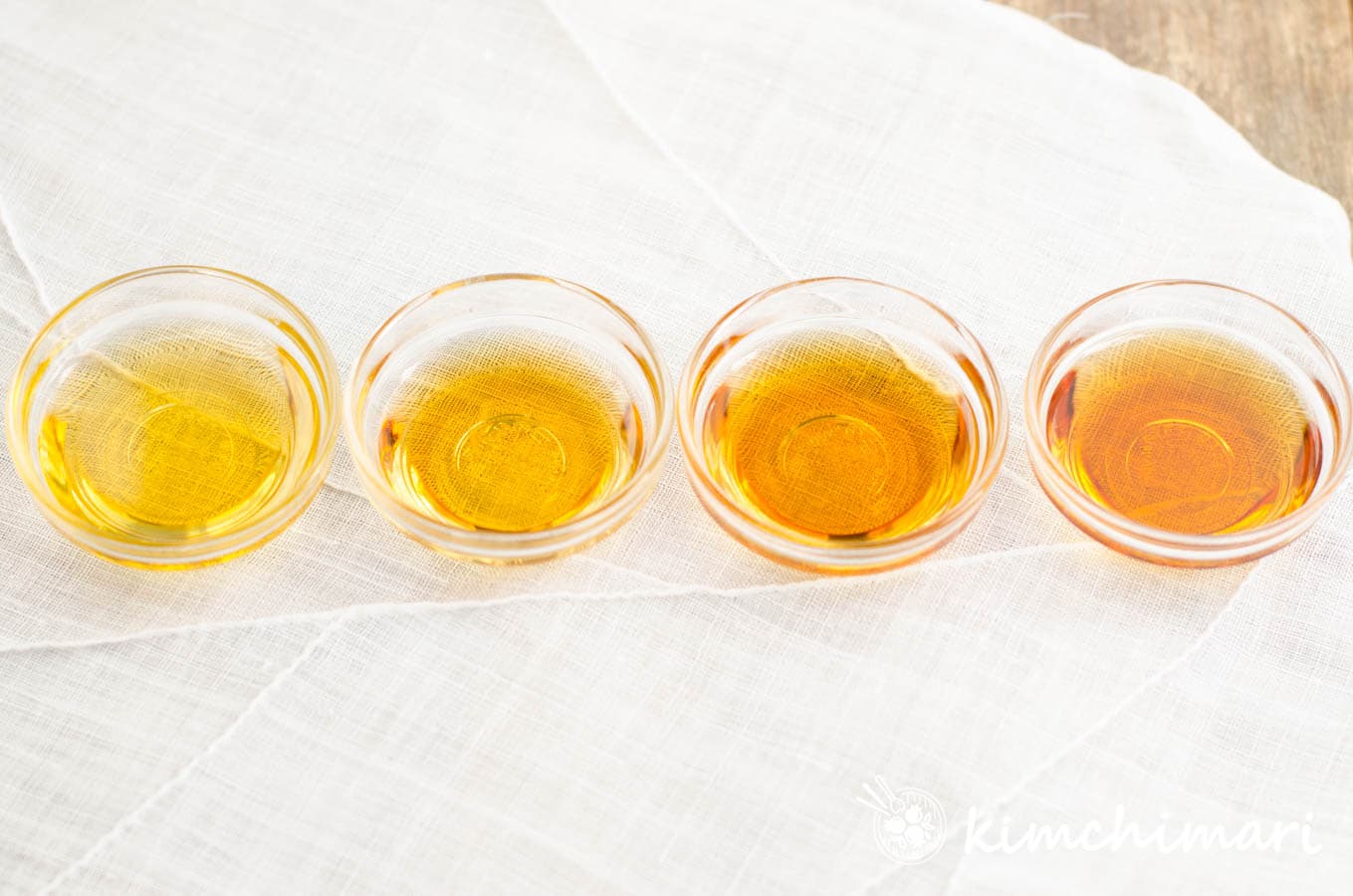 This oil can be categorized into 3 different kinds, toasted vs un-toasted (cold pressed). The un-toasted ones are light in color and very mild flavored and not used much in Korean cooking. And many non-Korean (and likely Japanese) sesame oils will tend to be more toasted than others which makes them usually more flavorful.
The toasted or roasted Korean sesame oil is what Koreans use and love. This oil is nutty, rich, buttery and slightly smoky. The darker the roast, the stronger the smoky flavor and aroma. You can see in the above picture the different colors of Korean sesame oils. The right two are more roasted and have more flavor. Some very dark roasted sesame seed oil may even have a slightly burnt bitter aftertaste which you may or may not like.
How is sesame oil used in Korean cooking?
In Korean cuisine, it is used as part of sauce, marinade, and seasoning. While untoasted lighter oils have a very high smoke point which means it can even be used for deep frying but the darker toasted Korean sesame oils have a bit lower smoke point and is rarely used for deep frying in Korean cooking – also due to the cost.
Also, the toasted oil has quite a strong flavor which may be too much for deep frying in terms of flavor.
It is also used to add extra flavor and aroma as a finishing oil. If the recipe uses sesame oil as part of the seasoning, you can often drizzle a bit on top right before serving to highlight the flavor. Much like how Italians like to drizzle olive oil on pasta or other dishes right before serving.
WHAT I DO
I usually have 2 different kinds of sesame oil.
BEST Quality (expensive): I buy the more flavorful, aromatic but expensive (😝)kind – usually one of my top 2 choices. I use it for flavoring, finishing or as dipping oils for BBQs.
OK Quality (affordable): I buy the large canned ones by Ottogi or ones that are less expensive and use for making marinades or dishes with a lot of other seasonings – where the flavor will get lost anyway.
BUYING in BULK – when I used to entertain a lot, and I was marinating 50lbs of Bulgogi or Kalbi, feeding big groups of like 30-40 ppl, I used to buy in bulk to save money. It also makes sense because in marinades, the flavor gets all mixed in and having more or less flavor doesn't really matter. So, a very flavorful and expensive one will be a bit wasted this way.
How to store
Sesame oil is an oil that's least likely to go rancid because of the high level of antioxidants such as sesamol. Unopened, it can be stored for many months up to a year in cool temps and even longer if refrigerated. An opened bottle in your pantry will last up to 6 months.
I normally just store it in the cupboard or the pantry unless I know I won't be using the oil for many months in which case I will keep it refrigerated just to be safe.
What is the best sesame oil to buy?
I NOW SELL MY FAVORITE JIN SESAME OIL on KIMCHIMARI SHOP!
In order to answer this question, I went to my local Korean markets and bought all the different ones I could buy and compared the taste and aroma of each one. I also asked my husband to blind taste it too just to double confirm my experience.
So here are my thoughts after tasting 7 different bottles and 6 different brands.
BEST 1– Jin Chamgireum 진참기름: this one is full of nutty, smoky, roasted sesame flavor with a hint of bitterness at the end. It is a locally produced brand from a company in LA area. This and the next are my top two choices. I listed this one first because the bottle is taller. 😝 If you are in the LA area, chances are you can get this at your local grocery store. This one is so full of flavor and aroma that a little goes a long way so even though it's a bit expensive, I think it's worth it. Especially, when you use it in namul and as a finishing or dipping oil. Some may feel that this oil is a bit over-roasted so try a smaller bottle first.
BEST 2 – Ottogi Premium Roasted Sesame Oil 오뚜기 고소한 참기름 (pronounced Ottoogi Gosohan Cham-gireum): this one was Cook's illustrated top choice in a recent article about this ingredient and I fully agree. Out of the 6 Korean brands that I tried, it is indeed the best in terms of flavor and aroma. It has a rich, deep toasted sesame flavor and aroma (similar to tahini) while missing the slight bitterness that Jin oil has. I personally love a little burnt flavor so that may be why I love Jin oil so much but I do have to say overall, this one is an all-around winner. NOTE – there are other ones by Ottogi in cans and others, be sure to get this 'premium' one, it IS entirely different from the others. Buy on AMAZON HERE.
GOOD – Chung Jung One's Premium Sesame Oil 청정원 통참깨 참기름 (pronounced – Cheong-jeong-one tong-cham-kkae cham-gireum): this one is a solid one but not as aromatic and flavorful as the top 2 above. Overall, I would say it's about 30% less in the intensity of flavor than my top 2. If you find the top 2 a bit too strong, this may be your best bet. Buy on AMAZON HERE.
OK – Beksul Seame Oil 백설 진한 참기름 – not much flavor or aroma
OK – Haepyo Sesame Oil 해표 참기름 – not much flavor or aroma
OK – Sempio Sesame Oil 샘표 참기름: I like that the bottle blocks out sunlight and has a somewhat nutty aroma but it has little flavor and has a slight unpleasant oily taste at the end.
OK – Ottogi Sesame Oil 오뚜기 옛날 참기름 (pronounced Ottoogi Yaetnal Chamgireum): Yaetnal 옛날 means 'old days or old style' which I think was meant to convey a sense that this oil was made the traditional old fashioned way. But the flavor is really not much different that 4-6 above, which I have to say kind are all kind of unremarkable and couldn't taste a lot of flavor or aroma. *** So, 4-7 are all about the same in my opinion.
Other non-Korean sesame oils – I know there are non-Korean brands out there. Although I can't say for all, I know in most cases they come untoasted or too lightly toasted which means they lack flavor and aroma and so I wouldn't recommend using these for Korean dishes. But you may personally prefer these so it's up to you of course. There are Japanese ones like Kadoya which should also be fine to use for regular cooking needs.
Traditions and Health Info
Cultural Traditions
In old historic medical books like Dongyibogam, Koreans have used sesame oil not just for cooking but also for many medical purposes. Sesame oil is said to be good for your gut health, helps to heal skin infections mixed with other herbs and also good for your hair.
In Jeolla Haenam province, there's an interesting Jeongwol Daeboreum 정월대보름 tradition where a spoonful of chamgireum is heated on the candle that's on the ancestral offering table and then after cooled, a dab of the oil was applied on children's heads (scalp). It was done to wish the little ones health in the new year.
You can read more about Jeongwol Daeboreum (first full moon of the new year) HERE.
Any Health Benefits?
More recently, it has shown to be high in antioxidants sesamol and sesaminol. Also shown to be anti-inflammatory, and good for your heart.
Sesame oil is made up of 82% unsaturated fatty acids, in particular, it's rich in omega-6 fatty acids that are a type of polyunsaturated fat – important in heart health. (Ref) and in heart disease prevention (Ref).
Some lab experiments with rats suggest that it may even help in slowing the development of plaque in your arteries. (Ref). And it may lower your cholesterol levels when used in place of other oils high in saturated fats.
A 1-month study in 48 adults found those who consumed 4 tablespoons (59 ml) of sesame oil daily had greater reductions in LDL (bad) cholesterol and triglycerides, compared with those who consumed olive oil (REF).
So now you know that this oil is not only yummy, it's also good for your health! DISCLAIMER – I am not a nutritionist or medical professional. Be sure to consult your doctor always!
Recipes using Sesame Oil
This crispy bulgogi is pan-fried in sesame oil and is my husband's most favorite dish!! Also, many namuls are flavored with this oil. Yakgwa uses it in the dough which is quite different from many pastries and it's a must-try if you haven't already.
Bulgogi (grilled meat) is coated in sweet rice flour that makes the meat succulent and crispy at the same time.
Get Recipe
My Mung Bean Sprouts Recipe for a Korean side dish called Sukju Namul. Easy and simple to make. Great topping for bibimbap.
Get Recipe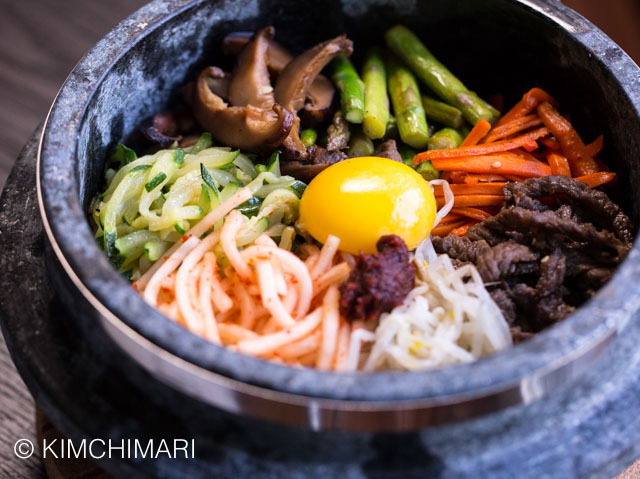 Dolsot Bibimbap comes in a hot stone pot that is served SIZZLING HOT at your table. Which means you will have a fantastically browned burnt rice in the bottom – making this dish extra delicious!
Get Recipe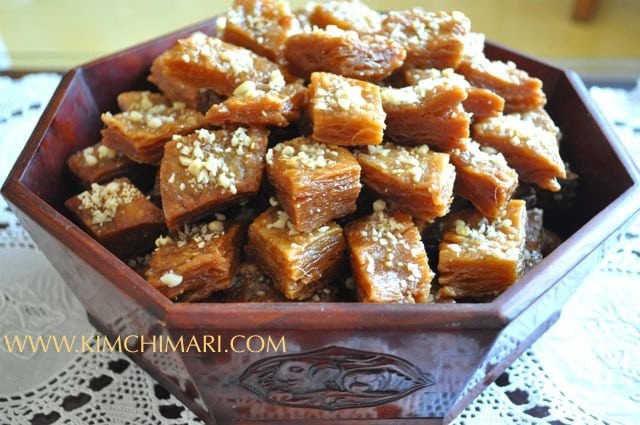 Yakgwa(약과) is a traditional Korean sweet pastry that is fried and coated in syrup rich with flavors of ginger and honey.
Get Recipe
A QUICK LUNCH IDEA
Gyeran Ganjang Bap 계란간장밥 (Rice with Pan-Fried Egg, Soy Sauce and Sesame Oil)
This is one of my simplest but yummiest rice bowl. If you love egg and rice, you will love ❤️ this dish. The full flavor of sesame oil can truly be noticed and appreciated in this bowl of goodness.
Pan-fry an egg – I like to do sunny side up or over-easy to have the egg yolk be runny but it's your choice. Then in a bowl, add rice (I usually do a mixed brown and white rice) and top with the egg. To that, add 2-3 swirls of sesame oil, a swirl of soy sauce and sesame seeds.
Mix it all up! Enjoy like this or for extra flavor, add some crumbled roasted gim or wrap each spoonful with a piece of roasted gim. It's SO YUMMY!!
I love having this as a hearty breakfast or as a quick but filling lunch with some yummy banchans like myeolchi bokkeum (stir-fried dried anchovies) or ojingeo bokkeum (sauteed dried squid strips).
XOXO, ❤️
JinJoo
Follow Me on INSTAGRAM or my Facebook Page to share, support and ask everything about Korean food with others just like you!
Disclosure: This post may contain affiliate links.