Here are top 10 Korean street foods that are highly popular, and with my recipes, you can make them at home without traveling all the way to Korea!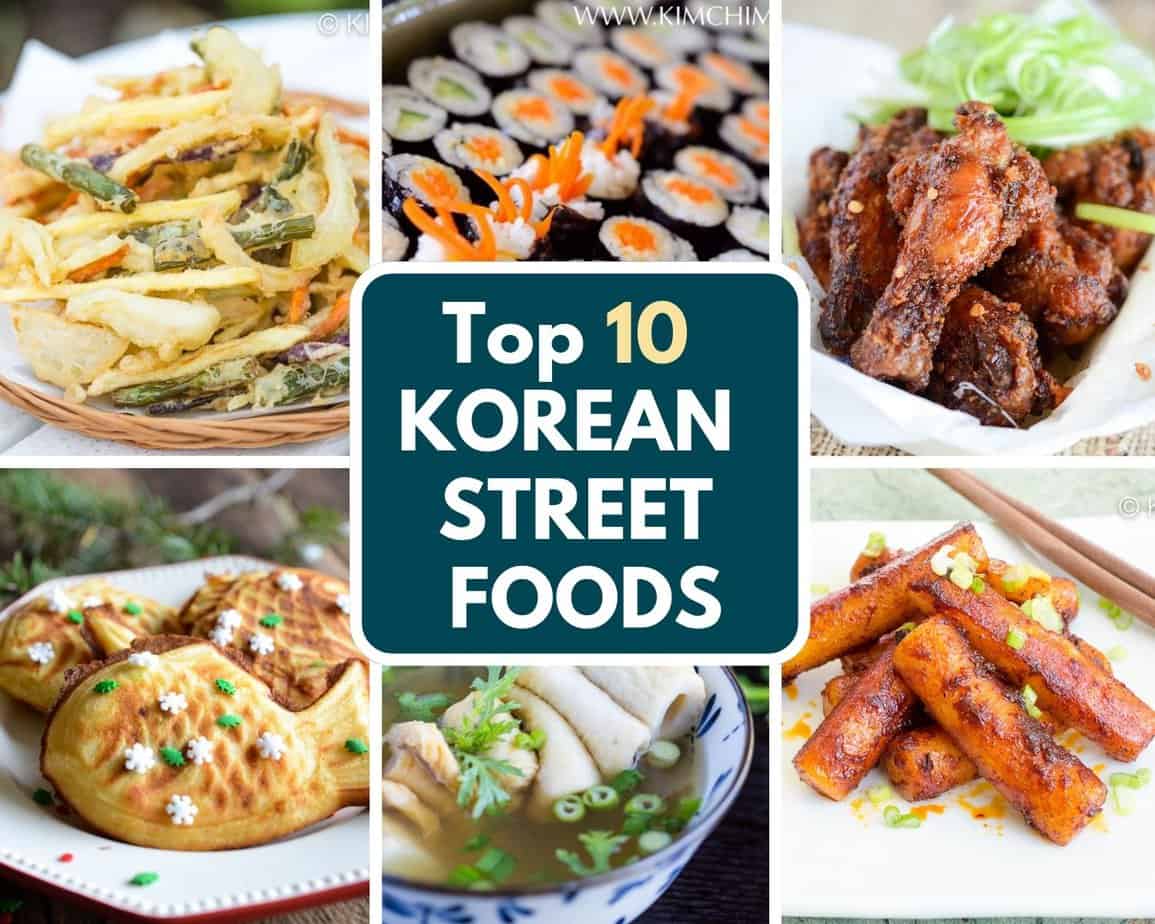 ---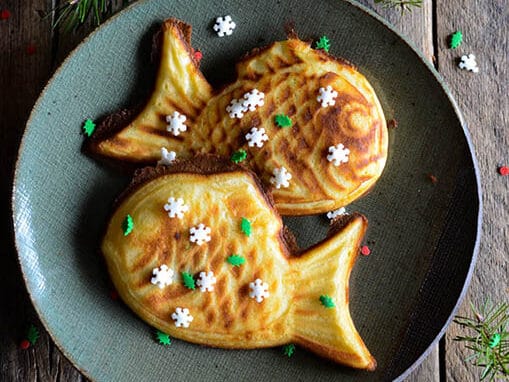 These cute fish-shaped sweet treats are everyone's favorite and are a staple among Korean street foods. Bungeoppang street vendors usually cook these to order and served piping hot, right from the grill. They are crusty on the outside and soft chewy dough on the inside filled with sweet red bean paste, cream or even nutella!
You're going to need the mold if you want to shape the buns into fishes, and you buy it here on my Amazon shop so I hope you try making it!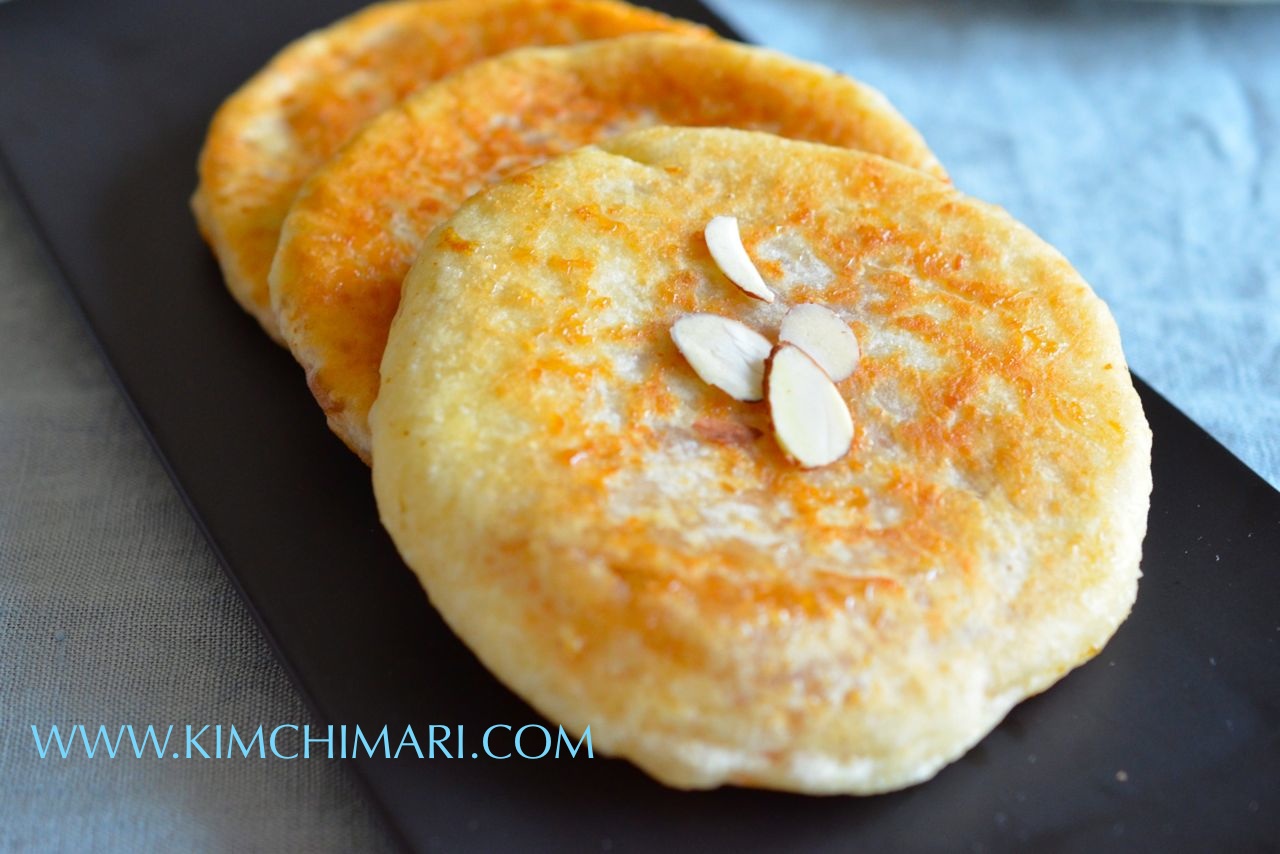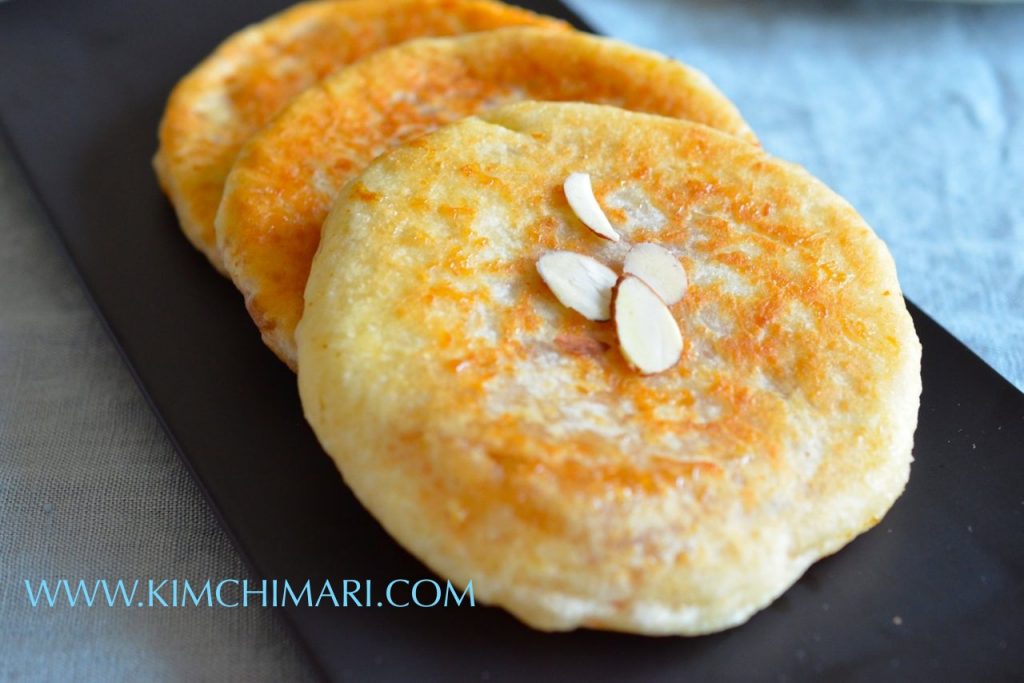 Hotteok is a classic Korean street food that is also usually sold during freezing winters. This yummy pancake has runny sweet inside that'll give your mouth a sweet burst of cinnamony syrup! When you bite into them, the crispy chewy outsides are a great contrast to how soft the insides are – including the hot syrup. It's just an amazing thing to experience. Just be careful not to burn your mouth!! I always end up burning mine.. :((
My recipe uses a different formula than the Hotteok you often see being sold, it includes 40% of sweet rice flour, which makes it a bit more chewier and lighter.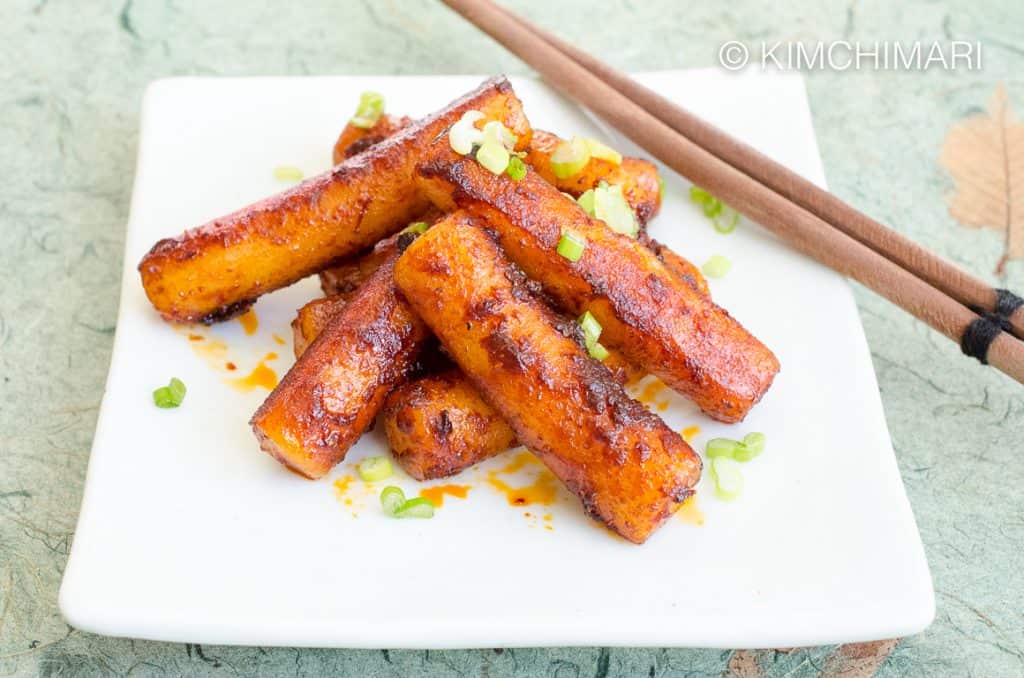 Tteokbokki has become really popular around the world lately. Sometimes I wonder what makes it so popular with everyone. Is it the chewiness, the spiciness, or a combination of both?
I have two renditions of this recipe you can follow to make yourself some delicious tteokbokki. One of them is a pan-fried version with chili oil, pictured above. As it is pan-fried, it gives the rice cakes a crispier surface. This tteokbokki style became super famous because it was a favorite of the US Ambassador to Korea and the US Secretary of State even tried it during his visit.
If you want the more conventional version, I have 2 recipes – a 5 ingredient vegan version and the more complete version with fish cakes and vegetables that's usually cooked a the table.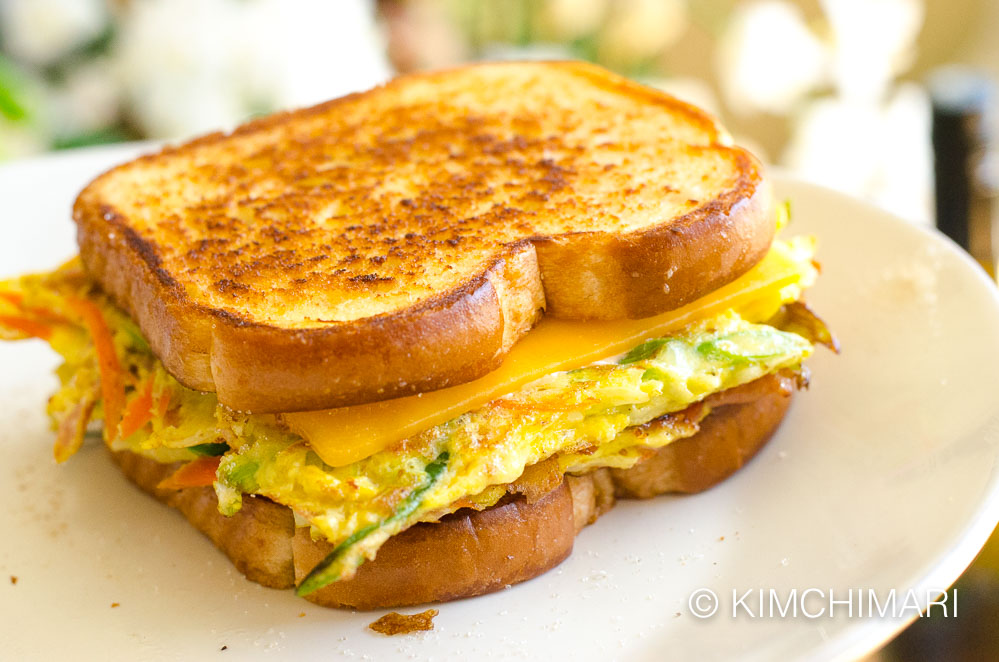 When you bite into a Gilgeori street toast, it satisfies your cravings for crunchy, runny, savory, cheesy and just slightly sweet, all at once. The toasts are pan-fried in butter until crispy, and the cheesy yet crunchy (because of all the veggies) egg omelets are put in between them which just works all beautifully together.
It's easy to make, and fills your stomach like no other. Try Gilgeori toast for breakfast but also for lunch or a snack!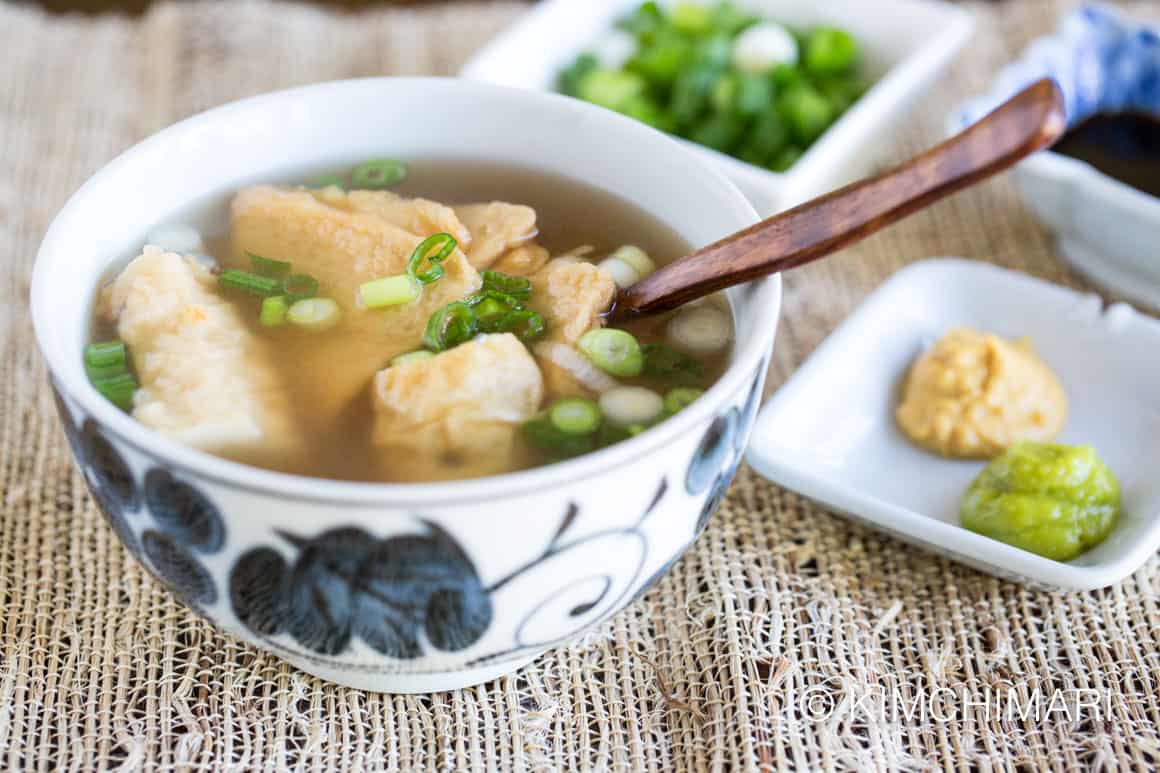 Odeng soup is a popular comfort food for many Koreans. It usually contains fish cakes soaked in broth, and drinking it is a good way to warm yourself up on cold winter days.
The broth is mild, and clear but so comforting and goes well with a lot of foods especially spicy foods like Tteokbokki.
And don't limit yourself to fish cakes, adding tteok, or udon to the soup is also amazing, or even drinking the broth alone is an experience you should definitely not miss.
As long as you learn to make the soup base, there's a whole world of flavors and textures for you to explore.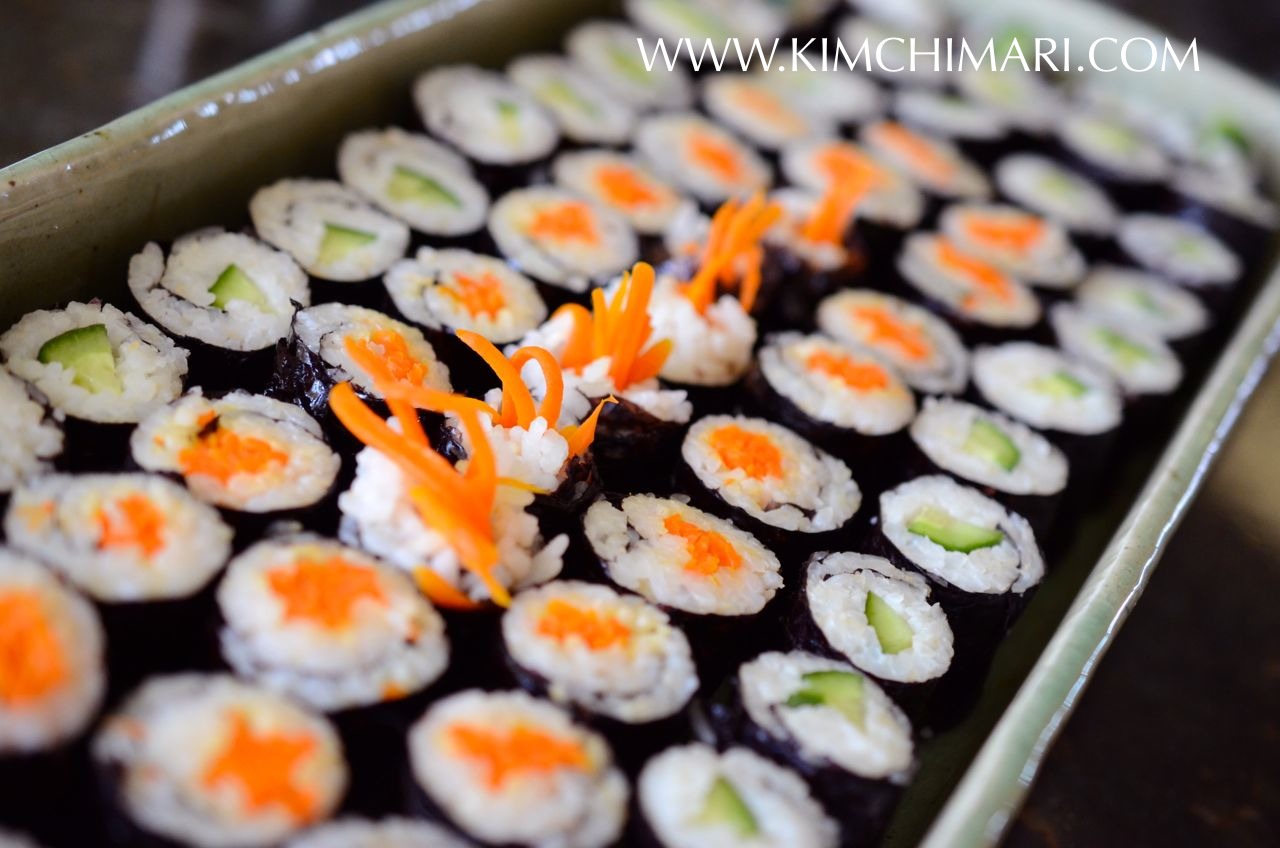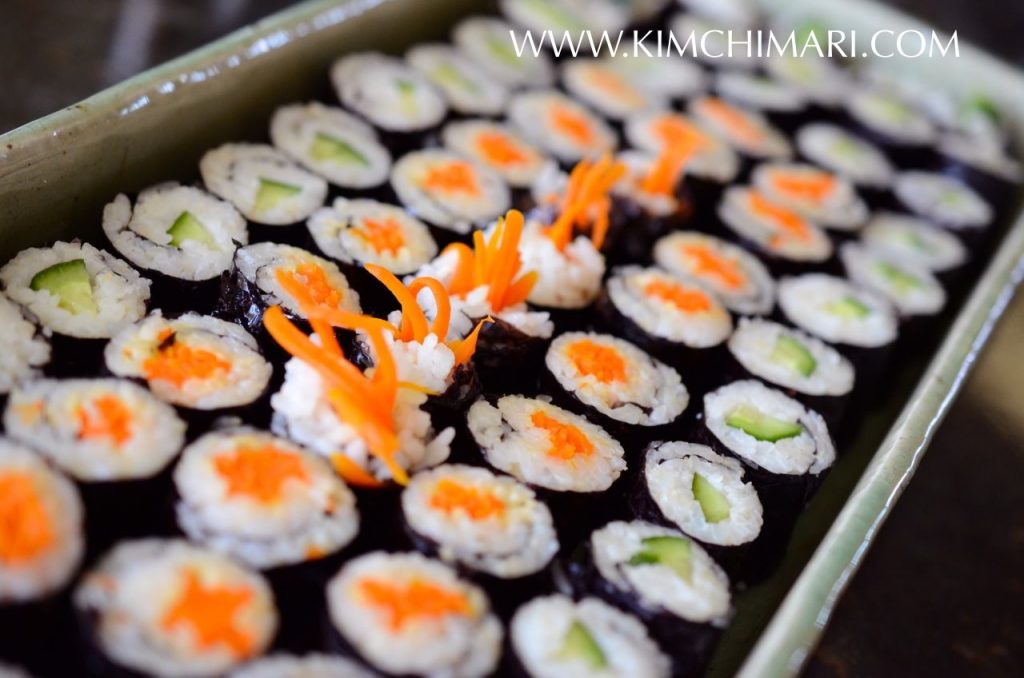 Mayak kimbap only requires three main ingredients (rice, seaweed sheets, and carrots) to make so it's another popular Korean street food item.
When I made this for my friends, the Mayak kimbap was perfect when eaten with bbq. The mild and simple flavor of the mayak kimbap works great with Korean grilled meats. So, if you ever think of doing a barbeque, consider adding mayak kimbap to your menu!
BTW, if you want to make the full regular Kimbap, here's my RECIPE.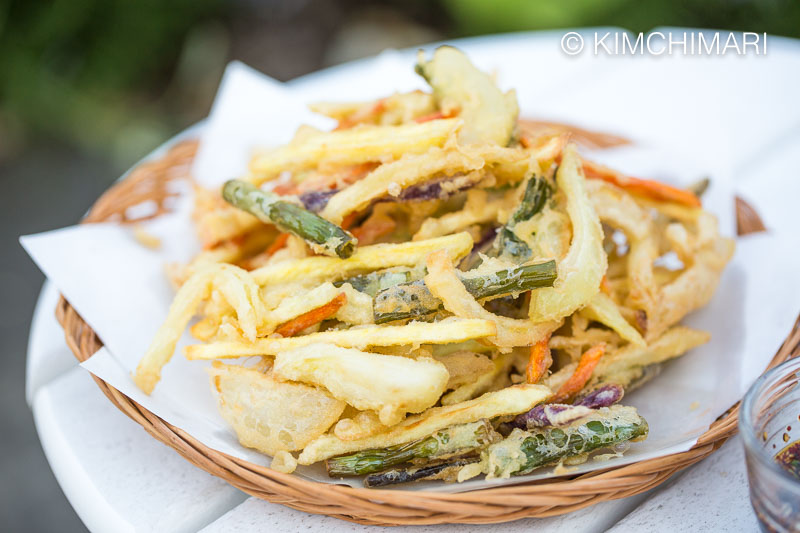 There was once a restaurant across Ewha Womans University, that served delicious Yache Twigim at the restaurant but also at their window which allowed students to eat while standing in front of the stall. I grew up going there with my sisters, and I was so happy when I was accepted into Ewha Womans University because that meant I could eat it any time I wanted!! HAHAHA
In the US, it's very hard to find restaurants that make this style of fried veggies where they are sliced into sticks and come out not as totally airy like the Japanese style tempura or the usual heavier American-style fries but somewhere in the middle where it's really crispy and crunchy but still has a bit of a batter covering it.
My recipe includes tips and tricks on how to make the tempura 'ultra crispy' so please check it out!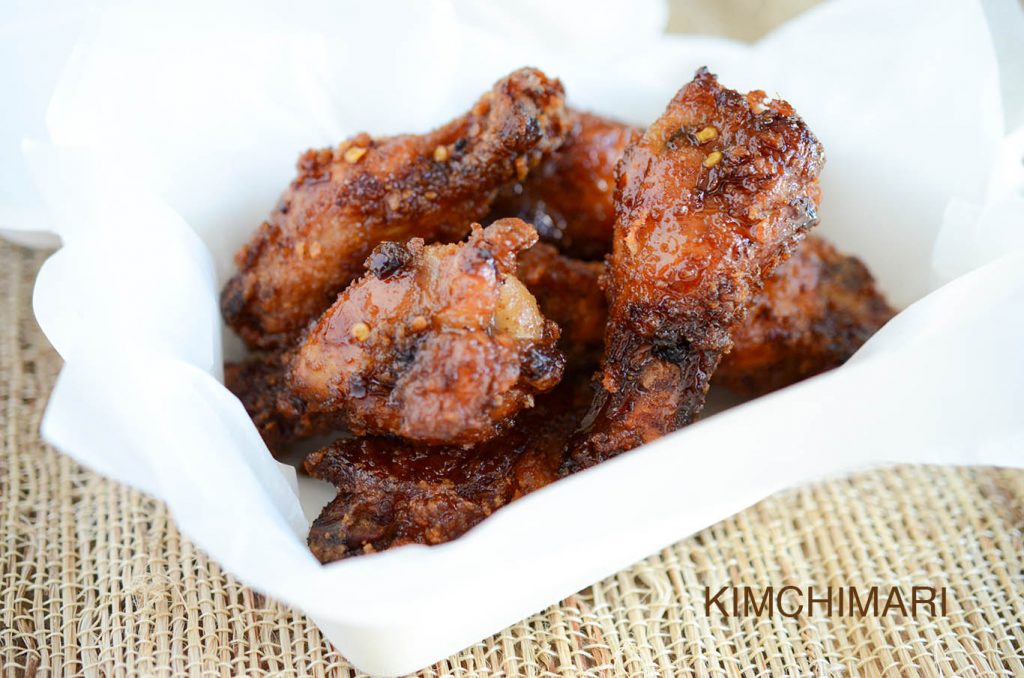 When it comes to Korean street foods, I'm sure you know Korean fried chicken is one of the must-haves!
The recipe I have is for Dakganjeong, the most traditional method of making Korean fried chicken with a soy glaze. It's less greasy, and more crispy when compared to fried chicken in the US. The sweet garlic soy glaze makes the flavors pop even more but please feel free to make it without the glaze for an extra crispy chicken.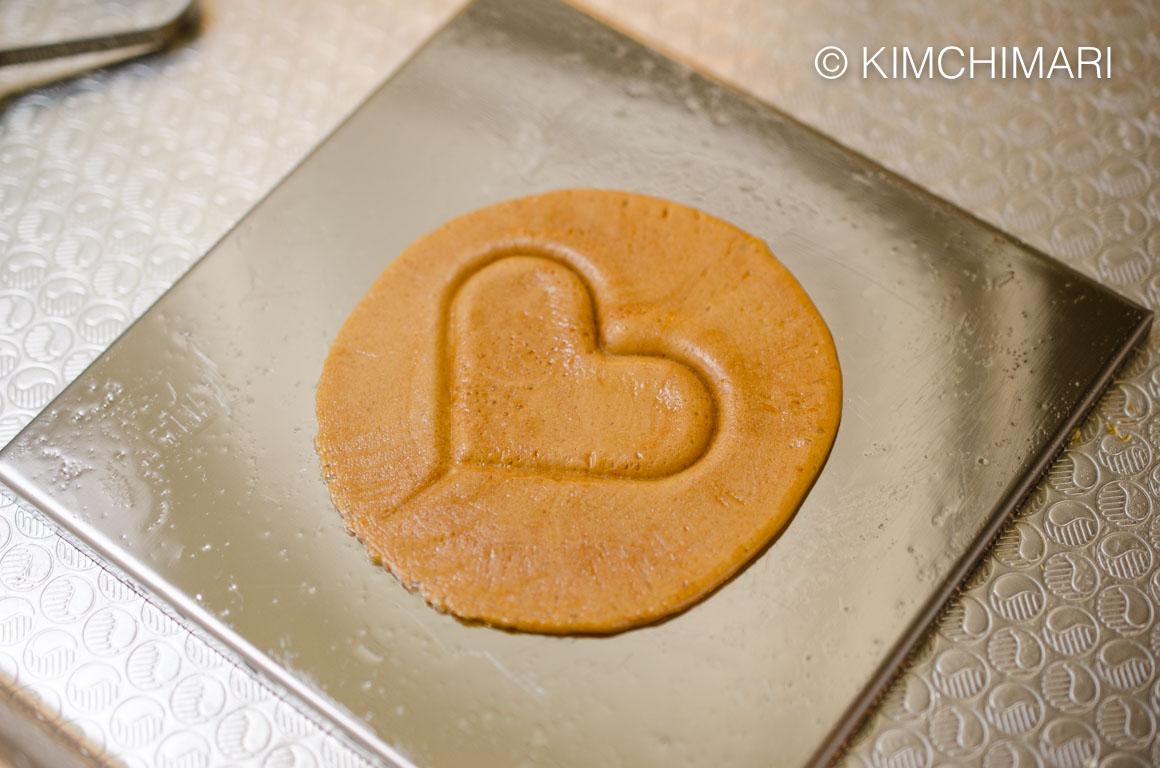 If you have seen Squid Game on Netflix, I'm sure you know about this Dalgona sponge candy. Yes, this was around every street corner when I was growing up and now it has made a comeback! You can easily make this sweet treat, since it only requires sugar and baking soda and the appropriate tools to make imprints on them for extra fun.
Have some fun family game time with this candy, whoever cuts out the shape without breaking it wins! You can watch my video below on how I make it with my husband and you can also read my interview with New York Times! (and a good snack to go with Dalgona coffee), this recipe is for you!
---
The history of Korean street food originated from street vendors, who would roam the streets selling cheap, yet delicious traditional snacks to passersby. After the Korean War, these vendors helped provide affordable meals to those affected by the conflict.
It's a heartwarming thing to look back on when you have the opportunity to dine on any traditional Korean street foods. Many people were able to fill their stomachs thanks to their sheer accessibility and convenience.
Enjoy!
XOXO ❤️
JinJoo