13 Best Korean desserts from traditional to modern. Get time-tested recipes for classic favorites like sweet rice cakes and tea cookies fit for royalty. And have fun recreating popular street snacks like shaved ice and sponge candy at home.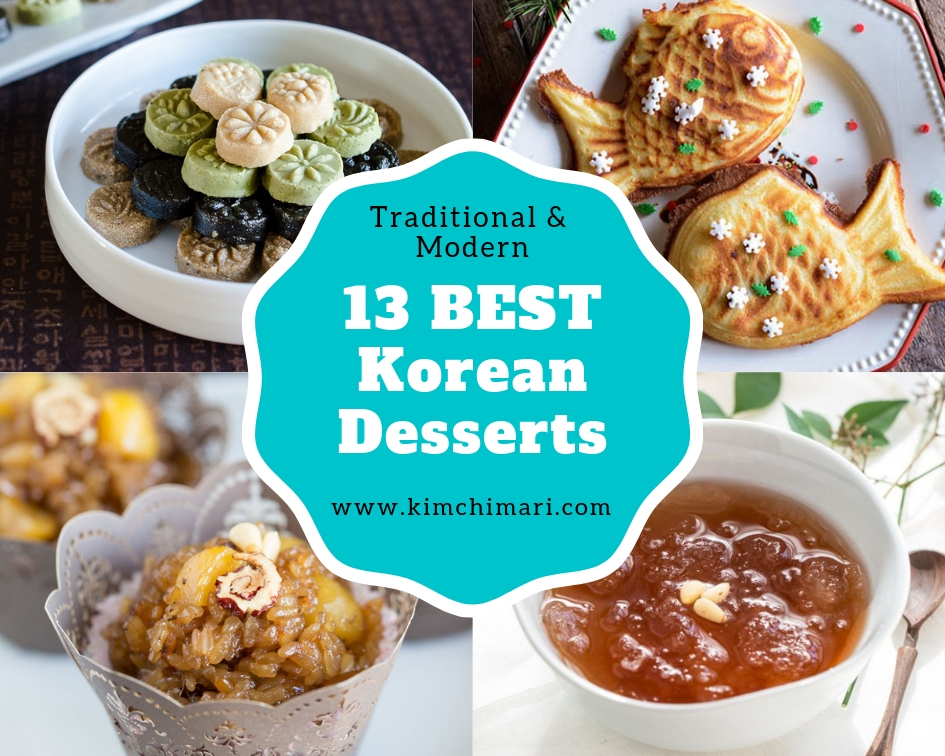 Do you have a sweet tooth? Make these traditional and modern Korean sweet treats! This is my collection of some of the most loved Korean desserts ranging from classic recipes to modern twists. Some of these recipes date back to the royal court, some of them grew in popularity as an everyday street food and then some of them are Korean fusion desserts that came to exist only among Korean Americans. The best part is that many of these recipes use nutritious ingredients that have great health benefits. You will also often find gluten-free and vegan options.
Traditional Korean Desserts
These time-tested traditional Korean Dessert recipes have been passed down through generations. They are usually made and served during special occasions like Korean Lunar New Year (see Lunar New Year foods) and the harvest festival of Chuseok. (GF = Gluten Free, V = Vegan)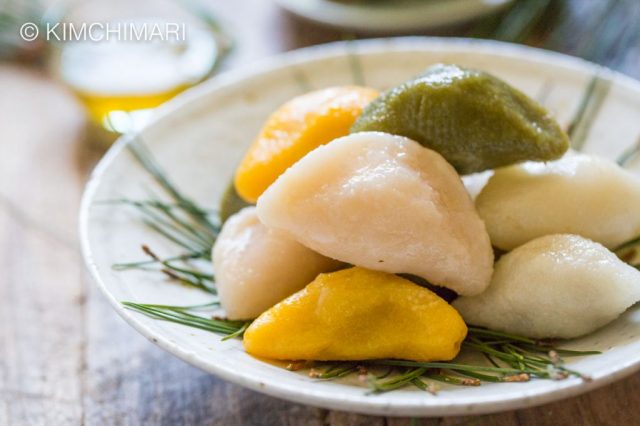 Main ingredients: Tteok rice powder, kabocha squash, matcha tea powder, sesame seeds, dried mung beans
Prep Time: 6 hours (mostly for soaking rice)
Cook Time: 24 minutes
Songpyeon is a rice cake made with 100% short grain rice cake dough that's filled with various fillings then hand-shaped and steamed. It's a special treat usually made at home during the Korean celebration of Chuseok to celebrate the year's bountiful harvest. Watch this step-by-step Songpyeon video to see how I shape them or see my recipe. (GF, V)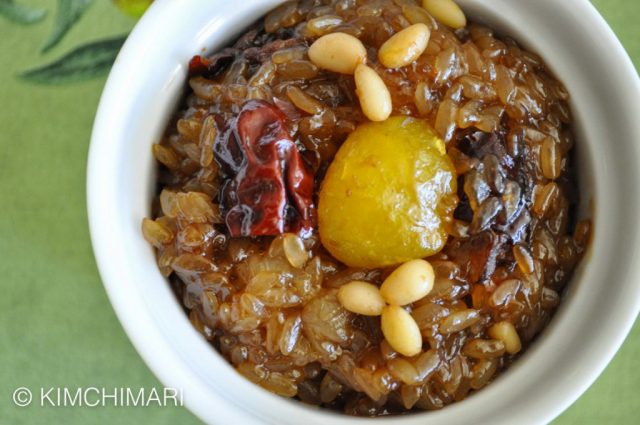 Main ingredients: Sweet rice, chestnuts, dried jujubes, pine nuts
Prep Time: 1 hour
Cook Time: 1 hour
Here's a Korean dessert made from sweet rice that contains health-promoting ingredients like jujube, chestnuts, and pine nuts. This recipe uses a pressure rice cooker, which makes the cooking time shorter than most traditional recipes which uses a steaming method, but if you need an even quicker version, try my Instant Pot Yaksik recipe. (GF, V)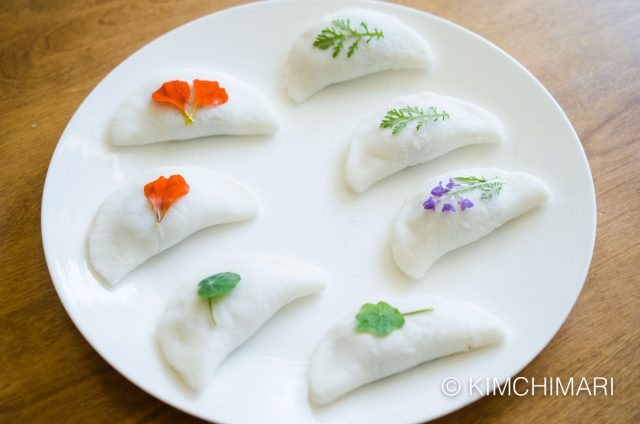 Main ingredients: Sweet rice flour, sweet red bean paste
Prep Time: 30 minutes
Cook Time: 5 minutes
These rice cake dumplings are stuffed with sweet red bean paste and then lightly pan-fried in oil to create a crispy crust with a soft, chewy inside. For a more festive look, decorate them with fresh edible flowers or leaves. I made this short Bukkumi-making video to show you how easy the recipe is. (GF, V)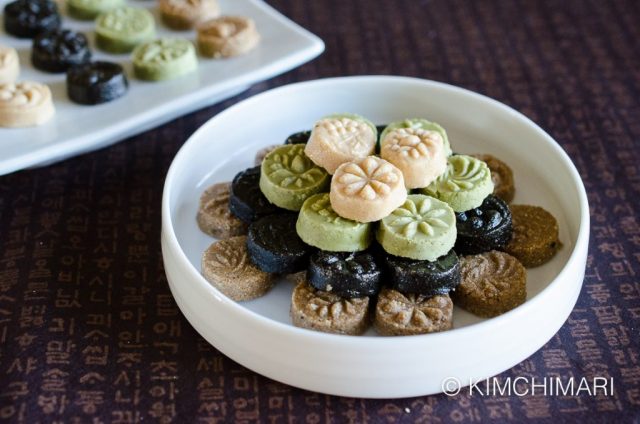 Main ingredients: Sesame seeds, rice syrup, honey, rice flour, matcha powder
Prep Time: 30 minutes
Cook Time: 5 minutes
These traditional tea cookies are made mainly from either sesame seeds or rice flour or soyean flour. The natural colors come from white, brown, and black sesame seeds while matcha green tea powder gives them a delicate green color. Watch my Dasik video and make these melt-in-your-mouth cookies soon!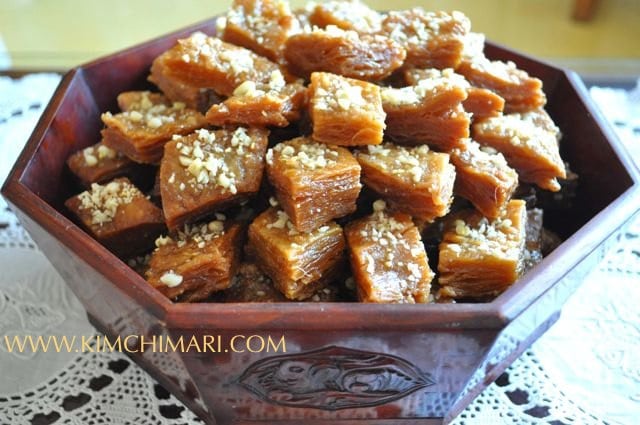 Main ingredients: Pastry flour, sesame oil, soju, honey, pine nuts, ginger
Prep Time: 30 minutes
Cook Time: 40 minutes
Yakgwa has a very special place among Korean desserts for me because I found out that this sweet treat was created by an ancestor of my husband's more than 400 years ago, and I'm lucky to have learned to make it with my mother-in-law's authentic recipe. This sweet pastry is made into layers, deep-fried and soaked in a rich ginger and honey syrup.  Read about the history of Yakgwa in this post. (V)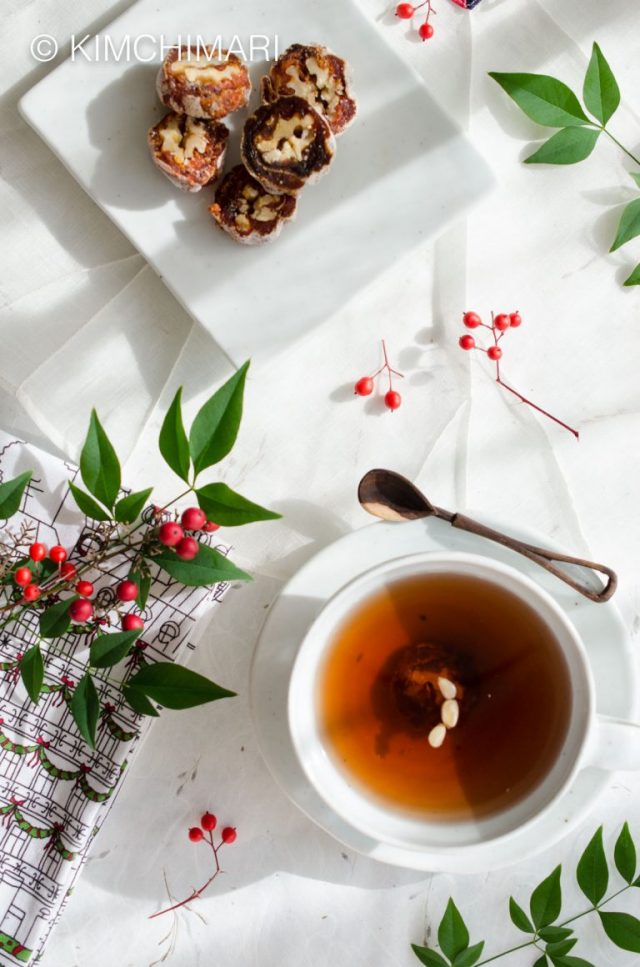 Main ingredients: Water, fresh ginger, cinnamon sticks
Prep Time: 5 minutes
Cook Time: 25 minutes
Enjoyed in the winter with some dried persimmon, the cinnamon and ginger in this dessert drink help to keep the cold away. Plus, having ginger in it makes it a great digestive aid after a big holiday meal. Watch this Sujeonggwa video to see how great Korean dessert can also be frozen and served granita style!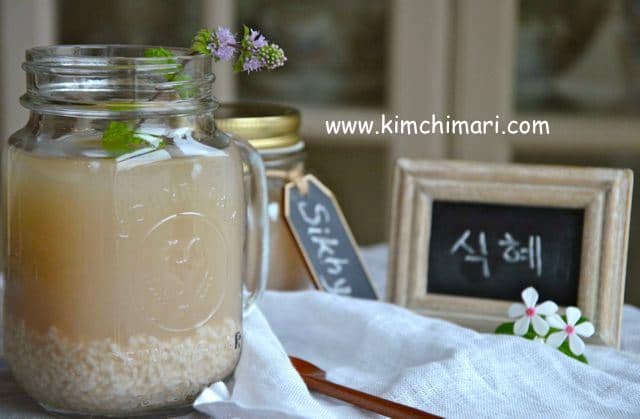 Main ingredients: Milled malt barley, short grain rice
Prep Time: 8 hours
Cook Time: 15 minutes
This classic drink was my childhood favorite among Korean dessert drinks and is traditionally made at home when Koreans celebrate holidays like the new year. Milled malt barley provides a unique sweet taste while the soft rice granules floating in the drink give it a wonderful texture. (V)
Modern Korean Desserts
Many of these recipes are inspired by popular street snacks in Korea, and some are modern twists of classic recipes that I've adapted for the home kitchen.
Main ingredients: All-purpose flour, sweet rice flour, egg, milk, sweet red beans
Prep Time:  10 minutes
Cook Time: 20 minutes
Sure to be a hit with the kids, Bungeoppang is made by baking a pancake-like batter in a fish-shaped mold with sweet red bean filling in the middle. The dough is slightly crispy on the outside and chewy and spongy on the inside with a burst of sweetness from the red beans.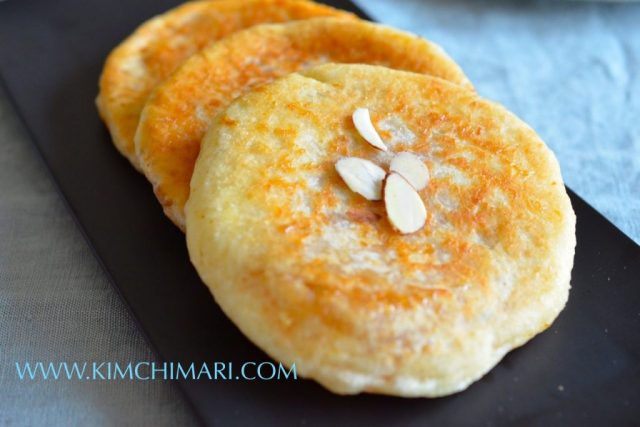 Main ingredients: All-purpose flour, sweet rice flour, cinnamon, walnuts
Prep Time:  10 minutes
Cook Time: 20 minutes
Rest Time: 3 hours
Korean dessert pancake with a surprise! The moment you bite into this pancake, a hot cinnamony syrup oozes into your mouth. But be careful! It CAN BE HOT!! Hotteok has a delicious texture, from the chewy dough with a fried crispness on the outside to the chopped walnuts in the syrup, that will make you keep wanting more. (V)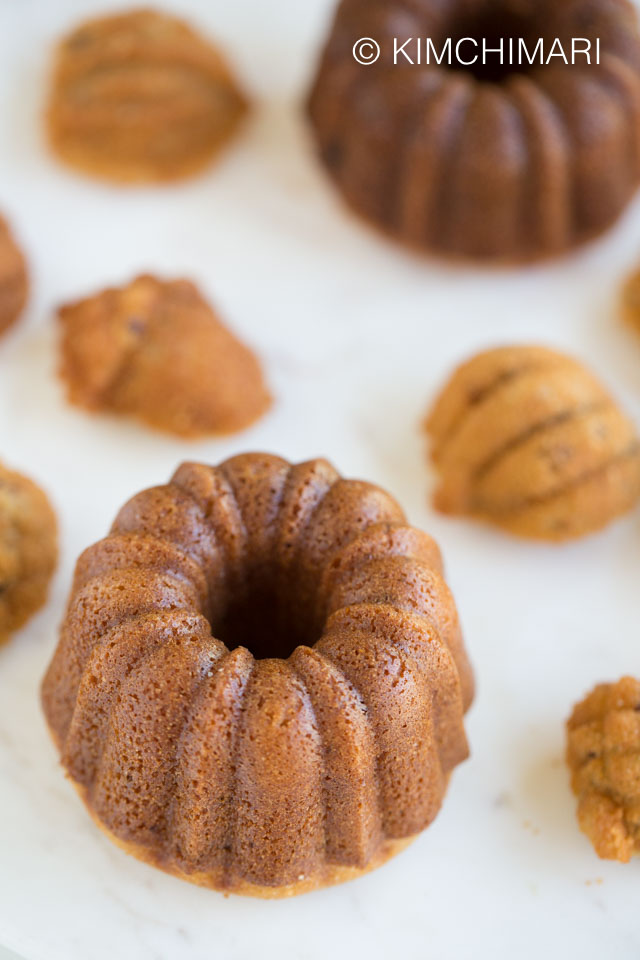 Main ingredients: Brown sweet rice flour, sweet rice flour, whole milk, unsalted butter, egg, sweet red bean paste
Prep Time:  15 minutes
Cook Time: 35 minutes
Naturally gluten-free, this sweet rice mini bundt cake recipe is a spin-off of my original Tteokppang recipe, which is an oven-baked Korean fusion dessert. What makes this cake unique is the use of sweet rice flour instead of wheat flour, and this recipe features rice flour that was freshly milled at home. (GF)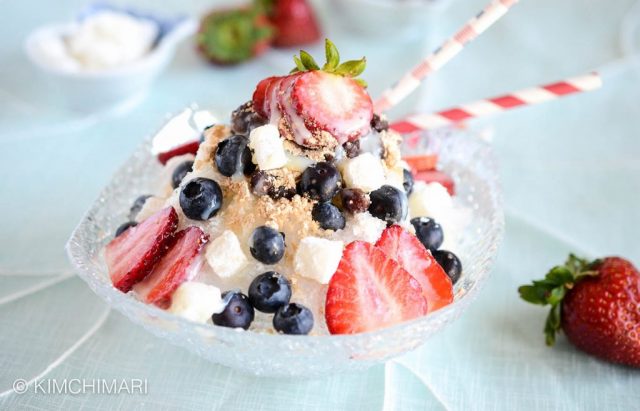 Main ingredients: Ice, sweet red beans, condensed milk
Prep Time:  5 minutes
Cook Time: 3 minutes
Probably the most well known of all Korean desserts outside of Korea, Bingsu or Korean shaved ice dessert will cool you down like no other. While red beans, misugaru (roasted multigrain powder), and sweetened condensed milk are the classic toppings in this Korean shaved ice dessert, you can add different toppings of your choice like watermelon. Just drizzle it with your favorite syrup to bring them all together. This is a refreshing and tasty dessert for hot, summer days!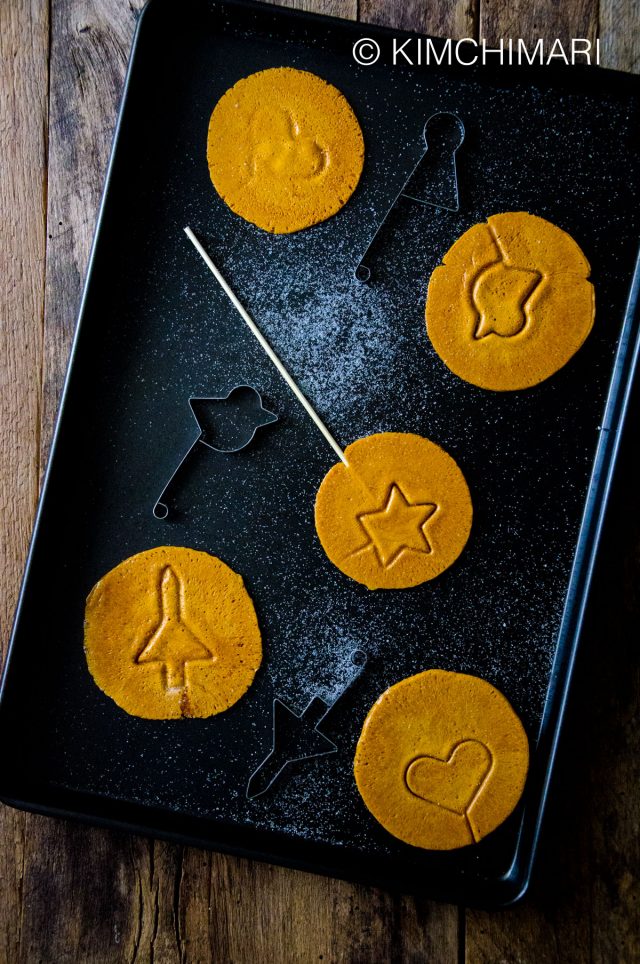 Main ingredients: Sugar, baking soda, vegetable oil
Prep Time:  3 minutes
Cook Time: 5 minutes
This fun Korean street food will bring out the kid in you! All you need is three ingredients to produce a lightly crunchy yet melt-in-your-mouth candy with a toasty caramel flavor. It is unbelievably easy to make; check out my Dalgona video to see the magic. (GF, V)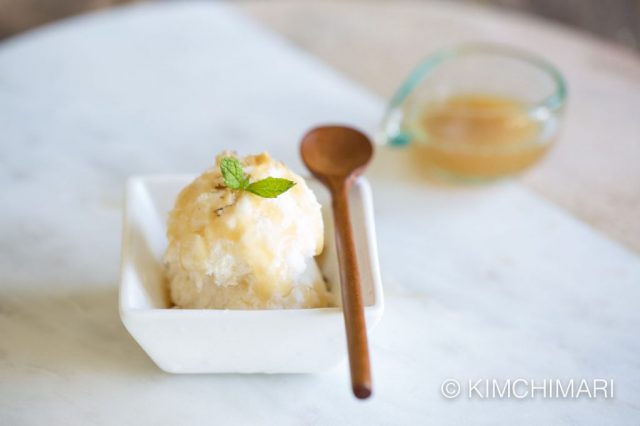 Main ingredients: Makgeolli, whole milk, heavy whipping cream
Prep Time:  5 minutes
Cook Time: 25 minutes
This elegant ice cream is light (somewhere between sorbet and full creamy ice cream) and mildly sweet with a hint of the delicate sour flavor of Korean rice wine, Makgeolli. And you don't need an ice cream machine to make it! (GF)
May these traditional and modern Korean desserts bring joy to you and your loved ones this holiday season.
XOXO ❤️,
JinJoo
My gift to you: Get your FREE Korean BBQ Dinner e-cookbook by subscribing to my blog! (Sign Up box is on the right column –>)
Let's stay connected. FOLLOW ME on FACEBOOK, PINTEREST, and INSTAGRAM. You can also join my FACEBOOK GROUP where we share everything about Korean food, including cooking tips, with other Korean food enthusiasts just like you!