Korean New Year Food that is traditional and authentic! From 3 Tteok Guk recipes, fish jeons to Yaksik and Sujeonggwa, you can have the most wonderfully yummy Korean New Year with these foods. I hope you get to try at least one!
Korean New Year Foods
Whether you celebrate the New Year based on the lunar calendar or not, or whether you celebrate both (we kind of do), Korean New Year foods are just part of the celebration. For Koreans and other cultures that celebrate the Lunar New Year, the holiday season doesn't end with the stroke of the clock on January 1st. Yes, the party isn't over yet!!
Based on the traditional lunar calendar, this celebration usually takes place around January or February, marking the beginning of a new lunar. In South Korea, the holiday is called Seollal 설날, and it falls on February 12th for 2021.
Lunar New Year is one of the two biggest holidays for Koreans. Everyone takes time off during the Lunar New Year to visit family and relatives throughout the country. And for many Koreans, another big part is to prepare Jaesa (제사) – a table full of food offerings to their ancestors. Around the Lunar New Year in 2015, I was invited to talk about this tradition among others at KBS World Radio. Here is the link if you want to learn more about how the table is prepared and the meaning of the Jaesa ceremony.
It's a time to gather with family members, pay respect to ancestors, and enjoy foods specially made for the occasion. Last year, I got together with a few blogger friends to showcase a collection of festive sweet recipes. I would now like to show you the traditional Korean New Year foods prepared for the Lunar New Year. I hope you get to try them all!
Koreans travel back to their hometown to celebrate the New Year and we make rice cake soup to serve to family and friends who are visiting. Different regions have different recipes for rice cake soup which is the most classic and popular Korean New Year Food. I grew up eating tteok mandu guk (rice cake soup with dumplings) but you can try any one of the 3 recipes below.
3 different Tteok Guks (Rice Cake Soup)
This is my family's traditional recipe that goes back to our parent's generation as they are originally from North Korea. This North Korean style tteok mandu guk is hearty and delicious. The best way is to make my home-made Kimchi Mandu ahead of time, freeze it and then add it to the soup. GO TO RECIPE >>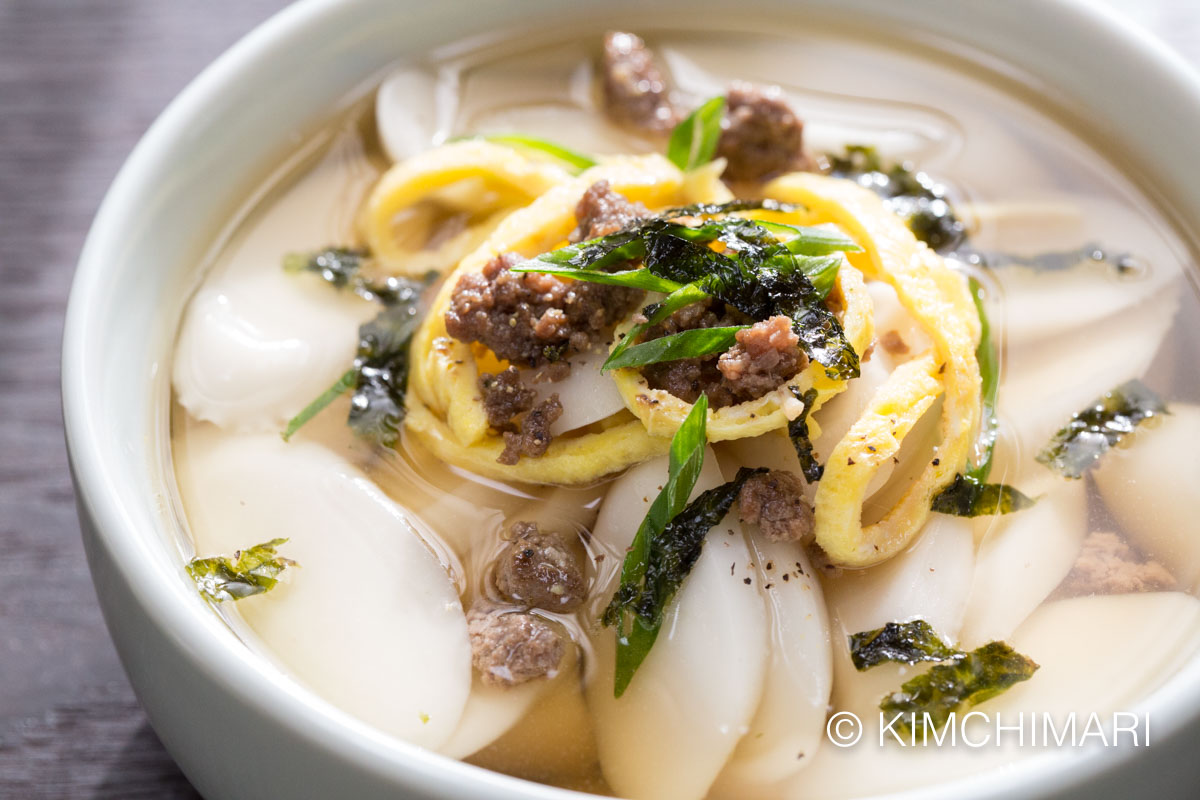 A more clean and lighter version that's more of a Seoul style tteokguk, this is our family's everyday favorite version. I make this often because the anchovy stock can be made in 30 min or made ahead in the fridge overnight – either way, it's just easier to make. And skip the Gyeran Jidan and just swirl the egg in to the soup if you want to make it even easier. GO TO RECIPE >>
This is a simple beef broth based version that's made in the Instant Pot. It's simple to make. The broth is made quickly with just beef stew meat in the IP but it's still very delicious. GO TO RECIPE >>
Meat, Seafood and Vegetable Banchans for New Year's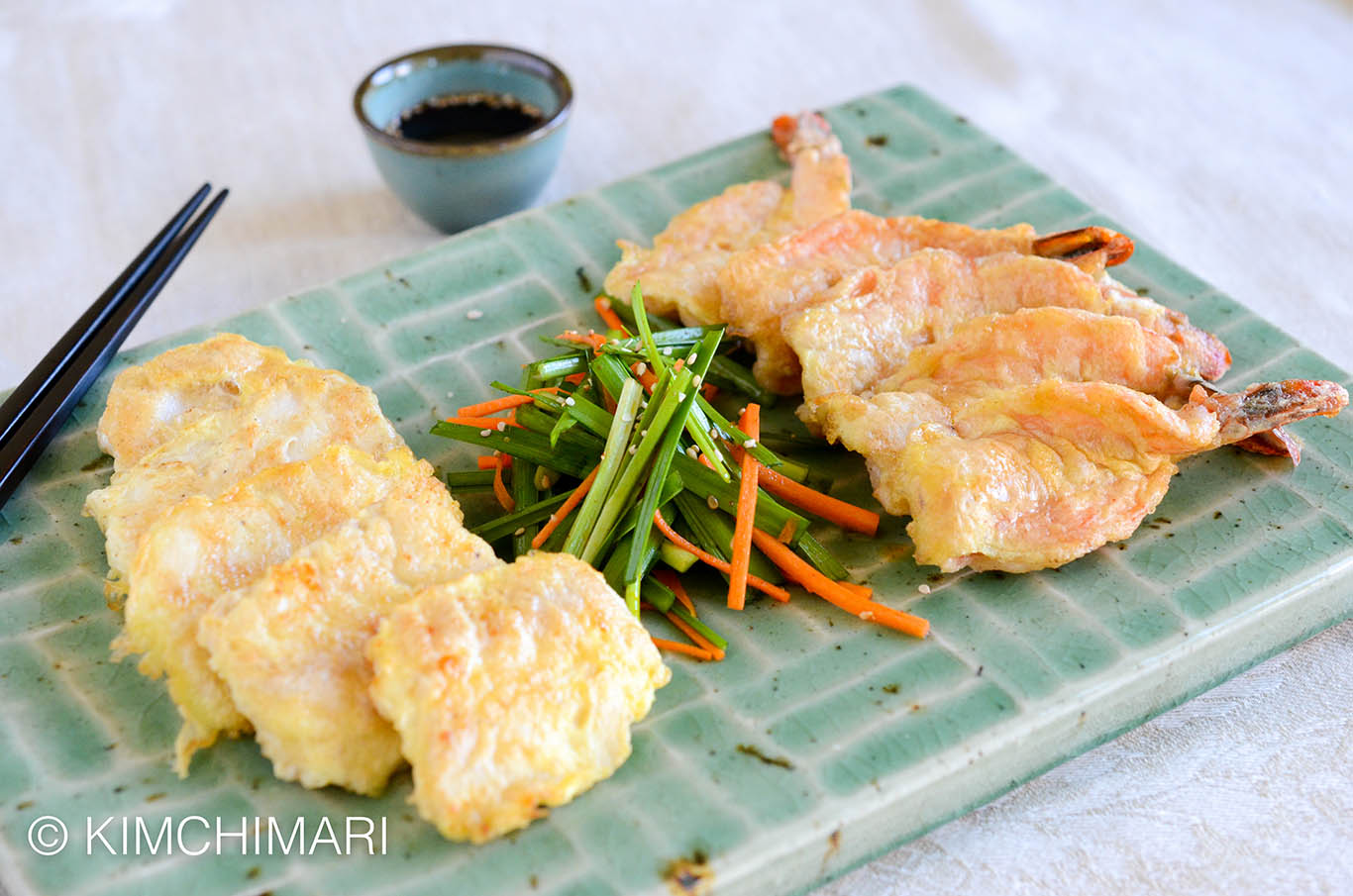 Pan-Fried Fish Fritters (Saengsun Jeon) and Shrimp Fritters (Saewoo Jeon) RECIPE
Seafood lovers will enjoy this. Fish and shrimp fritters are often served in a traditional full-course Korean dinner, especially for festive meals around celebrations like the new year. Fish jeon is usually made with white fish like cod and pollock while whole shrimps are used for shrimp jeon. They can be made ahead and kept warm in the oven until serving time or served at room temperature – making them convenient party foods.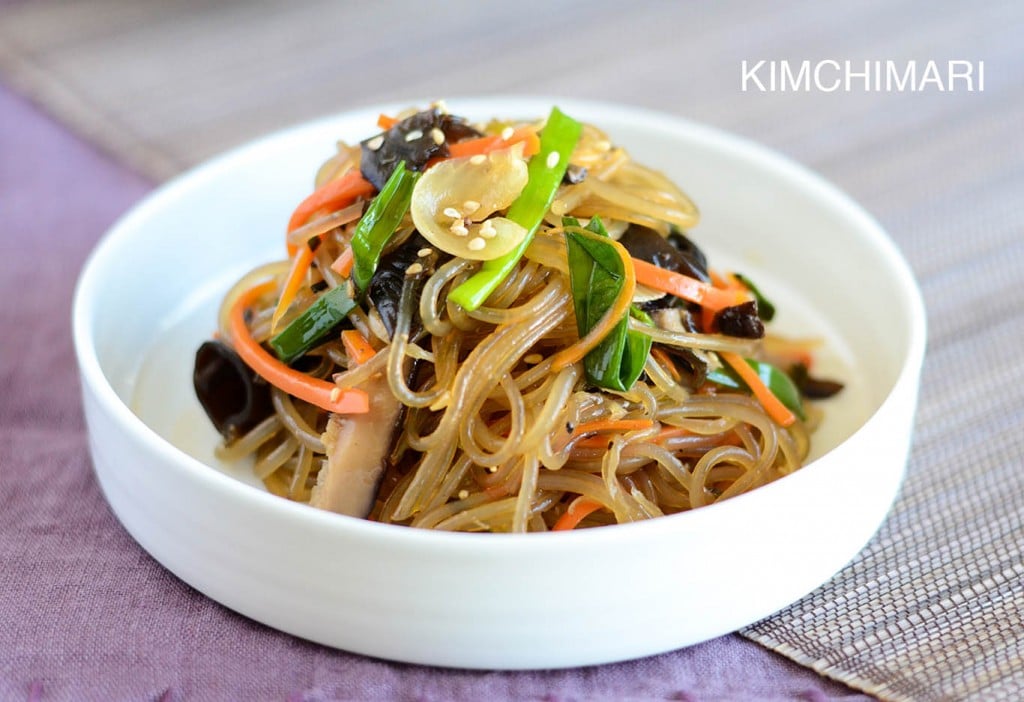 Korean Glass Noodles (Japchae 잡채) RECIPE
During special holidays, homemade Japchae is always on the Korean table. Load it with various vegetables and make it meatless for a vegetarian option that everyone can enjoy. Korean glass noodles are made with 100% sweet potato starch so this dish is naturally gluten-free too! This is a simplified one-pan recipe that can be made in half the usual time it takes but still retains its authenticity and traditional flavors.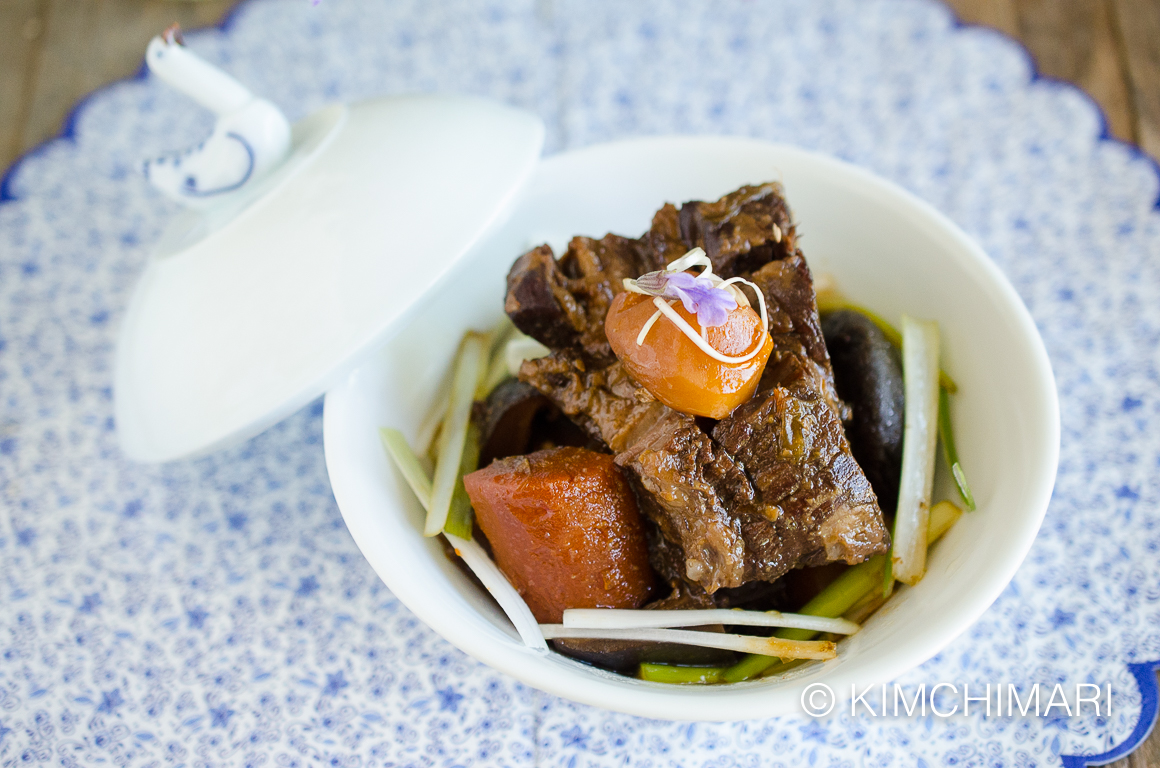 Galbi Jjim/Kalbi Jjim RECIPE
For your most honored guests and family, Galbi Jjim is what you make if you want to go all out. Koreans traditionally make this dish for great holiday occasions such as New Year's because Galbi (beef short ribs) was and still is very expensive in Korea. This is also a great make ahead kind of recipe. All you need to do is to reheat it before serving. Since this recipe, I have also added an Instant Pot Galbi Jjim version which is actually what this picture is of. Unlike the regular galbi jjim recipe which takes hours, the IP version is ready in less than 1 hr and just as delicious.
Bindaetteok (Mungbean Pancake) RECIPE
My family always made a huge batch of these pancakes and enjoyed them through the holidays. You can freeze the batter for later or even just freeze leftover pancakes and reheat them on the frying pan. This always brings me back to my childhood New Year days.
Traditional Korean New Year Desserts
Sesame Tea Cookies (Dasik 茶食) RECIPE
These elegant melt-in-your-mouth sweet treats date back to the 17th century when the Korean royalty enjoyed them with tea as a Korean New Year food. Vegan and gluten-free, these dainty cookies are made of finely ground sesame seeds and sweetened with honey syrup. Different colors can be made using black and white sesame seeds and green tea powder. Unlike normal cookies, they do not require any baking!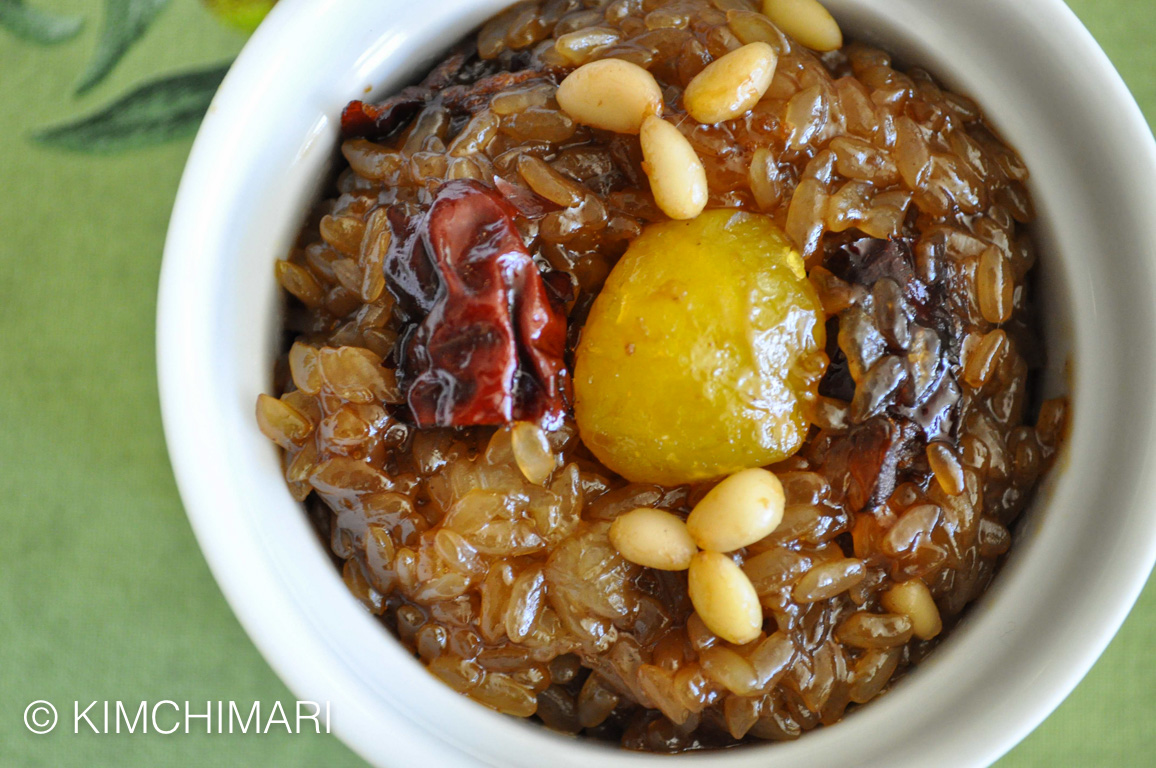 Sweet Rice Dessert (Yaksik) RECIPE
Here's a dessert that not only satisfies your sweet tooth but is also good for your health! Yaksik is made with ingredients that are traditionally considered medicinal, such as anti-aging jujube and vitamin-rich chestnut. Sweet rice is very easy on the stomach, making this sweet ending not too heavy after a big holiday meal.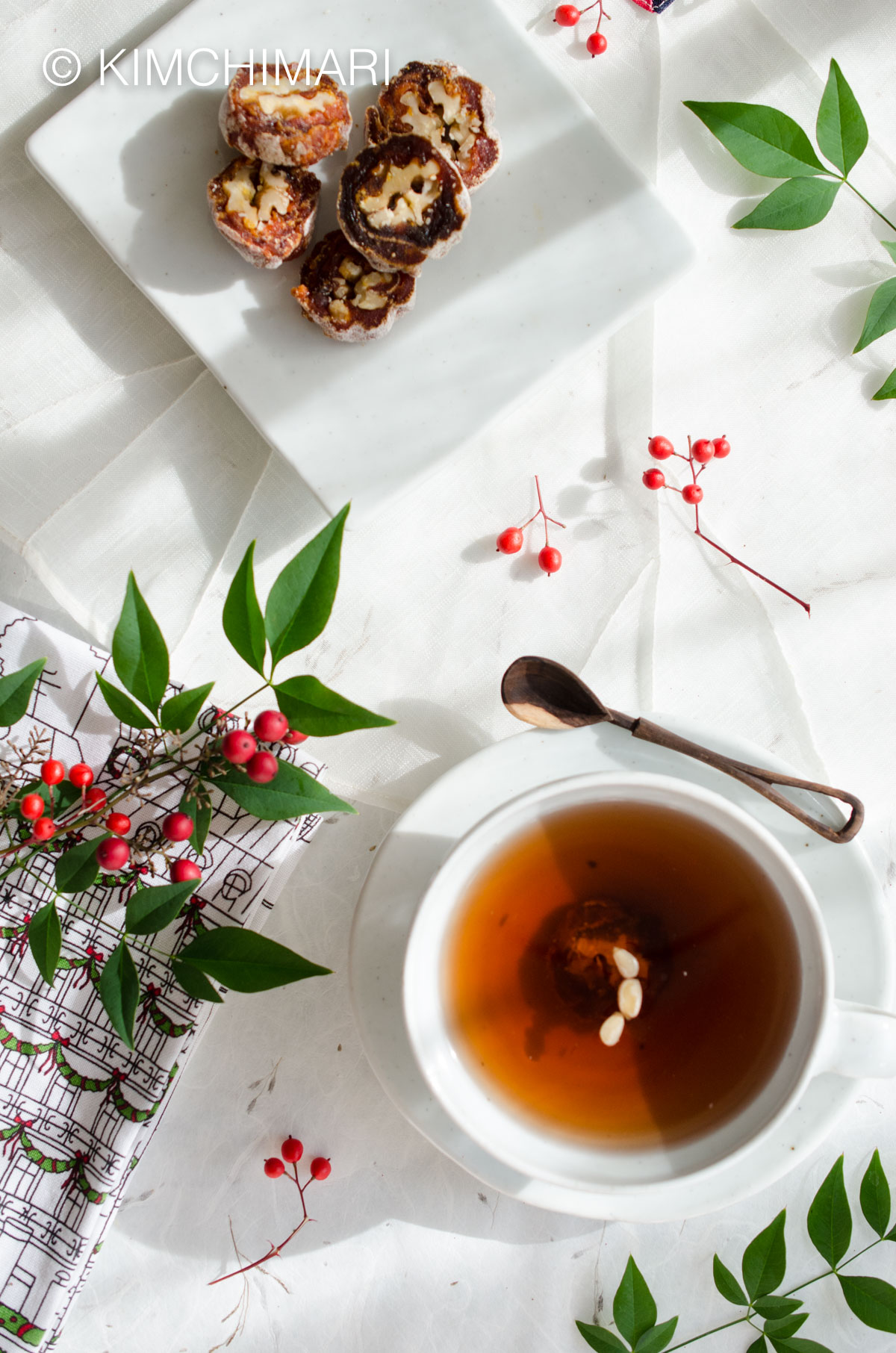 Cinnamon Ginger Punch (Sujeonggwa 수정과) RECIPE
This popular dessert drink is really easy to make and can be served warm or cold. I like to freeze it to create a refreshing slushy texture! The sweet warmth of cinnamon and the spiciness of ginger come together nicely to create a soothing drink that is also believed to help with digestion.
Korean Sweet Rice Punch (Sikhye 식혜)
If you are not a big cinnamon or ginger fan, you may want to make the other very popular dessert Sweet Rice Punch drink.
Honey Pastry (Yakgwa/Yakwa 약과) RECIPE
This traditional sweet pastry is a deep-fried delicacy coated in a rich honey syrup infused with ginger. The recipe is particularly special to me and my family because it was created by an ancestor of my husband's over 450 years ago! It makes a great homemade edible gift to spread the holiday cheer.
Well, I so enjoyed sharing these very traditional Korean New Year Foods with you!!
Hope you have the most wonderful New Year with your loved ones and take some time to cook a few of these recipes.
Saehae Bok Mani Badeusaeyo 새해 복 많이 받으세요!
XOXO ❤️
JinJoo