Fish-shaped bread with sweet red bean filling is probably what you will say if you were trying to describe this cute Korean snack to someone if you didn't know the name. Or I guess you can always call it "whatchamacallit"! haha..that is becoming more of my favorite word these days…
Bungeoppang (pronounced "boong + uh + paang"붕어빵) or Ingeoppang( pronounced "ing + uh + paang" 잉어빵) is the Korean name for it. Bungeoppang in Korea has been around since 1930's and somehow when I was in college, they weren't really popular. Instead, Ohbangtteok (오방떡) was everywhere. It is essentially the same thing, pancake like batter baked in a oval shaped mold with red bean filling inside. The dough is a slightly crispy on the outside, chewy and spongy on the inside with the red bean filling giving you a burst of sweetness. And CAUTION!!! – the red bean is extremely HOT inside.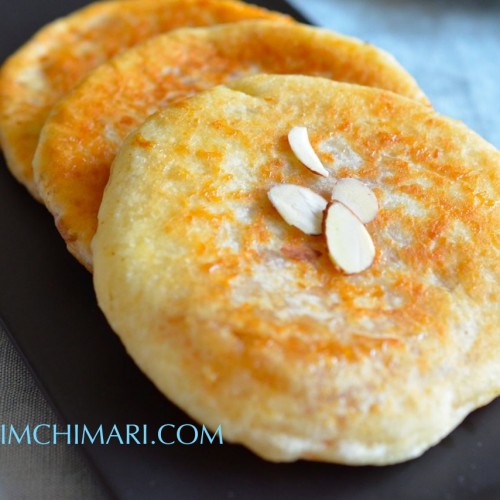 Just like Hotteok (left pic) had it's lava syrup filling, I think I have burned my mouth many times eating the bungeoppang. And it's always so hard to wait until they become cool but not too cool.
BTW, I'm not sure why Koreans just LOVE  such HOT foods..I mean the danger of burning your mouth is everywhere – crazy boiling jjigae that you get, especially hot boiling soft tofu stew!! I mean, it's not enough that the broth is piping HOT but the soft tofu is even HOTTER!! Everytime I have soft tofu stew, it never fails, I always burn my tongue… And then there is the HOT dolsot (stone pot) bibimbap and also the fried rice that comes right from the pan after grilling meat, they are all sooo good but it's also soooo HOT!! It's a good thing our tongue and mouth is able to heal quickly because otherwise, many Koreans will not be able to eat too frequently..haha.. Anyhoo, is it just me?? Hopefully not. 🙂
Ok, I digress.. let's get back to topic!!
So most likely theory is that this fish-shaped bread has its origins in Japanese Taiyaki. They are very similar in that both use fish-shaped mold to make the bread and then also uses sweet red beans as its classic filling. But somehow the type of fish is different – Tai in Taiyaki refers to Sea Bream and Bungeo in Bungeoppang  refers to Crucian Carp.  But more interestingly, I noticed while looking thru many images- why I did this, I don't know, it's probably the GEEK in me taking over- that the Taiyaki is much thicker and has uniform thickness throughout whereas the Bungeoppang is lot more realistic looking in that the tail, head and fins all thin out at the edges. So what difference does that make?? The BIG difference is that the Japanese version has the red bean filling all the way to the end of the tail whereas the Korean fish shaped bread has red bean filled only in the mid section because there is no room to fill the tail section with the red bean.
And for some reason, Bungeoppang has always been a street food. Here is a pic that I took of a Bungeoppang vendor near Tongin market, Seoul.
Now, I personally like the Korean version better because the plain bread gives me a break from all the sweetness of the filling and also lets me savor the flavor of the dough whereas with the filling, the dough is totally pushed into the background.
I actually never thought to make Bungeoppang at home because I did not have the fish-shaped taiyaki (bungeoppang) pan but a good friend was happy to lend it to me so here we are~ 🙂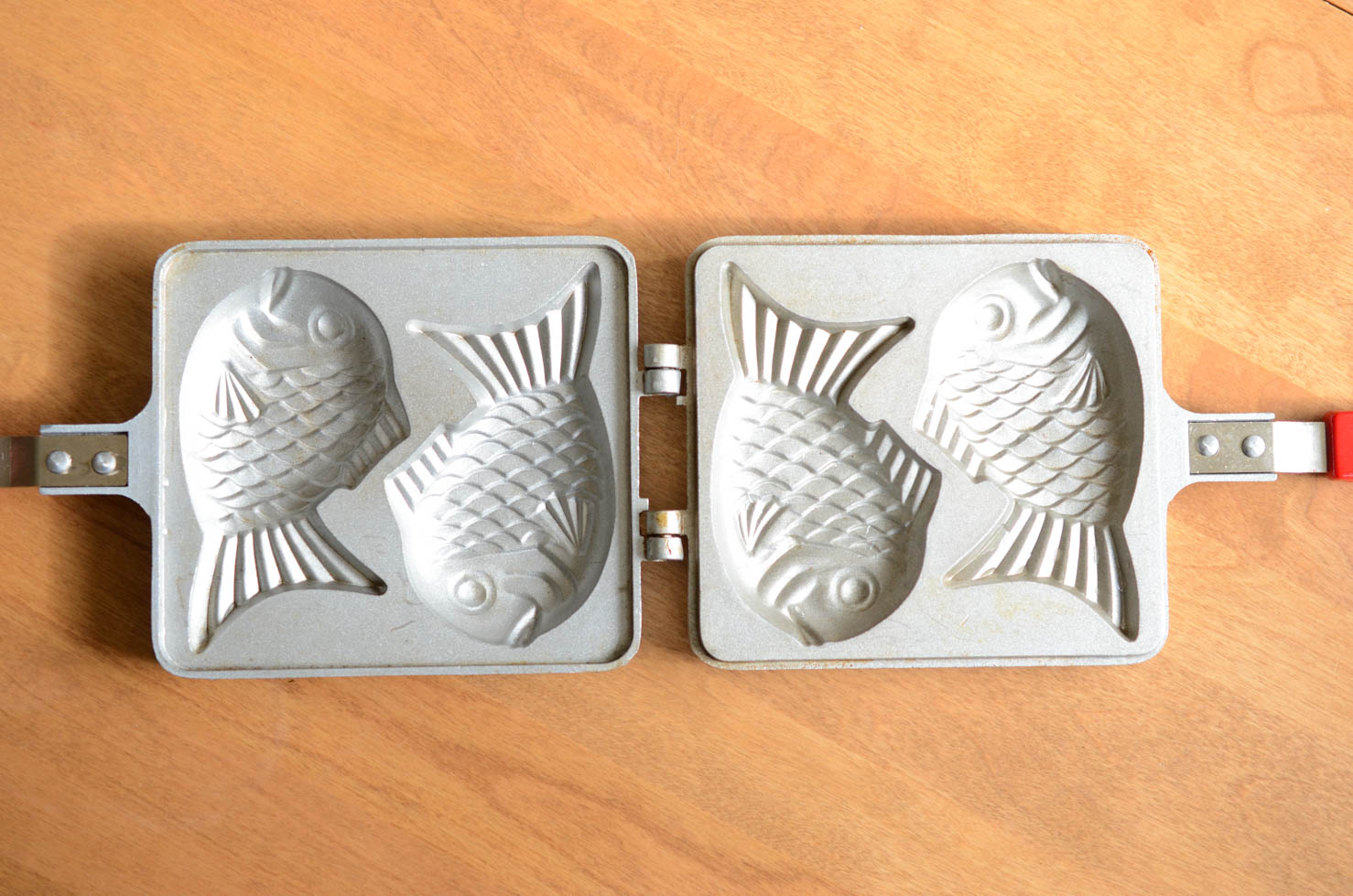 BTW, by the wonders of the internet and amazon, you can buy the pan HERE in my Amazon store. (Thank you, I get a small commission if you buy through my store). I am also quite sure Ebelskiver(Æbleskiver) pan will work just as well if you don't have it.
Now the recipe…believe it or not, I worked 2 days on this recipe! I tried the recipe on the box of the bungeoppang pan first, recipe from some Korean blogs, and even tried Trader Joe's buttermilk pancake mix..nothing came out right. But I'm happy to report I think I have it pretty close. It's just that I ended up with over 20 bungeoppangs in the freezer!!!
Yields: 4                   Time: 10 (prep) + 20 (cook) min                  Difficulty: Medium
Ingredients
75 g (2.6 oz) all purpose flour (approx 1/2 Cup + 2 Tbs)
35 g (1.2 oz) sweet rice flour (approx 3 Tbs + 2 tsp)
1/2 tsp baking soda
1/2 tsp baking powder
1 egg
1/2 cup + 1 Tbs whole milk
1 Tbs sugar
pinch of salt
1 ~ 2 Tbs oil or melted butter (for coating pan)
80 g (2.8 oz) 4 Tbs sweet red bean paste or sweet red beans
Mix all dry ingredients together. 
In a separate bowl, beat egg and then mix with milk. 
Heat the fish-shaped Bungeoppang pan on medium heat. Heating the pan properly is important because your batter will stick if it's not hot enough. About 1 min or so on each side.
Lower heat to LOW and open the pan. Brush insides (all 4 sides) with melted butter or oil. It should bubble if it's hot enough.
Pour batter into one side of the mold (the side that's over heat) – about 2/3 rd of the fish- just to cover the fish eyes and not the tail.
Quickly spoon (use two spoons) the red bean paste or red beans into the middle of the batter.


Bungeoppang filled with sweet red bean filling (with whole beans) on batter in pan

Pour batter again to fully cover the red bean paste and fill up the mold.


Bungeoppang pan with batter and sweet red bean filling in pan

Cover the top lid and immediately flip over the pan. And also raise heat to medium low. 
Cook about 2 min on each side.
Open the pan and check doneness. You may want to cook another 30 seconds or more until it's nicely browned.


Fish-shaped bread/cake fully cooked in bungeoppang pan

 

And there it is!! Serve with some ice cream and for a great dessert or with milk for a great snack for kids!! You can freeze any leftover for a rainy day like today~~ :))
Fish-shaped bread(Bungeoppang) with sweet red bean filling
Fish-shaped bread filled with sweet red beans is the most popular street food in Korea.
Prep: 10 minutes
Cook: 20 minutes
Total Time: 30 minutes
serves: 6 bungeoppang
Ingredients
75 g all purpose flour
35 g sweet rice flour (mochiko)
1/2 tsp baking soda
1/2 tsp baking powder
1 egg
1 Tbsp sugar
135 ml milk whole or low fat, 135 ml = 1/2 cup + 1 Tbsp
1 tsp vegetable oil
1/8 tsp pinch of salt
For filling
200 g canned sweet red beans or sweet red bean paste 7 oz can
1 Tbsp melted butter or 1 Tbsp veg. oil (for the pan)
Instructions
Mix all dry ingredients together.

Whisk egg and milk separately in a bowl.

Mix dry ingredients and wet altogether.

Heat the bungeoppang pan (closed) on medium heat on both sides until water sizzles on both sides. (about 1 min on each side)

Open the pan and coat inside of each fish mold (4 molds in all) with butter or oil. pastry brush works best.

Lower heat to low and pour batter into one side of the molds (2 fishes) only about 1/3 full. Just enough to cover the eye of the fish. 🙂

Quickly spoon red beans into the center of the fish. About 2 tsp full is good. More or less to taste.

Pour batter on top of the read beans to fully cover the half fish mold.

Close the pan and turn over.

Bring heat a little higher to medium-low.

Cook on each side for 2 - 2:30 min.

You can open after 2 min to check the doneness. Cook more if it's not yet brown.

When brown on both sides, transfer to a plate and let it cool for few min.

The red bean filling can be EXTREMELY HOT so please be careful.
Tips & Notes:
The red bean filling can be EXTREMELY HOT so please be careful. Break the fish in the middle and let the steam escape a little before eating. You can also use other fillings like jam, fruit preserves, custard and chocolate.
Nutrition Information:
Calories: 204kcal (10%)| Carbohydrates: 36g (12%)| Protein: 5g (10%)| Fat: 4g (6%)| Saturated Fat: 2g (13%)| Cholesterol: 35mg (12%)| Sodium: 177mg (8%)| Potassium: 87mg (2%)| Fiber: 1g (4%)| Sugar: 17g (19%)| Vitamin A: 134IU (3%)| Calcium: 52mg (5%)| Iron: 1mg (6%)
Few things to note:
For EASY recipe, make Bungeoppang with ready-made pancake mix BUT add more milk or water to make it thinner. e.g. With Aunt Jemima mix, I used 1/2 c mix, 1/2 milk, 1 egg and 1 T oil. Sadly, it's really not the same as original Bungeoppang. But it's still good so give it a try. Also, I don't recommend using Buttermilk pancake mixes, ones where you only add water, somehow they don't taste right.
Do not use waffle mix, it's too oily and too thick
There are two kinds of sweet red beans you can buy and use:  smooth paste (left) vs uncrushed beans (right). I personally like the uncrushed, looser sweet red beans (right) better because it has more texture and also spreads out better when added to the batter. But it's personal preference so it's up to you.

Sweetened Red Bean Paste in package

Sweet red beans (단팥 Danpat) in can
Hope you enjoy making these at home during the Holidays!!
Enjoy~~
XOXO
JinJoo
Follow Me on INSTAGRAM or my Facebook Page to share, support and ask everything about Korean food with others just like you!