During my recent visit to Seoul, I kind of had a mini melt down in front of my sisters #2 and #3..I don't exactly know why it happened but it was basically me feeling frustrated about my blog. It just kind of hit me that I have been blogging for 5 years and I'm still struggling with it. This year, I told myself that I would work harder at it and write posts more often. My sister #1 also decided to help with some of my social media accounts like Pinterest (thank you!) but it still felt like I was not doing enough…hearing my frustrations, my sister #3 had a wonderful idea to become my Seoul correspondent!! Since she gets to visit a lot of great restaurants while she works (she is an English-Korean Conference Interpreter and attends many conferences and seminars), she offered to share her dining experiences with me… and I get to share them with you!! :))
So – here it is from my sister #3 – THANK YOU eoni (언니)!!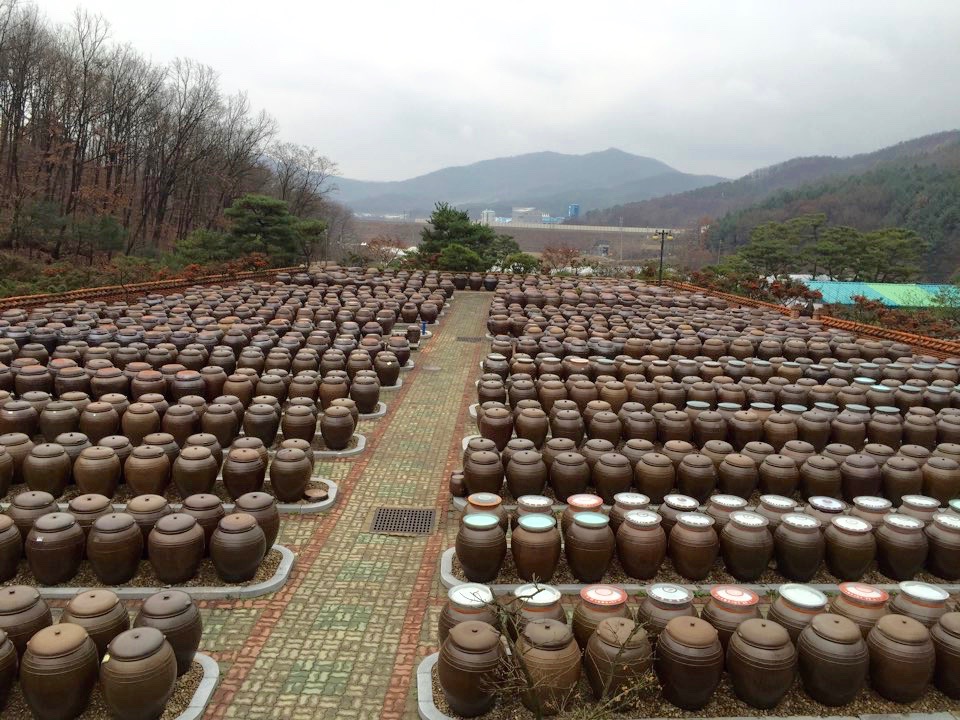 I had to accompany my client to Sejong City for a conference. Since it takes approximately 2 hours to travel from Seoul, the client took everyone – 10 of us – to this place for lunch. The name of the place is "dwee-ung-bark go-eul" (뒤웅박고을). Being the linguist I am, I looked up dwee-ung-bak. The plain bak (pronounced baak) means gourd or gourd-bearing vines. Squash family, I heard. Instead of splitting the gourds length-wise, people in the old days would only cut out the tip and used it as containers for grains or seed. This was called dwee-ung-bak.
So much for the language lesson. The restaurant is part of this big complex that mainly produces soy sauce, dwoenjang, and gochujang the traditional way using huge earthenware pots called hang-ari (항아리). There were rows and rows of hang-aris- a total of 1,700, I heard. Visually, very impressive.
The food was quite good, too. Who knew I would be having such good lunch in Sejong City. Not over-cooked, over-worked, or over-spiced. Unlike the appearance of the establishment, many dishes were fusion-style.
Case in point – the bib lettuce salad with perilla (wild sesame) dressing. I fell in love with the dressing. I'll probably be experimenting with perilla for the rest of my life trying to replicate the dressing.
The jellyfish salad and tangpyeonchae was nothing out of the ordinary, but the dish with the white long squid-looking pieces was a surprise. It was rice cakes (tteok) sautéed with vegetables like japchae, but much more interesting in terms of texture. Chewy and stringy like mozzarella sticks. Yum.
And then the cod fish grilled with gochujang sauce was equally outstanding. Very fresh, very spicy and addictive. One of those dishes that you can't stop eating although you're red in the face.
The shrimp dish looked interesting but I was too full so skipped it. I'm glad I did, because the final course was rice cooked and served in stone pots with wooden lids.
This is always a great way to round up a Korean meal. You have to spoon out the rice and pour hot barley tea into the pot and let it steep for a while.
The slightly burnt rice will soften and the whole thing becomes like roasted rice tea. We call it nurunbab. Love, love, love it.
Caution! Do NOT eat the doenjang jjigae that is served with the rice. It was so salty, I literally squinched. Strangely, for a place famous for its jangs, the doenjang jiggae was the most disappointing dish of all.
But all in all, this place is definitely worth visiting if you're headed for Sejong, Cheonan, or Daejeon city. There is also a jang museum, stone sculptures of the 12 zodiac animals of the East, and even a small botanical garden. I wasn't able to take too many pictures of the outside due to the rain, but take a look at their website www.dweeungbark.co.kr or this blog
If you visit after November, they also allow you to watch how the jangs are made. As for the menu, they let you choose between 2 different set menus.
Hope you enjoyed my sister's post!! I will be posting my bungeoppang recipe next so stay tuned!
Have a great Decemeber~~
XOXO
JinJoo