Since I won't be able to post recipes during my travels in Korea, I decided I will share my favorite restaurants in Seoul that I'm getting to visit while I'm here. Because our family is such a foodie, for us every meal is precious and so I dare not waste any of it.
The first restaurant in Seoul that came to mind when my mother asked me where I wanted to go was Pildong Myeonok in downtown Seoul. It is definitely not fancy, doesn't have any decor and the service is pretty minimal but I go there for the food. I was surprised that I could actually find it on tripadvisor and the rating was pretty high.
I remember going to this restaurant when I was in college in the 1980's and it is amazing that it is still here. Of course, the building has been renovated to a modern building from a traditional Korean hanok (home) – which really miss. It had an outside seating area with tables under a huge tree…
In addition to mandoo, they are also famous for their mandoo guk and naengmyeon.
BTW, my mandoo recipe may not be perfectly equal to Pildong mandoo but if you want anything similar, try my recipe here. Try adding more tofu, bean sprouts and less meat than my recipe and you may end up with somewhat similar Pildong Mandoo recipe.
I also LOVE their not so spicy but flavorful bibim naengmyeon (cold noodle), radish pickle and kimchi.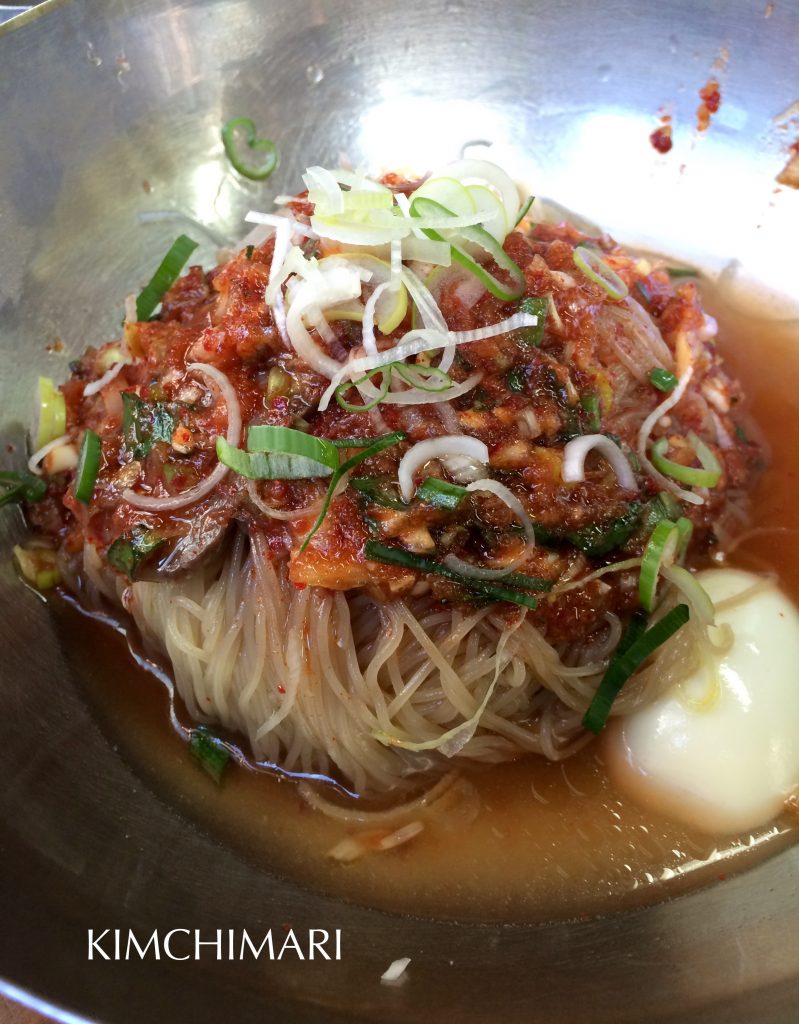 I don't yet have a bibim naengmyeon (cold noodles) recipe but this has inspired me to make one as soon as I return!
Dinner on Day 1 was Korean fried chicken and my sister's yummy salad. We ordered from Nene Chicken this time but we used to love ordering from Kanbu Chicken and BBQ chicken. They are all good. Kanbu chicken is a little more upscale and has french fries and good beer. But they don't deliver. BBQ chicken delivers. Padak (fried chicken with green onions – lots of them) was our family favorite.
Well, I guess this is another recipe that I need to work on – Korean style fried chicken! It is so crispy and light. I have to find the secret!! I also love the side of pickled radish that we get and of course the fact that you can have it delivered anywhere. I think I said this before but Koreans have fried chicken delivered to neighborhood parks, ball parks and just about anywhere these super delivery people can reach!! My daughter almost cried when we were leaving Korea because she said she will miss ordering fried chicken for delivery too much! :))
Stay tuned for many more of my best restaurants and other fun eats in Seoul!
JinJoo