9 Korean Summer Drinks and Desserts you can make during the HOT sweltering months of summer. Stay cool with these icy beverages and sweet snacks!
Summer is fast approaching, and the weather is really starting to warm up in California (FINALLY!!). I have been saying that it feels like we went straight from winter to summer! I swear that if I let the car sit under the sun for a while, it already gets so hot that you probably can fry an egg on the hood, or bake muffins in the interior.. hahaha!
Korean summers were hot and humid and when I was a kid, we barely had air conditioners.. fans and cooling Korean summer drinks like Misugaru and Subak Hwachae were the only things that could help cool us down. Thinking back on those summers when cicadas chirp nonstop (so bad that it was annoying sometimes) really brings back to my childhood… until I start thinking about the mosquitoes!! YIKES!!
Anyway, good thing there are very few mosquitoes in California – probably why I love living here so much. LOL.
Well, let's get to these wonderful Korean summer drinks and desserts then shall we??
---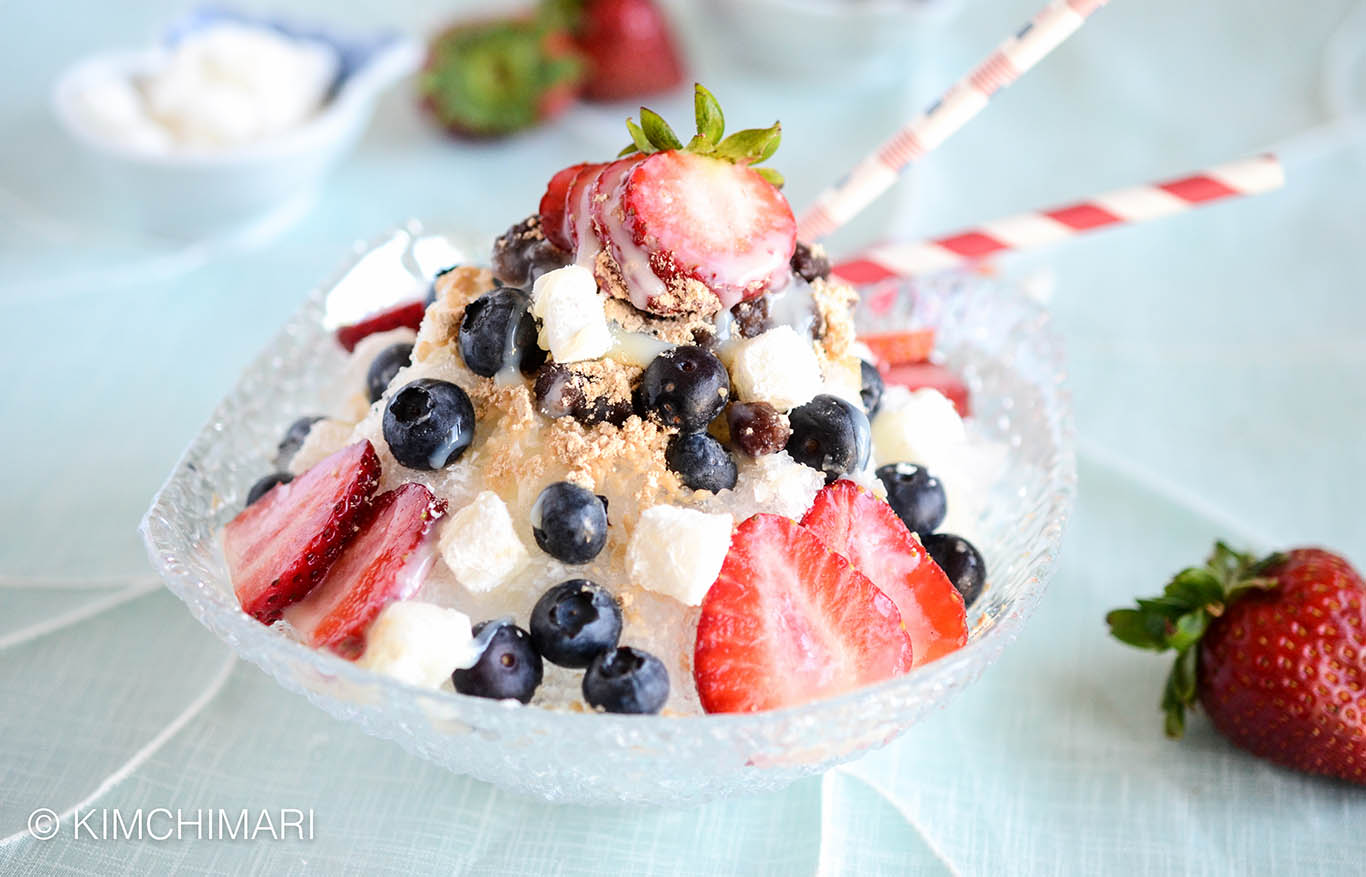 When it comes to summer, the first thing I think about is shaved ice or Bingsu 빙수! I don't think there's a better way to cool off than eating big spoonfuls of icy cold, sweet, crunchy Bingsu!
As long as you have ice with you, you can shave it down (use any ice-shaving machine) and add your favorite toppings to make it!
To make Korena style shaved ice, the 3 most important ingredients are sweet red bean paste (Danpaat), mini mochi and Misugaru powder. And then you can top it with any fruits you like! 😀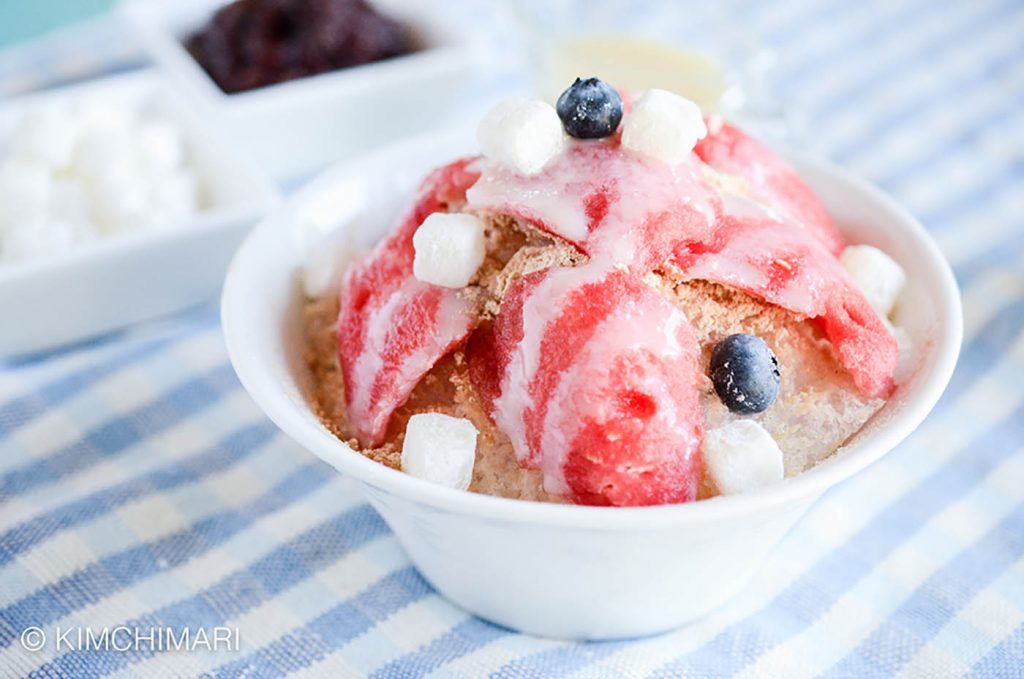 Similar to the traditional Bingsu, watermelon Bingsu is actually my ultimate favorite kind of shaved ice!
The ingredients required to make this Bingsu is easier to get. Basically, you can get it all from your local grocery store. So, if you have some watermelon lying around and some sweet condensed milk, then you need to make this shaved ice!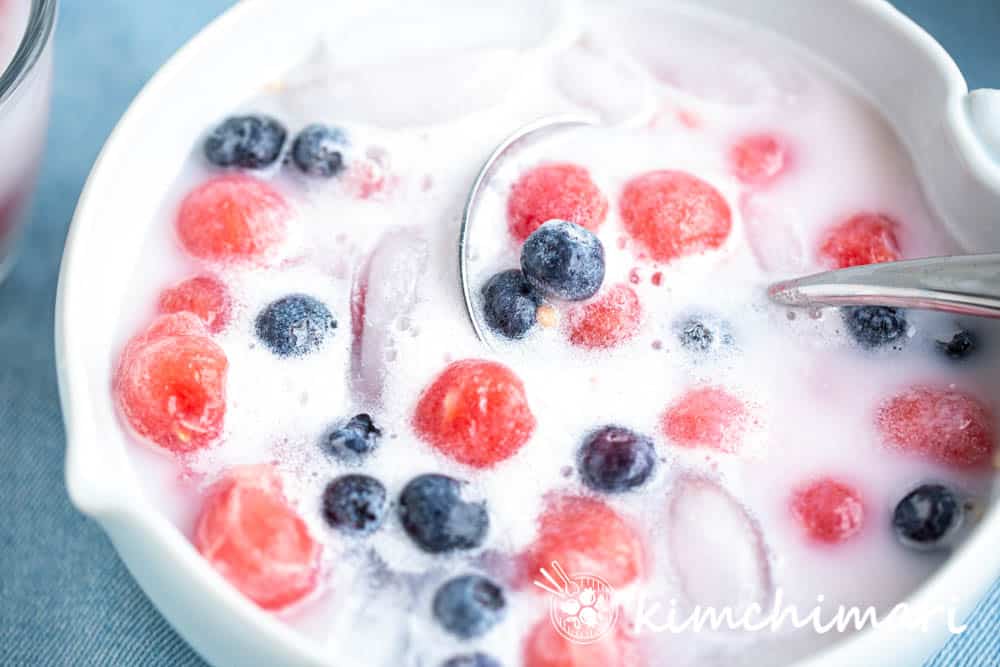 Speaking of watermelons, if you still have that watermelon… consider making this fruit punch too!
This recipe is very, very simple to make. I made different versions of this punch so that you can try out the variations, and see which one you enjoy the most!
The milk and sugar enhance the flavor of the watermelon while not overpowering it. I add some bubbly soda to make it even more refreshing and cool!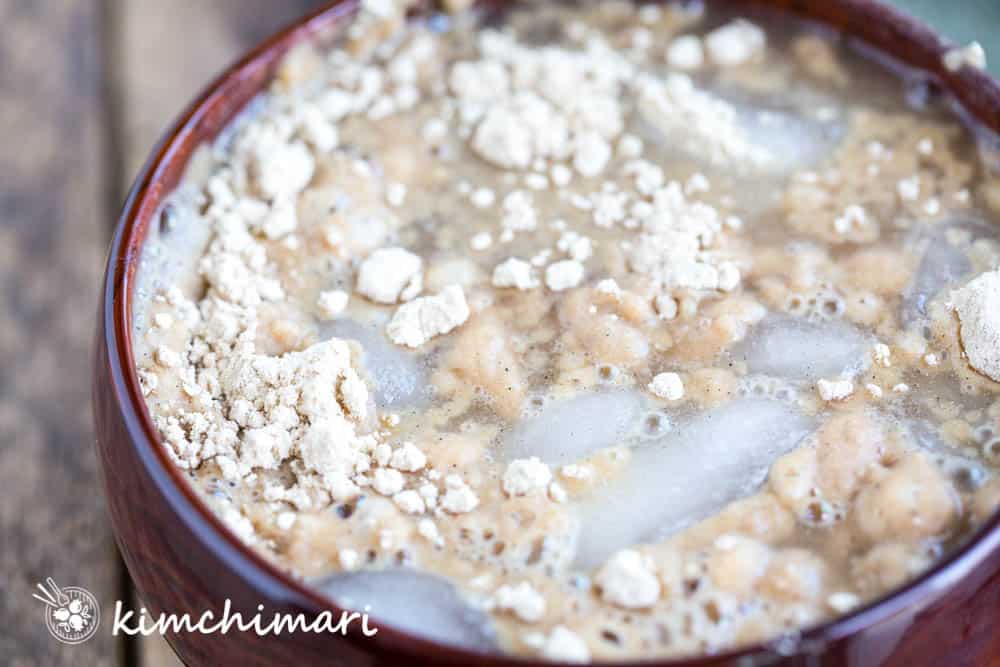 Misugaru is a nutritious powder made from a combination of grains. When it's mixed with water, honey, and ice, it becomes a delicious drink that is perfect for summer.
BTW – you can buy Misugaru from my Amazon shop if you don't have access to a Korean grocery store nearby.
It was a popular drink during my childhood, and I remember drinking bowlfuls of it during the hottest days in summer. It always helps me cool off no matter how hot the temperature was.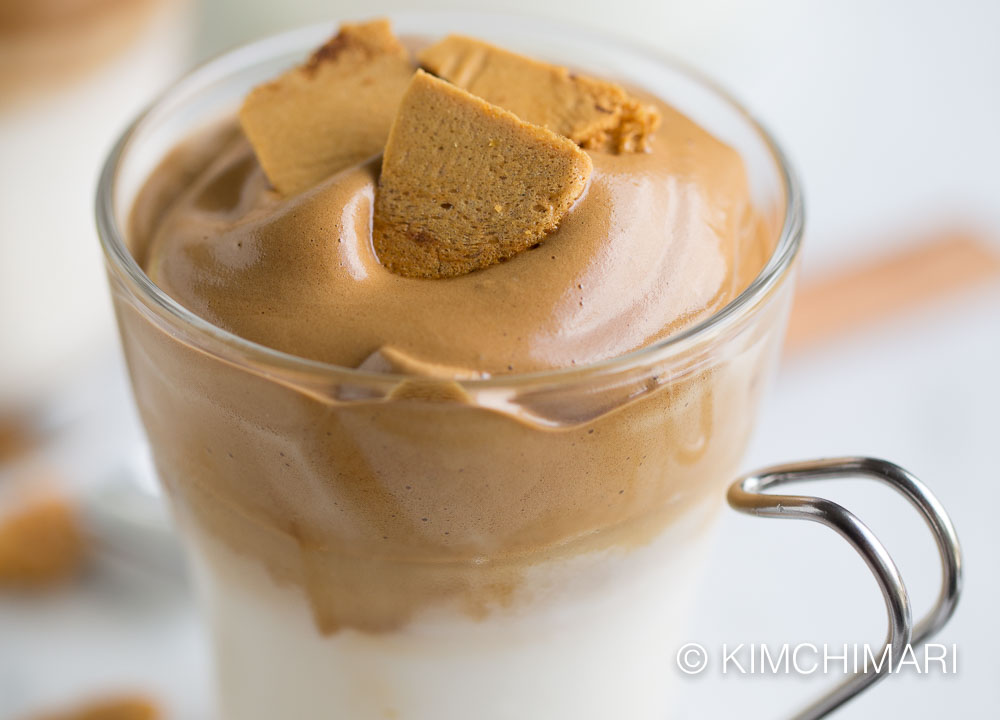 During the pandemic, this dalgona coffee became viral. It's a refreshing latte drink that's almost like a dessert. Fluffing up the foam from instant coffee crystals takes a bit of a workout, but the reward is definitely worth it in the end!
If you want to add some more sweetness to your Dalgona coffee, I put some shards of dalgona candy on the top of the foam. It's delicious on dalgona foam, and by itself, and it's also a lot of fun to make!
Sikhye is a drink that is served as a dessert after a festive Korean meal especially at New Year's or Chuseok or served just as a snack drink any time of the day. This drink is sweet but the sweetness is a very refreshing kind of sweet because of the malted barely power (yeotgireum garu) used to make it. It was my favorite drink to get when visiting relatives with my mom.
The Sikhye made commercially nowadays just don't compare to the ones that are homemade. They are usually too sweet and a bit flavorless. Properly made sikhye has so much more flavors with a curiously clearing feel.
Other than Sikhye (Korean sweet rice punch), Sujeonggwa is also another classic after-dinner drink or snack drink you will see served during special holidays. Sometimes I find Sujeonggwa way too sweet or too spicy (from the cinnamon). For this Sujeonggwa recipe, I specifically made it so that it's not too spicy, nor is it too sweet but you can certainly adjust the sweet and spice level by adjusting the recipe.
When I was a child, I often dreaded drinking this because of how spicy others would make it! When I visited my relatives with my mom and they serve me a very spicy Sujeonggwa drink, I would sit there and feel tormented because I felt like I needed to finish it but I couldn't.. 🥵🥵
This drink is said to keep you healthy and protect you from catching colds. The ginger will also help clear up your sinuses and warm up your body.
NOTE – This recipe doesn't require an ice cream machine!
I bet you've never had Korean rice-wine-flavored ice cream. This Korean summer dessert is lighter than most ice creams, and the makgeolli gives the ice cream hints of sourness that go amazingly with the sweet flavor.
The recipe makes 4 servings that you can have all throughout summer. Enjoy!
Adding a few spoonfuls of Maesil Cheong (Maesil Syrup) in iced water makes a great summer drink that's very hydrating and also helps with digestion. Btw, you can also make a warm tea with it so try it both ways.
However, making Maesil Cheong itself takes at least 90 days. But you can buy a bottle from my amazon shop here.
Green plums are quite tart and amazingly fragrant so when you ferment them in sugar for 3 months, it comes out perfectly balanced – not too sweet, not too sour and just simply soothes the soul when you drink. 😍
I hope you like it as much as I do!
---
Making this list of Korean summer drinks and desserts really made me excited for summer, and now I'm craving some watermelon punch myself. I hope these drinks help you get through the hot summer this year!
Enjoy!
XOXO ❤️,
Take care,
JinJoo