Doraji Namul (sauteed bellflower roots) is a delicious classic Korean vegetable side dish. It's also a popular topping for traditional Korean bibimbap. It's crunchy and chewy with a very slight pleasant bitter aftertaste that is just so curisouly delicious.
What is Doraji?
Doraji 도라지 is the root of the Bellflower or Balloon flower plant. Also called Platycodon grandiflorus, it usually grows wild in the mountains and fields of Korea and has a beautiful purple flower that has a balloon shape before the flower is fully open. The root of the bellflower looks similar to the ginseng root and tastes slightly bitter with a ginseng-like smell and flavor but much much milder.
It's a very common root vegetable that Koreans love to make a side dish with or make tea with. It's usually also a classic topping for traditional bibimbap and also a part of Korean Samsaek (Tricolor) Namul. The trio of white, brown and green namul side dishes are always included in a Korean traditional meal to celebrate holidays like Chuseok. And for white color, Koreans make either Doraji Namul or Radish Namul.
Benefits of Doraji (bellflower Root)
Bellflower or Balloon flower roots (Doraji) have been used as an anti-inflammatory, analgesic, sedative, and fever reducer in herbal medicine for generations. It is also good for young children and elderly people who have weak immune systems that are vulnerable to respiratory diseases, as well as for asthma.
So Koreans make tea or tea syrup with this wonderful root in addition to making namul (which is one of the must namul for bibimbap). It's also low-calorie and high-fiber food so it's great all around!
How and where to buy Doraji
Korean bellflower or balloon flower roots are generally sold dried, already split and cut into thinner strips. Sometimes you can buy already prepped frozen doraji and you won't need to rehydrate them but just defrost and saute them. You can buy these from Korean grocery stores in the dried food section OR with other dried namuls in the freezer section.
The dried namuls last for months to years as long as they are kept in a cool dry place.
CAN I GROW IT AT HOME?
YES! You can also grow them at home! You can BUY the seeds in my Kimchimari shop. Note, you will need to grow 2-3 years for you to be able to harvest big enough roots for cooking.
How to prep dried Doraji for Sauteed Bellflower Roots
Soak the dried Doraji in lukewarm water for 2-3 hrs or until the roots are soft. Rarely some may need longer soaking time. Once fully soaked, drain and pick out roots that are too thick and split them by inserting a knife in the center and cutting upwards and splitting it into thinner roots. Watch the video on how I do this or see pic below.
[OPTIONAL] After the roots are soaked, you can boil them in water for 5-7 minutes to draw out the bitter flavor. I personally like the bitter flavor so I don't, but the conventional recipe is to boil them first. Be careful not to boil too much because they can become mushy if cooked too long.
Ingredients
50g Dried Doraji (Bellflower Roots) + water for boiling if you want
1 tsp vegetable oil
1 tsp chopped garlic
1 tsp sea salt
1 tsp sesame oil
1/4 cup water
1 tsp chopped green onion
Step-by-Step Instructions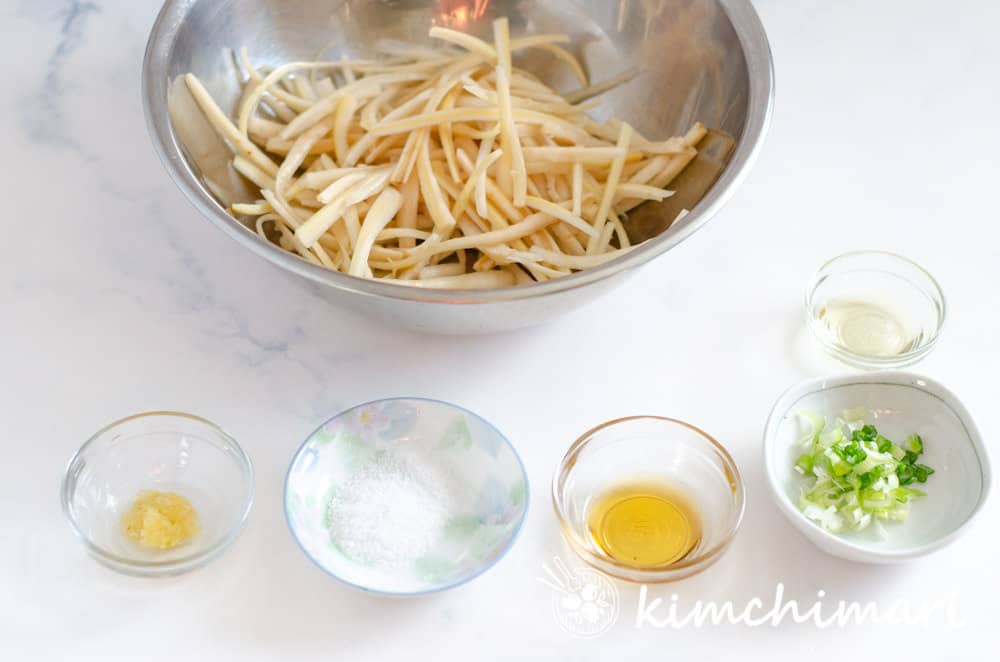 Soak dried doraji in lukewarm water for 2-3 hrs until it's fully rehydrated. NOTE – if FROZEN or FRESH, skip to step 2.
Chop garlic and green onions.
Once the bellflower roots are fully soaked, go through them and cut off brown ends, cut long ones into shorter pieces and also take the very thick ones and split them into thinner pieces. DRAIN.
OPTIONAL – Boil doraji roots for 5 min in water or so to soften and also to draw out bitterness from the root. Because I love the bitter flavor and prefer a more crunchy texture, I sometimes skip this step. Rinse in cold water and drain.
Add salt to drained doraji and massage with your hands.
Heat vegetable oil in pan on medium heat.
Add chopped garlic to pan and saute for 10 or so seconds.
Add doraji to the pan with garlic and oil and saute for few seconds. **If you boiled the roots in water then you will need to add extra salt because the salt you added in step 4 would have mostly been washed away. Add about 70-80% of salt amount you added in step 4.
Sprinkle chopped green onions, pour water into the pan and cover. Let it cook for 3 min.
Uncover and stir, and cook further until almost all the water evaporates.
Turn heat off and finish with sesame seeds and a swirl of sesame oil.
SERVE Sauteed Bellflower Roots at ROOM TEMP, NOT HOT
Because Doraji tastes more bitter when warm. But at room temp or cold, it will taste very mildly bitter.
How to make Doraji Namul Video (2:37, narrated)
Doraji Namul is the best topping for Bibimbap!~
Along with Gosari, Shigeumchi, Radish Salad, Kongnamul and Beef! So make some extra and make Bibimbap with it!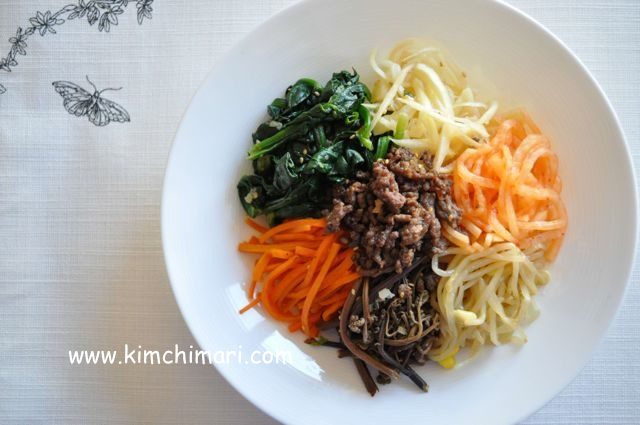 Bibimbap is a traditional Korean rice dish with vegetables and meat all mixed together in a yummy spicy gochujang based bibimbap sauce.
Get Recipe
Doraji Namul (Sauteed Bellflower Roots)
Sauteed Bellflower Roots (Doraji Namul) is a classic Korean vegetable dish that's great as a side dish or as topping on bibimbap.
Prep: 5 minutes
Cook: 5 minutes
Total Time: 3 hours 10 minutes
serves: 6
Ingredients
50 g dried bellflower roots (doraji) 50g = 1.75 oz
Instructions
Soak dried doraji in lukewarm water for 2-3 hrs until it's fully rehydrated. Skip this step if you have a FRESH or FROZEN wet Doraji.

50 g dried bellflower roots (doraji)

Chop garlic and green onions.

1 tsp garlic, 1 green onion

Once the bellflower roots are fully soaked, go through them and cut off brown ends, cut long ones into shorter pieces and also take the very thick ones and split them into thinner pieces. DRAIN.

OPTIONAL – Boil doraji roots for 5 min in water or so to soften and also to draw out bitterness from the root. Because I love the bitter flavor and prefer a more crunchy texture, I sometimes skip this step. Rinse in cold water and drain.

Season drained Doraji with sea salt. Massage with hands so salt is evenly distributed.

3/4 tsp sea salt

Heat vegetable oil in pan on medium heat.

1 tsp vegetable oil

Add chopped garlic to pan and saute for 10 or so seconds.

1 tsp garlic

Add doraji to pan with garlic and oil and saute for few seconds.

Sprinkle chopped green onions, pour water into the pan and cover. Let it cook for 3 min.

1/4 cup water, 1 green onion

Uncover and stir, cook further until almost all the water evaporates.

Turn heat off and finish with sesame seeds and a swirl of sesame oil.

1 tsp sesame oil, 1 tsp sesame seeds
Tips & Notes:
Doraji tastes bitter when it's hot so don't taste it until it has cooled down.
Try using Perilla Seed oil (Deulgireum) for extra herbaceous flavor
Refrigerate leftover Doraji Namula and serve straight from fridge. No need to heat it.
Use as topping for Bibimbap, it's delicious!
Doraji is a great diet-friendly food – low in calories and carbohydrates
Nutrition Information:
Calories: 41kcal (2%)| Carbohydrates: 0.4g| Protein: 1g (2%)| Fat: 2g (3%)| Saturated Fat: 0.2g (1%)| Polyunsaturated Fat: 1g| Monounsaturated Fat: 1g| Trans Fat: 0.01g| Sodium: 297mg (13%)| Potassium: 137mg (4%)| Fiber: 1g (4%)| Sugar: 0.2g| Vitamin A: 20IU| Vitamin C: 1mg (1%)| Calcium: 6mg (1%)| Iron: 0.1mg (1%)