Samgyeopsal is a fabulously simple yet delicious Korean grilled pork belly that everyone loves and is clearly the most popular summer food in Korea. Korean summer vacation is never complete without having a Samgyeopsal Party!! And I will show you how to have one!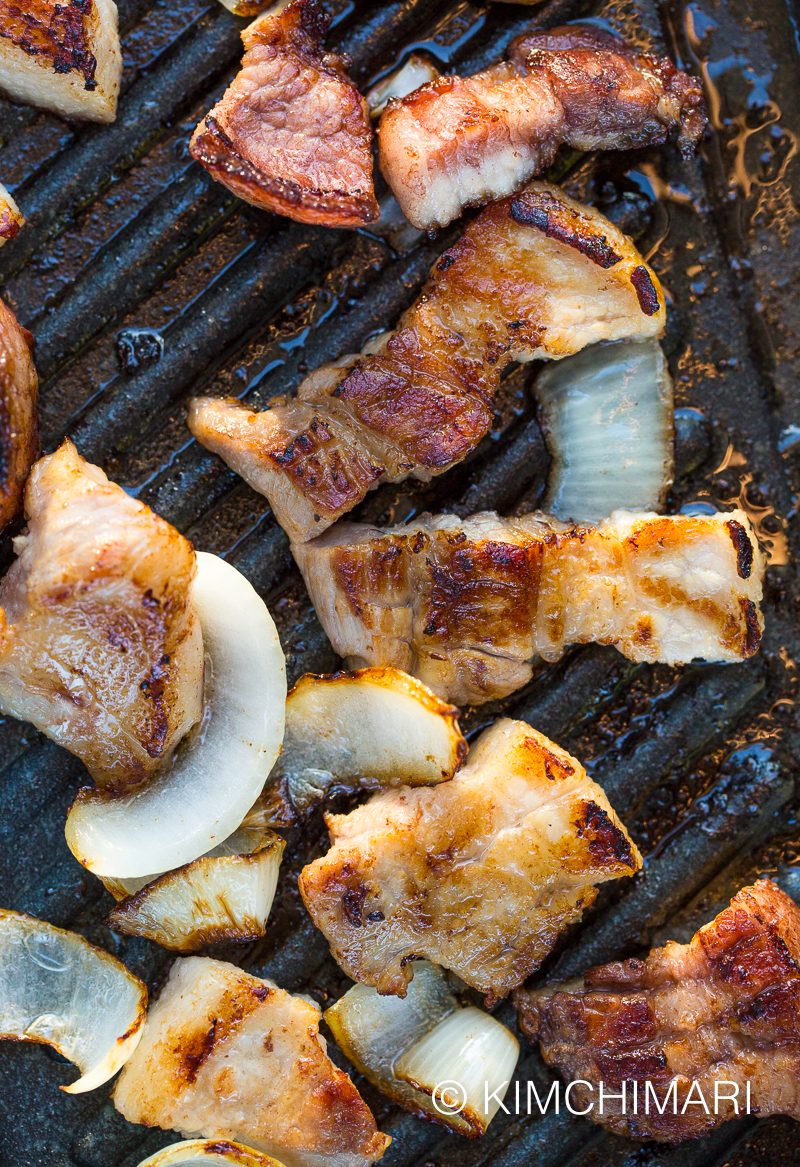 Samgyeopsal 삼겹살 simply means pork belly in Korean, while Samgyeopsal Gui 삼겹살 구이 means grilled pork belly. Normally, unseasoned, plain slices of pork belly are grilled either on a special pan designed to draw away fat (like this one in my Amazon store) or on a charcoal grill and then enjoyed with various condiments then wrapped in ssam (lettuce wraps).
Samgyepsal always makes me smile because  I think about how much I loved this pork belly when I was a kid. I remember sitting at the table with the whole family of  7 on Sundays and yelling across the table, asking for a piece of my PRECIOUS pork belly..🥓🐷..
"Give me the piece with the most Baegye 배게!!!"
(Now, note, Baegye 배게 means pillow. ) HAHAHA…🤣😂 So everyone laughed!!
At the time, I did not understand why everyone was laughing and it made me upset. 😡😡Why are they making fun of me?? What did I say??
Then I realized after I got older, I was totally mispronouncing the word Bigye 비계 (fat) and said Baegye (pillow) instead!!! HAHAHA… HEY, it's somewhat similar…Now, I'm sure you can guess..I was not a skinny child. 😝
In the last 20 years, people started making wine samgyeopsal after wine became popular and common in Korea. It is really not served much at restaurants for some reason (probably because most wines are imported) but Koreans who drank wine started to make this at home.
Tips for Best Samgyeopsal Party
Buy good quality pork belly for Samgyeopsal – Koreans usually like Black Pigs (Heuk Dweji 흑돼지) and especially ones from Jeju Island. It is known to be less gamey and has more chew to it. In the US, Kurobuta pork is available which is equivalent to Wagyu of pork. Berkshire pigs (which are also black) were further developed in Japan through breeding and is known for its tenderness, marbling and flavor. Finally, I found this Mujifuji pork (see in my directions) at my local market which is Canadian premium pork that's bred from Large White x Landrace female and 5th generation Duroc male. Mujifuji is known for its high marbling score also.
Use my wine marinade for extra flavor! But you can do it without – the classic way.
SERVING SUGGESTIONS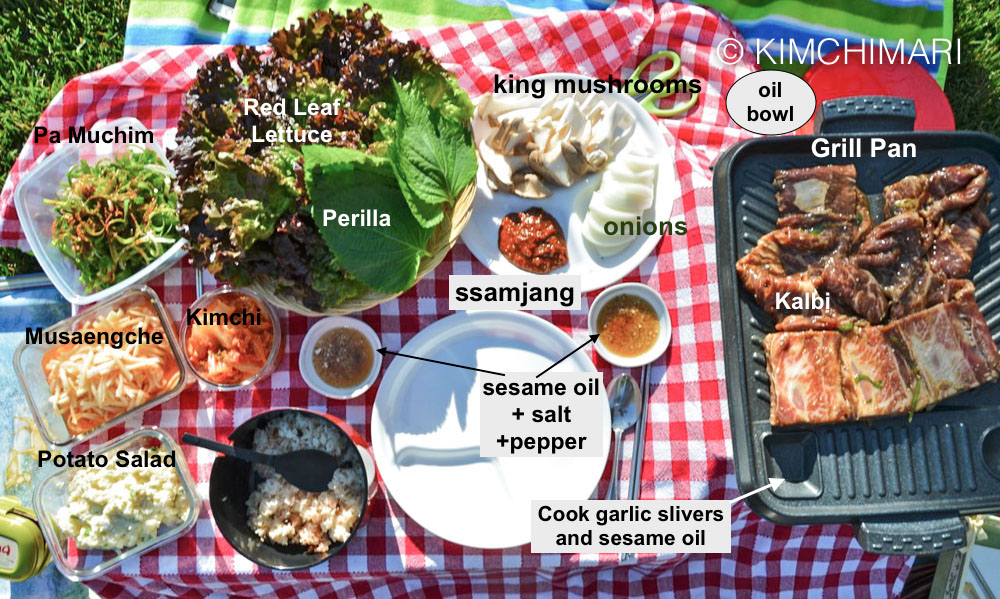 Here's a picture of one BBQ picnic we had out in our backyard couple of summers ago. Although Kalbi/Galbi is being grilled here, you can grill pork belly with the same setup. I've included this picture and more detailed explanations on how to plan and cook for this feast in my Korean BBQ Dinner cookbook. You should already have this cookbook if you are a subscriber to my blog. If not, SUBSCRIBE  NOW to get your FREE COPY!!
Serve with tasty side dishes – best to have at least one from each group:
Try different thickness – some like it thin, some like it thick. There's no one answer. I like it both ways.
For thicker pork belly – score the meat yourself or buy Beoljip Samgyeopsal 벌집 (Beehive) 삼겹살 if your store sells them. I personally find them tastier because the honeycomb cuts allow the fat to be rendered better while absorbing the marinade fully.
Dipping Sauce (oil)

Sesame Oil + Sea Salt  (use good quality Korean sea salt  or Guerande salt  – do NOT use rock salts like Himalayan salt or table salt, because they are too salty and not tasty)
Notes on Wine Marinade for Samgyeopsal
Use Jangahjji pickle juice, diluted with water.
Which wine for  Samgyeopsal?  Red or White?
I've tried using red or white wine and we had a hard time deciding which one we liked better. The red wine marinade definitely has a more noticeable wine taste which I think some may love and some may not. If you are a red wine lover, definitely try it.
The white wine marinade almost feels like there's no marinade but I feel produces a smoother taste than un-marinated pork and will completely get rid of any porky smell (if any).
I used a dry chardonnay for white and a red blend for the red but you can also use Merlot, Cabernet Sauvignon and any other reds you like. Basically, you can use any dry red or white.
Step-by-Step Directions
If the pork belly is not scored and is thick, I would recommend scoring one side of the pork belly (vertically across the fat layers) to help with fat rendering during cooking and  also absorb the marinade better. If it's not thick, do not score.

Honeycomb Pork belly (Beoljip Samgyeopsal)

(OPTIONAL) For a nicer presentation, roll each pork belly piece with a piece of bay leaf in the middle. Do it so that the scored side faces outside.

Pork Belly rolled with bay leaf and rosemary

In a bowl, add pork belly, bay leaves, rosemary, peppercorns, extra virgin olive oil and WINE!!

White Wine Samgyeopsal Marinade

OR..

Samgyeopsal Marinating in Red Wine (before EVOO)

Marinade for 2-3 hrs or up to overnight. Turn the pork belly pieces once halfway through. But do not marinade longer than 24 hrs, esp. red wine – the flavor of the wine becomes a bit overwhelming. Or try diluting the wine with some rice wine if you have to leave it longer.
(EXTRA) Prepare some veggies to grill with Samgyeopsal – slice onions, king oyster mushrooms and even potato. See my Serving Suggestions picture above ⬆️. Also, prepare some ripe cabbage kimchi and grill them with the pork belly – it's sooo good!
Prepare a tabletop grill as you see in the picture above. Or pan-fry few pieces at a time and then enjoy them by dipping them in sesame oil + salt mixture and rice and kimchi. Or make a handful of ssam by adding rice -> meat -> ssamjang -> pickles!

Ssam with rice, grilled samgyeopsal, kimchi then topped with ssamjang and garlic scape pickles
If you have tried this or any other recipe on my blog then please rate the recipe (☆☆☆☆☆ at the top right of the recipe card) and leave me a comment to let me know how you like it! Every 5 star helps me a lot and I also love hearing from you! 😍
You can also FOLLOW ME on FACEBOOK, PINTEREST and INSTAGRAM or join my FACEBOOK GROUP  to ask and share everything about Korean food with others just like you!
Enjoy!
XOXO ❤️,
JinJoo
How to cook Samgyeopsal PorkBelly - Recipe and Tips
Samgyeopsal (Pork Belly) Wine Marinade
Very simple marinade for Korean Samgyeopsal (pork belly) with wine and herbs. It's bit of a fusion recipe but is a popular version in modern Korean cuisine.
Prep: 10 minutes
Cook: 0 minutes
Total Time: 2 hours 10 minutes
serves: 4
Ingredients
1.5 lb pork belly (samgyeopsal)
Marinade
1.5 cup wine (red or white)
1 tsp whole peppercorns (colored peppercorns are even better)
1 Tbsp olive oil
5 bay leaf
5 rosemary (sprigs)
Instructions
If samgyeopsal are thick cuts, OPTIONALLY, you can score one side of the pork belly slice - across the layers.

In a bowl, add the samgyeopsal, wine, bay leaves, peppercorns and rosemary sprigs.

For a nicer presentation, roll each pork belly slice with a bay leaf in the center. Then add marinade.

Marinate for 2-3 hrs before cooking. You can leave it overnight in the fridge. For red wine marinade, do not marinade longer than 24 hrs.

Grill samgyeopsal on frying pan, table top grill pan or outdoor grill. Serve with ssamjang, ssam vegetables, kimchi and more! See my Serving Suggestions for more ideas.
Equipment
Korean BBQ Grill Pan

Tabletop Gas Grill

Tongs

Scissors
Tips & Notes:
For a nicer presentation, roll each pork belly slice with a bay leaf in the center. Then add the marinade.
Use red wine for more complex flavor. Use white wine if you want a simpler tasting pork belly.
Freeze leftover pork belly pieces (take out from marinade) and use for later.
You can  also marinade whole thick chunks of pork belly (2 x 2 inch thick cut), grill the outside first then cut it into slices before grilling each piece.
Nutrition Information:
Calories: 990kcal (50%)| Carbohydrates: 3g (1%)| Protein: 16g (32%)| Fat: 94g (145%)| Saturated Fat: 33g (206%)| Cholesterol: 122mg (41%)| Sodium: 59mg (3%)| Potassium: 418mg (12%)| Fiber: 1g (4%)| Sugar: 1g (1%)| Vitamin A: 15IU| Vitamin C: 0.5mg (1%)| Calcium: 21mg (2%)| Iron: 1.4mg (8%)