These 3 salad dressings make wonderful gifts for the holidays! I have a soy mustardy dressing for a tofu asian salad, a oniony nutty sweet sesame dressing for a spinach salad that goes wonderfully with Korean or Asian food. Finally, a very simple lemon vinaigrette that just goes well with any meal. 
Do you need ideas for holiday gift for someone who love Asian food?? Well.. my Salad Dressings goes fabulously well with Asian or Korean food and so these will make a wonderful gift for the holidays!!
I wrote this post many years ago on my old blog and I forgot to move it over, so here it is with of course some updated info and a full recipe card.
Whenever I am invited to a potluck dinner at a Korean friend's home, I am usually asked to bring a salad. Making a salad really doesn't require a whole lot of expertise but I think I get asked often because I make salads that go well with Korean/Asian food.  Few years ago, a friend of mine had a baby and when I asked her what I could do for her – she asked me to make some salad dressing. So I started out making one and then two and then three..basically because I couldn't make up my mind.
So I made these 3 salad dressings and bottled them in these jam jars which you can easily buy from any grocery store. I labeled them, had some fun with the lettering and realized what perfect gifts these pretty jars of dressing would make for any occasion!
Gift Jar#1 – Soy Mustard Tofu Salad Dressing
The first dressing for Tofu Salad is totally my creation. I love love the tofu salad that is served at our local Tofu House restaurant and I ended up with this recipe after several trials and errors. It is a Soy Mustard dressing which has no oil in it so it tastes really refreshing and the mustard adds a bit of kick at the end which makes it go really well with many Asian or Korean dishes that are either quite heavy in garlic and other spices (as this does not have any garlic or onions) or quite mild (in which case this breaks up the mildness).
I actually have a full Tofu Salad recipe post here but you can just make the dressing and put it in a pretty jar and give as a gift.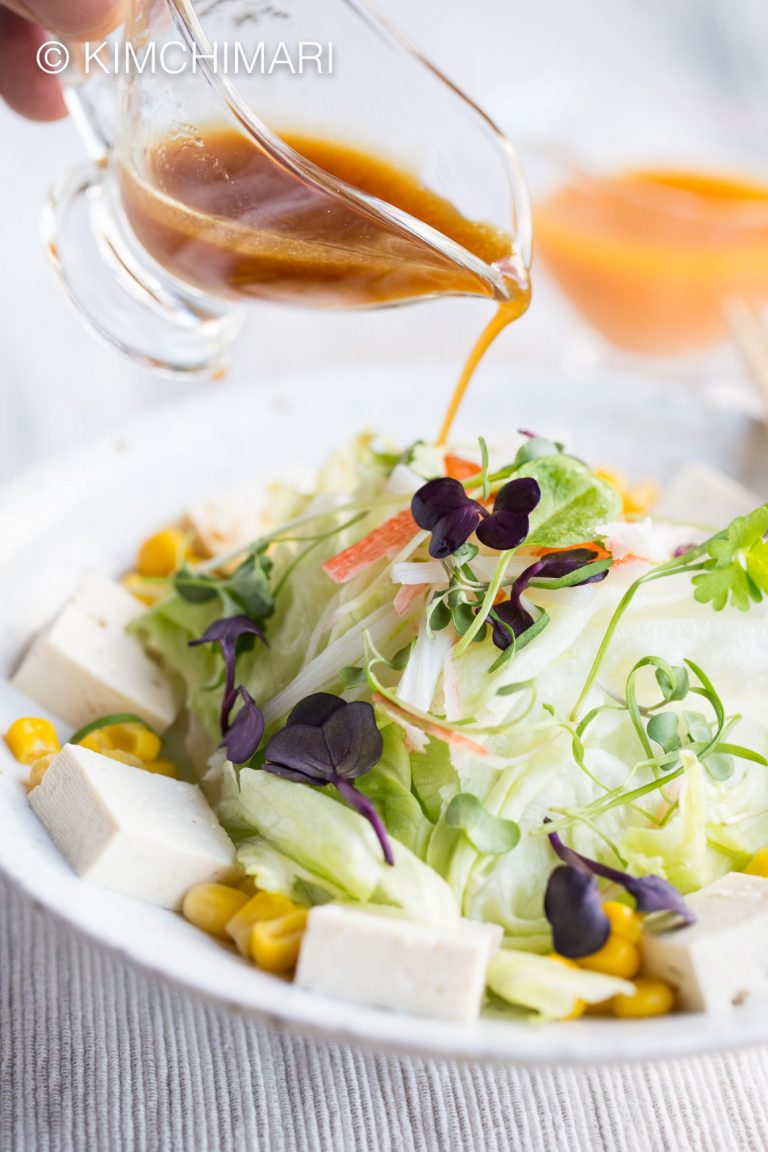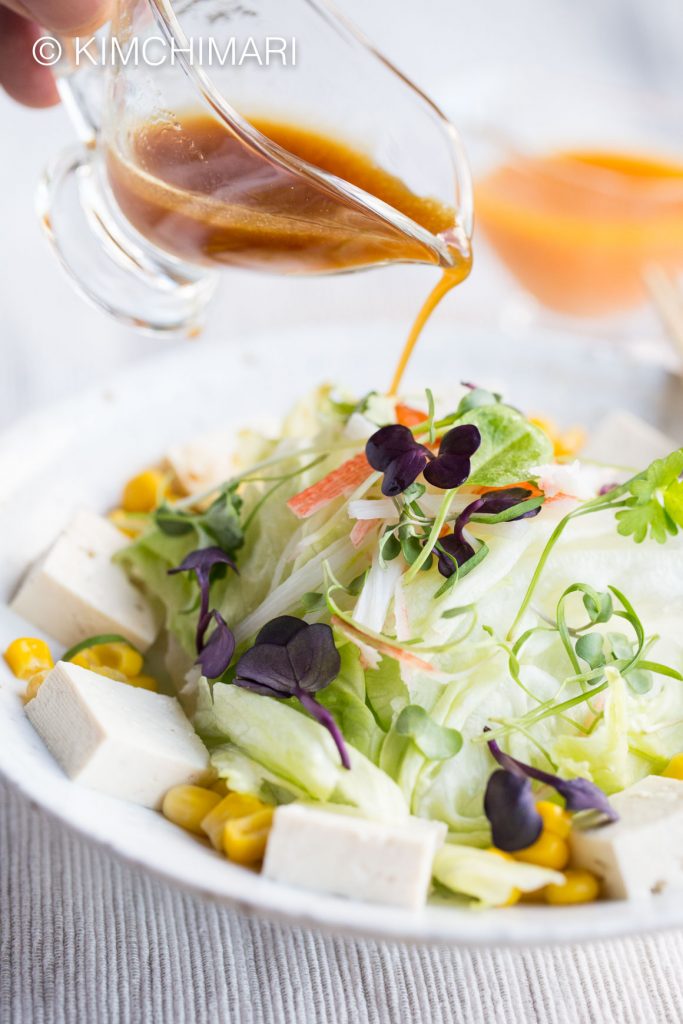 Gift Jar#2 – Sesame Onion Dressing
Sesame Onion is my second dressing. It is a modified version of a Strawberry Spinach Salad dressing which I found in allrecipes.com. I made some changes to it by using purple onion instead and omitted the poppy seeds. And you can make a jar of this and provide the following recipe with the dressing – Use this dressing with spinach, strawberries and/or raspberries and toasted almond slivers. Possibly add some pomegranate seeds for the Holidays to make it extra festive!
OH! And to make it extra special and delicious, I would add a bag of tasted sesame seeds and almond slivers to go with the dressing just so they have it when they make the salad. These 2 ingredients make this Sesame Onion Dressing Spinach salad really yummy. And this salad is PERFECT for Korean or Asian food potlucks because the onion in the dressing makes it bold enough to stand up to any garlicky or spicy meal.
Gift Jar #3 – Lemon Vinaigrette
Sometimes, simple is best. You may think this dressing is not very special but I think it can be a dressing that can be a base dressing for many salads for whatever meal. Please be sure to use fresh lemon juice to make this dressing. And tell your friend that they can just season it further to make it their own.
Tips for gifting my salad dressings
Pack these 3 jars of goodness in 8 oz glass jars and gift someone you love. Please don't forget to also either provide a link to my recipes or give them a printed recipe.
For the Tofu salad dressing, you can either give a link to my recipe RECIPE HERE (or give them a print out).
For the Strawberry Spinach salad dressing, just tell them to enjoy it with spinach, strawberries or raspberries and some pomegranate seeds. And don't forget to pack sesame seeds and almond slivers.
Please note that these should be kept in the fridge and probably good for a month or so but not much more.
Well, I hope this will be helpful in making some special home made gifts for your family or friends.
Happy Holidays!
XOXO ❤️🎄
JinJoo
☆ Did you make this gift? I hope you can give me a 5 star rating below!
Please leave me a comment below! I'd LOVE to hear from you! 😍
You can also FOLLOW ME on FACEBOOK, PINTEREST and INSTAGRAM or join my FACEBOOK GROUP to see, ask and share everything about Korean food with others just like you!
3 Asian Salad Dressing Recipes for Gifts
These 3 Asian salad dressings make a great gift for anytime of the year but especially for the Holidays! These salads pair wonderfully with Asian (Korean) meals.
Prep: 10 minutes
Total Time: 10 minutes
Nutrition Information:
Calories: 462kcal (23%)| Carbohydrates: 25g (8%)| Protein: 2g (4%)| Fat: 41g (63%)| Saturated Fat: 20g (125%)| Sodium: 478mg (21%)| Potassium: 69mg (2%)| Fiber: 1g (4%)| Sugar: 21g (23%)| Vitamin A: 140IU (3%)| Vitamin C: 0.7mg (1%)| Calcium: 48mg (5%)| Iron: 0.9mg (5%)