Last autumn when I visited Seoul, one of my best college friend Insook took time out of her busy schedule to take me to a Korean Royal Cuisine restaurant called Jihwaja (지화자). Sorry Insook- for the very late post!!
During college days at Ewha University, Insook and I became great friends. Not because we naturally attracted each other-you know how that happens in a school situation-but in our case because we were put together as Class President and Vice President by popular vote. I tried to say NO in many ways (really, honestly, I hate things like that, I just enjoy being anonymous and hidden in the background) but my class mates (all 76 of them) just would not hear it. I had a hard time absolutely saying NO because our class kind of had a rough year the year before so I felt bad..BTW, by "rough year", I mean we had a class President picked by professors for our freshmen year and it really did not work out. My friend Insook is a natural leader whereas me-not so much. Most of all, I HATE standing and speaking in front of a crowd (even though they were all good friends), I get so crazy nervous my brain just stops and my mouth becomes so dry, the lips just stick together and won't open. haha..
So I always asked my friend Insook, the Vice President, to always speak for me in front of the class. She would chuckle and say "Oh.. alright..". Thanks mostly to her, we were able to survive the year without major mishaps. The only complaint was that we didn't have enough group meetings with boys. What?? What is that?? Hahaha.. since our college was an all girls university, one of the most important task as the class president is to arrange a group meeting with boys from another university. It's like blind date in masses. I get together with a class president from another university and we arrange a meeting place, match up the number of people and then we match each couple up by picking numbers, picking personal possessions, whatever works..Now, because I grew up partially outside of Korea, my circle of friends was small and had ZERO friends who were boys. So therefore, I lacked the ability to set up these meetings!
Oh well.. what can you do…
Anyway, my friend has always been so supportive with my blogging and she invited me to a lunch at Jihwaja – Korean Royal Cuisine (Gungjung Eumsik 궁중음식) restaurant run by the family of Hyesung Hwang who was the last chef in the royal palace during Joseon Dynasty. Chef Hwang passed away in 2006 but she left a great legacy of Korean Royal Cuisine including a school dedicated to teaching and passing on the heritage. You can read more about her on their website – Jihwaja.
Well, are you ready? Let's go back in time and experience the exquisite foods that only Kings were able to taste. Royal Cuisine not only focuses on the taste by making sure they taste royally delicious but they also focus highly on the health of the royal family. Making sure there's a good balance of Yin/Yang with the foods and also a great variety.
BTW, as you can imagine, the price is not cheap but definitely worth it if you want a great experience and want to be treated like a royal. 🙂
Jiwhaja is located at 48 CheongUn Dong (청운동), near Blue House and Kyeongbok Palace, Seoul.
We ordered the Tteok Galbi (Grilled Short Rib Patties) course. It is grouped into 3 sets of courses, Appetizers, Special Delight and Main course.
A great start to a meal – water kimchi was refreshing, pumpkin porridge was perfectly sweet and smooth, the colored veggie wraps and roll was good too. I do enjoy the veggie wraps, but it's sooo much work to make… and my memory fails me a little bit here but I believe the special roll is dates wrapped in chicken meat. Love the little dot of gochujang on top!
This dish was surprising – the thin yellow slices in the center is actually sweet potatoes flash cooked, it was still crunchy and slightly, just slightly sweet and did not have the raw flavors anymore. The vegetables were tossed at the table with the soy sauce dressing. When my friend introduced me as a famous blogger (haha), I had the honor of the chef coming out and actually explaining how it was cooked. It was amazing!!!
So that's the end of the appetizers. Yes, certainly my appetite has been awakened. :))
Now, for the Special Delight course – or in Korean it's actually just called Main Dishes(주요리).
Lotus Root Jeon (Yeonkeunjeon연근전), Green chili pepper Jeon (Gochujeon 고추전), Shrimp Jeon(Saewoojeon 새우전)
This was one of my favorite. I have eaten many Japchae's in my life but this one was special. They actually have no meat- carrots, shitake and wood ear mushrooms, cucumbers, egg and fresh crisp pear which really brightened up the dish. So lovely to have a fresh component to a dish that is usually all cooked vegetables.
Finally, the main star of the meal. Basically Korean version of a hamburger steak?? But seasoned well with very light bulgogi seasoning. I LOVED how they brought it on a little mini grill with the heat underneath. I usually don't order Tteok Galbi because there's so much fat and when it gets cold, it is almost inedible to me. But this solves that problem!!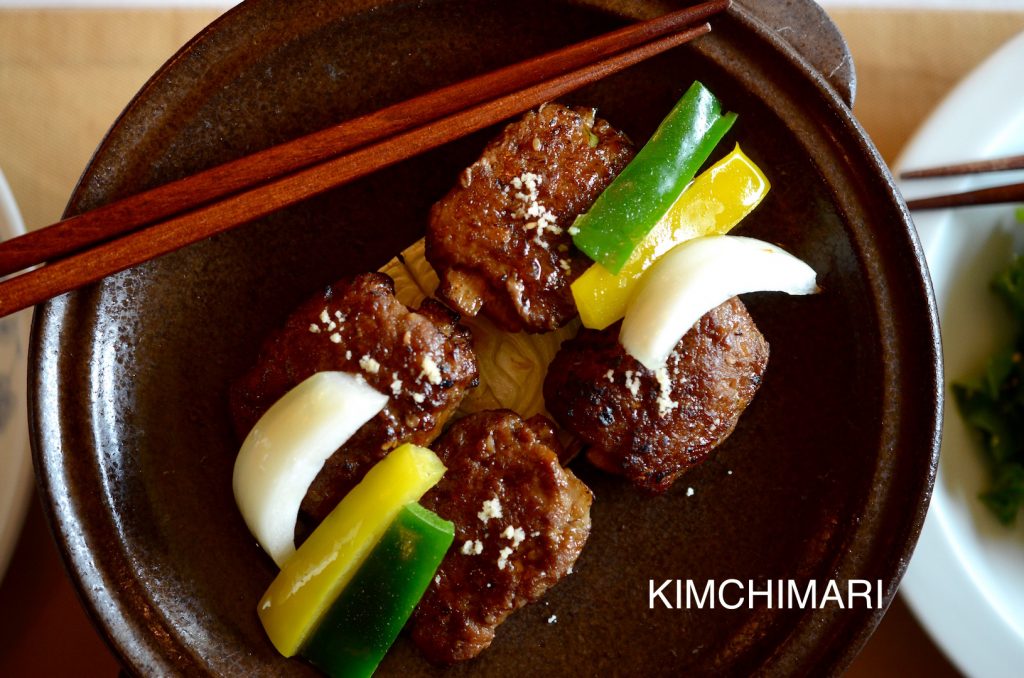 And to make it even more lovely, it came with a fresh salad. That's the best way to have meats – with a fresh salad.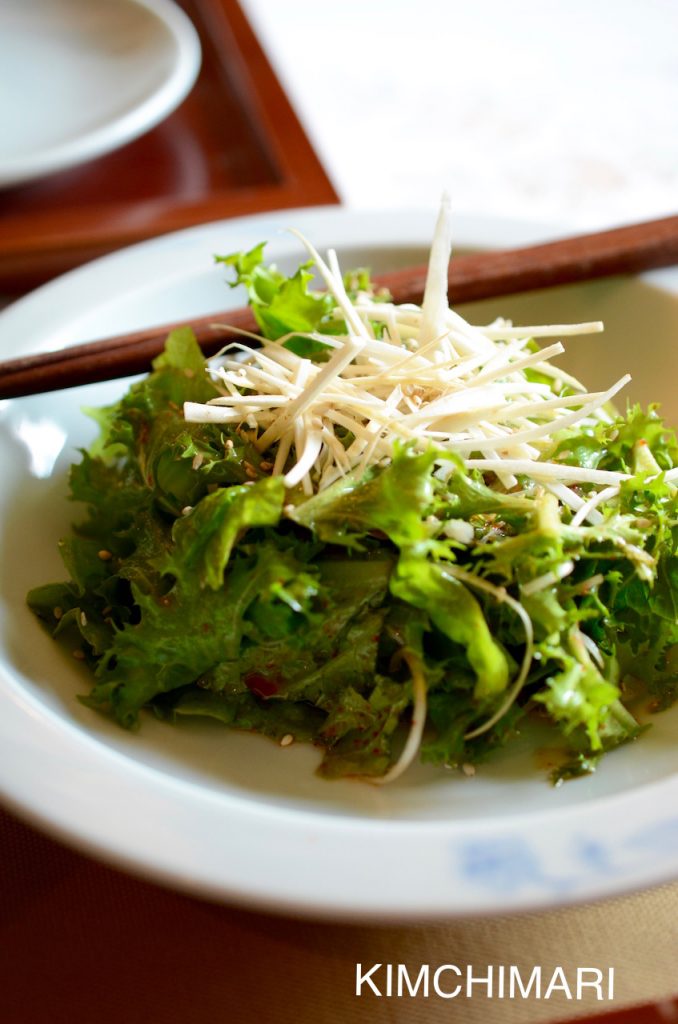 To make the meal even more healthy for Kings and Queens, they added some finely julienned fresh ginseng on top of the salad greens. Note they used chicory and other more robust greens so it can stand up to the meat.
Now the meal is coming to a close..lovely fish jorim served with some rice, deonjang/dwenjang jjigae and side dishes. Sura refers to meals served to a King.
Finally the dessert –
There is the good old Yakwa (the left bottom brown square), chestnut in syrup, mandarin orange and Sikhye (sweet rice punch on the right). I have recipes for both Yakwa and Sikhye if you want to try making some at home.
Ok, I just had breakfast but now I'm hungry again.. hope you all enjoyed the beautifully delicious foods. So if your budget allows, visit Jihwaja when you are in Seoul. Lunch is less expensive so go for that. There are other sister restaurants throughout Seoul but go to the main one near Kyeongbok Palace if you can because I know they serve great food and service is wonderful.
Hope you have a great Monday!
take care!
JinJoo
Many thanks to my friend and to Jihwaja for allowing me this wonderful opportunity to experience, take pictures and ask questions!!