Korean Temple Food restaurant Balwoo Gongyang is a Micheline star restaurant in Seoul that serves the most delightful creations.
Korean Temple Food was one of those things I really wanted to experience during my visit to Seoul in March. So, I set aside a day for myself to experience Korean temple food and also just to explore the Bukchon Village area. Luckily, Balwoo Gongyang (발우공양) was located just across from the Bukchon Village. After walking around Bukchon Village, I walked over to Ujeonguk-ro in JongnoGu district which is where the restaurant was. Balwoo Gongyang was inside the Temple Stay Information Center, across from the Jogyesa 조계사 temple.
Before going in, I quickly browsed through some of the stores nearby which sold everything related to Buddhism – from books to prayer beads. Looking through the stores, I realized how totally alien everything was to me. Because I grew up in a 2nd generation Christian family, Korean temple food and culture was something that was never part of my life. Until about 10+ years ago, Korean temple food mainly stayed within the temple walls and unless you visited the temple yourself, it was really not accessible to most. But with the rise of health issues like atopic dermatitis, diabetes and cancer, Koreans have become more and more interested in temple food for the food itself as a way to help them heal from those ailments.
As for me, I got interested in Korean temple food because it was a new and very unique part of Korean cuisine and was always curious how good the food actually tasted. You know me.. I am all about taste.. 😝 I have had Temple Kimchi before and that was good but other than that, I had yet to taste a really good temple cuisine – I mean sooo good that I wanted to learn how to make it myself.
My visit to Balwoo Gongyang has totally changed that.
By the way, May 3rd in Korea is Buddha's birthday. Korean Buddhists celebrate this day based on the lunar calendar day of 4/18th so the day changes year to year. Buddha's birthday is an official holiday in Korea and temples celebrate it with very colorful lanterns all over the grounds. It has no special meaning to me but I know it is almost impossible to talk about Korean history and culture without Buddhism so..
Located on the 5th floor of the Temple Stay Information Center building, the place had a simple layout with individual rooms for dining.
I LOVED the fact that I could be in the room all by myself – to taste, to take pictures as many as I wanted, to get on top of the chair to take top view shots… I had no idea how enjoyable it was for me to dine by myself. To be totally immersed in food, not having to worry about someone waiting to eat, etc.
I guess I am a foodie…
There are different kinds of Set Menu and the one I ordered was Maeum Awareness of the Mind course. It had 7 courses.
Here's how the room looked like inside.  They even have a pre-meal chant… "..I will take it (food) as medicine to get rid of greed in my mind.." not sure how that works but… 🙂
For some reason, they served the first two courses together –
Suljuksim 술적심 (Lip-Moisturizer): Cherry Tomatoes marinated in fermented Bokbuja (Korean Black Raspberry) sauce, Dubujang (fermented bean curd paste) with flower shape carrots.
Juksang 죽상 (Porridge): Soybean mugwort porridge, spring mulkimchi (water kimchi with spring herbs)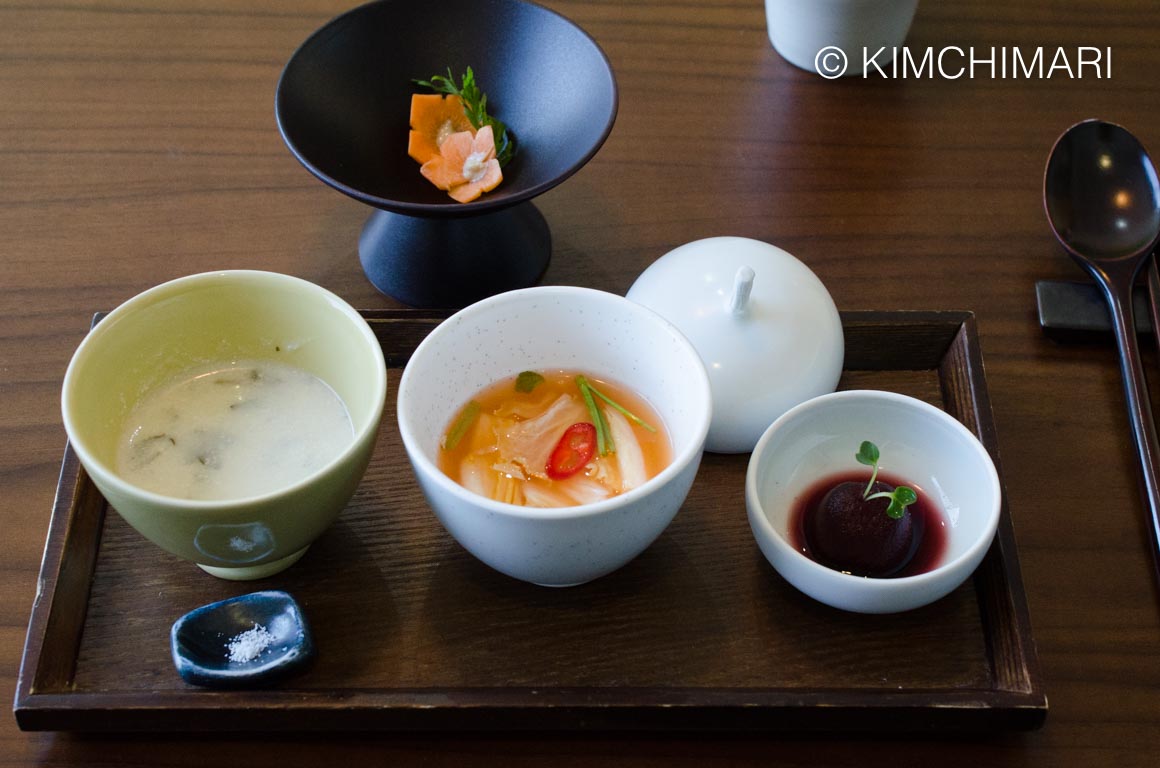 My favorites were the cherry tomatoes in fermented Bokbunja and the flower carrots with Dubujang. The presentation of the carrot flowers with the fermented tofu sauce was so elegant and beautiful. And the crunchy sweet freshness of the carrots worked so nicely with the complex, deep and salty flavors of the tofu sauce. I was already on cloud nine with just these two.. 🙂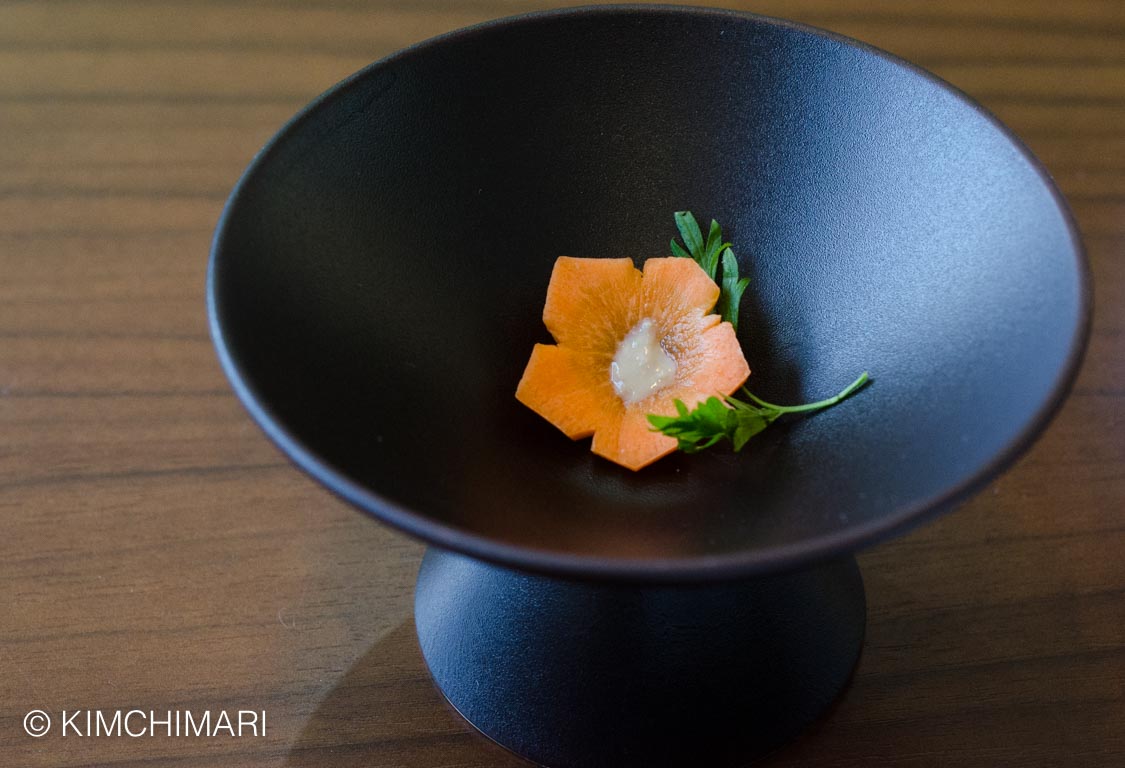 Sangmi (상미) Entree One: Left – Bomnamul-geotjeori (Fresh spring salad), Top -Cheongpomuk (Mungbean jelly with spring greens), Right- Bomnamul-japchae (Stir-fried spring greens).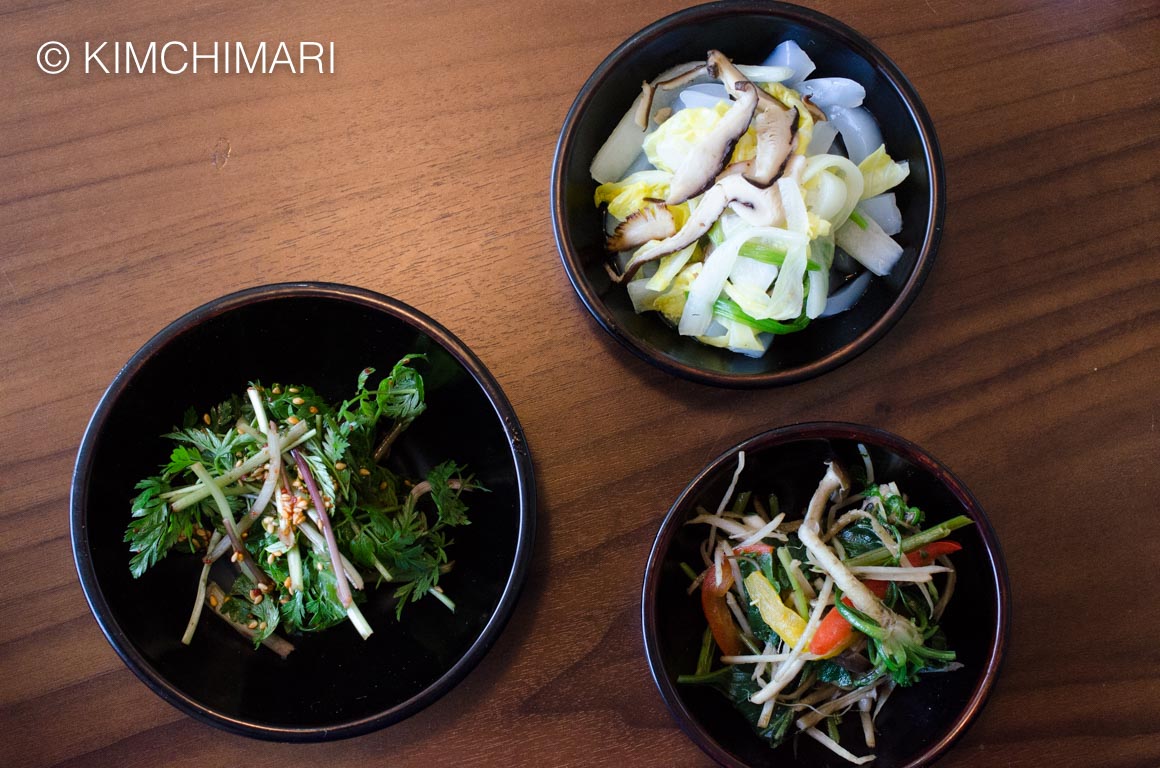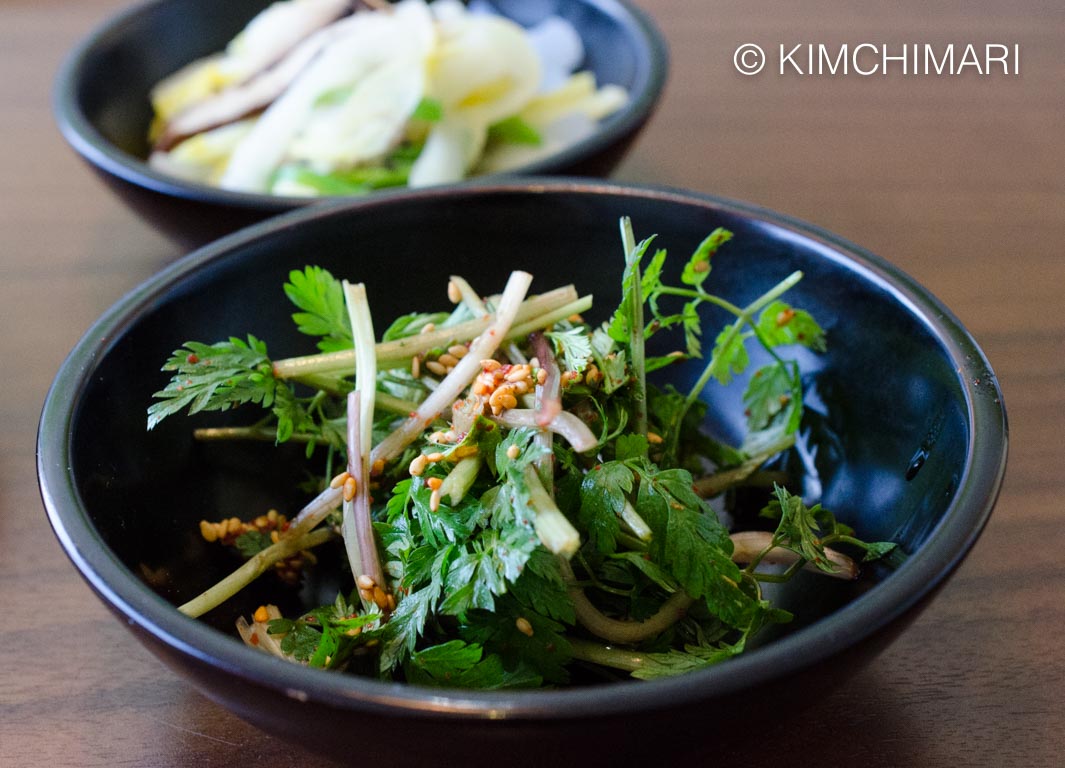 Bomnamul (which means Spring Greens) was fresh Jeonho Namul Geotjeori which was something I had never tasted or heard of before. Jeonho Namul is a spring green harvested only from the Ulung Island. It kind of looks like carrot greens and was very flavorful. The other surprise dish was the Mungbean jelly (cheongpomuk). Usually this is tossed in sesame oil and salt when it looks this clear but this did not have any sesame oil but only just a light taste of sweet and sour which made it very refreshing. The addition of blanched napa cabbages and mushrooms added great texture.
Dammi (담미) Entree Two: Top row (left to right) -Bomkkot jeon or Hwa Jeon (Flower rice pancake), Gajuk-jangtteok (Pancake made with gochujang and gajuk greens), Nokdu jeon (Mung bean pancake) and chili sauce
2nd row (left to right) – Insam Naengche (gingseng salad), Yeongeun-chojeolim (Pickled lotus roots), Besoeot-Gangjeong (Sweet sour and spicy mushrooms) in Gochujang sauce, and Seasonal cabbage soup.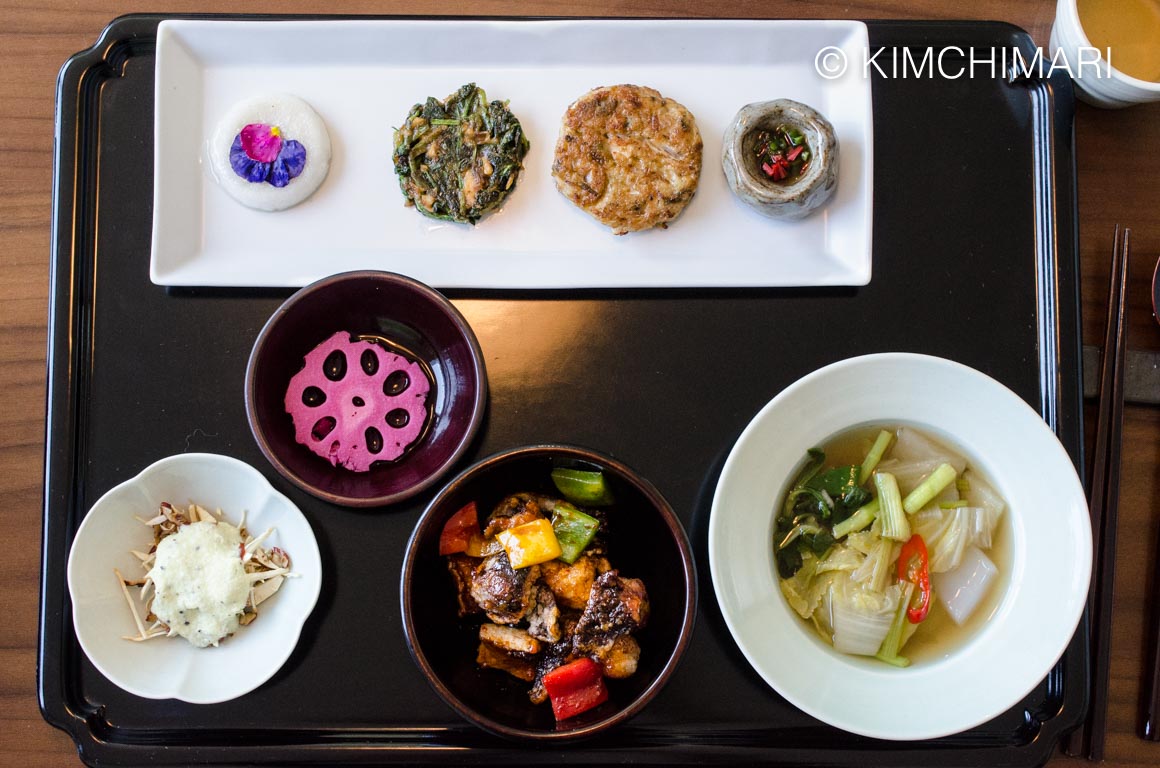 The star of this course was Sweet and sour mushrooms. Shitake mushrooms are coated, deep fried and then quickly tossed in sweet and sour gochujang sauce.
Korean Temple Food Sweet Sour MushroomsMonks often use shitake mushrooms to achieve effects similar to beef. This was so amazingly delicious, not too sweet, not too sour, not too spicy, just perfectly balanced. Because this course has a mixture of quite strong flavored things like Gajuk Jangtteok (Gajuk namul pancake loaded with gochujang) and very mild flavored Hwajeon (flower rice pancake), it was a fantastic symphony of flavors and textures.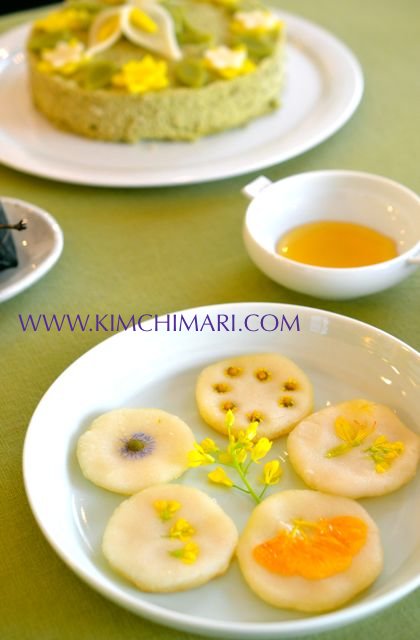 The server explains the order of how things must be eaten and I am sorry that I did not write this down. I really appreciated this approach and perhaps a good reason why Michelin awarded them the star. Because, in my opinion, fine dining is all about orchestrating the flavor and texture experiences and this is sometimes my biggest frustrations with some style of Korean foods. I am sure you heard (or read) me talk about how I really don't enjoy eating spicy and salty foods, one after another… I mean when a table is full of strong and spicy foods, I just don't know how you are supposed to enjoy them. They all start to taste the same after awhile, not to mention your palette trying to recover from the previous shock of spiciness..haha
Anyway, the flower rice pancake (Hwajeon) was a pleasant surprise. A great break that kind of works like a palate cleanser. I have a recipe here if you want to make some. It is easy and simple to make, so try it!
Fresh ginseng salad (Insam naengchae) had a kiwi & pear dressing that contrasted really well with the bitter ginseng. Not a huge fan of fresh ginseng but this was totally enjoyable.
Seungso (승소) Noodle: Left to Right – Temple Mandu (Temple Style Vegetarian Dumpling), Sancho-dubuseon (Grilled tofu with pickled prickly ashberry fruit), Pyogobeoseot-naengmyeon (cold noodle with spicy shitake mushroom & pear sauce).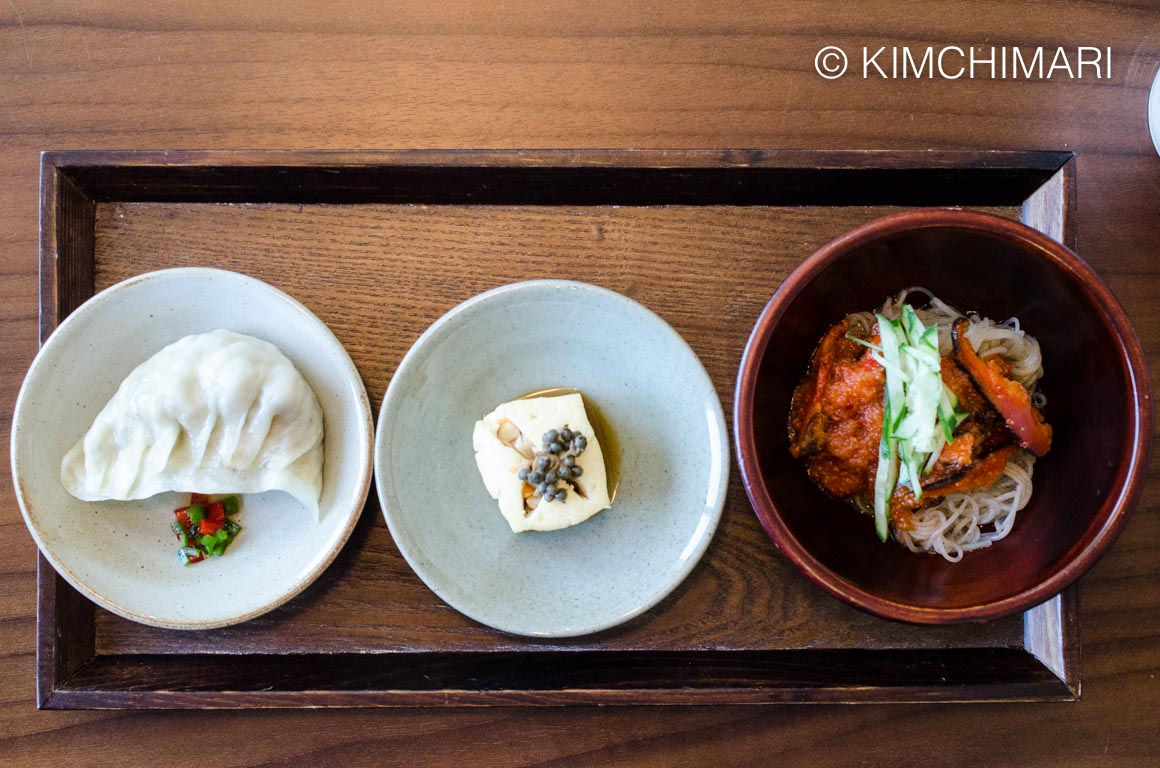 You are probably wondering what are those little berries on top of the tofu? Yes, they are called Sancho (산초) in Korean. In English, it is called as Szechuan peppercorns, Chinese peppers and prickly ashberry fruit. It has a pungent and quite spicy flavor but when it is pickled, it is milder and adds a great little punch to otherwise a bland tofu. The Shitake mushroom bibim naengmyeon was good too but nothing really jumped out so I don't remember much about it. 😝
Youmi (유미) Medicinal Meal : 1st row (left to right) – Temple cabbage kimchi, temple radish kimchi, choseokjam jangahjji (pickled Chinese artichoke)
2nd row – Spring Namul – Lotus roots, Bujikkaengyi Namul(부지깽이 나물), Naengyi Namul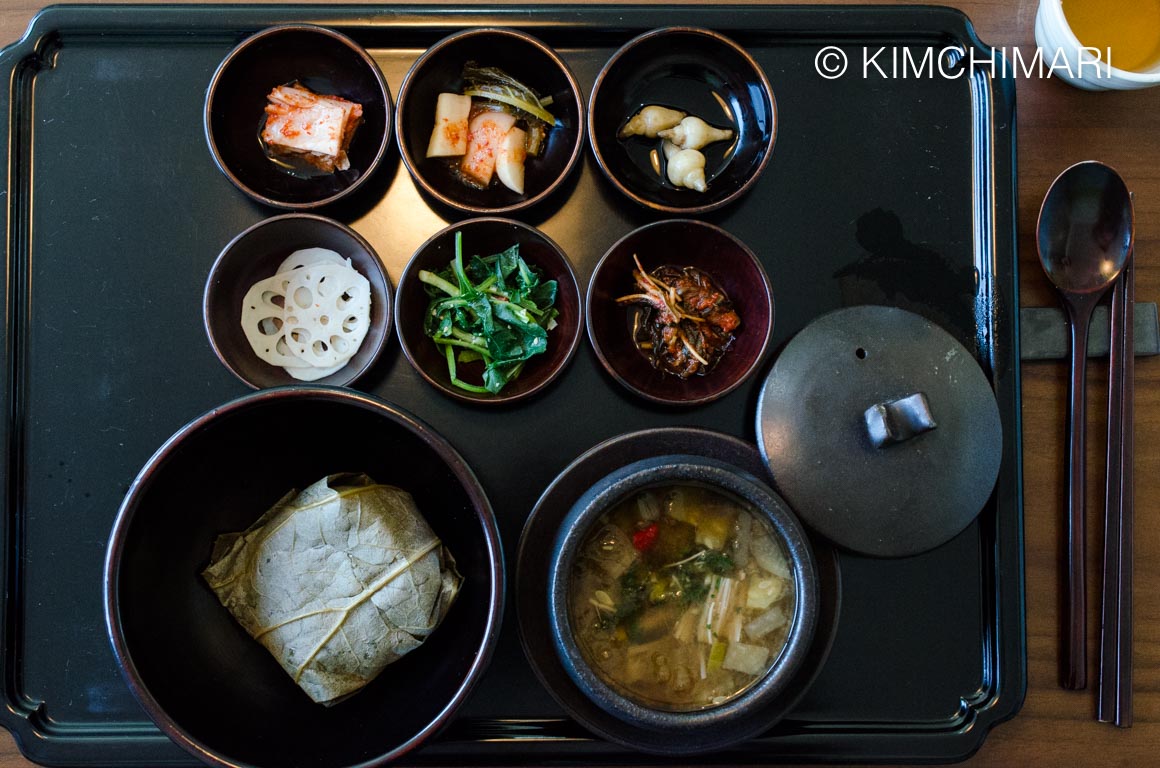 Choseokjam (초석잠) are the tuber roots of the plant Stachys Affinis and is also called Chinese or Japanese artichoke. I have seen it featured on Korean TV about how it has properties that help fight Alzheimer's. And whenever a food gets featured on TV to have health benefits, you know EVERY Korean will want to have it. So it has become quite popular lately and I have been wanting to try it too. I found the pickled Choseokjam pleasantly crunchy and mild in flavor so that was a great side dish to have.
Sweet rice steamed in lotus leaf (yeonipbap) was simply delightful. The sweet rice had the wonderful aroma of the lotus leaf all cooked in and I appreciate how they did not add a lot of extra things to the rice like chestnuts or jujubes. It was just rice and couple ginko nuts added in the middle. Less is more.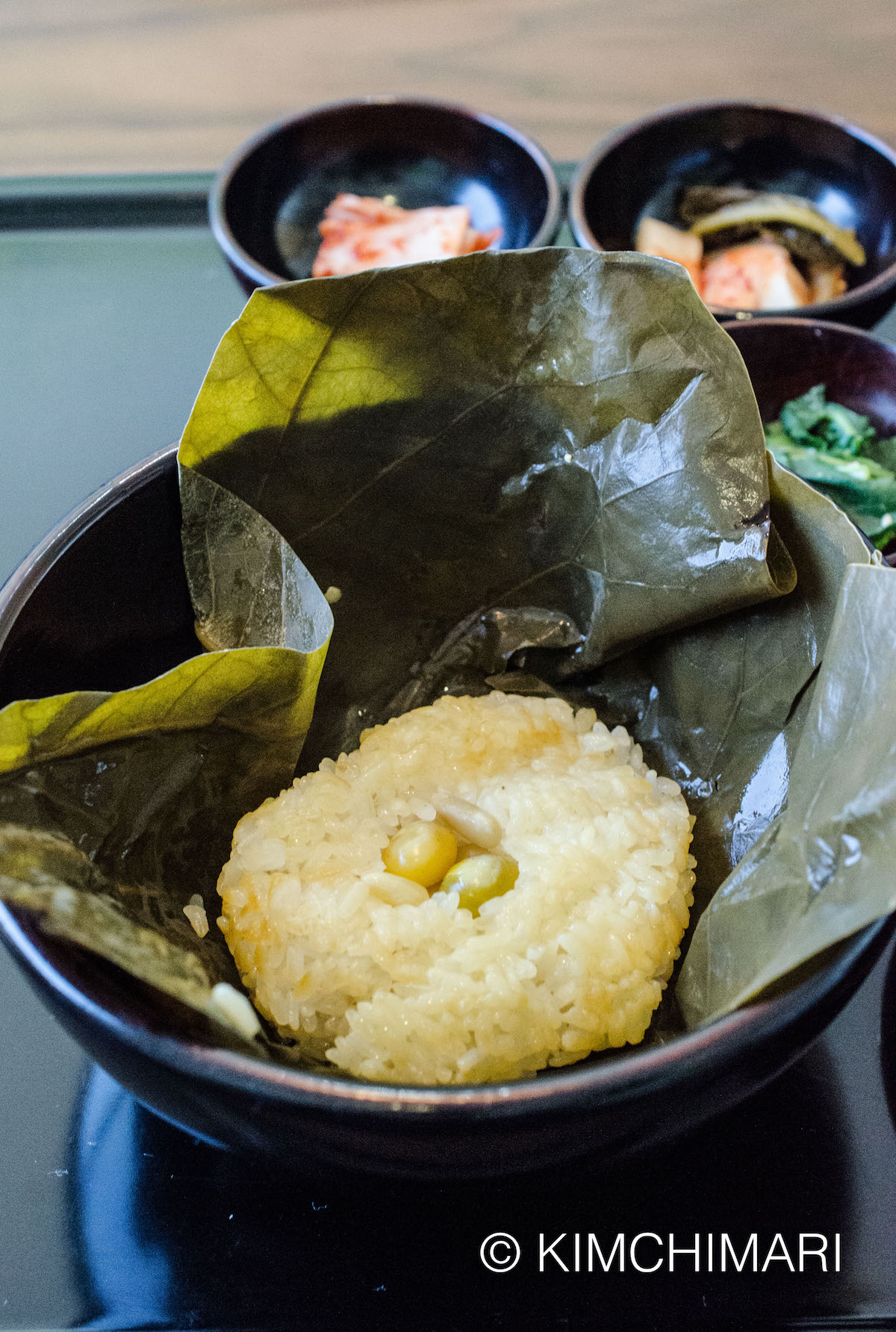 And to match this simple lotus rice, there's Deonjang jjigae made with doenjang that was fermented by monks at various temples.
Overall, this was truly a satisfying and delightful meal – full of surprising tastes that never screamed at you saying – "I AM SWEET!!", "I AM SPICY!!". But just ever so delicately and quietly whispering in your ear – "come… come..experience and be enlightened..". Be enlightened about how you can produce the most exquisite tastes without the usual bold ingredients like meat and garlic, which we sometimes so rely heavily upon.
Ibgasim 입가심 (Dessert) : Hongsi-gureum (Soft sweet persimmon with yam and pear foam), Ssuk Tteok (Mugwort rice cake).
If you know Korean food, you know that this is where we can be the weakest. But again, Balwook Gongyang's chief chef Daean Seunim (대안스님) surprised me. Hongsi Gureum literally means 'Persimmon Cloud'. As you see on the left above, you see mostly the white foam made from grated Korean white yam and pear (cloud) and just a hint of the orange persimmon but when you stir it, the persimmon suddenly appears. Flavors were slightly sweet, light and refreshing.
A Korean meal is not complete without some kind of tteok, right? The last was Ssuk tteok or mugwort rice cake. Usually ssuk tteok has light green color but this was almost black – it is because they added a LOT of mugwort.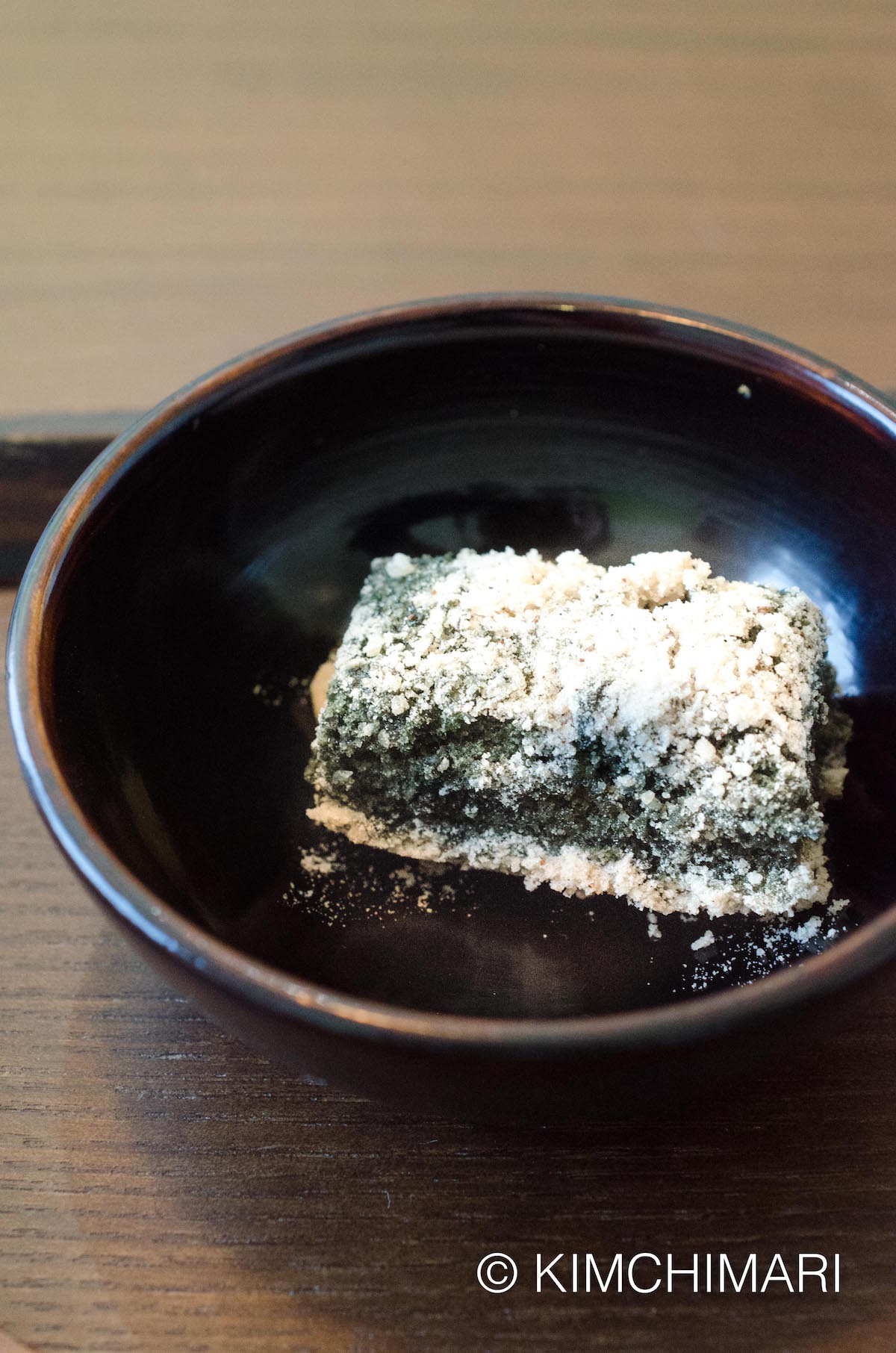 Well, there you go. I am so very glad that I had the chance to experience temple food at its finest and writing this post made me kind of relive that moment so that was good.
If you ever visit Seoul and you like fine dining, this is a must visit.
Hope you get to go someday and if not, at least you got a glimpse of it!
Cheers!
XOXO,
JinJoo