Jeonju Restaurant – Hanokjip
Jeonju Day 2!
After a somewhat disappointing dinner at Hanok village the day before, we were determined to eat some great local Jeonju food before we drove back up to Seoul. I guess this kinda shows you our family's priority about food. And this reminds me of a question that people used to ask each other in Korea when I was growing up…
"Do you live to eat? or Do you eat to live?"
HAHAHA… My family and I, we all DEFINTELY LIVE to eat. And I think I had mentioned before that my father was a total foodie. And I think I and my sisters and brother all inherited the same passion for good food. Eating delicious food just makes us so happy and my fondest memories are of our family cooking and eating together or going out to a geat restaurant to enjoy the food together – sharing tasty food pairings as we discover them.
After some research, we found this awesome Charcoal Grilled Pork Ribs (숯불돼지갈비 Sutbul Dweji Kalbi) restaurant called Hanokjip (한옥집 – 67 Samgeo 1-gil, Deokjin-gu, Jeonju-si, Jeollabuk-do). The food was so good that it totally made up for the disappointing dinner the day before.
BTW, Hanok means traditional Korean style home and this Hanokjip restaurant is famous for their pork ribs that come sizzling on a HOT stone plate with onions and whole garlic cloves cooking altogether in the plate.
They also serve some very creative and yummy banchan that I have not had anywhere else!
The Mukunji (묵은지) — kimjang kimchi that has been aged for over 6 months– was gently cooked with minimal seasoning but it was just so wondefully deep and complex in its flavor. And it was just outstanding with the pork.
The other surprising banchan was this black sesame radish salad which was pickled radish salad (Musaengche) served on a creamy and nutty black sesame sauce.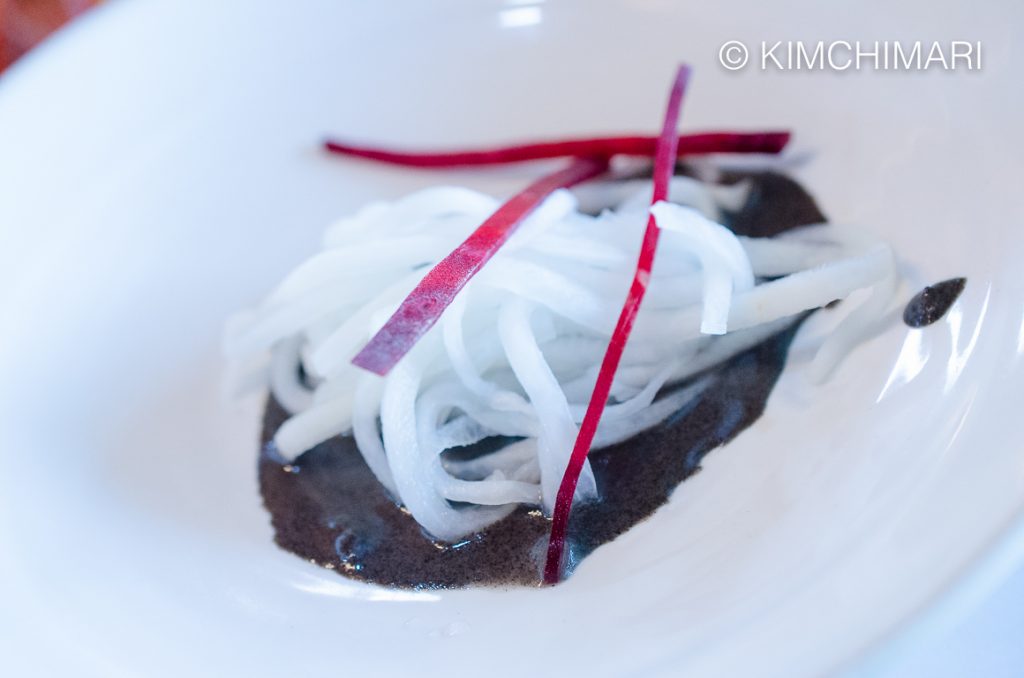 First we thought it was a little weird but when we mixed it
and tasted it, it was oh my…… so fabulously refreshing and rich, all at the same time!!
I must remember to come up with a recipe before I forget the taste…
And then of course, my favorite kind of salad to have with any Korean BBQ – Perilla Lettuce Salad with a light soy vinaigrette.
If you ever visit Jeonju, this place is a MUST. I would love to visit again if I could!
Here's a pic of the outside of the restaurant so you can find it more easily because we almost just passed it by.
Oh and the inside walls were made of clay and wood. Using clay and wood is a very old traditional home building method in Korea and became almost obsolete until it regained popularity among some ultra health conscious Koreans.
Before I end this post, I wanted to share photos of blocks of Meju (soybean blocks for making Doenjang) sunbathing on the side of the street in Jeonju. It would be almost be impossible to see these in Seoul anymore but I was so happy to run into these guys in Jeonju! Check out my post about Doenjang if you want to know more about Doenjang.
Hope you enjoyed this post and I will soon post about various Artisans of Jeonju including a living national treasure artisan who makes traditional Korean umbrellas and a group of amazing young artists who started their own market inside Jeonju's Nambu Sijang.
Till then..
XOXO
JinJoo