Koreans have accumulated great knowledge through hundreds of years of finding foods that heal. In this post, I share about Korean ingredients and recipes that help with digestion and gut including scientific sources that support the various claims.
7 Korean Ingredients for your Digestion and Gut
NOTE – I am not a medical professional so please seek the advice of a professional first if you are in pain or having urgent symptoms. And because each cause for indigestion or other digestive issues is all different, how your body responds to these foods may also be different. Some of the information below is solely based on home remedies that Koreans use or from my personal experience. But hopefully, these can help you in some small way.
1. Radish (Mu 무)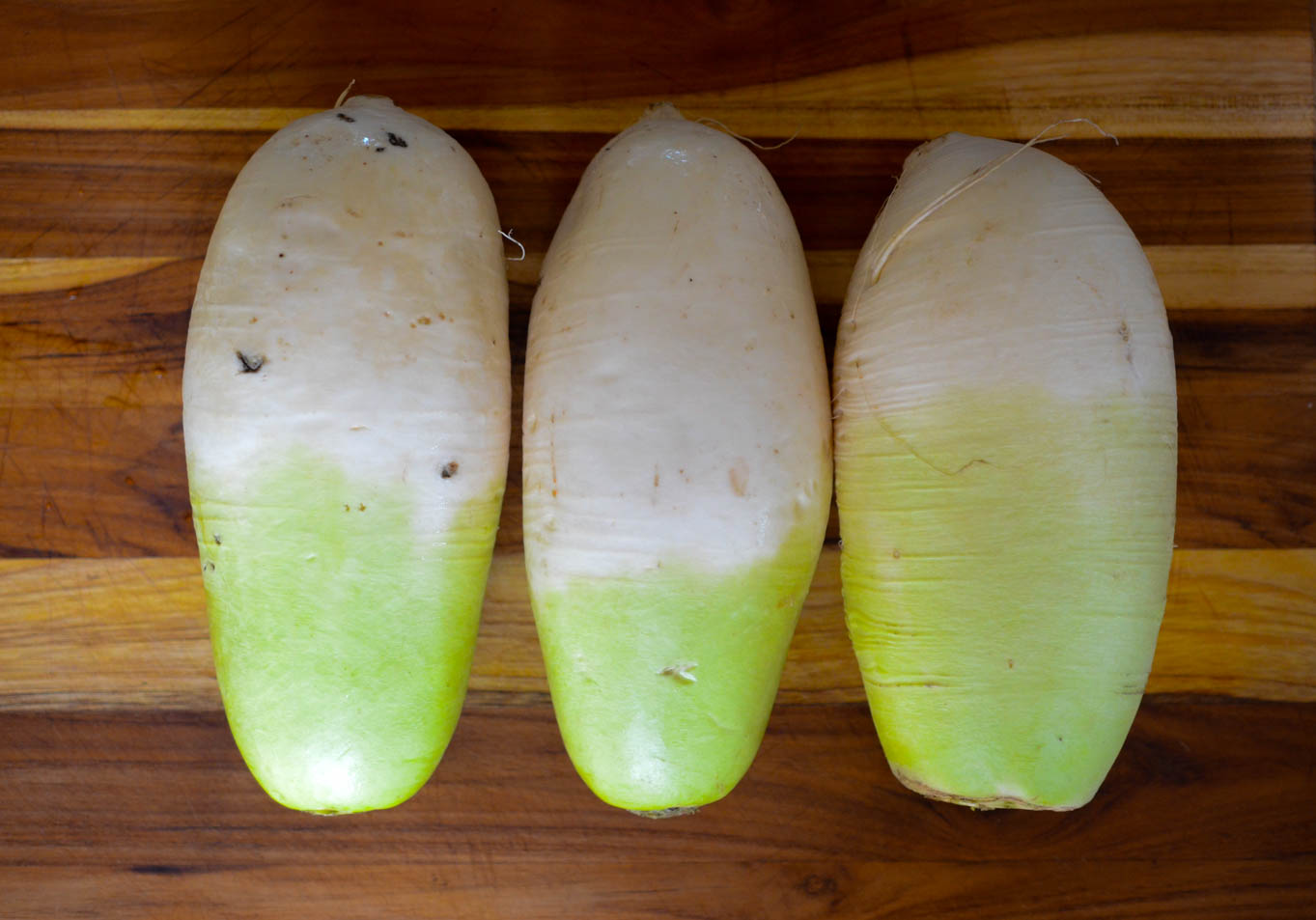 Koreans love eating radish for the taste but also because of the great health benefits. It contains various digestive enzymes (diastase, amylase, and esterase) that help with digestion. So this is why Koreans love to eat radish pickles or radish salad with Korean BBQ. As a kid, I also remember seeing adults drink the juice of a radish water kimchi whenever they had indigestion and now I know why. It's kind of unrelated but Koreans also used Dongchimi juice as the emergency drink to help people recover from light Carbon Monoxide poisoning.
SCIENCE – In addition to the digestive enzymes, researchers at Tokyo's College of Pharmacy have discovered that "daikon juice actually inhibits the formation of dangerous chemicals in the body. Nitrosamines, a type of carcinogen, can form in the stomach from chemicals present in both natural and processed foods. Daikon juice contains substances identified as phenolic compounds that can block this potentially dangerous reaction."(Mitoku)
2. Sticky Rice (Chapssal 찹쌀)
Sticky Rice/Sweet Rice/Glutinous Rice is often used in desserts, rice balls and multi-grain rice (japgokbap) in Korean cooking. But Koreans also believe that sticky rice or sticky rice cakes (chapssal tteok) is better for your digestion and also helps to coat the stomach and heals ulcers. My sister's father-in-law was a family physician but when my sister complained of having an ulcer, he told her to just eat Chassal tteok (rice cakes made from sticky rice) every morning for breakfast and she swears she cured her ulcer by eating that for months.
SCIENCE – There's research that shows glutinous rice extract helped prevent and reduce gastritis and ulcers in rats [NCBI PubMed]. Compared to short-grain white rice, glutinous rice has a higher ratio of Amylopectin to Amylose which makes it easier to digest [wiki]. Glutinous rice also has a high-glycemic-index so it's not good for patients with diabetes or people on a restricted carbohydrate diet.
RECIPES – Yaksik, Multi-grain Rice, Sweet Rice Dumplings
3. Green Cabbage (Yangbaechu 양배추)
I've talked about drinking cabbage juice to help with my acidic stomach some time ago. It achieves this by first coating your stomach and then the cabbage (raw or cooked) contains a type of carbohydrates called oligosaccharides, which does not breakdown via salivary and digestive enzymes. And when they reach the colon, the oligosaccharides become a food source for your gut bacteria.
To double the benefit, try making Green Cabbage Kimchi then you will have added beneficial bacteria in your gut.
SCIENCE – In researching for scientific evidence for why cabbage is good for your stomach, I found an article in Western Journal of Medicine . In summary, it said "The average crater healing time for six patients with gastric ulcer treated with cabbage juice was only 7.3 days, compared with 42 days, as reported in the literature, for six patients treated by standard therapy. "Also, an article in Natural News  – "In a double-blind study of 45 inmates at San Quentin Prison in California, 93 percent of the ulcers in prisoners taking cabbage juice concentrate in capsules – the equivalent of a fresh quart of cabbage juice every day – were healed after three weeks. Only 32 percent of the ulcers healed in those taking a dummy capsule."
RECIPES – Green Cabbage Kimchi, Cabbage Perilla Pickles and besides these recipes, just steam whole cabbage leaves and enjoy them with rice and gochujang. The sweet cabbage makes such a yummy ssam!
4. Ginger (Saeng-gang 생강)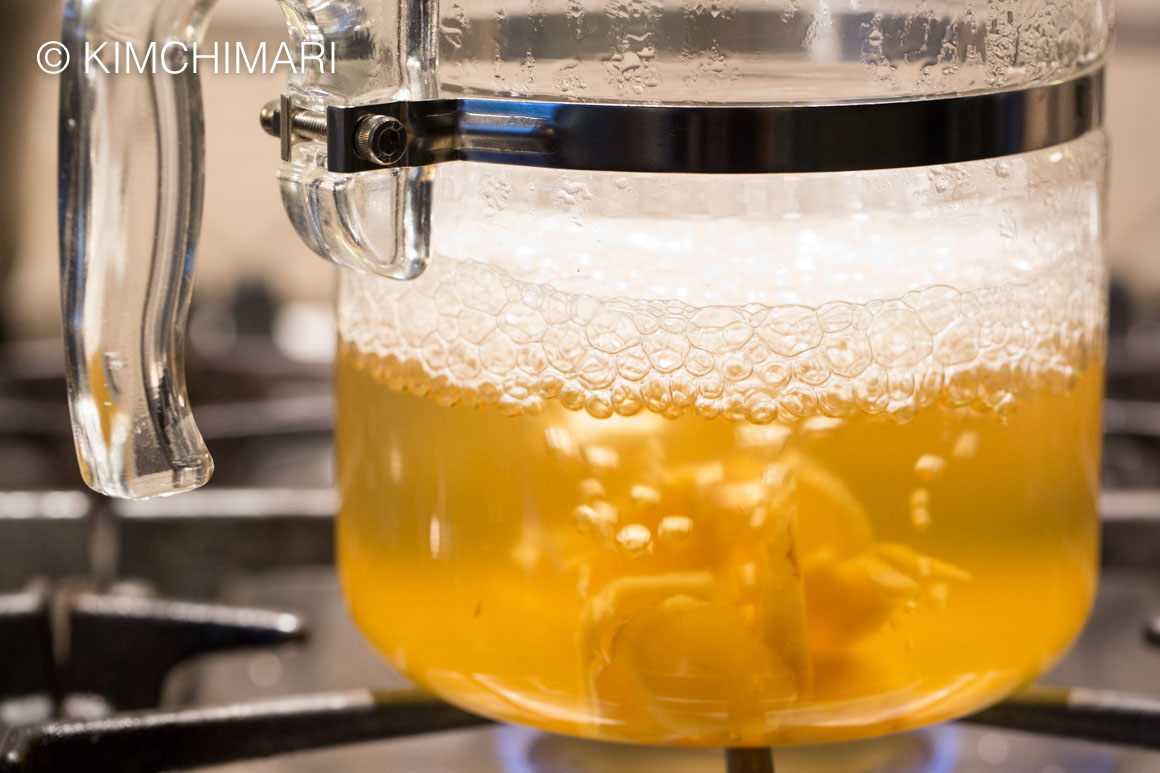 Ginger is well-known among Koreans as food that warms up and wakes up your stomach to produce more enzymes to help with digestion. If you have trouble digesting meals, try making a big batch of ginger tea (not the bag stuff) by simmering 3-4 pieces of big ginger slices in a pot for good 30 min. or more and drinking a hot cup of that after each meal.
Ginger is also known to have anti-bacterial effects – especially when eaten fresh/cold. It is believed this is why Japanese eat fresh ginger with raw fish – to help in killing bacteria that may come in eating it. It is also well-known in Western medicine as having anti-nausea properties – whether the nausea is due to chemotherapy, morning sickness, seasickness or other ailments. I'm sure you have heard Doctors telling you to drink ginger tea to help calm down your stomach.
In addition, Koreans consider ginger as a warming food that helps with the common cold (in Korean medicine, you get a cold because your body is cold (temperature wise)). So a HOT tea boiled with real ginger slices and honey is a great way to help your body warm up and fight the cold.
SCIENCE – Ginger also has many healthy properties in addition to above, including anti-inflammatory and anti-cancer properties. They are all documented in this book [NCBI]. Here's another paper that studied and proved the anti-bacterial properties of ginger.
RECIPES – Ginger Cinnamon Tea, Yakwa (Korean dessert)
5. Green Plum Syrup (Maesil Cheong 매실청)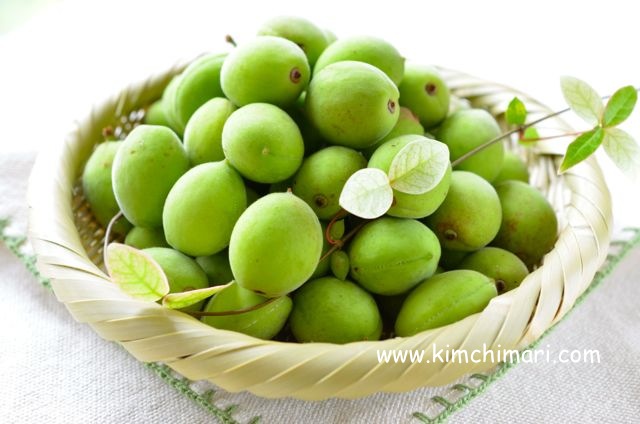 Maesil (매실) or Green Plums have been dried+smoked (Omae 烏梅) and used in Korean traditional medicine for thousands of years, records dating back to the Three Kingdom period (Samguk Sidae).  But in Dongui Bogam (16th century Book of Medicine written by Royal Physicians), Omae is "known to end vomiting and Dysentary, hangovers and aid the liver in improving digestion."
Maesil have a very high citric acid content compared to other fruits and it helps the body get rid of lactic acid, therefore, helping the body recover faster. The citric acid also promotes secretion of saliva and digestive enzymes aiding with digestion –reason why Maesil Cha is served at the end of a meal and I definitely know it helps with digestion from a personal experience. Many Koreans drink it to help indigestion after a meal.
Fermentation of maesil syrup produces a lot of good bacteria and so these good guys kills off harmful bacteria to help with diarrhea and promote healthy and normal bowel function.
SCIENCE – This paper concluded "Scientists in Japan, Korea, and China continue to reveal more medicinal uses of ume. In this systematic review of literature, ume was found to be effective for improving more than 20 symptoms when observed in both lab tests and clinical studies." 

There is a concern that plums may contain amygdalin enzymatically converted to hydrogen cyanide after oral ingestion and there's a study showing there was no concern for its toxicity as the amount of Amgdalyn is signifcantly reduced during fermentation and  Read more HERE.

RECIPES – Steak Salad with Plum Dressing, Maesil Cheong Syrup, make a Maesil Tea drink by adding 3-4 tsp full of the syrup in hot or cold water.
6. Pumpkin (Hobak 호박)
Pumpkin, especially yellow pumpkins like Fairytale pumpkins are a favorite healing and yummy foods for Koreans. It is known to be easy on the digestion and is very nutritious – being high in beta-carotene and fiber. As I'm sure you know, fiber is not only good for promoting regular bowel movements but can also help reduce the risk of colon cancer.
Fiber also slows the rate of sugar absorption into the blood which helps to balance the levels of liver glucose.
Traditionally, pumpkin is known to be one of the best food to help reduce water retention and is a must food for new Korean mothers.
SCIENCE – Overall, pumpkin is known to have great health benefits, as being anti-diabetic, antioxidant, anti-carcinogenic, anti-inflammatory and others. This article discusses various medicinal and biological potentials of pumpkin.
RECIPES – Pumpkin Porridge, Pumpkin Salad, Songpyeon
7. Garlic Chives (Buchu 부추) – Allium Tuberosum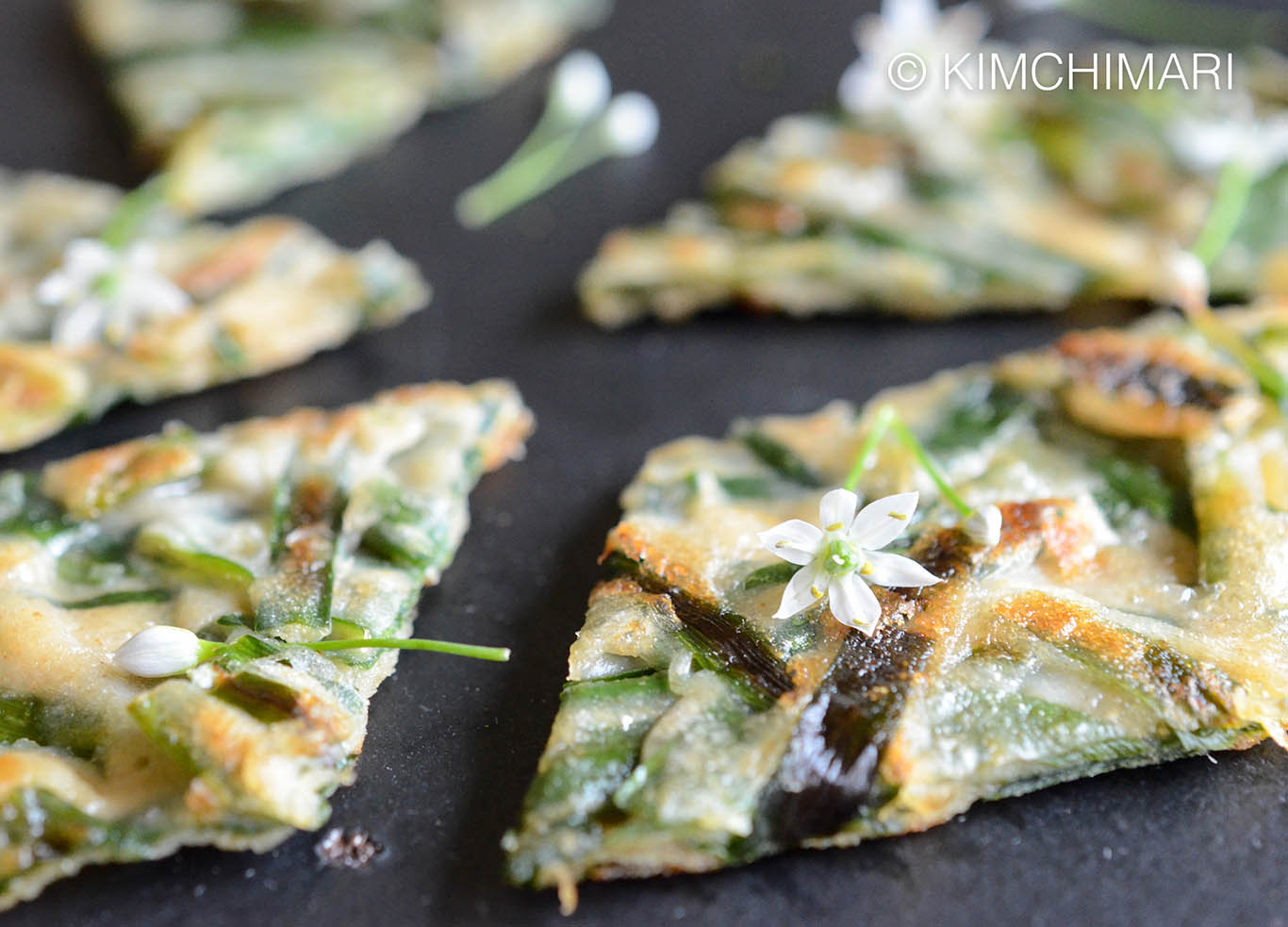 Garlic chives are again a warming food and are known in Korean medicine to prevent the common cold and help stomach ailments like diarrhea – especially one that happens after a bad indigestion. It is also said to be good for the liver. In Dongui Bogam, chives are referred to as a 'liver vegetable' because it helps to get rid of toxins. It has also been known to stop diabetes according to old historical medical books.
Chives belong to the Allium family and it produces Allicin, an organosulfur chemical. This antioxidant traps free radicals and prevents further cellular damage from occurring. Isolated Allicin has been clinically shown to decrease as many as 30 bacterial strains and has been used in reducing the severity of infections like MRSA.
High in Beta Carotene, Vitamin C and E., it is also high in Vitamin Bs. And when combined with Allicin, chives can help the tired body recover faster.
SCIENCE – "Ethanolic extract of Allium tuberosum (garlic chives) has a significant hepatoprotective (protects the liver) and antioxidant activity". [IJPMBS] In addition, the same research also showed that it may be helpful in restoring hepatic function through antioxidant pathways after chemotherapy (esp. via doxorubicin). Finally, a National Center for Biotechnology Information study shows the antimicrobial properties of Allicin [NCBI]
RECIPES – Chive Pancakes, Chive Salad, Cucumber Kimchi with Chives
PLEASE NOTE
If you have a warm body (you always feel less cold than others around you) then many of the warming foods like chives, ginger and sticky rice in large amounts may not suit you well so try a small sample before eating large amounts.
Well, I hope you enjoyed reading it! 😍
If you need any help with digestion or gut, I hope you will add these foods into your diet and enjoy all the health benefits they can give you.
XOXO ❤️
JinJoo