Top 13 Best Seoul Restaurants (and Seongnam)!
Or should I say JinJoo's top 13 FAVORITE Seoul restaurants?? But however you want to call it, these are just simply the Best Seoul Restaurants in my opinion. Please note, the listing is in random order as I find it almost impossible to rank these restaurants together as they are quite different.
Recently, Stay.com contacted me letting me know that they are ending their service end of this month. And they were nice enough to let me know that I could save my guide for best Seoul restaurants which I wrote for them few years ago. So then it got me thinking that my readers may also enjoy having them on my site.
I have posted a few times before of the restaurants I that I have visited but I always thought about consolidating all those in one page so that you and I (haha) have everything together here. These are my favorite restaurants that I love to visit EVERY TIME I go back to Seoul.
Most authentic and classic Seoul Restaurants (in no particular order)
These are no frill, mostly humble Seoul restaurants that have been my family favorite for years and years (sometimes over 30 years!) and some newly discovered ones too! So many restaurants come and go these days but I am quite sure these restaurants will be around for many more years to come. Most of these restaurants don't even have any websites because they know that customers will come for their fabulous food no matter what. So I will either include just the address instead. Here's my must-visit restaurants list for the times I go back to Seoul.
Pildong Myeonok (필동면옥) since 1985 – Known for their huge mandu (dumplings) filled with tofu and kimchi. A must visit if you want true authentic Northern style Korean dumplings. 서울 중고 서애로 26 (26, Seoae-ro, Jung-gu)
Woo lae oak (우래옥) since 1946 – The founding owner was my father's good friend, now their children took over the management. True, authentic northern Korean style bulgogi and naengmyeon. They have sister restaurants in LA, DC and NY. Simply delicious food with class. 서울 중구 창경궁로 62-29 (62-29, Changgyeonggung-ro, Jung-gu). Big crowds on weekends.

Gyejang at ProGanjangGyejang

Pro Ganjang Gyejang (프로 간장게장) since 2012 – I rarely like franchise restaurants but this is an exception. I have gone to many Soy Sauce fermented Crab (Ganjang Gyejang) places all around Seoul but I have not found one that' s better. Always consistently yummy crabs without the fishy taste that so often Ganjang Gyejang can have. They are franchise restaurants in Japan and China.

Gondurae Namul Bap and Bulgogi

Gondurae Jip (곤드레집) – Gondurae Bap is cooked rice with Gondurae namul. This is a must try dish. They serve real wood charcoal bulgogi BBQ at your table that is just amazing. One of my most favorite places to eat. Quite crowded but they have fast service including even valet service. 서울 서초구 청룡마을1길 1 (1, Cheongnyongmaeul 1-gil, Seocho-gu).

Jonny Dumpling Fried Mandu 군만두

Jonny Dumpling – Great hole in the wall kinda place (at least the original spot 😉 ) but with the BEST Chinese dumplings ever. They have become so popular that there are now 3 locations within the area of Itaewon and each of them have different off days so there's always one open any day of the week. Order their Gunmandu 군만두 and you won't regret it.
Cheong Gye San Jang (청계산장) – My husband and I accidentally discovered this gem of a place and we have gone back many times after. Great meats, especially thin rib eye steak at great prices that's grilled on charcoal and served with fabulous side dishes. They also have a big outdoor seating for warmer days. Pics were taken from a Korean blog. This is just outside of Seoul, near Yangjae. (212-5 Sangjeok-dong, Sujeong-gu, Seongnam-si, Gyeonggi-do)

Korean buckwheat pancake at Nurungji Baeksuk Seongbukdong

baeksuk nurungji (chicken and burnt rice) at Seongbukdong Nurungji Baeksuk

Seongbukdong Nurungji Baeksuk (성북동 누릉지 백숙) – If you like baeksuk (korean chicken soup) and you like nurungji (burnt rice) then this is a perfect place for you. Order the buckwheat jeon which comes topped with buckwheat sprouts and dolnamul, it is simply the best. And the fall off the bone chicken is served on top of a bowl of steaming hot nurungji soup. A true Korean comfort food. There's usually a long line, especially on weekends. Valet service available. Images from Korean Blog. (281-1 Seongbuk-dong, Seongbuk-gu)

Soyon Restaurant Customized Place mat

Bindaetteok at Soyon, Kangnam Seoul

Soyon Andong Guksi (소연 안동국시)  – My great friend Kyungsun treated me to this restaurant in my most recent trip to Seoul. Now that my friends and my family know I blog about Korean food, they are all so nice to bring me to the best restaurants in Seoul. I am so blessed and grateful. This restaurant is also unique in that if you let them know in advance, they will print customized placemats for you with the name of your guest of honor printed on their paper place mats. I felt VERY special that she did it for me. Everything was delicious, loved everything including the muk muchim, bugeo gui, bindaettoek and of course, kalguksu (knife noodles)!  (24-2 Bongeunsa-ro 84-gil, Gangnam-gu, Seoul)
Fancier Micheline Star (or Guide) Seoul Restaurants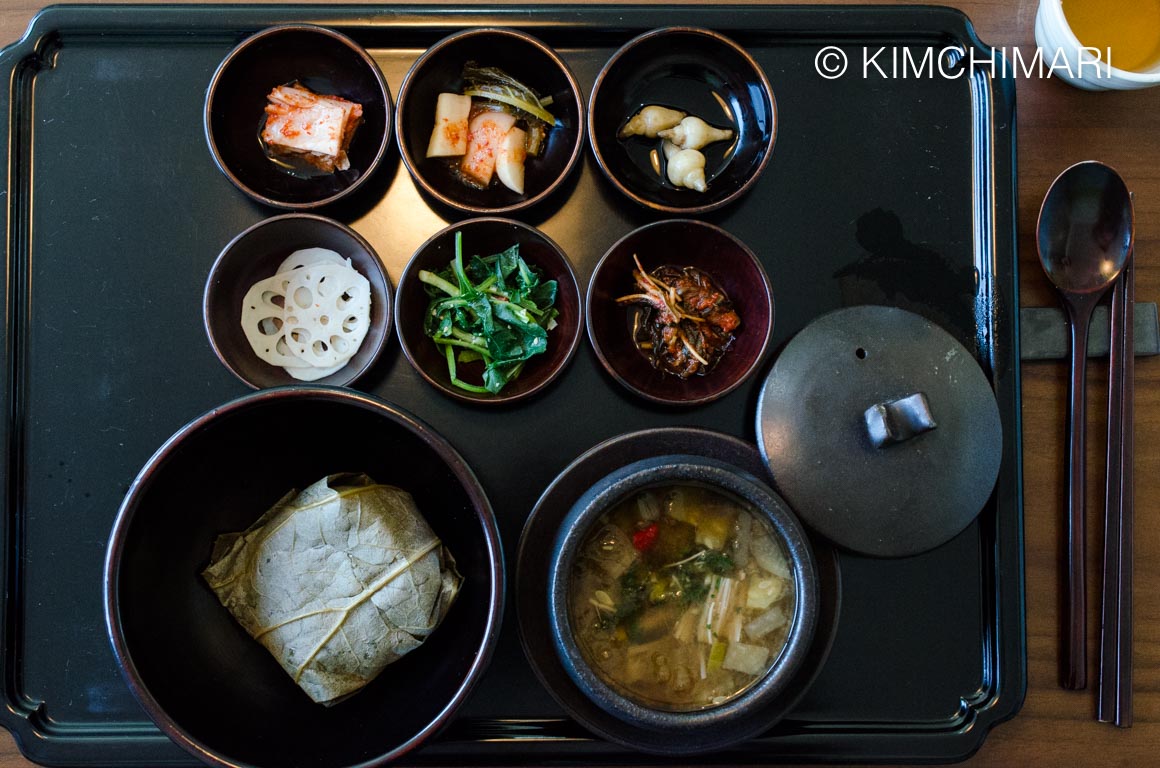 Well, there's still so much more but I think I will stop here for now. Hope you enjoyed this list and please share it with anyone you know who will be visiting Seoul or lives there.
Have a great week!
XOXO, ❤️
JinJoo