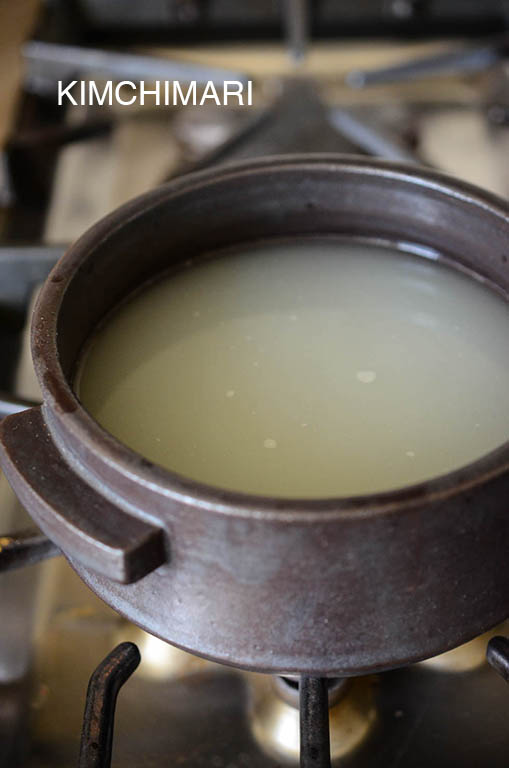 As I wrote in my Doenjang Jjigae post, rice water or water obtained from rinsing rice has a separate name in Korean – Ssal Tteu Mul (쌀뜨물) where ssal means rice and mul means water.
When I was writing my Doenjang Jjigae post, I found lots of information about all the different ways of using rice water. I had always known about using it as a base for making stews/jjigae and I have seen my mother-in-law use rice water to wash her dishes but I did not realize Koreans use it for so many other uses.
IMPORTANT – 1st rinse of rice water can contain dust or pesticide residue from the rice so use the 1st rinse for non-cooking tasks like cleaning and polishing and use 2nd or 3rd rinse for cooking.
QUICK SCIENCE: The vitamin B1, B2, lipids and starches in rice water makes it a special solution. The rice starch and water is basically a colloidal solution. For cleaning purposes, rice water becomes a natural colloidal micelles water and therefore basically works like a cleaning solution without the harshness of chemicals but with added vitamins and lipids.
1. Wash your dishes 100% naturally (1st or 2nd rinse) with rice water
My mother-in-law always washes her dishes with rice water. Because most Korean foods are not very greasy, this works well (most of the time). For heavy grease, I find that you will have to use regular dish washing soap but you will be surprised how it will do the job for most of your dish washing needs. Good for your health, good for the environment and good for your hands too!
2. Water your house plants (1st rinse) and veggies (2nd rinse) – it's a natural fertilizer
The different nutrients make the rice water a very good fertilizer for your plants. I am not sure of the exact science on this but I do have a green thumbed friend who uses rice water to grow her veggies. I visited her home last year and she had such beautiful healthy perilla plants growing out of her pots at her apartment. She shared her two tips with me which were planting earthworms in her pot and then using rice water when she waters her veggies!
3.  Broth for Doenjang Jjigae/Doenjang Guk/Kimchi Jjigae/Miyeok Guk (2nd or 3rd rinse)

I already mentioned about using rice water for Doenjang Jjigae. It makes the broth richer and smoother because of the colloids. I know from personal experience that it tastes good and this tip has been passed down through generations so you must give it a try! Just replace the amount of water in the recipe with rice water.
4. Rice water for Fish Jorim or to take away fishiness by washing fish (2nd or 3rd rinse)
Koreans use rice water in braising (jorim) fish or by washing fish to take away fishy smell. If you are making salted mackerel (Godeungo Jaban 고등어자반) and you want to make it less salty, soak the mackerel for 30 minutes and fish will become less salty, less fishy and also more tender.
5. Deodorize your Kimchi or other plastic containers (2nd rinse)
I watched a TV show in Korea couple years ago and they actually did some experiments to see if this really worked and they said it did! Try filling your smelly plastic containers with rice water for 30 minutes or more and it should do the trick!!
6. Clean your face with rice water!

Perhaps the most well known use of rice water is as a beauty product. You will find many beauty blogs and sites (Korea, US and Asian) that talk about the beauty effect of rice water on your face as a face wash. There are also many beauty products made with rice water in them. It is said to help clear the skin of acne and also has a whitening effect. Recommended use is for about 2 times a week and rinse off the rice water fully with regular warm water because any leftover rice starch particle in your pores can cause trouble.
You can also make a rice water mask by collecting the rice water sediments and mixing it with a little bit of lemon juice and flour.
History records that royal palace ladies during Joseon Dynasty used rice water to whiten and beautify their skin, so try it!
7. Polish your glass and mirrors!

Similar to how it works for washing dishes, rice water starch or colloids help to attract dirt from glass and mirrors while the oil helps the shine. Put rice water in a spray bottle and spray and wipe with a dry cloth.
STORAGE: Rice water only keeps for a day at room temperature. Will keep in the fridge for 3-4 days.
ARSENIC IN RICE? : There is some concern about the level of arsenic in rice. Consumer Report's article discusses the level of arsenic in rice in detail. Now, if you are concerned about that then you would also be concerned about arsenic washing off into rice water. I think that's a valid concern but with anything, I believe the devil or in this case, angel 🙂 is in the details.
First, you have to ask – What kind of rice is the report about? Is the arsenic level the same regardless of where the rice was grown?  The rice that I am talking about here and that Koreans eat is the short grain Korean rice which is different from rice that is massively produced in Texas, Arkansas and Louisiana which are known to have the highest level of inorganic arsenic.
So I would say, please do stay alert about consuming processed rice products like rice milk and rice cereal, especially for young infants and children because they are probably made from these massively produced rice from one of these states.
The Consumer Reports report specifically states "Our latest tests determined that the inorganic arsenic content of rice varies greatly depending on the type of rice and where it was grown. White basmati rice from California, India, and Pakistan, and sushi rice from the U.S. on average has half of the inorganic-arsenic amount of most other types of rice... All types of rice (except sushi and quick cooking) with a label indicating that it's from Arkansas, Louisiana, or Texas or just from the U.S. had the highest levels of inorganic arsenic in our tests. For instance, white rices from California have 38 percent less inorganic arsenic than white rice from other parts of the country."
So when you buy rice in your area, check where it is from. I guess I am lucky that we have a lot of Korean short grain rice that is grown in California in our local markets and that I can also buy organic Pulmuone rice pretty easily.
Well, hope that was helpful!
Have a great weekend everyone,
take care,
JinJoo