What?? Did I say Peruvian Food??? YESSS! I did!!
Oh, but wait..first things first.
HAPPY NEW YEAR!!! I truly want to wish all of you a very Happy and prosperous 🖖🏽New Year – the Year of the Chicken.
SaeHae Bok Mani Badeusaeyo 새해 복 많이 받으세요!
I am sorry if you are disappointed that this is not about Korean food but I just had to share my recent experience with some amazing foods and scenery of Peru.
Now visiting Peru was not at all on our minds when my husband and I tried to decide where we should go for our 25th (YUP, it has been 25 years!!!👏 👏 ) wedding anniversary. Initially, we were thinking either somewhere in Europe or far away like Australia or New Zealand. But my husband and I have such different preferences when it comes to travel, we really had a hard time deciding. My husband loves history and ancient ruins and me, not so much. 😜 He loves mountains but I love beaches more than mountains.
So as you can see, we are pretty much opposite when it comes to choosing travel destinations. One thing we did agree upon – we wanted to go somewhere warm (or at least not freezing) even though it was December. Well, that kind of narrowed down areas where we could go. South America?? Hmm… sure, but I know so little about South America. And so we decided to consult a travel agency recommended by my husband's friend and boy, are we glad we did.
Well, you know me.. I took about 800+ photos throughout the whole trip of 8 days so it has taken a while for me to go through all of them. I have lots of beautiful photos to share from our Peru travel through from beautiful mountains of Machu Picchu to Cusco and Lima. We also got to see some very unique textile traditions of Peru including some closeups of Cochineal (insects used for red Carmine dye) in their natural habitat!
But first, I wanted to share some amazing, I mean REALLY AMAZING foods I got to eat in Peru. Before my memory of the wonderful flavors disappear from my old brain… hehe. Now, before I get all gaga about Peruvian food, I have to admit that for the first few days I was somewhat disappointed with the foods we had in Sacred Valley and Machu Picchu. Some were OK but some were either way too salty or kind of bland..nothing really jumped out at me.
Hmm.. Now that I think about it, it could have been because…I was kinda sick. Yes… I got SICK. I don't want to share too much details but I think I got food poisoning from some bad oysters that I had in the US the night before I left for Peru. And let's just say I have never spent so much time inside the lavatory (aka bathroom haha) of an airplane, NEVER in my whole entire life. 😵 Only after spending some hours at a hospital in Cusco with IVs, etc, did I finally get better and was able to continue the trip.
Many THANKS to the local guides and Jacada Travel for taking such good care of me. Without the local travel guides and the agency, I don't know how I would have survived being so sick in a foreign country and not speaking the language.
Anyway, up to the time of visiting Lima, I was not very impressed with Peruvian food. But everything changed once we arrived in Lima. In Lima, we stayed at the beautiful Miraflores Park Hotel located by the ocean. Although the beach was not really swimmable, the view was certainly stunning.
BTW, did you know that Lima, Peru has 3 restaurants that are on the World's 50 Best Restaurants for 2016??
That is pretty incredible considering we are talking about just 50, I mean out of the millions of restaurants in the world!? I would have loved to visit all of them but Central was closed for the holidays so we ended up going to Maido. I will write about Maido dining experience later but first, let me talk about what was the most exciting experience for me.
Best Authentic Peruvian Food in Lima
Out of all the foods I had in Peru, I think this was the most wonderful, kind of unexpected (totally because I did not know anything about the restaurant as it was kind of a last minute addition) experience of authentic local Peruvian food. It was at Catalina 555. Chef Heine Herold is the head chef there and I was honored to have tasted his wonderful creations! Psst.. I usually don't like to put up a picture of myself in my posts but this one is an exception – cause I wanted to introduce Chef Heine to you. 🙂
I couldn't believe how friendly he was and how he took the time to come out after cooking every dish to explain about the food!
As a foodie who loves to cook and appreciates the process of creating flavors, hearing the passionate explanations directly from the Chef himself made it that much more exciting to me! He took time to explain each of the ingredients, where they come from and how the local ingredients like Peruvian purple olives differ in their flavors from other areas. And since we just came from a culinary tour at the local market, learning about all the local fruits and vegetables with our guide Marisol, everything just came together. And since Marisol was there with us to answer the endless questions I had about Peruvian food and culture, it was just absolutely perfect.
I'm sure for my husband, on the other hand, he would have loved to just eat the food without all the talk and photography.. haha..the poor life of a food blogger husband.
Here are some things I learned from our guide Marisol about Peruvian food:
Peanuts and tomatoes most likely originated from Peru. Potatoes are also known to have originated from the American Andes including Peru.
Peruvians never eat Ceviche for dinner. Only for breakfast and lunch as that is when the daily catch is the freshest.
The wonderfully tangy liquid that remains from marinating fish for Ceviche is called "Tiger's Milk" or "Lech de Tigre"
Peruvian brandy called Pisco is a distilled liquor made from grapes. You need 7 kg of grapes to make 1 liter of Pisco!
Peppers are very important in Peruvian food and there are many varieties, each having very different flavors and heat. Chef Heine was so kind to take the time to show these peppers to me – he brought them out on the pan just like this!

Peruvian Peppers used for cooking – Aji Charapita, Aji Limo, Aji Amarillo

The small yellow round berry looking peppers (left) are called Aji Charapita and they are sooo spicy that Chef Heine told me he uses only about 2 peppers per 1 liter of sauce but is so flavorful, it is a must. Aji Limo (Lemon Drop Pepper) is pretty spicy and has a citrusy flavor and is used fresh in Ceviches. Aji Amarillo is usually cooked and is used to make Amarillo paste that is used in various popular Peruvian food like Causa.
Peruvian Food at Catalina 555
Well, let's start with some Cocktail Drinks!!
In addition to my order of Pisco Sour, Chef Heine served us some of his top pisco cocktail drinks. The taller glass on the right is a cocktail of pisco and beer. It was much lighter and a little bubbly which was really refreshing. And the left one is called Doña Cata and it was made with pisco, lemon grass and a hint of orange. Great fruity twist to the regular pisco sour and it paired perfectly with all the foods.
Baked Sweet Plantaine with Amazonian Shrimp (Langostinos Amazónicos)
I was amazed at the variety of textures and flavors of this dish. Sweet and creamy plantains line the bottom of the dish and then, pieces of CRISPY and salty pork jerky are layered next. Then on top, the star of the dish, very delicately fried shrimps from the amazon. Finally, a tangy and refreshing salsa made from an amazonian fruit called Cocona (a lemony fruit) just made everything come alive. It was a fabulous medley of crispy, chewy and creamy textures with sweet, tangy, salty and savory tastes all coming together. Chef Heine showed me the Cocona fruit below –
Ceviche Carretillero
OK. This is Ceviche like you never had before or at least I had never had it this way! 🙂 I'm used to having Ceviche where everyone is swimming in liquid and where everything is chopped up but this Ceviche Carretillero was totally different. I am usually reluctant to order Ceviche because I am not a big fan of raw fish. But here, large chunks of Seabass are quickly marinated in "tiger's milk" of lime juice, onions, garlic, ginger, celery and finely chopped Aji Limo. Then it is surrounded by crispy, crunchy and salty roasted corn (Cancha), crispy fried calamari, creamy and sweet sweet potato and then perfectly cooked somewhat chewy Peruvian corn. As you can imagine, every piece adds a different texture to the dish which made the raw seabass totally edible for me. In fact, I really enjoyed Ceviche and if it was served this way, I would be ordering it every time.
Causa de Bonito – Escabechado
Causa is a Peruvian dish that uses mashed potatoes with chili as the base and various toppings like fish, avocado, olives and sometimes eggs are added on top. Chef Heine's version was to have cooked tuna, avocado, local Peruvian olives and boiled eggs as the topping. It was a very comfort food kind of a dish yet the different toppings give you a different flavor every time you bite into it. I can see that the Causa was like a blank canvas where you can add any flavors to it and make a new dish. And I was told that indeed Causa is an everyday comfort dish to Peruvians which date back to pre-Hispanic Andean years.
Pulpo Al Olivo – Gallego
"Pulpo" is Octopus in Spanish. In many restaurants, octopus is often cut into thin slices to avoid the tough texture that often happens when it is just even slightly overcooked. But here, octopus is cut into big chunks and perfectly grilled – allowing the full flavor and great texture to come through. I really LOVED this dish. I think this was one of my favorite dish of all. When he served this dish, Chef Heine talked so passionately about Peruvian olives; how wonderfully plump and flavorful they are. He hoped that someone will figure out how to make great olive oil from these fantastic Peruvian olives because Peru is not yet famous for great olive oil. Octopus that was blackened to a crisp on the outside but still tender and juicy on the inside paired so wonderfully with the creamy purple olive sauce, making the octopus coated in awesome umami goodness. And of course, the rucola greens and paprika worked to wake up the mild flavor of the octopus.
This is a MUST have dish if you ever visit Catalina 555.
Lomo Saltado A Lo Pobre
Lomo Saltado is a Peruvian-Chinese dish where beef, onions and tomatoes are stir fried in soy sauce. And usually it is served with fries and rice with corn. Chef Heine added a fried egg and some local apple bananas to it which was a great touch. We have had Lomo Saltado in Cusco before coming to Lima and we thought that was good but this was oh, so much better. And instead of the usual fries, what I think was pure genius on Chef Heine's part was to first cook Peruvian Tumbay potatoes with the skin on and then tearing it into pieces by hand and then deep frying it!! The torn ends of the potato pieces becomes EXTRA crispy unlike the common knife/blade cut potato fries that we eat everyday.
Wow…By now, I was getting quite full and I had to start saving room for other dishes so I couldn't finish but if you love asian flavors, you have to try this one.
Arroz Meloso (Peruvian Creamy Rice with Seafood)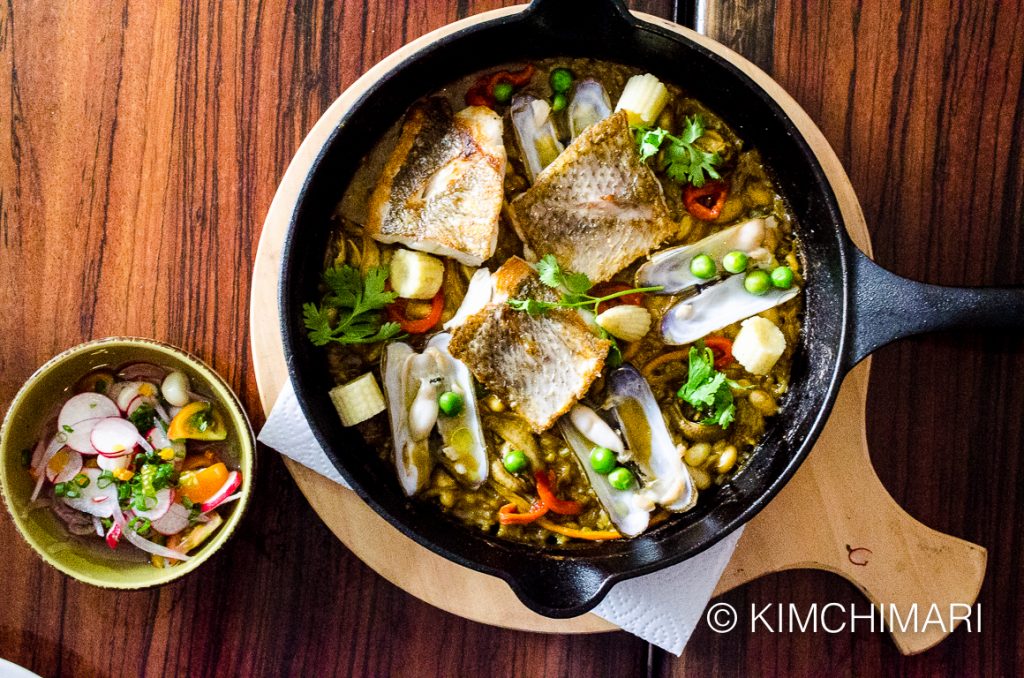 Arroz Meloso is translated as Mellow Rice or Creamy Rice. Basically it is rice that is wetter and creamier than Paella but not totally soupy like a porridge. I guess the consistency is somewhat similar to risotto, perhaps a bit more liquid. I LOVE Paella and this is similar to that but richer and creamier with tons of flavors from all the crazy fresh seafoods Chef added to the dish. And of course, there's a light refreshing side of radish salad that is served together.
At this point, I was sad that I could not eat more of it. By now I was getting quite full.. But boy, this Arroz Meloso was simply delightful. I especially enjoyed the fact that the fish was added on top and remained crispy while the rice below was warm and soft.
Lucuma Alfajor (Peruvian Dessert with Caramel and Lucuma Fruit)
Finally, we were served a dessert that was a new take on the traditional Peruvian dessert Alfajor. Alfajores are soft, delicate cookies made with cornstarch with fillings of dulce de leche in between. The cornstarch produces a tender, crumbly cookie with a satiny texture. I actually had one at the hotel but I was not a big fan of it. But this sweet dessert version with many layers of the Alfajor cookie dough – much like a crepe cake – with lucuma filling in between and then sitting on top of dulce de leche sauce was really yummy.
FYI, Lucuma is a fruit that I got to try at the local market with Marisol. It has a very similar texture to a cooked sweet potato which was really interesting.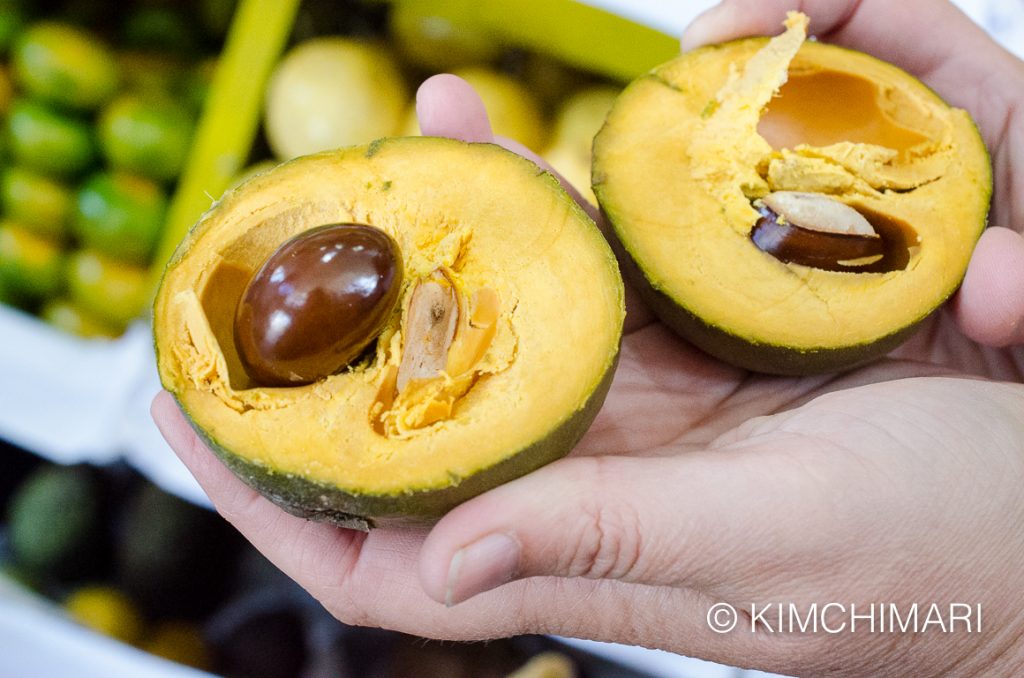 Well, hopefully you were able to get a feel for the fantastic flavors of authentic Peruvian food that I was lucky enough to experience at Catalina 555 in Lima, Peru. If you ever go to Lima, you MUST visit this restaurant and say HI to Chef Heine for me!!
Happy New Year again!
XOXO,
JinJoo
PS – Thank you Chef Heine for the fabulous Peruvian food. I hope I did a good job describing your wonderful cuisine and capturing the incredibly delicious foods that you served us on Dec. 27th, 2016!! Hopefully I will get to taste your great food once again in the US. Best of luck on your restaurant project in the US!
Thank you Marisol for the fabulous culinary tour and for taking us to Catalina 555! It was definitely the highlight of our trip for me!!