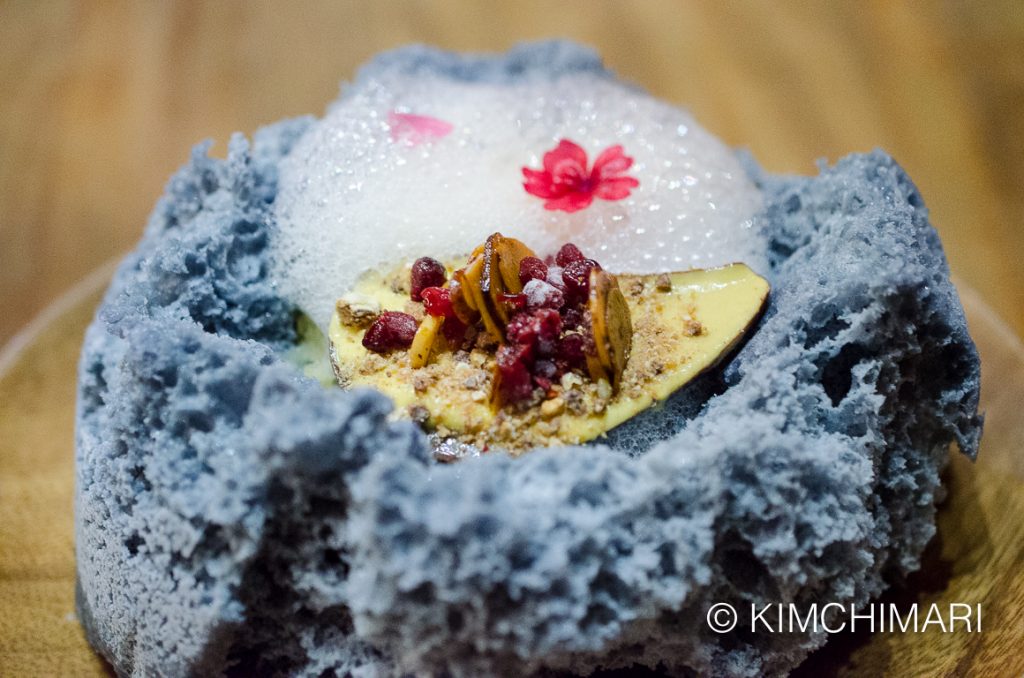 Dinner at Maido, Lima Peru (My Review)
Maido is not only the No. 13 World's Best Restaurant (No. 7 as of 2018) but is also the highest climber for 2016 (from No. 44 in 2015 to No. 13 in 2016)!. During my trip to Peru last December, we had the good fortune to have dinner at Maido. It was my very first time visiting a restaurant in the Top 50 list!! I have watched every episode of Chef's Table (watching season 3 now) and I always dreamed about visiting one of these world's best restaurants. So between you and me, THIS is what I was looking forward to the most, throughout the entire trip in Peru.
YES. I was more excited about my dinner at Maido than visiting Machu Picchu (before I visited Machu Picchu anyway) – I know, my husband will never, ever understand me…but then I will never understand how he could watch sports all day and night! HAHAHA We are one of those couples who have such different interests and tastes but we still enjoy being married.. So, I am very thankful that I have YOU to share my passion for food. 😉
So, come! Sit with me for an experience of a life time in Lima Peru!! I took notes and pictures because I did not want to forget this fantastic experience – it's not everyday or actually not every 10 years(?) that you get to have dinner at the No. 13 World's Best Restaurant!!
RESERVE IN ADVANCE!
Reservation for our dinner at Maido was made months in advance before our trip (thanks to Jacada travel). And to make sure we get there on time, we left the whole afternoon open and just hung around the hotel which was actually kind of nice after a full schedule trip to Cusco and Machu Picchu. Our Belmond Miraflores Park hotel was near the beautiful ocean side in the Miraflores area in Lima, so we enjoyed a relaxing afternoon in the pool and also took a stroll in the park near the hotel.  Much like a kid who couldn't wait until the candy store opened, we arrived at the restaurant way too early and so the doors were not even open when we arrived. 😵 So we wandered around the area and took this photo of the Maido building.
The interior of Maido had a modern minimalistic feel to it. The ceiling was decorated with ropes of different colors which felt somewhat surreal. None of my photos came out to my liking so I'm sharing a photo from another site –
Maido blends Peruvian and Japanese flavors and ingredients to perfection with such creativity, it was mind boggling. In my opinion, fusion is the hardest food to make successfully. And so I am usually reluctant to try fusion because to me, often times it feels like things were forced together – just for the sake of being fusion. Maido, of course, was different. Chef Misuharu does an incredible balancing act between the two cuisines with great finesse and sophistication. Of course, you don't need to take my word for it, take the World's Best Restaurant committee's word for it. 🙂
In addition to their tasting menu, it was interesting to see that Maido also had a very traditional Japanese a la carte menu including Sashimi, Sushi and Donburi. It was fun to see many people ordering just a few items from the menu and enjoying them like a regular everyday Japanese restaurant. But since we won't get another chance, we decided to go with their famous 15 course Nikkei experience.
What does Nikkei Mean?
FYI, Nikkei (besides the Japanese stock market 😉) refers to "Japanese emigrants and their descendants who have created communities throughout the world" (Discover Nikkei). The Japanese first immigrated to Peru at the turn of the century and now form the largest group of immigrant-descended ethnic groups in Peru. Although they still only make up a tiny 0.2% of the population of 27 million in Peru (more here).
OK, now let's start our dinner. First some creative drinks to go with Chef Mitsuharu Tsumura's magnificent creations. I ordered the Pisco sour with cucumber, apples and kiwi ice. It was very refreshing and cooling. I loved the kiwi ice. My husband ordered the Pisco Maria Louisa which had pisco, sake and apples. I'm not an expert in drinks but perhaps it was the sake that made the Maria Louisa drink extra smooth. This drink went fabulously well with the food. I liked my drink too but once we started eating the food, I liked Pisco Maria Louisa better than mine so I kept stealing sips of my husband's drink. 😝
Chef Mitsuharu Tsumura's statement for his Nikkei experience is "At Sea Life is Tastier". It is TASTIER indeed…So be prepared for a fantastic voyage into the Peruvian sea!! 🌊 🌊
SNACKS
Three one bite snacks sitting on top of a sea rock. Maybe because it was the first course, this was one of the most impressive dishes for me and filled me with happy expectations for what was to come.
Chef Misuharu is a wizard at creating textures and flavors that contrast but also enhance each other. The chewy and savory octopus is further helped with the soft tofu and then the black rice cracker adds the crunch while serving as the mild nutty foundation that rice always brings to a meal. What? Olive tofu?? Genius…
The middle snack package: Onion terrine, sole tartare, smoked silverside fish topped with masago. The snack on the right was trout belly on top of sushi rice cracker, avocado topped with ponzu gel. In both of these snacks, the crunchy rice crackers were the perfect answer for my inability to enjoy mushy raw fishes aka sashimi.
PODA CEBICHE
Pieces of local rockfish sashimi bathing in leche de tigre (tiger's milk) with slivers of clams in the center – all in a shiny slivery bowl. The citrusy ceviche marinade juice (leche de tigre) made the sashimi so much brighter and the crunchy chulpi corn added a perfect texture contrast.
DIM SUM
I was instructed to eat this all in one bite – so that the luscious camotillo cream inside the little dim sum package will not squirt out on you! You don't want to waste any of it because it is too good. And the crispy quinoa finishes a perfect package once again.
CHORIPAN
Isn't this mini choripan so cute?!! Choripan is usually made with Chorizo sausage in the center of a bun or baguette. The cutest mini hotdog!! Here, Chef created his own octopus sausage and served it in a steamed bun with Japanese mustard. And of course, you cannot omit the wonderful Peruvian potato chips! I only wish there was more of everything…
NIGIRIS
By now you probably know that I am not a fan of Sashimi or raw fish. But this was exceptionally good. So I think it's not that I don't like Sashimi, I just don't like Sashimi made with not-so-fresh fish. I'm such a fussy eater…Anyway, well, the toro was really amazing and the sprinkling of crunchy quinoa was such a great addition for me, it totally worked to break up the soft texture of the toro. The addition of the quail egg was like the addition of butter on top of a rib-eye steak; you would think it's too much but actually it just made the toro even more luscious.
LAPAS CEBICHE
Frozen bits of aji amarillo leche de tigre (tiger's milk with aji amarillo peppers) that transforms into awesome liquid goodness in your mouth…helping to add fresh notes with a hint of heat to delicate pieces of lapas (limpet mussels from Azores). I discuss more about leche de tigre and aji amarillo in my previous post about Peruvian food. The waiter explained lapas as similar to abalone? Anyway, the tiny bits of purple onion was a perfect finish to a masterpiece Cebiche that is so delicate and balanced.
Small tiny piece of cod marinated in miso that is grilled to perfection. The cod came sitting on top of Porcorn mushroom powder and then topped with crispy Bahuaja nuts. The light green gel dots are apple gel. The cod was just an absolute perfection – perfectly cooked and seasoned. I was just sad that it disappeared from my mouth so quickly… If there's one slight comment to make – apple gels kind of looked like eyeballs to me (haha – probably it's just me) so I thought that was a little odd. But certainly, "Can I have some more of that delicious cod please??"
CATACAOS DE CAMARONES
This dish is described in the menu as 'green rice tamale, sauteed river prawns, creole sauce in chupe reduction'. Chupe refers to chowder made from meat or seafood. This is probably the only dish that I was not totally in love with. And I think it may have been just me. I was pretty tired of Peruvian spices and flavors by this time – nothing against Peruvian food but I just get tired of one cuisine pretty quickly if I eat it continuously and so the chupe reduction tasted a little too strong and intense for my taste buds at the time.
CASSAVA SOBA
Cassava or Yuca (NOT Yucca) is a native plant to South America and is a major source of carbohydrates. When Cassava is dried to a powder, it is called tapioca! The cassava soba and the dashi came sitting in ice with some greens which somehow reminded me of the jungle..even though there's no ice in the jungle.. haha…Oh, but what a wonderful way to serve it!
Sorry, I wish the picture was better… The noodles were perfectly chewy and soft while the vongole dashi was a very interesting take on Zaru Soba. The dashi was a bit on the sour side for me but perhaps it was because I was now getting kind of full… sad sad…
SUDADO REDUCTION
I am no expert in Peruvian cuisine so I am not fully sure but if I'm correct, Sudado is a stew like dish cooked in fish stock. The cast iron pot came piping hot with a piece of cod and seaweed already inside and then the waiter poured the spicy hot sudado reduction into the pot at the table and it immediately began to sizzle which made it even more appetizing! You know how Koreans love crazy hot bubbling sizzling soups..hahaha.
SEA URCHIN RICE
Chiclayo rice with Atico sea urchins, avocado cream and grilled baby corn. Chiclayo is the principal city of the Lambayeque region in northern Peru and rice is one of their main agricultural product. Well, if you have tasted and like sea urchins, you know there's really not much you need to do to make it more delicious. But the avocado cream added a bright creaminess and the grilled baby corn added a nice great crunch.The rich sea urchin and rice was a perfect way to end the meal. Creamy, nutty, rich and comforting…And in time too!! OMG, I was just sooo full.
REEF
Tofu cheesecake ice cream, bread sand, sweet potato, apple with wakame, camu camu, taperiba and burgundy grape tapiocas, soy milk. Wow…I can't even tell you now what each part is but aren't you just really amazed how absolutely beautiful this dessert is?? Just like the title, it feels like you are swimming in the REEF and it is a dream because you can eat all of them! The sweet potato and chocolate corals, burgundy grape tapioca pearls with a light soy milk foam on top of the tofu cheesecake ice cream…ABSOLUTE HEAVEN. Dessert was very light and had a delicate balance of different sweet flavors from two cuisines. BTW, it is interesting to note that the sweet potato originates from Peru back to 8000 BC but is now so very popular in Japan and Korea. FYI, camu camu and taperiba are local fruits from Peru.
MUSSEL
Granadilla with mandarin sorbet, mucilage foam, cacao nibs, lucuma ice cream, raspberrys. After experiencing the intricate splendors of the reef, now it was time to finally enjoy the last piece of Chef Misuharu's creation. Seeing this work of art totally took us on a voyage to the ocean, catching one of those precious moments in time when receding ocean waves leave little secret gifts of the sea, leaving them on rocks for us to discover. This time, it is a mussel – the shell made from chocolate, filled with lucuma ice cream and then topped with cacao nibs and raspberries.
Underneath the beautiful sea foam (actually it's mucilage foam), there is the granadilla with mandarin sorbet nestled on top of the blue rock made from sugar!! My husband wanted to just break the whole thing and eat it. He loves sweet things… But I was worried that there would be flying sugar rock shrapnels all over this elegant restaurant – so I pleaded him to leave it alone. And he still talks about how I didn't let him enjoy it fully…hahaha..
This Mussel dessert was just a beautiful orchestra of flavors and textures – tangy granadilla and mandarin sorbet, the crunchy sweet chocolate mussel shell filled with rich luscious lucuma ice ream then the nuttiness of the cacao nibs with the refreshing raspberries were then all brought together by the delicate mucilage foam. Simply a dreamy finish to an incredible meal – no, actually I should say an incredible evening. It is so much, much more than a meal. Actually as Chef Misuharu so appropriately named it, it was absolutely a Nikkei experience of life at the sea. Not only are these creations delicious and pretty to look at but they tell a great story – the story that says…AT SEA, LIFE IS TASTIER and also more beautiful.
This is my 3rd post from my trip to Peru last December (see my other posts on Best Peruvian Food and My trip to Machu Picchu).
I hope you enjoyed it and I thank you for joining me for an dinner at Maido in Lima Peru!
XOXO,❤ 🌊 ❤
JinJoo
PS – Peru is a great place to try some from the world's best 50 restaurants list because the food prices are so reasonable there. I so wanted to also visit Central (No. 4 World's Best) $95-$119 but they were closed during Christmas. You can also visit Astrid y Gaston (No. 30) in Lima which I didn't have time to.